New Dishonored 2 trailer shows off slew of creative kills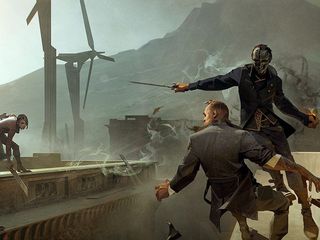 Developer Arkane Studios and publisher Bethesda Softworks have released a new trailer showing off gameplay from the upcoming first-person action game Dishonored 2 for the PC, Xbox One and PlayStation 4. The trailer shows how players can come up with some new ways to kill enemies in the game with their gadgets and powers.
The new trailer shows several different ways to mix and match gadgets and powers to come up with some effective multi-kill scenarios. For example, players can use the domino power of Emily Kaldwin to link several enemies together so when one is pulled into one of the game's wall of light barriers, all of the linked foes follow suit.
There are likely tons of different gadget and power combos that could be created to kill enemies, and that should be part of the fun in playing Dishonored 2. You can try them out for yourself when the game is released on November 11.
See at Microsoft Store (opens in new tab)
Windows Central Newsletter
Get the best of Windows Central in your inbox, every day!
awesome trailer !! eagerly waiting !!
on a different topic, should't MS allow other developers to luanch games under the play anywhere program......eventually, it will be awesome for the consumers !!


In the first game killing the enemy was sort of 'frowned upon', which encouraged you to be more sneaky.
Wonder if it will be the same this time round.