The new Surface Pen for the Surface Pro 4 has a tail eraser and full year of battery life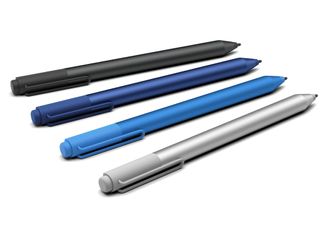 During Microsoft's Windows 10 hardware press event today in New York City, the company has officially announced the new version of the Surface Pen made for the just revealed Surface Pro 4 tablet.
Microsoft will include the new Surface Pen with the tablet, which comes with a full year of battery life. It will include a tail eraser with stickiness and friction. The pen will also include 1024 levels of pressure and magnetically latches to the side of the tablet. Users can also double-click on the Surface Pen button to launch the OneNote app, and users can hold down to activate Cortana in Windows 10
The new Surface Pen comes in five colors, and it will support interchangeable pen tips to emulate the feel of a pencil, ballpoint, felt tip pen, and more. Microsoft said that 50% of the current Surface Pro 3 members use the current Surface Pen.
Stay tuned for more news from today's Windows 10 hardware event from Microsoft.
Windows Central Newsletter
Get the best of Windows Central in your inbox, every day!
Pen is throw-away when battery dies after 1 year? Or is battery replaceable? Having watched the presentation, I'm thinking it's throw-away.

Then they should specify its price..

Probably the same as the current pen - $50-60

If I have to buy a new pen every year, I'll just get the Surface Pro 3 pen

Changeble battery confirmed! Already preorder from Italian offical store, 69.99euro, including a set of 4 tips and a battery. But... they haven't specified the battery type, propobaly their own battery, not the AAAA ones.

Will people still use a pen loop or will they final embrace the magnetic strip?

SP3 has a magnetic strip, which I use occassionally... unfortunately, it doesn't work while charging and there's no way in hell I'd travel with it like that as it can get knocked off easily. I don't see how the SP4 does it differently to avoid being knocked off?

It has a much stronger magnet than the SP3, and I believe it attaches to the side without the Surface connect port so you can store the pen while charging. It still has some oocasional drops though... but at least it's better than the last gen. https://www.youtube.com/watch?v=9OnfqNjMNHE

I would imagine the pen magnet being strong like the way the keyboard magnet attaches to the SP3. If it's close to then I would trust it, but as of right now I'll just clip the pen to my shirt.

A year vs a few hours Apple pencil.. I usually dont care about comparing, but I can see the fun here.

Apple's pencil doesn't have an eraser.
What pencil doesn't have an eraser? That's awkward haha

The real question is if this pen will work with my SP3. Getting the new typecover for sure.

Panos Paynay said it right on the live event... but if you look at the new Pen on Microsoft Store, you'll find all the info you need.

Didn't they say it's single button click for OneNote, double click for screen snap (like Snipping Tool but automatically saves to OneNote), and hold button for Cortana?

Can we still erase with side button? I hated the top eraser when I was on SP2. its time consuming.

I am so happy how animately Panos shared his story on the stylus. Simply poetry and glistening of my eyes. Beautiful. I'm most likely going to fall in love with the new stylus. The eraser is nothing new (I have an eraser function on my wacom pen for my surace pro first gen that works fine) but a welcome editoin and a great holistic look at the formfactor of the pen. Now all we need is some apps with some good ink-to-text recognition. I'm betting big on Myscript mobile or something of the same quality, butter improved design. Perhaps a collaboration with onenote and drawboard???

Will there The possibility to use it with The New Lumias? Nothing heared about that

N-trig still, or Wacom, other? It looks much more comfortable to hold than SP3. Panos' pencil without an eraser crack was well played.

Microsoft acquired Ntrig, so what do you think they are using? but of course they​ improved it and went from 265 to 1024 and might improve it even more next year

I didn't know they acquired N-trig. That's why I asked. Thanks for the condescending answer though.

1024 levels of pressure, that's all I cared about! great news, it sounds amazing the went from 256 to 1024 in a year. it seems Ntrig never did the effort to do it but now Microsoft can do it. Hope it works amazing on Zbrush and 3D-Coat and Allegorithmic painter and etc etc. I hope Microsoft can really challenge and beat Wacom on many fields, it would be good because while Wacom is good, competition and specially if it's from Microsoft will be better, because that means Adobe, and Autodesk, and pixologic and pilgway and other Allegorithmic and other companies, will improve their applications to Windows even more and better, they will take advantage of continuum and directx12 and touch and universal apps... you know Windows specific features. So I am excited, the pen seems nice and changing the tip should be also cool. battery life is really amazingly long so even if it doesn't have a tech like wacom, most people shouldn't worry about the battery for many months. it seems like SP4 and SBook have nice pen features, soooo hopefully it will work great for artists, creators like me who like to sculpt and paint and 3d model some stuff with no mouse and use wacom alot.

What color Pen comes with the Surface Pro 4?