[Update] A new Xbox One Preview build is coming to fix game crashing and more
Microsoft is preparing to launch a new Xbox One Preview build to repair issues with game crashing.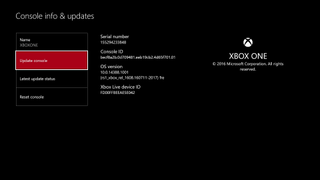 Hot on the heels of several small builds of recent weeks, Xbox One Preview team member Brad Rossetti tweeted the news earlier today.
Update: The full details are as follows (via Xbox (opens in new tab)).
DETAILS
OS version released: rs1_xbox_rel_1610.161004-1900
Available: 6:00PM PDT 10/7 (1:00AM GMT 8/10)
FIXES:
My Games & Apps
Resolved an issue which caused no content to display when sorting games and apps by "Sort by last used" or "Sort by last update".
Playing Games
Fixed an issue which could sometimes cause the console to abruptly shut down while playing a game.
Home
Resolved an issue which could cause the console to boot to a black screen after resuming from connected standby.
Settings
You can now view whether you are connected to an IPv6 network in Settings > Network > Network settings. If you are connected to an IPv6 network, you can find more information about it in Advanced settings.
KNOWN ISSUES:
Clubs
When viewing Clubs, you may still see the option to start a Club Party even if you are not a Club member.
Store
When browsing the Store, certain apps may be missing for users with their console set to the Singapore region (zh-sg or en-sg). Workaround: To find a specific app, use the Store's search function.
The option to Install a game or app may appear on the corresponding Store page when the game or app is already installed. For this reason, you may also be unable to launch games and apps from a Store page. Workaround: Launch games and apps from My games & apps, pins, or with voice commands.
As always, go to All Settings, System, Console Info & Updates to check if the latest build is available.
It shouldn't be too long until Clubs, LFG and Arena hit the public at this point. Stay tuned for all the latest Xbox One Preview updates, right here on Windows Central.
Jez Corden is the Managing Editor for Windows Central, focusing primarily on all things Xbox and gaming. Jez is known for breaking exclusive news and analysis as relates to the Microsoft ecosystem while being powered by caffeine. Follow on Twitter @JezCorden and listen to his Xbox Two podcast, all about, you guessed it, Xbox!
Good job, been all too frequent recently.

Is the Wireless Display Miracast app still only on the preview? Can't believe it's that hard to get it out of the preview to everyone.

Yeah it is, no idea what they're doing with that thing.

Well, as you can see, they're doing nothing with it. Judging by their recent actions, it won't be long before they cancel it all along. I really hope that's not the case though

If fanboys hate reality said by someone else = downvote. Thanks guys, only time will tell though, you can keep down voting all you want, it won't change MS's decisions all along ;)

How can you get that app?

Is this crashing due to new updates or crashes that happen period? I would imagine that there isn't much they could do about the game causing crashes.

Another 1610 update?.. I'm in the preview and still on 1608 updates.. ugh

Same here..don't know what gives here. Didn't know there were different "rings" for the Xbox preview like mobile and Windows 10. Trying to figure out why I'm not getting latest

This is awesome. I don't think people appreciate how fast Microsoft is able to deploy updates to millions of devices. No one, not Apple, and not Google, does it better.

I think you just asked for the anti-fanboy floodgates to open on you. Let me get some out the way...
"Yeah, they are great at fixing their fixes for mistakes", "Apple or Google only need one update to get things right", etc., etc., and etc.

Are there millions of people on the preview program? Honest question.

Quite sure Apple updates hundreds of Millions of iOS devices in a manner of days. Microsoft certainly cannot compete with that. Posted via the Windows Central App for Android

All this time I thought my Xbox was just acting up.

Game updates, system updates, install game before playing, games crashing, music apps, video apps, play DVD, BD... Are these still consoles or multimedia PCs?

Well Xbox runs UWP, so... the distinction is blurry.

Yeah, that was what I was going to say. I thought the point of consoles was they didn't crash or require maintenance. I don't ever remember my PS3 crashing, especially when in a game! Posted via the Windows Central App for Android

Well my Xbox One runs games with no problems, see if you can guess why that is? (Hint: The clue is in the article title) ;-)

These are for beta users. I never have problems with mine which isn't in the preview.

I just want lfg. I'm still on build 1608 too. Does that mean our systems aren't affected by the game crash bugs etc?

I wonder if they can fix the game crashing problems on the PC. Since upgrading to 14942 I can't play Xbox Play Anywhere games (Forza Horizon 3, Gears of War 4) on my desktop :(

How do I get insider previews on my Xbox? I've only just got one and I'm a fast ring insider on all my other devices

You need an invite form an xbox preview member but as far as I'm aware its been cut back to the amount of people they are now letting in my GT is arachNED send me a friend request and I will send an invite cant promise anything but will invite you to it

I haven't had any trouble with games but I sure hate how they've changed Groove. I like the old layout the best.

What happened to making the preview program joinable like on pc and phone by simply signing up? I have no way to join and get preview builds wth

Feels like the UI is getting slower and buggier. Is it because of preview or is the release version the same?

I feel you, nobody here can say that " it feels faster" than before the w10 update, also the pop up guide sometimes takes a while to load it's content,populate the friends list and crashes.

It has gotten slower. I personally think the should go with a simpler layout but it could just be the ads making it load so slow and wouldn't matter.

I'll invite anyone to the preview program that wants to try and get in. My gamer tag is Bleedin Dreamer.
Windows Central Newsletter
Thank you for signing up to Windows Central. You will receive a verification email shortly.
There was a problem. Please refresh the page and try again.