Blizzcon 2023 LIVE: All the latest news on Diablo 4, World of Warcraft, Overwatch 2, and more
All the BIGGEST announcements from Blizzard's first in-person Blizzcon show in years.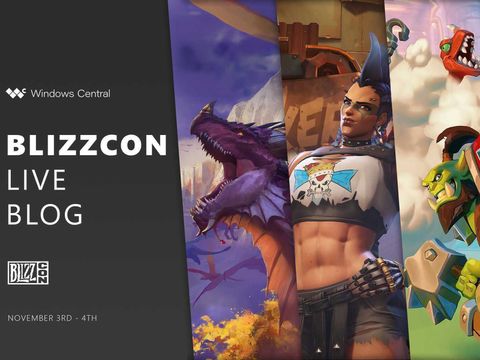 (Image: © @Klobrille on X (Twitter))
Welcome to our shiny Blizzcon 2023 live blog!
Blizzcon 2023 kicks off in Anaheim, California on Nov. 3, 2023 at 1:00 p.m. ET / 6:00 p.m. UK, with a keynote event and then rolling sessions for each major game over the next couple of days. It is the first Blizzcon event held in person in a few years, and also the first since Microsoft and Xbox acquired Blizzard Entertainment, as part of Microsoft's blockbuster $70~ billion dollar acquisition of Activision-Blizzard-King.
Despite the Xbox partnership, Blizzard's existing games will, of course, remain multi-platform affairs. It's also widely expected that any future games from Blizzard will also remain multi-platform, hitting PlayStation and Nintendo consoles in addition to Xbox and Windows PCs. Still, there may be some benefits down the line for Xbox Game Pass subscribers, which isn't far removed from what Blizzard has already done with Amazon Prime and other similar services.
That means Blizzcon 2023 is relevant for any Blizzard fans regardless of your gaming platform of choice. Fortunately, Windows Central will be covering the entire multi-day event to provide you with all the latest announcements, reveals, and trailers. Stay tuned to this live blog, too, because we'll also be here with exclusive commentary and information.
UPDATE: The show has now ended! Thanks a ton for joining us, and take a look at all the announcements below, or browse our Blizzcon 2023 section here on the site.
Also a big shoutout to @Klobrille on X (Twitter) who created our awesome Blizzcon banner graphics.
Blizzcon 2023: Watch the opening event here
Blizzcon 2023: Latest trailers, announcements, and more
Refresh
A brief overview of what to expect
In the Day 1 showcase, we expect to see a glimpse of what the future looks like for all of Blizzard's primary properties. Diablo 4's Season of Blood 2 has generally been well received and World of Warcraft is arguably in a better place than it has been in years with the Dragonflight expansion. However, fans will be eager to find out what's next for Overwatch 2, which has lost a fair bit of lustre since the cancellation of its long-awaited PvE campaign mode. There are also dormant franchises like StarCraft and Heroes of the Storm, where many fans will be hoping to see signs of life. There's also a question of Blizzard's survival game, codenamed Odyssey, which many expect to see revealed here for the first time.
Blizzard has had a tumultuous few years, but the partnership with Xbox symbolically represents a new era for the legendary studios behind some of the industry's most celebrated franchises. Beyond games, Blizzcon is all about celebrating that legacy, with fans in cosplay, contests, esports, and various other events taking place over the next couple of days.
So, thanks a ton for joining us as we aim to cover everything and anything relating to Blizzard's big event, pulling in every scrap of info from every source we can find, into one handy place! — Jez Corden
Could we see a Diablo 4 expansion?
Diablo 4 launched in June of this year, and some may say it's too soon for an expansion announcement, but considering Blizzard threw us into Seasonal content from July I don't think rolling out content too soon is one of its concerns. This being it's first live service, Diablo is enormous pressure on the franchise to keep fans engaged in the world of Sanctuary, and I for one am hoping for big things at this year's event.

Rod Fergusson has already alluded to Diablo 4 receiving annual expansions, and an announcement for a June 2024 content drop could be imminent.

My hope isn't entirely organic, though, as there have been some leaks ahead of Blizzcon about what the new expansion is, and even hints to a new class have been found through data mining. If you're not interested in spoilers, or you have NOT finished the Diablo 4 campaign, look away now, because I've been waiting for an opportunity to discuss this leak all week, and now by invading the live blog I have my chance! >insert evil laugh here<


Lord of Hatred
Those who have played through the campaign and reached the cliffhanger, will not be surprised to learn that the Diablo 4 expansion is rumored to be called Lord of Hatred. This is the title of Mephisto, father of Lilith. Mephisto featured in Diablo 2: Resurrected, and popped up to antagonize us in Diablo 4 too. The last we have seen of him is him being escorted away by Neyrelle in the Soulstone, and we do not yet know how her story ends and if she will succumb to his corruption.

An expansion entirely revolving around Mephisto is long overdue, and considering his brother Diablo is the namesake of the franchise, and other brother Baal was the subject of the Lord of Destruction expansion for Diablo 2, it's undoubtedly time the Lord of Hatred got his time in the spotlight. If you want to know more about Mephisto check out my lore guide here, or this incredibly detailed post from friends over at Pure Diablo.

Datamining has uncovered a new region of the map, Kurast, which harks back to Diablo 2 and is where Mephisto first sowed his seed of corruption in the Zakarum church. It's a thick jungle area with sewers under its main city; Diablo 2 players will be familiar with farming Travincal for runes. This new area will likely be of similar size to the other regions of the game like Dry Steppes, Hawezar etc.
Raids coming to endgame?
The data mining has uncovered a new endgame activity, The Khazra Raid. Aside from Legion and World Events, the MMO-light aspect of Diablo 4 doesn't really have much opportunity to flourish, so adding a raid system to the game makes perfect sense and could give us something to actually do with our Clans, a system at the moment that's completely unused outside giving us a fancy shared tag with our friends. People have speculated this could be a five-leveled challenge with increasingly difficult bosses.
New class, and no it's not the Paladin
Up until this 'leak' I did expect a new class reveal at Blizzcon but like the majority of the community I expected that to be a Paladin, as this kind of sword wielding holy mercenary class seems to be a purposeful omission from the game considering we had it in Diablo 2, and the Crusader in Diablo 3.

I still expect some form of cleric style class to be added soon, but the datamine has revealed a different class all together 'The Spiritborne' which seems to read like a Druid/Monk hybrid. "The Spiritborn are not merely fighters; they are guardians of balance. They stand on the boundary between the physical world and the spiritual realm, ensuring harmony between the two. Their mission is not just to defeat their enemies but to preserve the natural order of things." The Spiritborn will use a glaive to channel it's resource, and will be a class built on both agility and strength.

It's not clear whether this is the new class being announced, or may be coming with a later expansion. But I do anticipate some controversy if this is announced before a Paladin. Do you guys not have shields?
Followers and runes may make a return
Diablo 2 had mercenaries, Diablo 3 had followers, Diablo 4 has... a horse. This may be set to change though with the return of mercenaries, rumored to have skill names like Berserker Crone, Bounty Hunter, Cursed Child, Maiden, Mongrel, Scholar and Shield Bearer. As someone who struggles through the higher tier Nightmare dungeons on solo, I could really use a meat shield so if this turns out to be true I'll be elated.

The developers have already told us that Runes will be making a return, the system of creating your own legendary equipment in Diablo 2. They didn't want to throw too many systems at the player from launch, but they are definitely being added. I think the best way of implementing runes and runewords would be to form a Season theme around them, and keep them at season end.

And with that, I'm off to enjoy the rest of my evening while the team here at Windows Central keep you up to date with everything coming out of Blizzcon 2023. I will be pausing my gathering to see the Diablo announcements for myself though so crossing all fingers that at least some of the above information turns out to be correct! — Jennifer Young