EA Access to reveal its next Vault game for the Xbox One at E3 next week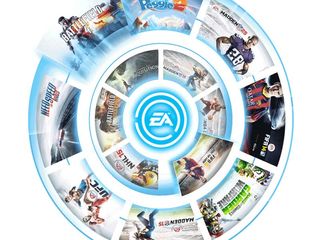 EA Access subscribers should prepare themselves: a new game is about to enter the Vault. Electronic Arts has posted a teaser revealing the next EA Access game for Xbox One owners will be revealed next week as part of the publisher's E3 2015 plans.
There are currently 11 games that Xbox One owners can play for as much as they want with a EA Access subscription: FIFA 15. NHL 15, EA Sports UFC, Battlefield 4, Plants vs. Zombies Garden Warfare, Need For Speed Rivals, Madden NFL 25, FIFA 14, Peggle 2, NBA Live 15 and Madden NFL 15. EA Access costs $4.99 a month or $29.99 a year and is currently an Xbox One exclusive.
The teaser also has an image of all of those game's logos, plus two more titles that are not part of EA Access at the moment: Battlefield Hardline and Dragon Age Inquisition. However, that might just be a reference to the fact that both games were made available to EA Access owners in free demo form a few days before the full retail games were released.
Source: EA Access(Twitter)
Windows Central Newsletter
Get the best of Windows Central in in your inbox, every day!
But really, what game could they possibly add in there. Isnt everything EA almost in there already, save Dragon Age and BF Hardline ? Is there one more sports game left ?

NBA live 14, I believe, is the only other game not in there. They will probably add Dragon Age since its been out for 7 months and BF Hardline has only been out for 3 months.

Obviously they wont add NBA live 14, if that was their announcement I would probably immediately cancel my subscription.

Titanfall isn't in the Vault yet, right? And that's much older than Dragon Age or Hardline--but it also has no DLC to sell anymore, so that might not be likely.

EA doesn't own titanfall. It's not applicable.

You do know Titanfall is in The Vault, yeah?

Yo do realize this article is 7 months old? and also, no it isnt in the vault LOL

I would love for them to add Titanfall. The more players the better!

They said a long time ago they Titanfall won't ever come to the vault. I also believe Titanfall doesn't even get the 10% discount.

Interesting. I didn't know that. Thanks for the info. (I bought Titanfall on launch day last March, so it doesn't matter to me, but that's interesting nonetheless). So it looks like it's either Dragon Age or Hardline. Dragon Age makes more sense.

BF Hardline, NBA 14 and DA Inquisition are the only three games not already Vault. Since NBA 15 is in vault making 14 a vault game e3 announcement is stupid.

What about a streaming announment of there archive

Streaming old games? That wouldn't be bad as long as its part of my sub and not over priced rentals like that PS now garbage

Still in spite of all this xbone sales are behind...i hope this too changes with Windows 10

EA Access has truly been a good purchase. Looking forward to the next addition.

Agreed! I paid for the year and have gotten a whole lot more than $30 worth or gaming. NHL 15, UFC and Battlefield are all in heavy rotation my XB1

It could be the new PvZ game. They might experiment with adding it in bare-bones and charging £20 or something for the rest of the game or really push the card packs.

I didn't think about this but it's probably the most likely option!

Sony can have street fighter. EA vault is a better advantage for the xbox.

As long as it stays exklusive to XB no doubts about that

Been a good for me, just wish they had more of the arcade type games. Worth £20. I reckon Dragon Age is gonna be in.

Probably Dragon Age. I hope its BF Hardline so I can play the campaign and be done with it.

EA Access gives the possibility to have the Games. Can you use your saved games even after the end of your subscription ??

Yes as long as you purchase afterwards or resub

Personally I hope it's Hardline as I already bought and played through Dragon Age Inquisition but either game would be awesome for EA Access subscribers.

If anyone want any apps from the other platform please vote for your favourite apps on this site it has its official app too.
http://windowsapps.uservoice.com/forums/234255-apps
http://www.windowsphone.com/s?appid=6dae6861-2249-4fb2-b0d3-9d308299f42c

cool more games to play. I will renew my subscription the day I can!

Guys do i need xbox gold account to play these games online or i only need EA access to play it online?

Ea access to let you access ea vault games, gold live for Microsoft online play...

The only game that would make since would be BF Hardline

If it's DA: Inquisition I hope I will be able to download it so I don't need to play whit a disc anymore :)

done it myself with battlefield 4, wont need disc but also wont need to download,it uses the install you already have :D

Hoping for hard line but moneys on DA.. It's older and with witcher 3 being out is prob not selling at all now. I own DA from a sale at Xmas.
Windows Central Newsletter
Thank you for signing up to Windows Central. You will receive a verification email shortly.
There was a problem. Please refresh the page and try again.