Nokia Lumia 1020 launches in the Philippines; available from October 11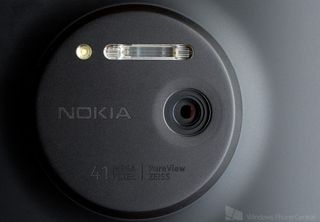 The Lumia 1020 is slowly launching in numerous markets and the Philippines is the next region waiting in line. The Windows Phone will be available at Nokia and supporting retail stores from October 11th, priced at P35,650 ($820). Just like multiple deals covered already, the device will be bundled with the Nokia Camera Grip for free.
We shouldn't have to remind you about the specifications and features found in the Lumia 1020, but be sure to read our in-depth review of the product for more details. If you're looking at picking one up, you'll have the choice between yellow and black. Oh, and when you get your hands on the Lumia 1020, head on over to our community forum for support, latest news and discussions.
Source: MrJonJon; thanks, Lance, for the tip!
Rich Edmonds is Senior Editor of PC hardware at Windows Central, covering everything related to PC components and NAS. He's been involved in technology for more than a decade and knows a thing or two about the magic inside a PC chassis. You can follow him over on Twitter at @RichEdmonds.
Oh man, I've been waiting for this device..! But it's pricey... Woohh..

Check ebay.ph. Just filter philippines. Maybe you can get it @ lower price.. :) Cheers

Dayyuumm. That IS expensive. Everything here really comes with a high price. Spent 27k on my 920 around April so I think I'm going to wait for the phablet this time around.

Hi! I've got this Nokia Lumia 1020 from Canada, it was actually sent to me as a gift but I do not prefer using a Windows phone so I'm selling it with a price of just Php20, 000 but you still have to openline it. Don't worry openline is just Php1,500 .. Just pm me if you're interested you can get this in a complete boc cause its just new :)

Go for it... Great device

Just to add. That price also includes the Nokia mini tripod and powerbank.

Must be talking about the grip that includes a battery.

Sorry, It's only the tripod + the camera grip...

I got the powerbank mixed up from another mobile model (LG G2) :P

Oh ok. I got a little bit excited at the prospect of extra freebies, lol. I am having a difficult time justifying the price tag, especially since I just recently bought a 925. But I still want the 1020 though. Just wasnt prepared for the price, and the fact that it cant be bought sans the grip. Hopefully good carrier subsidies are announced soon...

The way I look at it, for this price the camera grip ISN'T a freebie :P

But hey, I'll probably wait for Smart to offer this since one of my plans is up for renewal already... I just wish Globe offers this too, (although, I'm pretty sure they wont since Globe is a Sammy/Android telco based on their phone line-up). 3 of my plans with globe are also up for renewal :)

HD wallpapers created by nokia Lumia 1020.

Every time a new market is announced we get a nice new picture of the 1020 from the team

You are yet to report that the Lumia 1020 is going to be available in India too from Oct 11th.

They are really selective when it comes to reporting updates or new devices for countries.

I think I saw that news from somewhere. I'm just not sure if it was here WPC.

Wow!! But the price would make me think twice if to upgrade from my 920

hahaha.. Gulat nga rin ako sa presyo..

Gulat ka rin noh. Siguro dahil mas malaki sensor, mas capable camera. Though it's hard to swallow such a price knowing that it is kind of a refurbished Lumia 920.

Ganda sana ng 41mp pero sa ganyang price, bili nalang ako ng dalawang windows tablet hehehe.

Hope that smart and globe (carriers in the philippines) will carry this model . Pero kung bibilhin mo to unlocked mapapamura k sa sobrang mhal eh .... Marami p naman mggwa ang 920 ko except lang xempre for the camera

You can purchase it from Nokia Store then if you subscribe under Globe, you can get big discount with unlimited data plan. You'll still get the unit unlock and openline.

mas gusto ko sa sun..hehe..(astig..nagsipagtagalog tayo dito sa international site)..wahaha..

Link po pls??? Tell me where the source is??

Hope that wpcentral will be aware that there are many wp users ... Hahahaha oo nga nang malaman nila teka pls follow windows phone philippines on facebook im sure marami din wp users dun and tips etc.... Haha

I mean filipino wp users out there sorry for the typo

kimstore (kim.com.ph) PhP32,780 (745 USD)

yes! yes! YES! by nxt yr it'll be availbl in local carriers i assume. just in time i renew my contract.

Ill get it but too pricey whoah

Why would you say "from" (past tense), about something happening on Oct 11th (future)? Is this a British thing?

The author is saying the 1020 will be available starting "from" oct 11 onwards, i never had trouble understanding it and english isnt even my native language

It would have been less painful for you to read had it been "Available starting October 11" but i guess the usage of from also means from that date onwards. oh well, just be happy that beast of a phone will be coming to the Philippines. a bit pricey though

In Brazil is planned to next October 14th at Rio de Janeiro. Source below
http://nokiatividade.com/noticias/evento-nokia-apresentara-os-aparelhos-nokia-lumia-925-e-nokia-lumia-1020/

Available in yellow and black only? No orgasmic smexy white???

Kanino kya pde itrade tong 920 ko?

Hahaha sakin anung kulay ung sau hahaha 920 black ung akin :) ill pass muna sa 1020 hinty hintay muna ng 1520 i guess

.trade for my lumia 720..hehe..

Red tong sakin dti dilaw nanakaw s sm haha!

Damn I can tell this will be a hit for rich people back there

Nokia Lumia 1020 is also launched in India and will be available from 11th October. The price is not revieled by Nokia, it will done on 10th October. Roumer is that the price will be 35,000 INR - 40,000 INR. It will not exeed 40,000 INR in any case. http://www.mobilejury.com

HELLO....VERIZON.......WTF

I've just preordered one in vietnam where 1020 will be available on 8th october. The deal is around $713 with gifts: nokia grip and a wireless speaker

829$ is the average annual salary.

The only reason why I wanted the 1020 over my 928 is it comes with color yellow. 1020 has some exclusive apps too. I should have waited.

The best way to own this is via a bundled plan. I am expecting Smart to offer this with their LTE and UnliData plans, perhaps a notch higher to the Lumia 925 plans.

I hope either telcos offer it too. (i don't expect sun will offer it though). but I hope it will be available in white. I can't find the source saying that only black and yellow is available.. yugatech is reporting that it will also be available in white.

bought mine in HK for only 17k hahaha


This i s good I started to notice Nokia stores have no visitors this fe months but I was visiting last week for the past few days the store is crowded again with many buying and the vendors are happy again. Probably cheap asha or 520s. Although no more than those samsung stores but the fact nokia sells very competitive pricing comparable to androids like cherry mobile is very effective.

umiiyak ang wallet ko huhuhu

I'm crossing my fingers for my unlocked yellow 1020 to arrive from the US @ Php26k before the 11th (8th or 9th) maybe. That would make me the first person to hold and own a lumia 1020 in PH...unofficially.

Good luck with custom duties and VAT, unless you have someone to bring it over for you.

It's October 12 and I've been traveling since last week. Did it hit the Nokia stores yet?

..just one experience lately, i was looking up for windows phone lineup at globe store for their plans (I am currently 808 user and I am looking for phones which is par, if not better in terms of camera) and ask them if they have plans to offer the 1020. Instead, they are forcing me to get an android device (telling that it is better, more advanced specs, and note...'FORCING'...)

...i hate marketing bs these days. I am not sure if that is also same with smart business centers. Any ideas, folks?
Windows Central Newsletter
Thank you for signing up to Windows Central. You will receive a verification email shortly.
There was a problem. Please refresh the page and try again.