The Nokia Lumia 520 surges in Europe, Verizon may get a 1080P Samsung Windows Phone and more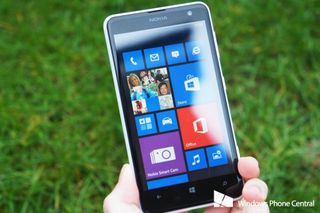 New AdDuplex data shows the Lumia 625 following the Lumia 520's growth with both Windows Phones taking Europe. Windows Phone is also shown to have had a rather successful Q4 2013.
AdDuplex, one of the largest advertising providers for both Windows and Windows Phone, has released data for the month of January. As is the case with each report we cover, the company has analysed usage from supported apps running the SDK to see how Windows Phone has altered, compared to previous months.
There were reports that Nokia failed to sell as many Lumia Windows Phones in Q4 2013 as the company did in Q3, but the ad provider recently released data to show that Windows Phone as a platform performed well through the fourth quarter.
Head past the break to see how the platform looks in the first month of 2014, including some new, unannounced hardware.
Windows Phone 8 through Q4 2013
Microsoft maintains the stance that the company sold twice as many Windows Phones through the holiday season just passed, compared to 2012. If we look at how the OS versions chart compares against the one released in the December report, there's actually no difference at all – both figures are exactly the same. Does this mean that Windows Phone 8 completely flopped over the last 30 days? Not at all.
For its previous report, AdDuplex collected data on December 27th – just days after Christmas as many new people presumably fired up new smartphones received as gifts. There was considerable growth for Windows Phone 8 last month against its predecessor, leading us to believe that this month we could well be looking at a return to normal levels of growth, now consumers have ceased the frantic download of apps from the store.
Let's also not ignore the fact Samsung too had a slight downer over the festive holidays with a decrease in revenue (due to high expenditures in marketing). Windows Phone 8 has had three updates since its release. Here's how the situation looks when Windows Phone 8 is broken down by those subsequent releases:
Less than 15 percent of Windows Phone 8 consumers have upgraded to Update 3. In fact, 18 percent of Windows Phone 8 handsets are still running Update 1, while Update 2 was detected on 67 percent of Windows Phones in the data sample. We strongly urge consumers to keep checking their Windows Phones to ensure they're running the latest version of Windows Phone – head to Settings, then hit "phone update" and check for updates.
T-Mobile growing in the US
On a rather miscellaneous note, the US telecom T-Mobile with its aggressive 'Un-carrier' marketing appears to be experiencing some substantial growth on the Windows Phone platform. The network is just behind AT&T on 25 percent, while Verizon Wireless sits in third on 21 percent. It'll be interesting to see how this alters once the Lumia Icon has been released to the general public on Verizon.
T-Mobile only stocks the Lumia 521 and Lumia 925--both top phones in their class--so it looks to be paying off for them, hitting the budget and high end range for consumers.
Nokia Lumia 520 taking over Europe
Just like in other markets, the Lumia 520 is surging ahead, but in the UK the affordable Windows Phone has gained 10 percent in just 2 months. The Lumia 625 is now situated in the fourth position, behind the HTC 8S and Lumia 800. While we're pleased to see the Lumia 1020 enter the top ten, the Lumia 800 is still in second place, showing just how strong that particular handset was in the UK.
Joining the UK is France, where the Lumia 520 has crossed the 40 percent marker. Not only that, but the Lumia 625 is currently in second position, just shy of 10 percent. Then you have the Samsung ATIV S just behind the two Nokia Windows Phones, making France an interesting market to contrast.
Germany holds the premium Lumia 920 Windows Phone as its number one device running Microsoft's OS. The Lumia 520 has gained more than 6 percent of the market in just two months, closing the gap between itself and the high-end sibling. Again, much like France, the Samsung ATIV S is again doing well and to top everything off the Lumia 1020 has entered the top 10.
Italy has always been a difficult market to convert from Windows Phone 7 to Windows Phone 8, but those days are beginning to be assigned to the dustbin of history. The Lumia 520 is in first with 30 percent, followed by two Windows Phone 8 handsets, showing consumers are indeed upgrading to newer hardware.
Unannounced devices?
Samsung SM-W750V – we covered this device earlier this month, but AdDuplex has some more details to add. There's some bad news as the company has only seen the device on Verizon thus far, but the good news is that it's definitely not a Verizon variant of the ATIV S. What's interesting is the resolution is 1920x1080, but the screen size is just 4.3-inches, according to collected data. This could well be inaccurate i.e. an emulator of some sort, but we'll hopefully have concrete details at a later date. This 1080p device would join the Lumia Icon aka Lumia 929 as forthcoming devices.
Nokia RM-997 –​​ another phone that has been spotted several times in the past. Running Windows Phone 8.0, this device has a 4-inch WVGA 800x480 screen and has been seen almost exclusively in China.
This AdDuplex report is based on data collected from 2,899 Windows Phones running the AdDuplex SDK version 2. While this report is by no means 100 percent accurate, it's a solid look at the Windows Phone platform. Data was collected over the day of January 23rd of this year.
Windows Central Newsletter
Get the best of Windows Central in your inbox, every day!
Rich Edmonds was formerly a Senior Editor of PC hardware at Windows Central, covering everything related to PC components and NAS. He's been involved in technology for more than a decade and knows a thing or two about the magic inside a PC chassis. You can follow him on Twitter at @RichEdmonds.
A Samsung WP will be an unsupported unicorn in the next few quarters thanks to the events of this week.

i.e. Nothing has changed with Samsung and WP. It just means they'll give even less of a shit

However, it will be a big laugh if Samsung comes before Nokia with a 1080p screen on a windows phone (actual phone not phablet).

ATIV S is still one of the top WP devices around (probably the best balanced phone).
It is truly impressive how Samsung managed to achieve that with little effort and almost no support.
The only way WP to gain significant market share is by convincing big players like Sammy, Sony, LG to start making top end WP devices. Hope it will happen. Somehow...

fully agree. The ATIV S has been rock solid. No teething issues - no screen, camera or any other patches, just works. Got to admire Samsung for that. I have a Lumia 925, but more support we can get from other OEMs the better. personally I am looking fwd to Sony WP.

That Lumia could be Moneypenny.

Any news for new T-Mobile phones? Stopped in yesterday with my wife to get hands on the 925 and looking to ditch AT&T for equally terrible coverage in our area at a lower price. However, without the WiFi calling available for our 920s, it would all be for naught.

Anyone think Sprint might finally get on board and come correct with some solid Windows Phone 8.1 releases? And by the way, does Softbank carry any Nokia devices in Japan?

Their website just shows an old Nokai from the N-series. I beleive Japan doesn't have any WP as they claimed a third OS was not needed but I can be wrong :P

Glad he asked about T-Mobile, I've been wondering the same thing. On VZ now but would love to save some money, but then VZ has the Icon coming. Daniel, would it be worth it to wait until after Mobile World Congress you think? Maybe an announcement there?

Just want to point out that T-Mobile owns Metro-PCS, so their US marketshare is actually 35.5% and 3.1% ahead of AT&T

Was going to say the same thing. Good catch.

They are not the same carriers, saying that they are is disingenuous. AT&T owns GoPhone too, don't they? They're probably a substantial bit of "others"...

I suspect that the 620 counts towards AT&T's GoPhone. That said, the 521 on MetroPCS doesn't actually run on the MetroPCS network (which is CDMA), but runs on the T-Mobile Network. Just to back that up, the original 521's were T-Mobile branded, but 521's now do not have any carrier branding. It's the same phone on the same network, with a different logo on the bill.

So, where's the Black update?!

Dude where you living? I have already Black updates since last week.

What about T-Mobile? When will they ever upgrade their line up of windows phone

To be fair, att is the only carrier that updated their lineup. Granted Verizon is rumored to get the new Icon. In any case, I tell this to everyone that complains about T-Mobiles offerings. Just wait a few months, grab the latest ATT WP8 off amazon/ebay for half off, unlock it, and plop your SIM in. Bam, you have a high end WP on T-Mobile.

That's pretty optimistic. Any device that comes unlocked from ATT is becoming increasingly rare is fetching much higher prices these days. You can't just pay $3 to get your ATT phone unlocked anymore; they've gotten wise. And if you need WiFi calling, you're SOL.

You say "optimistic", I say ignorant... Aaron M's advice is terrible.

Ignorant? How can I be ignorant if I've gone through the process im talking about? I converted 3 windows phones from ATT to T-mobile about 6 months ago and am paying 1/3 the bill for 3 times the data. If you don't want to follow my terrible ignorant advice, suit yourself. Some of us like to save money and don't mind applying a bit of research and elbow grease to get it done.

So you were formerly an ATT customer then?

is adduplex based on 2899 phones or apps running the SDK?

It was meant to say apps just like all of their previous reports, the information is collected from 2500+ apps that use their SDK

Even if Samsung decides to make a WP device there will be no software support. I don't get it, companies come out with those gorgeous WP devices and then complain that not many people are interested in them. Well, I wouldn't be interested in them either if they don't have exclusive apps. Like many people I'm sticking with Nokia.

I got gdr3 :D.....the reason for the rise of 625 is because nokia ha reduced supply of 720 so the customers have to turn to 625 instead....here in India i went to buy a 720 but i couldn't find and they were forcing me to buy 625 instead they even said 720 wont get gdr3 but when i told them that it will in the future he came up with saying 720 wont get wp8.1 and then i was out of words xD

That's miss selling, MS promised all phones will get the wp8.1 update. They don't want to repeat the Wp7 - Wp 8 'transition' where in alot of people got and felt screwed over - as a premium phone you just got will obsolete in a years time.

Yeah i know but it just shows how they are misleading the customers...

Hopefully more reason to see additional devices come to T-Mobile.

I've been waiting for that second graph forever. I've been dying to know how many people were on Update 3.

Been waiting for a new Sammy or HTC on T-Mobile. I have JUMP upgrades ready and I'm ready to trade in my 925 after only 3 weeks with it..

The numbers would change for me if the 1020 and 520 were on Verizon and Sprint in the US.

"There were reports that Nokia failed to sell as many Lumia Windows Phones in Q4 2013" Reports? It's not "some reports" Rich. It was Nokias numbers. Period.

It was sad that Samsung never lainched the ativ devices in India, although their omnia line was present including the Omnia m and w

So the Lumia 720 is always in the top 10 best selling WP and some people keep saying that this phone wasn't selling well? I think this phone deserves a new successor.

I am waiting for a 1GB ram version Www.Geekyhub.iN

Romania : Unlocked 820 (mine) : Got Black Orange locked 520 (a friend's): Got Black Unlocked 8X (another friend): Still on GDR1.

I imagine that's the story of some htc wp8 owners to a T.

Windows Phone 7 have 21% . So many people bought that garbage ? I was thinking i am the only one :) Thanks Microsoft gonna stay away from WP for a very looooong time !

You're going to stay away from Windows Phone because WP7 has 21% of the WP market?

You should just upgrade to WP8 to help the numbers go down. My mum has a WP7 because she got my old phone. There are so many WP7's still because Nokia's phones are so durable and long lasting! My family are all on Windows Phones :D my Dad and I have Lumia 925's his is black mine is silver, my sister has a HTC 8X (my old phone) and my mum has a HTC Mozart 7 (my other old phone) and my Dad's gf has a Lumia 520 and his best friend has a 520 too. My housemate has a 520 she bought another 520 this month because her old one got dropped in the toilet. My work friend has a 620, my uni friend has a 925 and three other friends both have 520s I'm very happy I managed to get lots of people to switch and they are all very happy with their phones! Some are even blown away by how fast and beautful Windows Phone is

Isn't this a bad news rather than a cool news? After all, it's a low-end phone that has the most sales. It should be a high end phone...

If tmo gets a variant of my 1520 I'm definitely moving my family plan with them, I'm getting tired of caps and over charges....att

Hmm, the Windows Phone 8 GDR1/2/3 chart is already a week old, and in a month where the update is rolling out to 90% of all Windows Phone devices, that is prety much pointless...

Let''s hope for a 5" Samsung w1080p.... 32/64gb WITH MicroSD..... and knowing that all Samsung WP8 devices have a Interop unlock so far, this would be my number one choice, even over the ICON/929.... I would of jumped on the ATIV S...If Verizon supported it... I miss having a Interop/Rooted WP device...custom color tiles is the main thing I want...

That's what I am waiting too. Next ATIV S !!!
Heavy phones with massive bezel (bar 925) are not for me.
By the way you can install Nokia apps on non Nokia phones. How? Just google it ...

So ATT is the premier partner because that's how they get the marketing bucks as the story goes. But yet T-mobile/Metro PCS has a larger share and Verizon posts a very respectable 20%. Am I the only one who thinks this "premier partner" strategy has run its course? "but, but, but....that's mostly the 521" True, but my first car was a POS, too.