Nokia Lumia 525 is now available for pre-order in Russia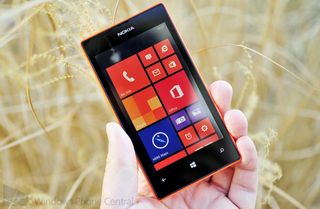 The follow-up to the best-selling Windows Phone device is now available for pre-order in Russia. We're talking about the Nokia Lumia 525. We've actually just unboxed one and we should have our full review shortly. What's the Lumia 525's major improvement over the Lumia 520? The amount of RAM! The Nokia Lumia 525 features 1 GB of RAM compared to 512 MB on the Lumia 520.
Nokia's official Russian online store, N-store.ru, lists the Nokia Lumia 525 for pre-order with the price tag of 7490 RUB (approximately $223 USD).
Lumia 525 Specifications
Windows Phone 8 with Update 3 (10517) and Lumia Black
4-inch IPS LCD display, Sunlight readability, Lumia Color Profile, double-tap to wake
8 GB of internal storage (4.5 GB available), micro SD expansion
1 GB of RAM
1 GHz dual-core Snapdragon CPU
5 MP rear camera, no flash (no front facing camera)
Bluetooth 4.0 LE
1430 mAh battery
The Nokia Lumia 525 is nearly identical to the Lumia 520. In addition to double the RAM, another notable difference is the color. The Lumia 525 comes in glossy colors instead of matte. N-store.ru lists the pre-order for yellow, white, and orange.
The increase in RAM for the Lumia 525 means less restrictions on what apps or games can be installed. That's a problem that Lumia 520 users sometimes face. Many apps and games initially come out supporting only devices with 1 GB RAM and higher, but eventually add support for 512 MB devices. With the Lumia 525, you don't need to worry about that.
N-store.ru has not mentioned any specific dates, so we're not sure when the pre-orders will actually start shipping. The Lumia 525 is also currently available (or coming to) China, India, Vietnam and Singapore. If there's enough demand, we may see it pop up in more markets. Are you pre-ordering a Lumia 525 in Russia? Let us know in the comments!
Source: N-store.ru; Via WP7forum
Thanks for the tip, Dmitry!
Windows Central Newsletter
Get the best of Windows Central in in your inbox, every day!
Really wish it could be available in America

Never understood the logic myself.

Carriers dont always want what OEMs have to offer... So they sell to the runner-up. In this case there's more shitty carriers in UK. Or w.e.

Should have gone that extra mile and added flash.

Not even such a mile. Flash is so cheap, it can be found on flip phones.

Yea but in 6 months the next one will have what this one lacks... So you end up buying two phones. Thats the logic. There not dumb.

Plus, when they make "budget phones" they can't put everything in them. They want u to "want" the higher end phones. If u cud get what the higher end ones have for $100 than they'd go out of business.

Ya not really a budget price.

It's $70 more than the 520 that's old now. Seems quite reasonable to me

Here in india 520 is available for 100 $ and they say 520 will cost more than 200$

The price in Russia isn't going to be the same as India... Also the 520 is considered 'old' now so prices have fallen everywhere. Even the 920 is less than half the price it came out at. So you'd expect to pay more for the latest model

The current price point is too close to the Moto G, which is a better phone in almost every category.

Is there any indication that this is coming to the US?

Definitely not a cheap phone, but then again, an unlocked 520 in Portugal still costs 169€ which is around 200 USD.

Good prices slim. Wonder if they ship to UK? I think the 520 is around £70-£80 sim free from Carphonewarehouse.com

I am waiting for 525 as a budget phone replacement for my son.

That's expensive..around 175 dollars here !!

You must be joking. I've just received my 520 from the US. Haste makes waste, they say. Haven't yet seen 525th advertised in the local stores, possibly they're only available @n-store.

I used 520 for eight months and bought 525 three days ago. Nothing is better than this price tag.

Nokia Lumia 525 is an amazing phone- if you leave the camera aside. 1 GB RAM makes it an amazing entry level smartphone that fits your budget. If you want a low budget Windows phone, then this is the phone for you. For a more detailed review on Nokia Lumia 525, visit http://mynokialumia.com/nokia-lumia-525-full-review/
Windows Central Newsletter
Thank you for signing up to Windows Central. You will receive a verification email shortly.
There was a problem. Please refresh the page and try again.