Nokia Lumia 525 – Unboxing and hands on with the low-cost 1 GB Windows Phone
Taking a look at Nokia's problem-solving Lumia 525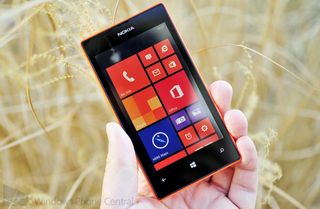 Last year, Nokia introduced the Lumia 520, a lost-cost solution to those who want a Windows Phone in emerging markets. As it turns out, demand was much higher than anyone anticipated. Nearly a year later and the 520 is one of the best-selling Windows Phones around. It's a great low-risk way to experience Windows Phone and it opens the door to higher end options. But if the Lumia 520 had one flaw, it was the amount of RAM.
Windows Phone 8 can run easily on 512 MB devices, but some higher end games (and a handful of apps) need some good memory optimization before they can run smoothly. That usually happens, but it can take months after the initial release. Microsoft is confident this will go away as developers target 512 MB devices in the future, but up until now, there hasn't been a low-cost 1 GB Lumia to get around this problem.
The Lumia 525 fixes that by simply bumping the RAM to 1 GB. So, can lightning strike twice for Nokia? Watch my unboxing and first impressions of Nokia's device to find out.
Lumia 525 Specifications
Windows Phone 8 with Update 3 (10517) and Lumia Black
4-inch IPS LCD display, Sunlight readability, Lumia Color Profile, double-tap to wake
8 GB of internal storage (4.5 GB available), micro SD expansion
1 GB of RAM
1 GHz dual-core Snapdragon CPU
5 MP rear camera, no flash (no front facing camera)
Bluetooth 4.0 LE
1430 mAh battery
As mentioned above, the Lumia 525 is nearly identical to the Lumia 520. Nearly. There are a few changes, which are all for the better:
Glossy, interchangeable back covers, instead of matte
Double-tap to wake is now available (also on the AT&T Lumia 520, but not many others)
Display seems slicker to the touch
Other notable changes include a non-embossed logo on the back and slightly more recessed side keys.
Although on paper the devices are quite similar, I think the glossy back adds a little more pizazz to the Lumia 525, making it feel more high-end. Due to its size, it's not slippery and it stays in my hand with ease. The Lumia 525's display appears less sticky to use when compared to the Lumia 520, and whites are a tad more accurate.
The 5 MP is unremarkable, but in daylight performs quite nicely with pronounced sharpness (see above sample photo). For an entry level phone, users should be pleased.
While I have only spent a few hours with the Lumia 525, my initial impressions are great. If I had to choose between it and a Lumia 520, it's an easy decision as the former has less restrictions on it for software.
Granted, being able to run high end games has its limitations too, namely storage, which is still capped at just 8 GB. Currently, Windows Phone 8 doesn't allow storage of apps or games to the storage card, though I've heard that the 8.1 update – due later this year as an upgrade – will enable this feature. We'll have to wait and see though.
I'll spend a few more days with the Lumia 525 and let you know what I think. Although Nokia's latest device isn't expected in the UK or US markets, users can opt to buy it via online retailers. Like the Lumia 520 though, if there is enough demand for it, we may see more carrier pickup in the future.
The Lumia 525 is currently available (or coming to) China, India, Vietnam and Singapore. There is also a Lumia 526 variant specifically for China Mobile.
Have questions about the Lumia 525? Ask away in comments or head to our dedicated Lumia 525 forums to do some research!
Lumia 525 (left) versus Lumia 520 (right)
Windows Central Newsletter
Get the best of Windows Central in in your inbox, every day!
Daniel Rubino is the Editor-in-chief of Windows Central, head reviewer, podcast co-host, and analyst. He has been covering Microsoft since 2007 when this site was called WMExperts (and later Windows Phone Central). His interests include Windows, laptops, next-gen computing, and for some reason, watches. Before all this tech stuff, he worked on a Ph.D. in linguistics, watched people sleep (for medical purposes!), and ran the projectors at movie theaters because it was fun.
Where in the US can be found? i want to buy one for my mother.

http://www.expansys-usa.com/nokia-lumia-525-unlocked-8gb-black-257559/ ...just an example.

Go to your local VZW or Sprint store. Get on a tablet and find the nearest T-mobile/AT&T store... end sarcasm...and slight jealousy.

Only thing missing is flash and FFC

I wouldn't say that it's "missing". That's what the 6xx series is for. Otherwise, adding those things will bump the cost up significantly and that defeats the purpose of having a 5xx line.

Dude, not fair. They can still squeeze them in for that same price point.

They don't because people who really want it will then pay more to get a handset which has flash.
It's the same reason Dolby Audio is omitted from the 520, to differentiate it from the more expensive phones.

Dobly is far out of the subject. The phone still have souds coming from it. And it's loud. C'mon guys. Nokia could've put at least some flash on the back. No matter how crappy it is.

...I love armchair phone manufacturers...anything is possible with them, damn the bottom line.

Well said. Unless a company is treated like a national treasure and supported by the national government (y'all know who I'm talking about), manufacturers have to deal with a lot of engineering problems that entail costs.

On a serious note, adding a flash LED and relevant circuitry or an NFC antenna would mean redisgning the internals to accomodate new hardware. This could take time and effort not worth investing in a phone that is already about a year old.

...you've completely missed my point. I'm sure they could've! But they don't because they want that feature in the phones they make more money off of, and if people REALLY need it, they'll buy those.

If you want flash and FFC, go buy the 620, or even 720. Both are cheap enough at this point to make them within reach for people on a budget.

Significantly? It shouldn't. Those components do not cost much...

It should have 2gb of memory.

Whoa man why 2 GB man you can say 8 MP camera full HD sceen.........I think if you are daydreaming then dream it big na............LOL

But integrating each component and not breaking the whole, within the design confines, is a costly process. That's why they have different models that sell for different dollars.

"...Microsoft is confident this will go away as developers target 512 MB devices in the future, but up until now, there hasn't been a low-cost 1 GB Lumia." Yes, hopefully since there will be 512MB devices in use for the next couple of years, at least. However, let's hope that 1 GB is the minimal RAM for new WPs going forward.

The way it was explained is that the dominance of 512 MB devices was not expected or predicted, so devs will have to rethink their strategies instead of aiming for all high-end hardware.

In some ways I'm happy for this. Of course there will come a time when those devices will have to be abandonded, but the limitation should force an efficiency to the platform.

Personally, I don't think of it as "limitation". I look at it as bragging point. "WP8 runs marvelously on as little as 512 RAM while Android lags and stutters with the same RAM" :)

Exactly and Blackberry can't keep up in the market. I really love the new direction Microsoft took and cant wait to get back on board.

How did you guys get ahold of this?

Bring to T-Mobile to replace the 520.

I want one I think it'll help with app switching...cause on the 521 it seems every time you try to go to an app it almost always resumes and it can be quite annoying

When I saw the 520 and 521 selling so cheap over Christmas on AT&T and T-Mobile, but no comparable model available on Verizon to try I was pretty frustrated. I had relatives and friends on AT&T who ran out and bought the 520 to keep just as a backup in case their premium phone got lost or damaged. I wanted one to be able to try it out but being stuck on a new Verizon family plan I just have to wait for the fabled 929/Icon before I can make the switch.

Yep that's why I won't ever go CDMA. Being locked to phones designed for that carrier only is absurd.

Well your not locked to CDMA, just unlock the phone and your good to go with GSM. Why would anyone want GSM anyway when its just 2G though.

Ooh a lost cost solution
Thats the best kind

The 520 seemed brighter when you had the phones side by side. Overhead light hitting sensor on the 525 or something else?

The brightness setting was likely on High on the 520 and left on automatic on the 525.

How is that auto-brightness on 525 ? My only real annoyance with 520 was crappy auto-brightness (way way too low mostly)

"due later this year "... OMG, first was "early", then was "in the middle", now "later"... :/ Because the Lumia 525 I dont expect to see the sucessor Lumia 530* been released this year. My toughts for this years sucessors releases:
- Lumia 630, Lumia 830 and Lumia 930 in BUILD; - Lumia 730 and Lumia 1030 in Nokia World; - Lumia 1530 in the Holidays, together with a new phablet, maybe a Lumia 1230; - Lumia 530 and Lumia 1330 in "early" 2015. * Lumia 530 = dual sim, Clearblack display with glance, front face camera + Lumia 525 others specs (my guess).

You're really reading too much into things with the "later" comment.

hahahhaha, I knew you are coming to say this! :P What you think about my new Lumias releases?

I think they'd be foolish to go into the holidays without a 5XX refresh, considering how well that phone worked for them this holiday. I also don't expect we'll see a yearly entry in the 10XX series, but I guess we'll see.

I doubt this. I think the Lumia 525 is just made because Nokia ran out of 512 MB memories and started using the 1 GB from other devices to lower the development consts. I think the 525 is just here to get out everything that's left. I think that with Windows Phone 8.1, Nokia will refresh all of it's devices at once, except for the 13xx and 15xx. Since all of them 520, 620, 720, 810, 820, 920 and 1020 are rather becoming old.

Nokia needs to release their phones periodically, just like they are doing. This helps to keep the buzz.

Lol. I'm sorry, but Nokia did not change a phone model because they ran out of parts in a bin. It's not that simple to switch. You can't just slap a different ram module on there and call it good.

Lol your reply to that hilarious comment made me laugh even harder thank you

Lol. I'm glad you enjoyed it. :)

It doesn't come anywhere near under $100 as claimed in the video

1GB RAM should have always been the minimum in Windows Phone. I'm tired of all the "Loading..." and "Resuming..." in mine 720.

Sorry to disappoint you but in my Lumia 920 I often see these two. Hate that!

Maybe WP8.1 will fix this. That is my last hope.

Well, that and a Snapdragon 800 as found in the Lumia 1520 (and 805 later in the year). Next gen quad-core kind of crushes lower clocked dual.

Can we at least expect that WP8.1 optimizes some parts of the OS itself?

Fingers crossed they will come up with a worthy successor to the 920. There will be a lot of people coming to the end of their two year contracts around that time. In terms of the 525, that battery seems tiny, I realise why, but how long is it lasting?

I'll buy this one if they won't release a new Lumia 8xx soon.

Aww they absolutely have to! And put a decent camera in it, atm it's worse than the 720's!

I still think 16GB should be the minimum for storage in 2014. Especially with WP8.

Off subject, but good news for those who have the 1520, and are experiencing the screen brightness dimming bug..
I got ahold of NokiaCareUS on twitter, and they are asking about the bug.. They are asking me if I tried the obvious, so it doesn't seem as though they are aware of it.. It just sent them a link to the main discussion about this in WPC forums.. I'll update you guys when they get back with me.. They've sent me 3 messages within a hour so it seems as though they want to get the issue resolved.. I'm going to stay on them until I get a decent reply from them..

Decent budget phone, but Nokia look to be charging too much for this.

Since the two phones seem so similar to each other, are the back plates inter-changeable?

remember, yje expansys price is for the international unlocked version. pretty sure it'll be cheaper when the carrier locked versions land

Its said that Lumia 525 comes with a glossy back panel (as a change)...but my red coloured Lumia 520 is already glossy (black is matte)

I believe white is also matte, and yellow and red are definitely as well on the 520. On the 525, they all seem to be glossy.

Just got this 525 today. Intend for my mum usage. It's Black, matt, rubbery feel. That's what i can confirm.

Really need FFC and flash at least, even if its just VGA and a really cheap single LED flash. This is constantly compared to the Moto G, and is almost the same specs except for those omissions. I believe the 62x series is a bump higher than the Moto G in price point as well.

Glossy shells make it feel cheap not high-end. Every glossy phone I've tried feels cheap and horrible. That's why Samsung phones always feel cheap, even if their high end.

In this case, I disagree. Especially when holding a matte yellow Lumia 520 and a glossy red Lumia 525 and comparing.

Do you think that the high end Lumias that are glossy feel cheap? I have a glossy Lumia 928 and my sister has a glossy 920 and they don't feel cheap.

Wow that lead image is gorgeous... Dan did you go out into the hay fields?

Really? it's freezing outside.

Can I change my Lumia 520 back-cover with the 525's?

Pretty sure I listed that as a feature above, twice, no?

I mean,on my Lumia 520! Will I get that with the black update?

Yes, when the black update arrives

Daniel, are the capacitive buttons backlit?

4.5GB internal.. Huh.. Only 1or 2 games will full it.. Whats the use.. Waste.. Nokia and microsoft have to provide SDcard support for Games & apps. I don't think it should be suitable for gaming. Until Sdcard support will be developed on WP devices.

Hey man just a heads up the Sony Xperia ZR a high end mobile has only 8GB internal memory. And 8GB is a fair amount of memory (xperia M or C are 4GB) and they are much more expensive than the 525 and what are the 2 games that would accumulate 5GB worth of memory ?? I have a 520 and I have 70+ app and games and still have half a GB so don't whine

Sorry Ahmed Hassan 7, but IMO, this inability to move ur games and apps to sd card is a big failure. I have a Lumia 720 & I am really loving it. But now my available internal storage has reached 370 mb and I can't download any more games. So I think Microsoft really really needs to address this issue

Ok Saddam will you take a look at apple for example it doesn't even have the SD slot and their users dont complain so we should be thankful. also Microsoft not giving us the option to move apps to SD is definitely something they thought through alot and most probably the main they didn't go through with it is security issues, then again I would love this option as I love to explore apps , but if this option will jeopardize our security as an OS then I think we better not have it , one last thing you also get what you pay for if you are in dire need of memory get yourself a 920 a 925 or 1020 even the 8X

Wp7 can do that, but they removed it.

Can the 525 back cover fit on a 520?

My brother has the 520, and the only downside I can see is the lack of camera flash (and maybe FFC). I tell ya with all the issues I've had with my L1020 the 520 keeps looking better... Of course, then I just go out and take some stunning images (now in RAW :) ) and I'm happy again.

Something that may be helpful for those with an 8GB device. In the 'Lumia Storage Check" app, you can store your offline maps to your SD card. I got the app from the Nokia Beta Labs site, its the same as the one under settings but with the option to store maps on your SD card.

Oficcially available in eastern Europe too (Ukrain and Belarus and maybe others)

Release this in the UK! I recommend the 520 to a lot of people would be even better to start recommending the 525.

Everytime you show a non-ATT WP it pisses me off that my ATT one still does not have Data Sense.

Not sure why you'd need it with the myAT&T app. All the info you need is in there.

Wilbur, you should read up on DataSense- it does a LOT more than myAT&T. For starters you'd get data consumption by app- this is hugely helpful in managing a data budget, or troubleshooting sudden usage spikes. But there's more: http://m.winsupersite.com/windows-phone/windows-phone-8-gdr2-data-sense

Also myATT is not available for GoPhone custumers and I want to use Data Sense when abroad using a local sim.

With double tap to wake up!! Will it be available for 720 after update or something?

Why you need 1RAM, with only 8GB of space *kuch kuch* -_- I'm never playing games on my phone anymore (on my iPhone I did), because of the 8GB on my 820.
I played games for some time on my Windows Phone, but because the growing Other-space, I had to restore my phone (multiple times), and my save game is of course lost..

Are the back plates interchangeable?

Hope this doesn't become a lost opportunity. Price increase, only ram upgraded. Tough cause Moto g is a superior value. They should just do a $200 squeeze in as much value 620

Dear Daniel Rubino, do u have any contact with Microsoft or wp8 team? If yes then plz tell them to do something about moving apps and games to sd card. I don't need a file manager for that and I don't care at all if it doesn't have 1, but come on man, its Microsoft after all. The BIGGEST computer software provider in the world, and they just can't come with a solution to this issue. Plz plz do something about this, otherwise I already feel my Lumia 720 useless, and Microsoft is just forcing me to sell it and switch to the Android world.

The problem is cheap sd cards, which most people end up using are too unperforming, games would drag in those. I've put my Here Maps in the a sd card, and now it's extremely slow.

I just wanted to download xtreme trial 3, despite it able to run on 512 Mb ram, I couldn't. And u know the reason well

I'll wait for a real PureView like the 1020 to come down in price and give 32GB storage. As an aside, you do know that "that" is pronounced with a "th" sound, not a "d" sound, right? Likewise "the" has a "th" sound, not a "d" at the beginning of the word. That was incredibly distracting.

Incredibly distracting, eh? You know I live in NY, right? I can get George on here with his Alabama accent if you want, or Rich with his UK one, etc? Also, I had speech issues as a kid. So, I'm not stupid, just have some motor issues when talking, but thanks! (Later on, I went on to work on a PhD in linguistics and communication sciences at CUNY, there I knew a student with a stuttering issue who is now a Professor. We all have different backgrounds here.)

I just hope microsoft fixes the other storage bug...its plain irritating to reset your phone every now and then to recover other storage space....out of some 6gb on 520 it takes up 2-3 gb leaving no space for apps...wake up MS

basically 512 MB more of ram and oleophobic coating (which SHOULD HAVE BEEN THERE ON THE 520 IN THE FIRST PLACE!!!) for over triple the price. Nokia gettin' greedy I mean, they could've added 8 GB more of storage and the 525 would look significantly better and make more sense.

Is there an equalizer? And how is the speed and performance compared to the Lumia 520?

I really don't understand something. If the Ashas can have a glance screen, why can't the Lumia 520?

The Ashas run an entirely different OS.

I have the 520 and I think they could have added either a front facing camera or a flash to the rear camera for the 525 but the 1 GB of ram will help though it runs really well

Are the backs for Lumia 525 and 520 interchangeable? I'd like to have a glossy one on my Lumia 520 :)

I'll buy it for my parents right away, but it's gonna be priced around 200-250 bucks in Russia most likely.

I got this for my mom and dad. They both love it. I can't believe they put so much in this phone for a low price.

Too bad this isn't coming to the States. I need an inexpensive replacement for my iPhone 5 while I wait for the 2014 Lumia 9xx. I am not ready to plunk down $60 and $60 a month for a 520/1 - just yet. Another few months with my Candy Crush phone and I may change my mind.

So, why is glossy better than matte?!


Since this model is as 'useful' as 520 i.e. identical hardware then it's not worth to buy it for those few apps that require 1GB, a person that wants only a basic touchscreen phone won't be interested in 1GB. It could be argued that he'll use it mainly as a phone (and not a smartphone with it's full potential). 630/635 will be normal upgrade - WP 8.1 for the price of $130-199. Right now we are certain it has a 5MP camera with flash (that's a standard on every cheap phone but they can decide to include an even better cam for this price), front facing camera because it's also a standard everywhere and 620 has had it, 4G LTE since it'll become a common element in 2014, recent leaks also indicate 1GB RAM and probably a ClearBlack GorillaGlass display with low res. That's all been done and it's a minimum now, the question is will Moneypenny get wireless charging and NFC additionally ? I think not because they want it to be a low end device with 4" or 4.5" inch screen.

Just got this today, intend to give it to my mum use. Coming from a user of Blackberry OS7 and 10, the Win8 system have its plus and minuses. It's easy to navigate, most of the apps, programs, settings are simplified. However, when it comes to detail setting, such as APN to access mobile data service, i couldn't find the detail setting. Shortcut creation is also not easy... for example, i want to create an immediate access to the dial pad, but no such setting allowed or available. The latest OS10 from BB lack of this as well, when compared to BB OS5. However, it's an instant access on numbers of SONY Android models as well as BB OS7 models. Certainly, alot of folks here may suggest, or surprise why instant dial shortcuts is not created or encouraged. Well... different folks, different strokes. My mum, as with some other older folks, trusts what they written in their little portable paper phonebook, rather than advance tech gadgets. Haaa~~~ 525 packs with a FM radio tuner. Yet... i can't create a short cut on the start screen such that my mum doesn't need to flip through pages to look for the function. Impressions... -the camera function, and the good quality of the photo capture leaves a good one compared to my OS10 BB Z10. I can at least set the ISO quality on this. However, same like Z10, seriously lacks of optional resolution setting. Post editing on the pictures captured is required such that it can be sent through limited sizing corporate emails or Hotmail. -customizable icons on the start menu, can resize, but unlike some Android phones which can resize to personal preferred size. -power efficiency... even if i set the phone connected to 2G network, it's power consumption is still higher than my BB9860 which packs a 3.7inch screen and 1280mah battery, compare to that of Lumia 525 with 4inch screen with 14++mah battery, and brightness set to auto. My BB Z10 have a very good battery life with 2G connection, with an average daily calls of 10mins average total per day, can last 3.5~4days without the need of plugging to the charger. Competitive pricing, good camera, removable battery, and certain level of ease in customizing is adds couple of points to the phone. However, mediocre battery capacity, high power consumption as well as not so silver age elders friendly customization, and limitation on camera settings add numbers of minuses. Oh yeah... just to add... the bundled NOKIA phone earpiece is a total crap. Couldn't even beat Samsung and SONY Android phones' earpiece in sound quality when listening to radio broadcast in open area! Ditch the earpiece, which is only perhaps good on conversation calls.

This lumia 525 has low-resolution pixels on screen as the Lumia 520?
When is coming to America?

Affordable price 1 GHz processor 1GB RAM. worth for money... Nokia mobile price nokia mobile

Will Nokia lumia 525 get windows 8.1 update

When will windows 8.1 update arrive for Lumia 525 in India ?

The best featured smartphone by Nokia - Nokia Lumia 525 (Black). It is now online available on Flipkart at affordable price place, just place your order for Nokia Lumia 525 (Black) and enjoy its excellent features. You can also benefit by purchasing Nokia Lumia 525 as several discounts are available hurry up offer is for limited time. http://www.flipkart.com/nokia-lumia-525/p/itmduzjmatkwmx24?affid=sandeepsem

Can i change the lumia 525's back cover with a lumia 520's cover? tnx
Windows Central Newsletter
Thank you for signing up to Windows Central. You will receive a verification email shortly.
There was a problem. Please refresh the page and try again.