Nokia to partner with Vodafone UK and offer free Netflix with the Lumia 1020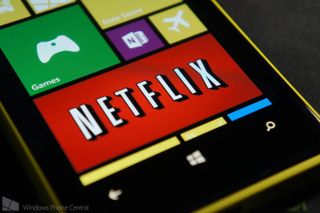 Nokia is looking to partner up with Vodafone UK to offer free Netflix on all Lumia 1020 purchases. The FT reports the deal will include one year's worth of Netflix for those who purchase the Windows Phone on Vodafone. Nokia is currently signing a deal with Microsoft for the latter to purchase its devices and services division, but it's clearly not halting aggressive marketing anytime soon.
Netflix is also looking to compete in Europe against established competition, including LoveFilm. This opportunity enables the service to be utilised by those who purchase a new Lumia Windows Phone on Vodafone without footing the entire bill (we suspect Nokia has placed its company card on the table). The upcoming holiday season is also being targeted to bolster sales.
Windows Phone is already doing well in the UK, snapping up 10 percent of the market. With more hardware on the way, alongside enticing promotions such as this, Nokia is certainly looking to increase the rate of platform adoption.
Rich Edmonds is Senior Editor of PC hardware at Windows Central, covering everything related to PC components and NAS. He's been involved in technology for more than a decade and knows a thing or two about the magic inside a PC chassis. You can follow him over on Twitter at @RichEdmonds.
Too bad this deal is not global and for people who already got 1020, would be a very nice move.

I wish they gave away the phone for free with purchase of a 1 year Netflix subscription. But apparently they are a greedy corporation now that M$ has bought them out.

Why because I thought of it first and you didn't?

O2 still have exclusivity on the 64gb 1020. I'd rather have the extra 32gb than Netflix for a year.

I completely hear you on that. Besides most of what Netflix has is old or (Z) rated films.

And here I was happy with a 16gb 925.

Lol. 32 is far from being enough for me on my 920. I don't like the cloud so its all either on my phone or my computer.

Same here. 32gb on my 920 is fine and im paying £5.99 a month for NetFlix. Sounds like a good deal to me.. if I was in the market for a new phone!

Dude SkyDrive has no draw back.. How can you not like it?

Because it takes forever to load my photos. Also I just don't like the thought of my stuff being stored by others. But the that load time is ridiculous.

Would be awesome if Microsoft could give free Netflix on all Lumias and to make it fare you can only access it on your Lumia.

Why would Netflix do that?

I bought a Nokia 1020 on Vodafone on Friday but when I try to register for the Netflix deal it tells me that my IMEI doesn't exist how is that physically possible? =(

How did you attempt to do this?
Guy in Vodafone shop didn't have a clue about this deal or customer service person.

http://nokiapromotions.co.uk/

I got 6 months free via phones 4u i had to wait 14 days and then it worked

I bought on 26th November and today found out my IMEI also does not exist :( Did you ever get this sorted?

This is a great deal. I got my 925 on Vodafone (4G) with Spotify premium free for the duration of my 24 month contract.

Only good if you like or use Spotify though. I use neither. But that deal wouldn't apply to me as I'm in the US.

I reckon the uk market will hold 15% by the end of the year for wp8.

I hope so. I know a few people with Windows Phones now, although mostly they are people who just want a phone to call and text :/ would be nice to see more in the hands of younger people that want the cool features WP (and the Lumia hardware) offer.

I got the offer of sky sports or Spotify with my Nokia 925 on Vodafone 4G and guess what..... No sky app on windows phone so its a bloody con!! Come on sky get supporting the only OS you don't cater for!!!
Windows Central Newsletter
Thank you for signing up to Windows Central. You will receive a verification email shortly.
There was a problem. Please refresh the page and try again.