Physical copies of Cyberpunk 2077 will be refunded, currently at Best Buy and CD Projekt Red
Typically Best Buy's return policy doesn't allow for returns of opened games.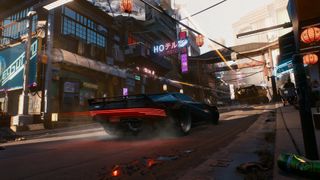 (Image credit: CD PROJEKT RED)
Update: CD Projekt Red confirms that it intends to also help physical copy owners to get refunds.
What you need to know
Best Buy announced on its forums Friday that it will be accepting returns of Cyberpunk 2077 until Dec. 21.
Originally, the retailer didn't accept returns of opened games, but will be making an exception.
It's worth noting that it'll accept Collector's Edition returns, but all elements of the package must be included.
When CD Projekt Red originally announced that it would be allowing full refunds for Cyberpunk 2077 until Dec. 21, 2020, it didn't specify how each respective platform and retailer would be handling it. Since then, platforms like Sony and Microsoft have announced that it would be honoring full refunds, while Sony delisted it from its store entirely.
Now, we're starting to hear how physical, third-party retailers will be handling the situation. Best Buy announced on its forums (opens in new tab) Friday that it'll be making an exception to its return policy for physical copies of Cyberpunk 2077 until Dec. 21. This'll apply to the PS4 and Xbox One versions, the two Collector's Editions, and Xbox One Digital.
"Normally, Best Buy is unable to offer returns of opened game software per our Return & Exchange Promise here," a representative from Best Buy corporate wrote. "However, after some deliberation, and seeing that the vendor will be allowing returns through 12/21/2020, Best Buy will also be allowing returns for select opened Cyberpunk 2077 SKU's through December 21, 2020."
They did note, however, that it'll be returning to its typical return policy after that date. Additionally, they said that if you want to return a Collector's Edition, you need to return each of the pieces. If you had a Steelbook version, you'll need to return the Steelbook casing, otherwise the price will be deducted from your return.
While our reviewer praised the game in his Cyberpunk 2077 review, the game has been riddled with bugs and performance issues. While it's playable on PC and next-gen consoles, it suffers greatly on the Xbox One and PS4 (although fares slightly better on the Xbox One X and PS4 Pro). If you have a digital copy of the game you want to return, you can request a refund on Xbox and PlayStation. In the meantime, CD Projekt Red is hunkering down on some hotfixes and other major updates over the next few months.
If you want to get your cyberpunk fix right now, there are plenty of sci-fi PC games you can play when you can't play Cyberpunk 2077.
Update: CD Projekt Red reiterates desire to get physical copy owners refunds
CD Projekt Red released a statement on Twitter Friday to remind players that they can still get a refund for their physical copy.
Players can still email helpmerefund@cdprojektred.com before Dec. 21, 2020 to receive a refund. The company says the money will come out of their own pocket if necessary.
Carli is the Gaming Editor and Copy Chief across Windows Central, Android Central, and iMore. Her last name also will remind you of a dinosaur. Follow her on Twitter or email her at carli.velocci@futurenet.com.
Ouch, having worked retail and knowing that the return of physical media is prohibited by copyright laws I know how major of a move this is.

fair play to the developer for admitting what a clusterf*** the release has been

Not exactly sure why would people who wanted the game so much so they got it at launch would go for a refund? Except maybe for PC gamers who don't have the specs. It's not like the game won't be fixed in the very near future... I have seen games being rigged with bugs and not that much drama around them... The game is still great when it's working like it should and that should be true for a wider gamers group very soon which far to be true of other games with similar issues...

Maybe get a refund now then buy it again in like 6 months for half the price.

6 months? You're being modest. It'll probably be half price by March

Yeah I was thinking about digital copies... But you are right... Then again day one buyers usually don't want to wait that long... And it's like it's gonna take longer to fix with CD projekt than it did with big studios in a similar situation... And in those cases it's usually broken across the board with no new Gen and certainly not a global pandemic in the mix.... And they take forever to fix things even though they have the money the assets and the manpower to do it... Two hot fix in a week or so and two major patch in less than 2 months with the holidays in the middle is quite an achievement in my book... Many studios should take notes... Yeah they messed up for sure... But it still sounds a little over the top on all sides IMHO...

This is a financially ruining situation for them. Maybe it's time for Microsoft to break out the checkbook and save them.😁. Kidding. The money that they're losing from this is probably just a drop in the bucket for cdpr. The only thing that this is really costing them is their reputation

I think about how many other developers delayed the launch of their games so as not to conflict with Cyberpunk 2077. Many of them are probably kicking themselves that they aren't in the market now to pick up the slack and will probably end up releasing their own games at about the time that CDPR actually gets Cyberpunk 2077 to a playable state for the masses. Anyone who didn't delay a game and released it about now is probably clicking their heals with delight.

Aside from base PS4 and Xbox One the game runs ok. By ok mean as one might expect of a massive open world game with a brand new engine that probably could.have used another 3-6 months to squash bugs. Even One X runs it ok

Overrated topic, the game has some bugs on everything else then base consoles, did they mess up yes are they fixing it right now yes. So why does anyone want a refund? The management is definatly at fault not the developers. Runs great on my XSX but will not play anymore i want the next gen patch before i continue and will leave the game as is on my Xbox.

Next Gen patch wasn't planned at launch anyway... The game is just released in PC and Xbox one/ PS4 version... The new Gen version was always planned to come at a later date...
That being said with how awesome in its current state on XBsX and considering it's supposed to be a last Gen version and a messed up one at that I can't wait to see it run in it's supposed version... And the game is perfect to get tons of DLCs... Can't wait I'm playing now and will again and more when it's releasing... Been waiting too long for a sci fi rpg... Got a bit tired of all the fantasy and Japanese rpg lately
Windows Central Newsletter
Thank you for signing up to Windows Central. You will receive a verification email shortly.
There was a problem. Please refresh the page and try again.