Forget Apple, I should be able to look at NSFW Discord servers wherever I want
Apple blocking NSFW Discord servers made me grateful for the openness of Windows 10.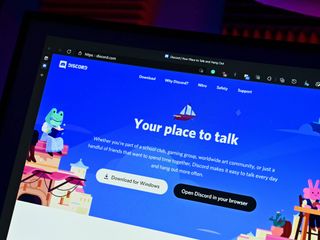 (Image credit: Daniel Rubino / Windows Central)
Yesterday, Discord announced a move that will block all not safe for work (NSFW) servers on iOS devices (via iMore). The move was made to allow Discord's app to work with Apple's strict policies for NSFW content on iOS devices. Tumblr removed some adult content from its platform in a similar move that helped it return to the App Store after a brief time away. It seems that Discord is taking a page from the same playbook.
Discord's move isn't quite as dramatic. NSFW servers will still be on Discord, but you won't be able to access them on iOS devices (unless you're a server owner or moderator). You'll still be able to view NSFW content on desktop apps, the web (including the web on iOS devices), and presumably Android devices.
Discord's move to fit within Apple's guidelines gave me a new appreciation for the openness of Windows 10.
Says who?
To be completely honest, I'm not on any NSFW servers on Discord. I didn't even know they were a thing before this recent news story, but that doesn't mean I can't weigh in. I'm all for protecting kids and restricting content for underage people. I'm against preventing consenting adults from looking at legal content that they want to view on the web.
Discord clearly isn't against NSFW servers as a whole, or this move would apply to other platforms and the web. As a result, I'm pointing the blame at Apple. Who says that someone can't be part of an NSFW community? Who says people can't chat and share NSFW content on a phone? Apple? Why should people on Discord have to dance around Apple's idea of morality?
If the move was just to protect kids, I'd fully support the decision. But App Store policies are forcing platforms to dance around the rule of Apple.
Open up
One of the beauties of Windows is how you can install apps from so many sources. While there is a Microsoft Store, that's far from the only place to grab apps. Case in point, Discord's desktop client for Windows isn't even on the Microsoft Store. Instead, you can just download Discord's client for Windows directly from the company's website. There's a third-party Discord app that works on Windows 10 and Xbox, but it's not from Discord itself. Maybe that will change if the rumors of Microsoft wanting to buy Discord are accurate, but that wouldn't really change anything related to this saga.
I'm a big fan of app stores. I've written about Windows apps and the Microsoft Store for years. But when cases come up like what we saw with Discord and iOS, it's important to highlight the open nature of Windows. Discord doesn't have to shift the content on its own platform to make Microsoft happy. Even if Microsoft didn't want the Discord app in the Microsoft Store, Discord would still be readily available on Windows.
In contrast to Microsoft's approach with Windows, Apple takes a more walled approach. Apple has taken several steps against sideloading apps in the past, making alternatives to the App Store more difficult to use. Even if sideloading was easy on iOS, it isn't the same to downloading any program you want on Windows.
Rotten Apple
This short saga just leaves a weird taste in my mouth. Why is Apple involved in what people can view on the web? Is Apple going to crack down on people using the Safari browser to look at NSFW content? Apple isn't even limiting NSFW Discord servers on the web on iOS, so I'm not sure why it cares so much about people viewing them on an app.
News Writer and apps editor
Sean Endicott brings nearly a decade of experience covering Microsoft and Windows news to Windows Central. He joined our team in 2017 as an app reviewer and now heads up our day-to-day news coverage. If you have a news tip or an app to review, hit him up at sean.endicott@futurenet.com (opens in new tab).
Just another reason why windows is better.

Apple trying to police what users can view on their own devices

No, not like China. China censors the web and all publications. In free countries, owners of private platforms can do as they please with them. That's the opposite of censorship.

Why can't adults just enable 'Adult' in iOS and not be treated like child for the device they've gone to work and paid for, as an adult. What a weird big brother's big brother situation we're in.

Since the M1, iPad and iPhone platforms all use the iOS store, this makes Apple an even bigger gatekeeper than they already were. Parental settings? No, Apple is your parent and they don't approve of smut.

"I'm all for protecting kids and restricting content for underage people." So what's your plan for doing that? This seems a bit irrelevant considering you can still get there via Chrome or Edge, or Safari for that matter, but Apple has always had such restrictions for apps in their store.
As far as the question, "Who says that someone can't be part of an NSFW community?" Very possibly the laws in your state.

I said in the article that I support consenting adults looking at legal content. Laws don't prevent people from looking at legal content. That's why it's legal.

Maybe, someday Apple employees would leave like Steve Woz. did.

So... do they block NSFW content in safari as well ?
If not isn't it contradictory ?

No, because Apple doesn't control the web. Safari isn't a platform, it's a way of accessing the web. In non-authoritarian countries, no one controls the web. That's one reason it's so important to make sure the web stays free.

Clearly there must be a better way of preventing kids from accessing this content. The thing is, at the end of the day, the Web is the Web and just about all content you'd ever want that is not utterly dependent upon a native app is a few browser taps away. This should remind us that while net neutrality was more hype than reality, the openness of the web is still really important - arguably more important than what a Disneyesque walled garden app ecosystem keeps out. (Also, thank you for not calling this censorship, since it isn't. That's the most overused word of 2021. Denying content access to your own platform is not the same thing.)

"Censorship." That word does not mean what you think it means. You assume that the word "censor" necessarily implies "by the government." While government censorship is one meaning of the word, it's not the only definition, and many definitions include private censorship. Dictionaries can be your friend.

Once again Apple gets away with imposing irrational rules.
Just imagine the outcry and revolt if Microsoft tried anything similar... 🤷‍♂️🤦‍♂️

Welcome to the new world order, 4th Reich, whatever you want to call it. If someone doesn't play well with others and has a different opinion, you just boycott them. Since Trump left office and companies started sanctioning his rhetoric. Its a crying shame that we are moving to a world that can easily shun anyone that they don't like. The real question is, when does the pot start calling the ketal out for a throw down.

Private companies can implement rules on their platforms as they please. It's called free speech. One thing platform providers can't get away with though is platforming content that incites violence. Face it: Your Favorite President, the guy you voted for twice despite his obvious incompetence and willingness to incite hate and violence, is a menace to society and everyone knows it.

I'm sure all the anti-cancel-culture warriors, who are also mostly the same people who argue that law-abiding citizens should not be denied access to guns because others might not follow the rules, will be all over this. How dare Apple cancel these NSFW servers. I'm sure that they won't let their morality police streak show and support a big tech company denying access to certain people and certain content.

Uhm... yes, of course? Apple should not be allowed to do this, but they have already been doing this with Telegram. If they can ban parts of Discord because of porn, they also have to ban all web browsers, they can also access porn.

It's their own platform. They make the rules. It's called ... wait for it ... free speech.

Does iMessage allow NSFW?
This most likely has nothing to do with Wokeness or infantilizing the customer base but about protecting the iMessage stranglehold.

Did a little more digging. First off, Apple did not do this. Discord did this. Apple has Developer Guidelines. You can read them here, https://developer.apple.com/app-store/review/guidelines/. Pay attention to section 1.1 Objectionable Content. This is not new.
Discord has changed their NSFW designation from channels to entire servers. Discord, to prevent running afoul of Apple guidelines, opted to block access to their servers from their app on iOS. Discord decision, not Apple's.
Apple guidelines provide a workaround/option for a developer to offer such content. "If your app includes user-generated content from a web-based service, it may display incidental mature "NSFW" content, provided that the content is hidden by default and only displayed when the user turns it on via your website." That's in section 1.2.
That means, if you want to see porn in your Discord app, you go to Discord on the web, Safari if you want, go to settings, under your account, and flip the 'I want smut' button. Well, if Discord bothered to provide that button.
Discord is A) too lazy to comply with this requirement, which is by no means new. B) Gets more mileage, coverage, notice, by crying 'Oh, poor us, Apple is hurting all the artists'.
You want your NSFW content on Discord, tell Discord to suck it up and follow the guidelines.

This was helpful clarification. It's still Apple's rules, though. They can do whatever they want with their platform, but they could be less ham handed about it.

This is an issue with the Apple App Store, not their desktop operating system. So, Windows 10 is irrelevant unless you're talking about the Microsoft Store - which is as optional (generally speaking) on Windows 10 as it is on macOS. This is iOS, and Apple forces all of these apps to do this. And yes, it's super cringy, and companies are too desperate to just say "we're going to have to take a pass on that" because they want the user numbers and iOS App revenue. You know companies like Discord barely make any money (if they make any at all) and their entire valuations are based on MAUs. This is why Apple is able to manipulate these companies so effectively. All "Social Platform" companies are like this (Messaging, VoIP, Social Networks, etc.). Basically, companies make everyone pay for their unwillingness to actually verify and enforce age limits they put into place. This makes it hard to hide Adult content from kits, unless the devices have parental controls turned on. It's like the 12 year olds who create Facebook Profiles saying they're 22. People can do the same thing with an Apple ID, and access the adult content. Because Apple doesn't want to burden itself with verifying and policing its users... it puts the onus on everyone and the developers by making them simply remove the content from any app they put on the App Store. This is also a good CYA tactic. If any parent complains that their under-aged child access this content in an App, Apple can simply pass the blame over to the Developer and say they violated the guidelines and are therefore at fault for it.

I don't blame companies for wanting to stay away from credible age verification. That could be a real rabbit hole.
Windows Central Newsletter
Thank you for signing up to Windows Central. You will receive a verification email shortly.
There was a problem. Please refresh the page and try again.