NVIDIA's latest Game Ready driver is hindering memory performance on some cards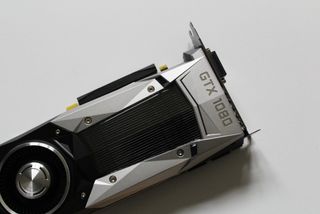 NVIDIA's latest Game Ready drivers, which come in at version 375.86, are apparently causing performance problems for some. According to a number of posters on NVIDIA's forums and on NeoGaf (via PCGamer) have reported various performance issues in games, and an NVIDIA representative has now confirmed that the problem stems from an issue causing the memory clock speed on some factory overclocked cards to be stuck at 810Mhz.
From NVIDIA:
There's no given timeline on when to expect a hotfix, but if you own one of the named cards, it's likely you'll run into some performance issues until an update can be rolled out. In the meantime, if you haven't installed the drivers, it might be a good idea to wait until this problem is fixed.
Dan Thorp-Lancaster is the former Editor-in-Chief of Windows Central. He began working with Windows Central, Android Central, and iMore as a news writer in 2014 and is obsessed with tech of all sorts. You can follow Dan on Twitter @DthorpL and Instagram @heyitsdtl.
Man this sucks, it brings a lot of much needed features so I'm ok with dealing with this bug right now as usually they are pretty good at releasing hot fixes pretty fast.

Huh, does this affect all 10 series cards, or explicitly Nvidia FE/Ref cards? At any rate, I'll wait with my board partner card. :P

Read the article. This is about some factory overclocked cards. Not reference cards. I mean, the article's not even very long, why bother posting if you aren't bothered to read it?

I DID. I have a A8 gaming version of the Asus strix 1080, which I overclocked myself. It did not come overclocked but is not a standard card and has a custom PCB. I was simply asking if this type of card would be affected by the update, sheesh. The article was a bit ambiguous about the type of cards affected, because I am not sure if nvidia sells overclocked versions of it's cards. Meanwhile they have a picture of a Ref/FE card on the article while not explaining if this affects cards like the EVGA SC 1080.

You should be good since your card is not OC. As per Nvidia: Some Factory Overclocked GTX 1080/1070/1060 GPUs video memory stuck at 810Mhz (Hotfix will be provided once fix is available) So this means most likely only OC cards are affected. Go to the Nvidia forums and read the stuf there to learn more.

In Battlefield 1 forums there are a lot of guys who claim they lost a ton of performance, some claiming 10-25 fps loss with flickering on SLI setups and such ..it`s funny how lately Nvidia is the one who comes up with broken drivers and people still sell the idea of "AMD has bad drivers"

I have a 970. I thought it was the new drivers, I rolled them back and I still had horrible performance on BF1, 22-28 FPS. It is the game. Before the BF1 patch it was a gorgeous game running 1080p 60fps locked on Ultra. Now Ultra looks like low settings and has horribly bad frame rates. EA/DICE need to step up and fix it. It is unplayable on my PC. My X1 looks and plays better now!

I run on a single R9-290 at 3440x1440 Ultra ( No AA , no point at that resolution ) and get 50 FPS average, but this on DX11, your chard should have no issues running this game at 1080p. try a clean install of the game with a wipe of the Battlefield 1 folder in Documents. And do a driver rollback with the Display Driver Uninstaller... just a thought.
Also keep in check that memory limit option , we know that the 970 has issues with usage above 3.5 GB of vram usage.

I've been leery of updating my GeForce Drivers after they botched the one a few weeks ago. Glad I was hesitant and didn't update to this yet.

Hell has given me better optimization

Yes, the flames have been optimized to burn at their overclocked degrees for an eternity. NVidia could learn a thing or two..... /s

Ready for Scorpio, as a 1070 owner, ready for high end console gaming. Dealing with drivers and config file tweaking gets old. I'm currently getting double images on my vive headset, anyone have a quick fix?

Yeah. I'll be getting rid of my 1070 as soon as amd launches something with similar performance.

I really want to see AMD make a wave in the GPU market. Nvidia is getting sloppy. Maybe too comfortable with that 75% hold on the GPU market. Not sure if there are some people who need to be fired in their driver team or maybe they are just being rushed and too understaffed with limited time to properly test the drivers. But they need to get it together and take care of the problem. Here is hoping Vega brings back the competition in high end.

Issues like this tend to be overblown due to the people having problems being the most vocal. Nonetheless, it's good to see that Nvidia has found the issue and are working on a fix.

What's the point of their beta program if they're gonna roll out obvious bugs like this?

beta program ? Look at Windows 10 "Preview program" more like a public beta test on new updates/features... Yea, they work for the most part but, there are many bugs..

NVIDIA as been always good with drivers for the MOST time. FAR better than ATI in many cases over the years. GIve it a few days to a week, or head over to http://www.guru3d.com/ Hacking dirvers are a nice touch and they discuss the drivers in detail, so you know what to expect on games.

Yeah I do that too. I'm okay with bugs; I work as a software engineer; it's not that all bugs are bad in a beta test. But a bug like this is something that can be easily caught in some automated testing. For example, rack of cards in a large PCIe backplane, or lots of computers etc., in an automated test environment. One of the test would be is the actual frequency the correct frequency? It just seems like an awful major oversight to miss an OEM's board's custom clock frequency.

375.95 driver published today
Windows Central Newsletter
Thank you for signing up to Windows Central. You will receive a verification email shortly.
There was a problem. Please refresh the page and try again.