Review: The Nyko Data Bank hard drive enclosure for Xbox One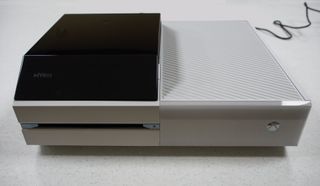 One of the Xbox One's nicer features is its support for external hard drives. Launch consoles didn't include all that much storage space, and even the 1TB internal drives on newer consoles are bound to fill up with games eventually. When storage space gets low, you don't stop buying games – you get an external hard drive. Pairing an internal hard drive with an external enclosure like the Nyko Data Bank is another option.
The Nyko Data Bank is an enclosure that turns any 3.5-inch hard drive into an external drive for Xbox One. It sits right on top of the Xbox and even matches the looks of the console. Read our detailed review with video installation guide to find out whether Nyko's Data Bank will meet your Xbox One storage needs!
Package contents and power
Inside the box, you'll find three components:
Nyko Data Bank enclosure
AC Adapter
Foam Spacer
This product does not include a hard drive! You must supply your own 3.5-inch hard drive to make use of the Data Bank.
Installation
The Data Bank is a large enclosure measuring approximately 10 x6.5 x 1.25 inches – pretty much the same size as the Nyko Intercooler. The enclosure consists of two pieces: the top and the base. Vents along the sides allow heat to escape from an installed hard drive.
The top is made of glossy translucent plastic. The plastic isn't especially translucent, but you can see the side vents and perhaps the outline of the hard drive when viewed at certain angles and lighting conditions. The downside to the glossiness of the plastic is that it shows fingerprints and dust like crazy. Hardware manufacturers should use glossy plastic sparingly if at all.
The top of the Data Bank can be removed by pressing in both of the silver buttons located on the front sides of the unit simultaneously. Inside, you'll find a large space specially designed for full-size 3.5-inch hard drives.
The Data Bank does not have screw holes or dividers to accommodate smaller 2.5-inch drives, which seems like a minor oversight. You couldn't use a faster SSD (Solid State Drive) with the Data Bank without purchasing a separate adapter (opens in new tab).
Installing a 3.5-inch hard drive in the Data Bank couldn't be easier. The process requires no tools at all, not even a screwdriver. Just insert the drive, push it firmly into the enclosure's SATA connector, and then insert the foam spacer between the drive and the front of the Data Bank. The spacer keeps the drive securely in place – an ingenious design.
After snapping the top piece back in place, you'll then set the Data Bank on top of the Xbox One. It goes on the left side of the console so that it won't block any vents. Four rubber feet beneath the Data Bank prevent it from scratching the system.
Two cables protrude from the back of the Data Bank: a short USB-3.0 cable and a power connector. As you'd expect, the USB cable plugs into one of the Xbox One's rear USB ports (I recommend using the bottom one to allow easy access to the top port). The Data Bank communicates with the console and sends data back and forth via USB, but it still requires a separate power supply.
Although the Data Bank includes an external AC Adapter, the adapter doesn't plug into a standard AC adapter port. Rather, the adapter plugs into a short cord that dangles from the rear of the Data Bank. That end of adapter cable has rubber notches that lock it in place when connected to the Data Bank's short cord. This design prevents the cord from falling out of the unit accidentally.
Using the Nyko Bank
Having connected the Data Bank to the Xbox One and power supply, the next step is to turn on the Xbox One. If everything has been installed correctly, the Xbox One will detect the hard drive inside of the data bank and treat it just like it would any other external hard drive. You'll be able to install, move, or copy games to the Data Bank's drive and enjoy the benefits of increased storage space. See our guide How to choose and use an external hard drive for your Xbox One for more details on the advantages and uses of an external drive.
The Nyko Data Bank is a specialized hard drive enclosure that presents a few advantages and disadvantages over a generic hard drive enclosure. The main advantage is that the hard drive can be stored directly on top of the Xbox One rather than having to sit off to the side somewhere. This saves shelf space.
The Data Bank also does a good job of matching the Xbox One's appearance, although it clearly stands out more on a white or colored Xbox than with a black console. But some users won't find the Data Bank aesthetically pleasing due to its large size. True, any enclosure for a 3.5-inch drive will be somewhat bulky, but at least you have the choice of hiding other enclosures or external drives from the eye.
Speaking of aesthetics, the Data Bank's box lists an LED light as a feature. Presumably, this light would indicate when the console accesses data from the enclosed hard drive. I see what looks like an LED on the front of the unit's base, a spot covered by the translucent shell during use. This LED on my Nyko Data Bank does not light up, however, even when the drive is clearly in use. I'm not really upset by that, though — an access indicator is such a trivial thing on a console hard drive.
Note that the Data Bank does not incorporate any noise dampening technology. The spinning of the hard drive inside is more audible than that of external drives I've used. It's not noisy enough to bother me, but your mileage may vary. It's worth noting that the hard drive you select to install will make a difference with noise as well.
Taking it to the (Data) Bank
The real crux of buying a Data Bank or not is that of value. The Data Bank retails for $39.99. Typical USB 3.0 3.5-inch hard drive enclosures (opens in new tab) sell for around $20-25. These products do the same thing as the Data Bank but cost a decent chunk of change less. Again, it comes down to where you want to keep the enclosure and whether you want it to look similar to your Xbox One.
If you don't already own a 3.5-inch hard drive to use with the Data Bank or another enclosure, buying an external hard drive is a far more affordable option. The Western Digital 2 TB MyBook (opens in new tab) – a 3.5-inch external drive – currently sells for under $100 on Amazon. An equivalent Western Digital internal drive (opens in new tab) sells for $90. Paying $130 for a Data Bank and a hard drive doesn't seem like a great deal when you can get the same benefits from a $100 external drive.
That said, an enclosure like the Data Bank allows you to select just the right 3.5-inch hard drive for your needs. The Western Digital Black 2TB Performance drive (opens in new tab) I chose for my Data Bank is a faster, better drive than you'd get in the MyBook or other non-SSD external drives. You could take it a step further and put a hybrid drive (opens in new tab) inside the Data Bank to get even faster speeds, which reportedly provides substantial benefits in open-world games like Fallout 4 and Grand Theft Auto V.
On the whole, simply buying an external hard drive outright will suit most gamers' needs better than a Nyko Data Bank + 3.5-inch hard drive combo. However, the Data Bank and other enclosures make a lot of sense if you already have a 3.5-inch hard drive to spare. Suppose you have a 1TB or 2TB hard drive sitting around. Dropping forty bucks or less so that you can use the existing drive with your Xbox One will actually save you some money over buying a brand new external drive.
If you have a spare full-sized hard drive or want an external drive to sit on and match your Xbox One aesthetically, the Nyko Data Bank should help meet your storage needs. Otherwise, just pick up an external drive like my external of choice, the WD MyBook (opens in new tab).
Has your Xbox One started to run low on storage space yet, awesome readers?
See at Amazon (opens in new tab)
Paul Acevedo is the Games Editor at Windows Central. A lifelong gamer, he has written about videogames for over 15 years and reviewed over 350 games for our site. Follow him on Twitter @PaulRAcevedo. Don't hate. Appreciate!
I have one. Definitely looks better on the black Xbox One. I was using an external WD 3TB My Book. Took it apart and put it in this. Better than having an external take up horizontal space and this enclosure matches the console.

An alternative (or addition) to this is the Media Hub which connects to the side of the One console and is less obtrusive. Fits a 2.5" drive and provides 3 front USB ports. I use one and it's pretty good. http://www.collectiveminds.ca/cm00111.html

It is a far better option than using anything by nyko

I quite like Nyko products. I use their wireless contoller chargers on both my PS4 and the One. But the Media Hub is definitely a better use of hardware and space and specs. Too bad Nyko didn't think to do the same with all of that enclosure space. Or perhaps make two models. One with better use and then this thing.

I have this one also and it's great it looks like apart of the console vs an addition. Posted from Windows Central for Windows 10

It's the way to go if you want a 2.5 inch drive. Unfortunately it cannot be adapted for a 3.5, so for a lot of people it rules out drives they have laying around. Addiitonally, I worry about the power demands of 7200 rpm drive powered through USB. Lastly, to use all three of those added USB ports you have to get your own ac dapater to plug in, from what I understand. If you have an SSD you want to use, though, the Media Hub is a better solution overall.

I recently purchased the 3TB WD MyBook from Amazon for $119. It works perfectly for this application. Sidenote: The price of this drive recently dropped to $109 and I was issued an Amazon gift card for the difference thanks to using https://paribus.co/ !

104 bucks = 2 TB hybrid drive. Load times cut in half on AC Syndicate.

I think this is more for anyone looking for more performance/customization over the price advantage since compared to the stanard portable drive, you will break even, have the same write speed, with the downside being that this thing is much bigger, weird-looking, and will have an extra wire for power. I was using Toshiba Canvios that cost around $80-$85 for 2TB. it's small and can be obscured behind the system and only has a single USB wire needed

I cant believe how long that review was for what is essentially an external plug and play hard drive.
As for the enclosure - it is way too pricey. Just use a standard 2.5" USB 3.0 enclosure. Much smaller, and can still serve a purpose beyond the life of the Xbox

Methinks Paul wrote the lengthy review as an attempt to justify his purchase of this fugly & inefficient device. (Smiley face)

A 2.5-inch enclosure can't hold 3.5-inch drives, which is the purpose of this particular product. If you have a 2.5-inch drive already then of course the Data Bank isn't for you. As for the length, we could have left out the installation process, but some people like to know those things.

I'm more of a fan of the Collective Minds enclosure. Snaps to the side of the console, and you get 3 front-facing USB ports too. It does require 2.5" hard drives, so when it comes to dollars/TB, it's not as good of a deal.

It's actually better because the Media Hub does not require separate AC power. Looks nicer, too.

Lol & you have to wonder if its using a sata3 controller like the Silverstone raven RVS02 as most enclosures still use sata2

Not running out of space just yet. My 500Gb Xboxone has a WD MYBOOK 3TB sidekick and the 1TB xboxone in the bedroom only have like 20 games on it.

Does it come with a hard drive? /s -Mach 8 Solutions, LLC a software company.
Http://mach8solutions.com

Right on Paul. I also have a Western Digital Black 4TB hard drive in my Vantec Nexstar HX Sata 3, usb 3.0, external enclosure. I don't think it gets much better than this.

I'm not a big fan of this enclosure. I don't like the look or the fact that it needs to also be plugged into power, taking another spot on my power strip. I think I'd rather stick with a USB powered 2.5 drive.

And be limited to 2TB on a 2.5" drive. But you can get a 4TB 3.5" for the same price. Usually 3.5" drives need external power regardless if it's internal or external.

The drives may cost the same but this enclosure also costs $40 retail. I'd rather have something I can easily remove and is a one cable solution.

If you have a good 3.5 inch HDD or SHDD around - and many people do - then this is a way to make use of that existing drive. The biggest SSHDs you can ussualy find in 2.5 are ussualy 1TB max.

Nice. That would take a long time to fill up!

I like my media hub expansion by creative minds. This one looks too clunky, but i like the fact that 3.5 hdd are cheaper and you can go for a higher TB size compared to a 2.5 mm HDD.

The looks of it dont really bother me, but I have had bad luck with Nyko products, they have sucked in my experience.

I'm currently remodelling my Flat including solid wooden boards ( 5cm thick ) for Lamps ( with LED Strips behind them ) and similiar in design I also got myself a board made for my Xbox One that mounts to the wall below my TV.
The board has the same width but is slightly longer than the Xbox one resting on top of it in order for the Cables sticking out on the back to have some space. Additionally I've asked the carpenter to mill a hole on the top for an external HDD the size of a Seagate Backup Plus Portable to fit into - With the Xbox One resting on top it won't be visible anyway maintaining a clean look.
Just thought I might throw the idea into the room for others =)

I read "Flat" and "Fiat," and got lost as to why you were talking about your tiny car in here.

Thought about the creative minds enclosure but then I decided to upgrade to an elite

I'm not a fan of this. It seems like a clunky solution that costs too much. It's bigger than an external, it looks like. It's more expensive. It's not like I couldn't just buya regular external and set it on my console in the same spot. I really don't get the appeal of this, becuase if you're savvy enough to use this, you can use any of the cheaper alternatives.
Windows Central Newsletter
Get the best of Windows Central in in your inbox, every day!
Thank you for signing up to Windows Central. You will receive a verification email shortly.
There was a problem. Please refresh the page and try again.