Oculus Rift teardown dives into its dual displays, head tracking, and more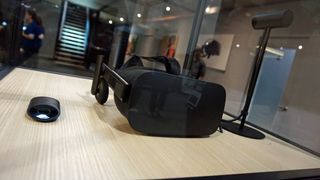 The folks over at iFixit have given the teardown treatment to the consumer version of the Oculus Rift virtual reality headset. As usual, the teardown goes into great detail, examining every component of the headset, including the two 1080p OLED displays, its accelerometer and gyroscope, and more.
iFixit used an infrared camera to take a look at the Rift's head tracking system, known as Constellation. The system uses a series of infrared LEDs on the headset, coupled with an IR camera, to track head movement.
It was also found that while Oculus Rift developer kits used smartphone 1080p display panels, the consumer product is something else entirely. The Rift now features dual 1080p displays, mounted directly into the lenses.
Be sure to check out the whole teardown over at iFixit.
Windows Central Newsletter
Get the best of Windows Central in in your inbox, every day!
Thank you for signing up to Windows Central. You will receive a verification email shortly.
There was a problem. Please refresh the page and try again.