Office 2013 receives Service Pack 1 - includes major bug fixes and minor tweaks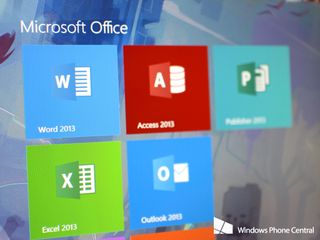 Yesterday, Microsoft made Service Pack 1 for Office 2013 available to the public. The package of updates includes content for Access, Excel, InfoPath, Lync, OneDrive, OneNote, Outlook, PowerPoint, Publisher, and Word. The first Service pack for Project, Visio, and SharePoint was also released separately. Overall, the Office 2013 Service Pack 1 offers a collection of bug fixes, with a few slight use improvements.
Major fixes included in the Service Pack are referenced by their Microsoft Knowledge Base numbers; they include improving call quality, fixing audio issues, and fixing screen rotation issues within Lync 2013. While Lync did receive most of the bug fixes, other Office applications also received their share of improvements.
Service Pack 1 now provides new compatibility fixes across all Office 2013 applications for Windows 8.1 and Internet Explorer 11. New high-resolution devices (such as Lenovo's YOGA 2 Pro), have also received better support within the working environment. If you currently have a "precision touchpad" (AKA – a Multi-touch track pad), then you should also some refinement changes to gesture recognition
If you are a heavy Excel user, you will welcome the new addition of Power Map to the application. Power Map is a "3D visualization tool for mapping, exploring, and interacting with geographical and temporal data". Unfortunately, this feature is only available for Excel users who currently have an Office 365 ProPlus subscription.
If you are normally slow to update – have no worries. Service Pack 1 for Office 2013 also includes all of the past public updates and cumulative updates that have been released since the product hit the market.
The new service pack will be offered through Microsoft's Windows Update, but if you feel the need to grab it immediately – you can grab Service Pack 1 for Office 2013 by clicking here (opens in new tab). And if you're an Office 365 user you do nothing, you're already using the most up-to-date version of Office.
Do you use Office 2013 to get your work done?
Source: Office Blogs (opens in new tab)
Windows Central Newsletter
Get the best of Windows Central in in your inbox, every day!
I came to tip u guys on Office 2013 for RT. LOL

Can you please stop that...

This! It's getting really annoying now...

These "seems faster" comments seem to be posted faster and faster . . .

In all seriousness, please, please sort Excel VBA objects faster. My same xlsm spreadsheet takes 1 second to sort 1000 rows with objects on Excel 2000, 7 seconds using Excel 2010, and 54 seconds using Excel 2013, all on the same computer.

You can still tip them though, maybe u have something extra to tell

Wait, Paul Thurott was raging today because he said that Office 365 subscribers didn't get the service pack. Was he uselessly raging or has the update not come out yet?

I'm downloading it as we speak on my Surface. Not sure about 365 users though

I think the update was pushed for normal users first, and 365 just got it. It seems like it's pending in my update queue. Paul's right though, 365 guys should've gotten the update before it was pushed to the public, or at least simultaneously.

He was right. It wasn't pushed to us first, and we didn't receive it like a regular windows update. Some of us had to "force" the update.

How do I know if I'm running the latest update? I'm a 365 user also. I haven't received an update yet.

Does the timing of the update and its application have anything to do with the setting you choose? That would seem logical unless its supposed to background stream update upon immediate availability.

From Microsoft Support:

"In order to determine if SP1 is installed for Office 2013 or a related product, look for the program version in the list of installed programs in the Programs and Features control panel. If SP1 is installed, the version will be 15.0.4569.1506 or higher. Additionally, if you've installed the SP1 update for an MSI product, SP1 will be listed in Installed Updates in that same control panel."

Thanks. This answers my question. I'm running 15.0.4551.1512. =/

My guess, Paul uselessly raging. Microsoft may have vast numbers of update servers at their disposal, but I'm sure not enough to allow each and every Office user to download the update simultaneously. So you didn't get an update notification immediately. No doubt you would have received it within a week of release.

Office is my most used productivity software. If software would get wrinkles for how much I use it, then office 2013 would look old!

Lol. Nice analogy dude :p

Love office. Couldn't run my business without it!


I'm sorry, is this MOCentral?

If you have a problem with news that isn't strictly about Windows Phone, you could complain about somewhere in the neighborhood of 1/3-1/2 of the forums.

I know. The reason I point it out, is that lately it seems to be getting out of hand. I don't mind an article or two about OneDrive or the Bing suite, since those are tangentially related to Windows Phone, but think about what first time visitors to the site are going to think when they see the leading headline is about a service pack to the desktop Office suite. I hope the site doesn't lose its primary focus on Windows Phone.

Guess its about ecosystems these days. My WP and Surface work together across different services, so its simple and easy to have a central (pun intended( point for information. So keep up the awesome articles WP Central.

It has already lost the focus, and that isn't a bad thing.

The update can be forced for Office 365 Home Premium users.

I feel sorry for the 366th person.

Or 369th too...ah, ah! ;)

Office is just great, it's so handy for a student like me!

Yeah, me to! They say some other open source Office packs are way better, but for me Microsoft is Microsoft! One Love!

Office makes me happy...and with 2013 saving directly to OneDrive, it makes saving documents easier. I couldn't do a previous version just because of that feature alone.

I hope to God they finally fixed the major bugs with the Outlook People Search box. Here's my long-standing thread here: http://answers.microsoft.com/en-us/office/forum/office_2013_release-outl...

If both IE and Office teams ever collaborate, here is something worth fixing: In Office 2010 or 2013, with the checkbox "When selecting, automatically select entire word" (at File > Options > Advanced: Editing options) checked.. (which is by default) Type this sentence: "Office is a wonderful software suite" Click between double-f of the word Office and while holding Shift, click between r and e of the word software. It would select, "Office is a wonderful softw" instead of "Office is a wonderful software". The entire word selection should work at both end points of the selection. Try it in Internet Explorer (8/9/10/11), and it would make the right selection. But unfortunately, IE doesn't have "When selecting, automatically select entire word" customization option in advanced settings to turn off this feature. http://answers.microsoft.com/en-us/office/forum/office_2010-word/word-doesnt-respect-the-selection-endpoint-with/64adf944-f6af-4eca-b251-06ad6a9572b5 (there is no bug tracker for Office Word?) https://connect.microsoft.com/IE/feedback/details/766053/option-to-disable-the-entire-word-selection

I had to switch auto update off then on to get it updating.

Yes I do use Office 2013. Actually, it was because of the integration with Sk...OneDrive that I finally removed my beloved Office 2003 from my PC. Now I'll probably only buy Office 2023 if Microsoft is still around by then. And it was Office 2013 that led me to buy a Surface instead of an Android tablet. Of course I've come to regret buying a Surface instead of the Nokia 2520, but I can correct that. Point it, it's Office, way more than anything else, that'll keep me buying Windows tablets instead of Android ones (unless Microsoft puts Office on Android...in which case I'll kick out Windows RT)

They have office for Android I believe and Microsoft will be around for years to come.

Office 365. I'm talking about normal Office. I'm not paying 99€ a year when all I need is Word. I never say a company will be around for years to come. 5 years ago no one would say Nokia would be gone from the mobile business. And now they will be. 10 years ago no one would believe Kodak would die and yet they did (well, sort of). So I never give companies long term existence for granted. Nor Microsofts nor Apple's, Google's or any other anymore.

I like google drive and google docs,

And I love farting unicorns, but what has this to do with the article?

FYI The update is also available to Office 2013 on Windows 8.1 RT.

+2520 thanks for the info!

Office Mobile 15 update? Ability to attach native files or onedrive files (and just not pictures) while replying or forwarding a message?

Nice update.have updated it this morning

Outlook 2013 was extremely buggy esp with imap. Hope that's fixed

Cool, the little Office Assistant paper clip is back...he's called Cortana now...

Yes I do use Office 2013-I like it.

I use Office 2013 and Office Online in my work time. Private I use iWorks on my Macs, iPads and online across browsers and Operating Systems.

Downloading pictures and text and posting where I want them sucks.

The office student edition on my dv8p does not show any updates

Everything will blend *IF* you have a large enough blender with a large enough motor in it :)

Still on 2010 here, Still need to access a 2003 exchange server and 2013 does not support Exchange 2003.... I have the licences for 2013....Oh, well...Maybe one day I will get to upgrade that server...

Glad to see everyone seems happy with the update, but my 2013 Pro Plus 64bit (Excel) seems more buggy now after the update than before. Existing documents now loose cell formatting, and cutting and pasting info from one worksheet to another makes the cells "jumpy" as if you browsing quickly up and down with the mouse. Not sure of other problems with the rest of the Suite though.

Where can I find this cool background for startscreen? :D

Has anyone tired to download the offline installation for office 2013. I don't Remember the exact error but basically says I don't need the update.
Windows Central Newsletter
Thank you for signing up to Windows Central. You will receive a verification email shortly.
There was a problem. Please refresh the page and try again.