OneCast for iOS review: Playing Xbox One on the iPad is refreshing and liberating
OneCast brings an excellent Xbox One feature to users on iOS.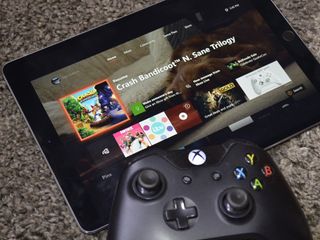 A great feature of the Xbox One is the ability to stream your gameplay to Windows 10 devices on the same network as your Windows 10 device. OneCast brings that same functionality to iOS, bringing game streaming to your iPhone and iPad.
It works with MFI controllers, the Xbox One controller, and has on-screen controls to give you plenty of options for playing your games around the house.
The app is available for $11.99 for the iPad, iPhone. There's also a version of OneCast for Mac that our friends at iMore checked out.
Download OneCast from the App Store (opens in new tab)
Extending your Xbox One
The developers of OneCast didn't just figure out a way to stream what's on your console to your iOS device and call it a day. There are a number of touches that improve gaming and show how well thought out the app is. The most impressive feature to me is the on-screen controls. These see-through controls hover over your gameplay and give you access to the full array of the Xbox's inputs. Navigating through games by dragging your finger or thumb on your screen might take some getting used to if you've only gamed on a console before, but it'll be familiar to people who are used to gaming on tablets.
You can also use MFi controllers which allow you to add physical buttons and improve ergonomics of your gaming setup or you can stick with your Xbox One controller if you're close enough to the console.
Once properly setup, streaming gameplay onto my iPad was practically seamless. It felt almost native, even on a game like Crash Bandicoot which involves good timing.
Struggles and issues
While I am a big fan of OneCast, it does have some issues. The first of which isn't the developer's fault but still limits OneCast; the iPad isn't as ergonomic for gaming as the Nintendo Switch. This might seem like an unfair comparison because the Switch is a dedicated gaming console, but OneCast's developers are the ones that bring it up in the app's store listing which states, "Take the awesome power of your Microsoft Xbox One console, and give it the portability and convenience of the Nintendo Switch."
The iPad's lack of a kickstand or physical controls limits the versatility of OneCast. Apple sells devices that let you add physical controls to your 12.9 inch iPad Pro (opens in new tab), 10.5 inch iPad Pro (opens in new tab), or your iPad Mini (opens in new tab), but they aren't cheap. Thankfully, OneCast supports MFi controllers and has good on-screen controls, so you have options.
OneCast also requires your iPad and Xbox One to be on the same network. The developers recommend your Xbox One be hardwired to your network to achieve the best performance, which isn't an option for everyone such as students who share a router. This limitation is shared with Microsoft's version of streaming from the Xbox One to Windows 10, so it's completely understandable that OneCast has the same restriction.
Lastly, OneCast can run into some lag, but this depends greatly on your network setup. If you are on a 5GHz network and your Xbox One is connected to an ethernet port, you're going to enjoy OneCast a lot more than if you have to rely on WiFi. Crash Bandicoot was almost unplayable due to lag when my Xbox One was using a WiFi connection, but once I switched my Xbox One to an ethernet connection, it felt practically native.
Overall thoughts on OneCast
OneCast brings functionality that Microsoft should have shipped with the Xbox app on iOS ages ago. You can stream your gameplay from your Xbox One to your iPhone, iPad, or iPod Touch which frees up the TV to be used for other content and also gives you more freedom with your gaming.
To get the most out of OneCast and reduce lag you'll have to use an ethernet connection for your Xbox One, but depending on the types of games you're playing, this might not be that much of an issue.
I love seeing developers close gaps in ecosystems, bringing Xbox One streaming to iOS is a great example. Many users have the Xbox One because they like it as a console, not because they're Microsoft loyalists. These users will have iPads and iPhones that can now be used to extend gaming throughout their homes.
Pros
Brings Xbox One streaming to iOS
Supports MFi controllers
Supports Xbox One controller
Has great on-screen controls
Cons
Can have lag unless your console is hardwired to a network
Download OneCast from the App Store (opens in new tab)
News Writer and apps editor
Sean Endicott brings nearly a decade of experience covering Microsoft and Windows news to Windows Central. He joined our team in 2017 as an app reviewer and now heads up our day-to-day news coverage. If you have a news tip or an app to review, hit him up at sean.endicott@futurenet.com (opens in new tab).
I'm still trying to understand why I would want to play my XBox games on a tiny screen when I have 65" TV to play with a surround sound system...

Imagine a few people are fighting over the TV. Somebody wants to watch TV and you want to game. You take the high road and let them watch TV while you stream.

I stream on my Windows Devices quite often. Like MaulerX said, when the wife wants to watch something and I am in the mood to play or want to keep playing without going into my office. I'll just get the TV tray out and keep on going. I stream quite a few times a week.

When i was sick in bed, i would turn on my Xbox from the Xbox app on my Surface, then play Overwatch using my Bluetooth Xbox controller.
It was fun, liberating, and makes you I'm awe of how far tech has come.
I also use the app to watch TV when in the kitchen (and other locations) from my Xbox TV tuner.
So yes, there are use case when you can't be infringing of the TV but still want to access your Xbox.

i'm guessing it works now being able to watch tv through the xbox (or do anything on the tv through the xbox) while you stream games? when I tried it before it could really only mirror what was going on, well that was through the xbox app or whatever, maybe that's still the case? is onecast 3rd party or made by MS? forgive me I don't have an iOS device (nor plan to :-)).

Anyone know if there is a similar option for Android? I currently use a 7.9" mi pad 2 with dual boot for both windows 10 and android but it's space is limited to 64gb so it's a pain for Windows updates and I only use Windows 10 on it for this purpose. It's a dream to play Xbox on as it's got AC WiFi and at this size I can strap it onto the controller directly using a custom made frame by utorcase... But if I could ever ditch Windows and so the same direct through android I'd be all over it.

I've really got to get around to setting up my Ethernet over power connectors for the Xbox One.
Windows Central Newsletter
Thank you for signing up to Windows Central. You will receive a verification email shortly.
There was a problem. Please refresh the page and try again.