OneDrive updated for Windows Phone with download location choice, progress page and more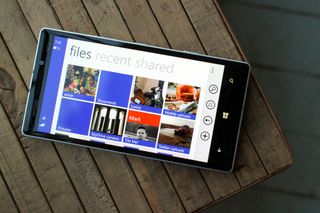 Today must be update Monday for Microsoft. We've seen a few Microsoft apps updated today for Windows Phone already. Battery Saver gained some list-sorting abilities, while Bing Translator now does voice conversion for Chinese. Now we're looking at a brand new update for the OneDrive app on Windows Phone.
The last update to OneDrive for Windows Phone came in late May. That was version 4.1 (4.1.3.0) and introduced the ability to open files from OneDrive in other apps. Plus it had the usual bug fixes and performance improvements.
Waltz your fingers to the Windows Phone Store and you'll now find version 4.2 of OneDrive. Here's what comes in this update:
The ability to download files to your phone and choose where to save them
A new progress page for uploading and downloading
Improvements to choosing contacts when you share files
Bug fixes and performance improvements
We just grabbed the update and do like the changes. They aren't major, but help add more polish to the app. The new progress page to view files being uploaded and downloaded is nice and a welcome addition for those times you're working with a big folder.
Update to the newest version of OneDrive on Windows Phone and let us know what you think of the new changes!
Thanks for the tip Stuart K!
Get the Windows Central Newsletter
All the latest news, reviews, and guides for Windows and Xbox diehards.
Oohoho Windows Phone updates

Save files to the phone, great!

I would prefer something like offline file support. I mean if you download a file it will show as"available offline" that way I would only depend on OneDrive to organize my files.

Agreed, because then they could stay in sync. Now that I have 1TB on OneDrive I'd like to use it like a Music Locker, but the current app doesn't work very well for that yet.

Please share this idea on UserVoice all of us will vote for ur idea.

If it happens it wont be that useful , coz the file u make it available offline will be saved and will be considered as onedrive app data, that mean it will increase the app and its data size which will take ur sd card or phone storage space depending on ur settings.

Exactly what I was going to say...

Isn't that the same if you save the file to your phone the way it works now? It will take storage space anyway.

Sweet that I can now download my ringing ringtones I have backed up!

Have you tried it? I've downloaded my ringtones from Skydrive to the phone "ringtones" folder but it doesn't seem to work. None of them appear when I want to change the ringtones...

Maybe you should restart your phone?

I am beginning to think that making the tiles transparent must be a difficult things because they have all these apps that can't do it. Is it that difficult to make it transparent or give us the option of switching in between (I like htis choice much better). However, I am very excited about these updates cuz choosing a location and progress page were much needed!

I would hate having every tile transparent, it's better just have the option like you said.

I agree, I don't like everything transparent. I need the points of reference that my oddly placed colored tiles give me.

I agree with you some of the non transparent ones work but sometimes I really just wanna see wanna see the image behind, hence the options but I'm just confused, cuz it can't be that hard can it...

I think that they are thinking that if specific apps aren't transparent, you and others will notice them. Otherwise, MS would just make transparent tiles a requirement.

But give us the option, let us "personalize" it

I think it's not transparent for branding and marketing reasons. the branding of OneDrive has a blue background so it's smart that Microsoft keep their branding.

Yea yea I get that but alot of these other apps have official colors and they include the option.... don't think it'll hurt them too much..... In fact that a Martin reason I don't use it pin three apps cuz I want to see my background image.

Options, options, options

Personally, I don't like transparent tiles because Windows is all about colors ;)

Still cant download what i can upload...VIDEO!!!!! Why???

I want the option to copy a link back!

OneDrive, excellent service. Love it, simple, feature full and clean UI.
Sure beats GoogleDrive complicated interface and options.

I agree 1000 percent! GoogleDrive SUCKS!!!

For me it doesn't work do upload videos anymore. I hope that update will fix it.

Why do I see the 3.6.3 Version?

I answer to myself: probably because you don't have the 8.1 update...

That is what version is on my 920, but below is what is on the Windows Store site, is it AT&T keeping it from updating or is the Store wrong saying its for 8.1, 8, 7.5. Version
4.2.0.0 Works with Windows Phone 8.1 Windows Phone 8 Windows Phone 7.5

Yeah, I have version 3.6.3 as well. I have a L521 on T-Mobile on WP8 (no DP). If this is only for 8.1, it would be great if WPC would include a "works for WPx version" at the end of the article or something.

I'd like to be to unshare from my phone.

You can, just tap "share" and there you can see your permissions and people who you have shared with. There you can delete the ones that you don't want.

Damn. That's too many steps. I was thinking of a long press on the share pivot...
Just like: start-> shut down... Lol

Hope this have fixes for uploading video which usually causes it to crash

Finally i can download multiple photos from onedrive to my phone :)

Hm. Can't see Onedrive or Translator updates yet. Odd.

Still broken thumbnails in the photos app!!! When do they ever fix this shit?

Nope i dont see a way to logout :P

If there is any App that's needs some updating its Xbox music

Still no Transparent Tile. :(

Still like the ability to go to the Onedrive web site and access my PCs. I can browse all the folders of all of my PCs and fetch any file(s) and download them to my phone (1020)... The app can't do that... Yet...

When will MS combine the features of both WP and Win8 versions of onedrive together? They have never updated Windows 8.1 Onedrive app since its launch last year. It's missing so many functions, i.e. it can't even browse shared folders. Its embarrassing that I can see shared folders in onedrive apps in any other platform other than Windows 8.1 (even xbox, and Windows 8 had that). WP8 version is so much better, i.e. shared folder, sort files/folder etc. however, it doesn't have offline viewing, which shows the advantages of MS's hybrid cloud solution. And where is the rumored co-owner function? This is something competitors offer and crucial to cloud storage. It's frustrating to see how slow MS is acting to bring its great ideas to its customers.

Maybe in August with Update 2? I think that they have to improve the desktop software a lot too. I want to share a link per right click just like in dropbox, I want to see shared folders, it would be great if you share anything on your PC through OneDrive without having to move it to the folder.

Still no passlock? Are they stupid or something. All the other cloud storage services have it, why can't they implement this? Why is it so hard?

Best update so far!! Means I can start using xbox music again, saving files/ location feature ahhhhhhh were getting sum where here .. Cmon Microsoft faster faster

Ah finally the ability to download to phone! Keep 'em coming MS! :)

When I go to windows store it just gives me the option to share. No update. It shows that it is version 3.6.xx or something.

Lmao! I love how this is a post for one drive and someone posts how they want their 8.1 update for their 920 lol.

Because this update is OneDrive for WP8.1 and not to many people are rocking 8.1 at the moment :)

3.6.3 version is on my 920, but below is what is on the Windows Store site, is it AT&T keeping it from updating or is the Store wrong saying it's for versions 8.1, 8, 7.5. From Store website Version 4.2.0.0 Works with Windows Phone 8.1 Windows Phone 8 Windows Phone 7.5

What about some extra major update for Skype?

I was just trying to download files from the one drive earlier until I seen this article...downloaded..
Yes!!!!!!

Finally!! Such basic as download. Thanks to 8.1

Now if they can only give OneNote some love! Use OneNote daily and most of the time it syncs waaay too long! Even when there is 0 changes to sync

I don't know bro, I have an ATIV S i8750, (WP8 GDR3), and OneNote on my phone is syncing very fast, no mater if i am on wi-fi or mobile data. When i add some notes it took 5-6 seconds till it syncs, and when is no change at all it "sync" in about 2 seconds (probably needed time to check if there are some changes made). I use OneNote every day and i do use one other note taking app Note Plus (payed version), it's an awesome app, supports OneDrive syncing too.

Can only download individual files, not folders? Hmmm, I'm still waiting for a SYNC feature (keep a chosen folder synced for offline access, automatically, hourly). For once, I'd like to go to the airport without hurrying and downloading files for the plane.

It is showing me the older version.not able to download the update. Pls help

I'd like to see the Files app functionality consolidated into the OneDrive app. The OneDrive app could then truly live up to its namesake and be used to manage cloud storage AND local phone storage.

Yep, that's exactly what I thought we'd all see when ms announced a file manager. One manager--for online, offline, and syncing between. Instead, they gave us something that further fragmented our "Files"--online OR offline, phone OR sdcard, cached OR screwed.

What about Skype? It's performance is still terrible

Hope we can create websites using OneDrive as cloud storage.

I don't see the update for L720 running 8.0 in India.

Fixed duplicate photos showing up in camera roll in cloud for me.

Still no custom sorting? Why did they take this feature away? (custom sorting on onedrive.com used to carry over into the app)

Offline sync in Windows Phone plus the ability for multiple sign in will seal the deal.

Photo hub integration was broken.

Are you seeing the same issue I am, where most of the OneDrive folders are now missing in the Photo Hub?

Yes. On preview for dev and Lumia black though.

Playing music from OneDrive?! ...

Hey this has indeed broken the Photo hub integration!!! Shame on them. Fix please :-(

15 GB free is still the best part! But I'm glad they've updated it.

Now if only I could upload whole folders to OneDrive through web interface (or there was a Linux native client for it), I could actually make use of my 138GB of storage which so far remains useless :/

Still no transparent tile!

WP Central, you should really point in the article title that this version of OneDrive app is for devices with WP8.1 DP, cuz not all of us upgrade to WP8.1 DP. So, we with WP8 (GDR1, 2 & 3) still see the version 3.6.3.0 (last updated on June 8th 2014). Just sayin' :)

Yep, completely agree. Its like they assume that everyone who reads this site has installed the DP, and that's definitely not the case.

We can't blame them, hehe, but it is also a fact that there are much more people with WP8 on their phones than WP8.1 DP. Wait for us people, we will join you soon :)

Sad article considering I had to turn to the comments section to understand why I'm not seeing any updates past 3.6.3.0.... Yet another reason to wait for the 8.1 update....humph : (

Ok so the v4.2 update is for WP 8.1! However the app got updated to v3.6.3.

Uh... Is it just me or does anyone cannot check the OneDrive photo albums from the Photos app anymore?

It's not just you, the photo hub integration is broken with this latest update. 8.1DP on L720.

Thank you for the tip! I hope they get to work on it soon.

Still no update to download music and videos.

Is the update available here in india,,phone turned to region US,,i can't see the update....& it sounds like really nice update

How do I set OneDrive as the default download location in WP 8.1?

Fix broken photo hub integration! 1520/WP8.1/Cyan