Open Source VR announces its next-gen HDK2 headset for PC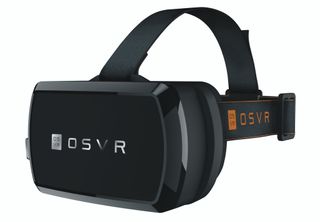 As the two Virtual Reality giants Oculus Rift and HTC Vive battle it out for supremacy of the burgeoning VR gaming landscape, one can't help but wonder if the competition might actually harm the adoption of virtual reality headsets among PC gamers. Luckily there exists an open source alternative for VR enthusiasts who'd rather not pick a side: Open Source VR. And OSVR has just announced a new low-priced headset called the HDK2. Read on for full details!
Open Source VR
The Open Source VR initiative is first and foremost software platform. This is a response to current up-and-comers like Oculus, which is inherently a closed platform. PC games in general tend to be more open, compatible with any hardware beefy enough to run them. And so the Open Source VR project leaders are trying to create an open ecosystem to match the open-ness of PC gaming in general.
The advantages of an open source VR headset or headsets are numerous. Open Source VR imagines a scenario in which consumers can walk into a shop and choose from different brands of VR headsets and controllers and be assured of compatibility with any VR software, not just software branded for that specific headset or controller. That's the goal – to remove limitations on hardware and let people buy what they want and play what they want.
The Open Source VR project has 320+ partners at present, including Intel, nVidia, Acer, Gearbox, and Ubisoft. The two chief contributors to the project are Razer and Sensics. We know Razer primarily as a manufacturer of PC gaming accessories like mice and keyboards.
As for Sensics, the Maryland-based developer has been quietly creating virtual reality products since the 1990s. Together, the two companies have the expertise and drive to release a serious alternative to the Oculus and Vive. Razer prefers to keep its branding to a minimum on the HDK headsets in order to avoid overshadowing other contributors to the OSVR project.
HDK2
Open Source VR (OSVR) is a software platform, the stuff that runs on a VR headset. The actual headsets that work with OSVR are called Hacker Dev Kit (HDK). OSVR has already released a first-generation headset called HDK1. The HDK1 is basically a VR essentials product, a headset that can run on lower-powered gaming machines. It sells for $299.99.
Today OSVR announces the HDK2, a proper successor to the HDK1. The HDK2 provides unrestricted hardware access to developers and increased compatibility with software for the new generation of VR headsets like the Vive.
HDK2 specs and features at a glance:
Dual display with combined resolution of 2160 x 1200 (Same as Vive)
Can display games at up to 90 frames per second
110-degree field of view like Oculus Rift and Vive
Unique optics - Custom crafted with larger eye boxes that produce lower color aberration
Easier cable management and ergonomics compared to the HDK1
Sensor hub with integrated accelerometer, gyroscope and compass
External USB 3.0 connection for additional accessories
Additional 2 x USB 3.0 connectors for internal expansion
Changeable faceplates
Native Unreal Engine 4 and CryEngine support
Can play non-VR games via stereoscopic display
GPU: NVIDIA GTX 970/AMD R9 290 recommended
Although the HDK2 is intended to eventually run all software designed for other brands of VR headsets, that compatibility isn't quite there yet. The HDK2 does support Steam VR, Steam's VR software initiative that drives content for the HTC Vive. But it can't work with the Vive's wireless motion-tracking controllers at present.
As a result, the HDK2 can play some Vive games and content, but not all of it. Basically, anything that works with an Xbox One controller will work with the HDK2. If it requires Vive motion controls, it'll have to wait.
Faceplates
The HDK1 and HDK2 have been designed with modular faceplates. Users can purchase alternate faceplates that provide new features not found in regular headsets.
The one alternate faceplate that will soon be available comes from Leap Motion, makers of a Kinect-like motion-control system for PC. The Leap Motion faceplate adds an additional level of motion sensitivity to the HDK headsets, potentially improving their motion detection and allowing for new gameplay experiences.
The Leap Motion Faceplate will sell for $74.99 on its own or $349.99 bundled with the HDK1. Open Source VR doesn't have any other alternative faceplates in the works right now, but that could change in the future.
Open Source VR for everyone
The name Hacker Dev Kit 2 is a bit confusing. Is the HDK2 meant for developers or consumers? The answer is both. Of course developers can use the HDK2 to create their own VR software that won't be tied to a specific headset. OSVR doesn't believe in exclusives, so games developed for the HDK headsets should be compatible with Oculus and Vive headsets as well.
For consumers, the HDK2 is a lower-priced alternative to the $599 Oculus Rift and the $799 HTC Vive. OSVR wants to make the prospect of VR easier to everyone so that more people will adopt it and start buying VR software. You already need a fairly beefy PC to use a VR headset like the HDK2, so reducing the sticker shock on the headset should certainly help.
The HDK2 will be available in July at a price of $399.99. The HDK1 is now available for $299.99. We'll be checking the new headset out at E3 – stay tuned for impressions!
Windows Central Newsletter
Get the best of Windows Central in your inbox, every day!
Paul Acevedo is the Games Editor at Windows Central. A lifelong gamer, he has written about videogames for over 15 years and reviewed over 350 games for our site. Follow him on Twitter @PaulRAcevedo. Don't hate. Appreciate!
299 looks this is the way to go

woow 399USD?
Thats a lot of money. Wait for Sony´s VR

Sony's headset is the same price and has lower specs.

this looks good as the cheapest easy entry into vr

I was ambivalent towards this entry into the VR space until now. I'm really liking the price difference and if they can match the features, why spend more for built-in headphones I don't really need.

I will wait to see how Sony solution works out and what type of support it gets compared to the PC counterparts. Right now, I'm really not sure what a good price truly will be in the next 6 months to a year.

No mention of controllers, not sure how the leap stuff works compared to the Vive controllers which are awesome. Without controllers VR isn't anywhere near as good in my experience.

I did mention controllers in there somewhere. Right now it uses traditional Xbox controllers but will support other types in the future.

This may be the route I go for the VR arena.