Biggest games at E3 2018
As E3 2018 comes to a close, we're looking back at the most exciting-looking games revealed at the show!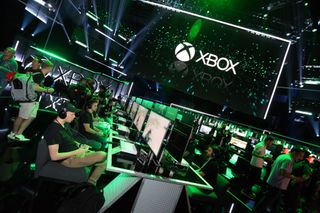 (Image credit: Windows Central)
E3 2018 is coming to a close, and we got a glimpse at how the gaming industry is going to batter our wallets in the next few months.
Microsoft's own E3 2018 showcase was one of the best the company has had in years, solidifying its commitment to growing gaming, and delivering a response to key feedback points from core gamers. Microsoft added five new studios to its first-party lineup, showed off tons of huge games from across the world, and even teased future gaming consoles.
E3 is all about the games though, at the end of the day. I can't remember a year that was so jam-packed with titles to look forward to. We've rounded up some of the games we're most excited about from E3 2018.
The Division 2
Microsoft debuted The Division 2 for Ubisoft on its E3 2018 stage, showcasing the game's setting, refined combat, and new features.
The Division 2 takes place in the ruins of Washington D.C., where you and your fellow agents must fight to save the last vestiges of law and order after an epidemic wiped out much of the country's governing infrastructure. The Division 2 looks ready to take the connected-world shooter to new heights, and we can't wait to find out if they pull it off. Division 2 is aiming for a March 15, 2019 launch window.
Anthem
Anthem remains a bit of an enigma, but the game had a strong showing at EA Play, as BioWare took to the stage to detail their latest action RPG shooter.
Anthem takes place on a strange world abandoned by the gods, crammed full of mysteries and abandoned technology. You and up to three friends will battle various monsters, vagrants, and a rogue faction known as "The Dominion" hell-bent on taking control of the planet. It looks rather good and is certainly one to keep your eye on. Anthem is aiming to launch on February 22, 2019.
Battlefield V
EA also detailed Battlefield V, which takes place in various WW2 settings.
Battlefield V will get a range of new features to keep things fresh, with enhanced destruction mechanics, "Grand Operations" which take place over several maps, weaving a narrative into the multiplayer gameplay. EA has also issued a promise of no season passes for future maps, and no advantages in exchange for real money, following the backlash over Battlefront II. BFV could be the best Battlefield ever, as a result, with a community that won't be split up by map pack ownership. BFV targets an October 19, 2018 launch date.
Dying Light 2
Here's one game wholly overdue for a sequel, and that is Dying Light. Dying Light 2 takes place a while after the initial zombie outbreak that featured heavily in the original game. Humanity has begun to rebuild, creating a Mad Max-like steampunk dystopia, with undead hordes and mutants that only emerge at night.
Dying Light 2 will feature choice and consequence as a central game mechanic, where your actions will shape, empower, or even destroy the battling factions around you. There's no launch date as of yet.
Forza Horizon 4
Forza Horizon 4 is the next entry in what has become one of Microsoft's flagship franchises in recent years, now fully first-party following the acquisition of Playground Games.
Forza Horizon 4 already looks utterly stunning, taking place in a large open world inspired by various UK landscapes and settings. Horizon 4 features an asynchronous open world, crammed with new activities like business and property acquisition, and changing seasons that completely alter the way the game plays. Horizon 4 lands on October 2, 2018.
Metro Exodus
Metro Exodus is the latest game in the apocalyptic shooter series, set in the frozen wastes of post-societal Russia. You must guide Artyom and a modified steam train through a perilous journey across large open levels, connected by the game's signature metro tunnels and treacherous dungeons.
Every aspect the series is known for, including stunning visuals, survival gear, weapon modification, and more, has been dialed up for Exodus, which looks set to be the best entry in the series yet. Exodus is targeting a February 22, 2019 launch date.
Sekiro: Shadows Die Twice
Sekiro is the next game from the team that brought us Dark Souls, set in a mythical Japanese Edo-period, featuring classic samurai warriors and gigantic beasts.
Sekiro is not a "Souls-like" game. There is no RPG layer, nor is their stats or equipment to collect, although you will be able to upgrade some equipment. Sekiro is more like an open-world action game, complete with traversal mechanics like a grappling hook, the abilities to jump and climb, with player exploration at the forefront.
While Sekiro might be a departure from what Souls fans are expecting, it looks pretty intriguing. It should be here in the earlier part of 2019.
Gears 5
Microsoft unveiled not one, but three Gears of War titles at E3 2018, and the one they detailed the most was Gears (no longer 'of War') 5.
Gears 5 looks set to open up the franchise beyond its linear roots, led by Kait, from Gears of War 4. The trailer seemed keen to showcase wider spaces, featuring a new vehicle for traversing ice floes, and an abseiling section. Gears 5 looks set to explore Kait's heritage in more depth, with themes of paranoia and betrayal. We're intrigued to see how The Coalition will be changing up the formula.
Resident Evil 2
For a few years now, Capcom has been working on a Resident Evil 2 remake in secret, occasionally teasing fans via direct video about the project. At E3 2018, we were finally shown the game in full. Resident Evil fans are in for a treat.
Set in Racoon City, rookie cop Leon Kennedy and local resident Claire Redfield team up to survive one of gaming's most legendary zombie outbreaks. Utilizing the Resident Evil 7 engine, RE2 looks more horrifying than ever, complete with new challenges and puzzles, with both new and returning horrors stalking the dark hallways. Resident Evil 2 launches in January 2019.
Cyberpunk 2077
CD Projekt RED finally unveiled Cyberpunk 2077 at E3 2018, showing off the company's next big game following The Witcher 3.
Set in a dystopic future where technology and humanity are inextricably intertwined, Cyberpunk 2077 is an open first-person RPG where your choices will come with devastating consequences. We have no real idea when this game will launch, but color us intrigued.
RAGE 2
RAGE 2 is one game nobody expected to get, but now that it's here we're overjoyed.
RAGE 2 takes place in on a hell-blasted Earth, following a massive asteroid impact. Societies richest elites froze themselves in orbital vaults to wait out the carnage, while those too poor to escape the fire remained on Earth, emerging into a Mad Max-like world full of raiders and violence. Built by Avalanche and id Software, this is one shooter we can't wait to get our hands on in the earlier half of 2019.
Ori and the Will of the Wisps
Ori and the Will of the Wisps got a new trailer at E3 2018, showcasing some of the game's new features.
Ori is a cat-like creature that you will guide through a gorgeous, hand-painted world navigating all sorts of threats and platform challenges. Ori and the Will of the Wisps looks as though it might be extending what made the original so great, with new mechanics, more eye-catching visuals, and more emotive story-telling. Ori's next outing is expected to land in 2019.
Fallout 76
Fallout 76 was a bit of a shocker when it was unveiled just before E3 2018, taking Bethesda's core studio into uncharted waters.
Fallout 76 is an asynchronous multiplayer game, featuring Fallout 4's signature first-person shooter combat and base-building mechanics, in a huge open world. Set in West Virginia, you're tasked with the "rebuilding" of America, where you'll uncover all-new mutants and monsters that have thrived in the nuclear fallout.
Fallout 76 won't feature other NPCs nor a regular campaign like a typical Bethesda RPG. Instead, you'll form friendships (and rivalries) with other players in an almost MMO-like way, since the game is fully online. Fallout 76 has been dubbed a "softcore survival" game, and looks extremely promising. It launches on November 14, 2018.
That's a wrap!
There are dozens and dozens of other games we're excited for that didn't make the cut, either because they didn't have enough information available (hello, Halo Infinite) or simply because they're so far away, it's not worth jumping on the hype train just yet (hello, Elder Scrolls VI).
What games are you most excited for? Hit the comments and let us know.
Windows Central Newsletter
Get the best of Windows Central in in your inbox, every day!
Jez Corden a Managing Editor at Windows Central, focusing primarily on all things Xbox and gaming. Jez is known for breaking exclusive news and analysis as relates to the Microsoft ecosystem while being powered by caffeine. Follow on Twitter @JezCorden and listen to his Xbox Two podcast, all about, you guessed it, Xbox!
The correct answer is Devil May Cry 5.

Halo Infinite!
But what's the word about that small 360 earpiece mic for the One? And elite controller V2?

The elite v2 is something I've been looking forward to as well. Hopefully we hear something soon.

Two, arguably three new titles.
2018 is the year of the sequel, that's for sure.

Anthem, FH4, Metro, Gears5, Cyberpunk, Rage2, Ori, Fallout, Division2, Halo-I are all on my day 1 purchase list. DMC5 and Sekiro... need to see its tech 1st.

Sable. That is the game that caught my eye at E3 2018.

For me, there were many great games to look forward to:
Unravel 2 (EA)
Ori and the Will of the Wisps (MS)
Cuphead DLC
Cyberpunk 2077 (CD projekt RED)
Octopath Traveler (Square Enix)
Captain Spirit (Square Enix)
Beyond Good and Evil 2 (Ubisoft)
Hitman 2 (IO Interactive)
The Last of us part II (Sony)
Ghost of Tsushima (Sony)
Death Stranding (Kojima Productions/Sony)
Control (Remedy)
Spider-Man (Sony) Looking forward for more from
Sea of solitude (EA)
Starfield (Bethesda)
The Quiet Man (Square Enix)
Babylon's fall (Square Enix)
Twin Mirror (Dontnod)
Windows Central Newsletter
Thank you for signing up to Windows Central. You will receive a verification email shortly.
There was a problem. Please refresh the page and try again.