Out This Week on Xbox One: Disney Fantasia: Music Evolved, The Legend of Korra, and more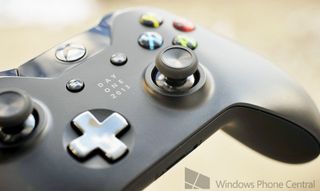 Happy Monday everyone! Hope you gathered some extra strength over the weekend because you will need it for some of the Kinect-oriented games that coming out this week. This week we have the launch of the Xbox One exclusive title Disney Fantasia: Music Evolved from Harmonix. Our second and final Kinect powered game is none other than Just Dance 2015.
If you are a huge fan on beat 'em ups and anime perhaps The Legend of Korra might interest you. Finally, we have a re-release of a 1990s remake (hope that wasn't too confusing) Shadow Warrior which has some awesome first person swordplay. Continue reading for more info.
Disney Fantasia: Music Evolved
experience the magic of Disney
Disney Fantasia: Music evolved is a motion controlled game that puts you in control of the music. Instead of simply dancing to the music like you would in games like Dance Central, this game has you conducting the music. You do this by "reaching out" to points on the screen and following the gesture with your arms in what easily mimics the motions of orchestra conductors.
To take things up a notch, Disney Fantasia allow you to manipulate and remix songs by switching things like the way the drums or voices sound in a song all the way to the style of the song. Disney Fantasia: Music Evolved launches tomorrow on Xbox One and 360.
Disney Fantasia: Music Evolved - Xbox One - 5.88 GB - $59.99 - Amazon

(opens in new tab)

- Xbox Store

(opens in new tab)
Just Dance 2015
dance the night away
Just Dance 2015 is the newest iteration of the franchise that keeps the same award winning game play intact. This year they've added a new Community Remix mode which has other players on screen instead of the Just Dance Dancers. Along with the new game mode they've also added some of the freshest tracks that have come out over the past year. So grab your dance partner and get ready for Just Dance 2015 when it launches tomorrow.
Just Dance 2015 - Xbox One - 15.79 GB - $49.99 - Amazon

(opens in new tab)

- Xbox Store

(opens in new tab)
The Legend of Korra
bend it like Korra
The Legend of Korra is a beat 'em up game that's based off of the Nickelodeon animation of the same name. The game takes place in between season 2 and 3 of the TV series. In it you play as Korra who at the beginning of the game is stripped of her bending arts. Over the course of the game you slowly regain your bending abilities in order to help you take down the evil Hundun.
The game is said to last about 4-6 hours and has a ton of mini games within it. Start your airbending adventure when The Legend of Korra is made available tomorrow.
The Legend of Korra - Xbox One - 2.9 GB - $14.99 - Xbox Store

(opens in new tab)
Shadow Warrior
guns and katanas? Who'd've thunk it
Shadow Warrior is a remake of the 1997 cult classic game of the same name. Shadow Warrior has you playing as Lo Wang, a master assassin, who tries to take an ancient katana by force, but is ceased and captured. You then become allies with a demon who reveals to you that the ancient sword that you are looking for is actually three swords.
The game is a first person shooter that also features first person melee combat. The game released last year on last gen consoles, and was praised for its impressive story but was crippled by its underwhelming graphics. Shadow Warrior slices its way to current gen consoles starting tomorrow.
Shadow Warrior - Xbox One - $39.99 - Amazon

(opens in new tab)
Windows Central Newsletter
Get the best of Windows Central in your inbox, every day!
I am not sure most games should start at 59.99

Good that half of this week's releases cost less than that, then!

I pre-loaded LoK. Can't wait to play it. Platinum makes great action games.

Do you know if the game will be able on pc ??

Very unlikely, Platinum games don't usually do pc.

You forgott The Walking Dead.

Indeed, that's a must buy for me. Can't wait to scare myself silly.

Kinda like Telltale forgot our review copies. sniff

Can't wait for legend of Korra. Not expecting it to be the best game ever but should be fun to play.

Pretty sure that Shadow Warrior was only on PC and not last gen consoles.

Another vote for LoK, huge Platinum fan here.

Yup $15 seems expensive for the short game it is, but I love Korra and Platinum makes good action games.

So many great Kinect games these past two months: Fantasia, Just Dance 2015, D4: Dark Dreams Don't Die, and Dance Central Spotlight, all in the past 7 weeks!

Alien: Isolation too has Kinect integration and while it's not much it sure does add a LOT to the Experience when peeking around obstacles with your own head as a controller :°

The Kinect microphone support in that game though - not a good idea. Isolation is hard enough as it is.

Especially if you have a cat that decides to run around the lounge room and slide along the floor boards. If only the alien w would kill that damn cat.

Hehe...​ I've red a recommendation to turn it off when playing it but then decided to keep it on as I'm living alone in a somewhat soundproof environment. It HAD to happen that exactly during a moment of high tension my Phones 20:00 Alarm would go off right next to me and with the Alien nearby. Didn't make it far... Still haven't turned it off though. ​ ​

Slow game week, oh well, you've got enough of a back log as it is.

Four games in one week isn't that slow! We often get less than that.

Oh, it's more of a personal assertion, in that the games don't interest me and none are the big guns that are set to come out in the coming weeks. I made a boo boo, it was meant to be "I've got enough of a back log". Legend of Korra sounds interesting, but not interesting enough, and I played Shadow Warrior years ago. I've never cared about dance/music games either.