Outlook Mail and Calendar update fixes email rendering issues, adds Year view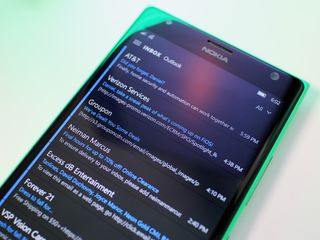 Outlook Mail and Calendar has received a pretty solid update on both Windows 10 desktop and mobile, bringing Year view in Calendar for all, along with the ability to mark your calendar with holidays. Here's the official breakdown of what's new in Outlook Mail & Calendar:
Mark your calendar with holidays
Jump to any day of the year with Year view
In addition to the above changes, we've noticed that this latest update appears to fix email rendering issues that were present in prior versions. An example of the fix can be seen below:
Finally, if version numbers are your thing, this update bumps Outlook Mail and Calendar up from version 17.6525.42272 to 17.6568.16732. If you'd like to give the new features a shot and see if any rendering issues you had are now fixed, you can grab the latest update from the Windows Store at the link below.
Thanks to @IanRemensnyder on Twitter and Nathan for the tips!
Download Outlook Mail and Calendar from the Windows Store (opens in new tab)
Dan Thorp-Lancaster is the Editor in Chief for Windows Central. He began working with Windows Central as a news writer in 2014 and is obsessed with tech of all sorts. You can follow Dan on Twitter @DthorpL and Instagram @heyitsdtl. Got a hot tip? Send it to daniel.thorp-lancaster@futurenet.com.
Awesome, I'll check it out

Year view has serious issues on my L521. Freezing when attempting to scroll, swiping to the side to change the year often switches to another row of months, but the year at the top doesn't change. Rotating the phone while in year view doesn't do anything until something is touched, then the screen image scrambles. Then need to use the task switcher to close the app. Wow. This should not have been released yet. This is worse than a beta. Edit: Soft reset made it barely usable, but extremely laggy. 30 second wait for the screen to rotate after the phone rotates. 10 seconds for the year at the top to change after swiping to the side. Quite sad.

None on my Lumia 1520 build 10586.71!

Not seeing anything either on my 950

Still not seeing it on my 950 xl latest insider build.

Breaks pinned linked accounts. Do not install.

And some emails actually render worse than before. This is too basic an app to not get this right.

It was broken for me with the last update. :<

A soft reset fixed that issue for me.

I had that problem too but a simple restart fixed it.

Not yet in the UK, 7 hours later :¬(

Same here, I'm not seeing the update either. I guess this is for the .71 update only or it has been pulled.

Microsoft on a roll today!

They messed up the mail app

They released new Insider preview build for fast ring.

Happy to see emails more correctly in W10M

Email rendering still not working correctly.

Manually mark your calendar with Holidays ?

Non-standard, regional, cultural specific, etc. Shows as a holiday rather than a regular calendar item.

There's a new option on the hamburger button with "More Calendars" then you can add your Holiday calendar from there based on your country.


For all those who worship the Flying Spaghetti Monster. Holy noodliness!

Glad I could assist in pointing out this not-soo-major, yet not-soo-minor update :)

How about they fix this issue for 8.1 on htc m8 for windows.

They can't because mail is a system app

Horrible excuse really. But I guess it is what it is for now.

Finally,accurate rendering

there's a Whats New on the settings page.

Daniel shops at Forever 21??? That's a store for women, right?

He may have a sister , girlfriend etc.. Don't you know men pays for everyone

Interesting point you bring up

They've sold men's clothes for several years now.

They sell both men and women's clothing, if you must know.

No its not a must, just going off what I believe I remembered clever boy

Asking the more important questions, aren't you?

Nah they have dope guy clothes too

How do you know that's his phone? One of the other writers may be a cross dresser.

So how do I get a month view?

Awesome! Now what about the Outlook Calendar reminder snooze not working issue? PC & Mobile.

Thank god! This was probably my biggest gripe with windows 10 because of how often I use mail.

I also noticed they corrected a small misalignment of the hamburguer button when pressed. (email app at least) Perfect.

On the subject of features noticed, they have added search query highlighting: when you view an email from the result of a search, the words you searched are highlighted in yellow.

Does it fix the broken live tile? I know I can check myself but my phone is at home and I am still at work and anxious to know. Thanks in advance.

The Live Tile was working for me before this update. Actually, I think since I installed W10M build .63 and did a hard reset (which I hadn't done after upgrading from 8.1).

NO, unfortunately no, it does NOT fix the issue. Can you tell I'm a bit sour and sore about it?! :< gggrrrrrr

I had to remove the live tiles, add them back and reboot the phone. Now the live tiles work normally.

Your phone and your person are in different locations, seems counterproductive.

Good grief. Rendering improvements make things far worse. Now the emails are zoomed in and some don't even download the graphics at all. Emails that were horrible but readable on the old version are completely unreadable on the new.

Yep I'm noticing that too. Why is it so difficult for them to get this right? I still have to click download all images on most, even with the automatic download setting chosen. And mine are way zoomed in. Even double clicking just zooms in more instead of zooming out to see the full email.

QA's work only on Android & iOS projects. On Windows we are the QA.

THIS! Every email needs to be pinched and/or reopened to be view properly. *facepalm*

Also having this problem. Fairly disappointing :/

Same here, bet Ios isn't having any problems though...js

This is str8 ridiculous, I be damned

Nope. I have an iPhone 6 and a Galaxy S6 with Outlook and both render currently. I think the problem might be that Outlook renders in the local browser and Edge doesn't render correctly but Android and iOS use Webkit which does.

Nice theory which sounds correct

The theory is incorrect. Outlook on Windows uses the Outlook rendering engine based on Word. Outlook on iOS and Android probably use Webkit, because the app isn't really a native member of the Office suite yet. Honestly, if Outlook on Windows used the Edge engine like everyone is suggesting these rendering issues would be long gone, but someone at the Office team is really holding onto the Outlook engine for some reason.

I think they use the Outlook rendering engine based on Word because of the Word formatting options which is available on just the Windows client.

Except nobody gives a **** about formatting emails on a phone.

Hey there! We're looking into this - can you provide more information about your device? Screenshots? Any more info you have would be useful! Thanks! Caitlin Hart Microsoft PM

There is a thread I am in already over at the answer forums if you need screenshots. http://answers.microsoft.com/en-us/mobiledevices/forum/mdlumia-mdapps/lu...

Some emails were fixed. Some are still not displayed properly. Such as CNET.

Much better! Now we have scrollbars or really wide messages (like from twitter notifications for DMs) but still much better than earlier totally broken layout! Great job so far!

Would be nice to fix basic things like phone number links and contact look up

Any idea if this fixes the bug where all the full day events (inc. holidays) show up a day early in NZ?

I noticed that too. Waitangi Day observed on a Sunday?! Alas no, it's still there.

I notice the same thing in India on the Android app.

Wow...there one way an Android MS app isn't better than the W10M version

I have turned off holiday display because of this stupid big. Fine online an in the win 8.1 app. Just all the win10 apps

I was hoping this update would fix the issue of not being able to send videos via outlook mail. Unfortunately, it didn't.

Also shows weather on current day and tomorrow calender. Idk if that's new but I noticed

Been available for a few versions, but I forget which. I did have to manually turn it on in the app's settings the first time it was available.

Oh ok I guess with this update it enabled it for me. Thanks. pretty cool

More importantly, the action center displays emails under each account separately rather than just under 'outlook'

Crashes when I try to enable.

How to close group notifications

That's what I was waiting for since I upgraded to W10. Awsome

Other noticeable changes: 1. Agenda view now shows the weather in addition to week view
2. When replying to an email you can now see the original email automatically without having to press see more content
3. You can now group notifications in the action centre by account

I don't want group notifications...want individual notification...how to remove group notifications...kindly help...

Huh? It groups them by account individually under each account title.

I see weather on week view before

4. Search term highlighting in emails opened from search results

Um yeah not really noticing an improvement with email rendering. Emails seem to open a little faster but still render like crap. C'mon MS who's QA testing these updates?

I had to soft reset to get my live tiles going to the right accounts, but hopefully this has fixed my mail tiles not updating issue. Emails are rendering much, much better now - but not perfect: instead of getting a few, overlarge words per line, the view now is a bit too wide - but I can zoom out and things look pretty good (whereas before there was nothing one could do to fix the appearance). Calendar still doesn't create events from the right day when starting from week view (always creates event for the first day of the week, not for the expanded day, which is how it worked in 8.1). That might be my last major gripe that needs to be addressed.

Ask and you shall receive. Weather on agenda view. :)

Rendering seems to be worse in mail

Doesn't really fix email rendering, does it? Makes it better, slightly. But overall email rendering on W10M is absolutely horrible and has no place in 2016.

That rendering issue sure was annoying! Thank God we're past that!

It is still shocking how bad those fundamental apps are. I mean this should be an easy task for the biggest software company. And they already had functional apps before. How for instance can one developer like Rudy Huyn write multiple apps on his own that feel better than a lot of Microsoft's most important official apps?

He answers to his audience not a 20km long chain of bosses with nonsense titles\job functions

I don't really understand why they're adding self-contained holiday support when Outlook.com already has its own separate feature to add holidays for all devices (as does Google Calendar, etc.) It would make more sense if the feature added holidays to your cloud calendar. Hopefully this fixes my broken live tile though (never resets to 0, so the counter is always incrementing up).

Feature parity with desktop Outlook.

Desktop outlook 2016 also has its set of rendering issues.

There's also a Fly Delta app update for Mobile. What's that about?

Update: After restarting the phone, it's working fine.
Shortcuts for different emails like gmail, my office mail, etc... Is broken again...anyone observed?Any shortcut I access it goes to the last seen mail box.

Seriously who is the QA at Microsoft projects.... How do these even pass thru d basic tests

I'm guessing they are the medium and low priority issues they are fixing now. I'm sure QA is on the ball but developers need to be upgraded. Where is David cutler when you need him.

Funny how nobody seems to get this.

On my 950xl sharing a webpage to outlook takes seconds to send.. Are you having the same problem? On my other 930 with wp8.1 is instantaneous

On the 550, it always hangs the first time I try to share with email and the email chooser is opening. Second time "usually" works, I say usually when I really mean 2/3 of the time. :< Who's QAing this stuff Microsoft? Do you have the 1 million monkeys? Whats that expression? #Harsh? If you think so Microsoft, convince me that I'm wrong and release stuff I can't break in 10seconds of installing. Jeesh

Who's QAing? Nobody, Nadella has fired thousads of internal testers, so testing is now our job. That's the new ****** Microsoft.

And its obviously not working out well.

Same bad rendering, gotta keep zooming out and in as always

Breaks pinned linked inboxes. Be warned.

A reboot fixed it for me after the install

I tried that too, grasping for straws to try to see what could fix it...Nope. :<

I believe they were broken before, at least for mine. The counters were continuously and ever increasing, never respecting the "read" counts. :< I was completely expecting this update to FIX this. Sadly not. :<

Unpin and then pin again. Fixed for me.

I thought of that too, unfortunately no dice for me. :< Bigger issue here than what Microsoft realizes. :<

I tried that one twice. No joy. Edit: ok, so this is odd. After leaving my phone for an hour, the tiles now work correctly. But they didn't immediately after deleting and re-pinning twice.

Seems faster ......why was that not the first comment? It usually puts a smile on my face to see it. .... Oh well, glad I could help others today

Unfortunately this update is one step forward and TWO steps back. I not only DON'T see my new email counters on my start tiles, BUT incoming emails now dont have the from aliases linked\mapped\updated\changed to my contacts names. Sorry Microsoft, another misstep with w10m. :< This one was an easy "open netter" with the goalie on the bench, and you STILL managed to miss the open net. #Disappointed

Unpin and repin the tile. That should fix the email count. That seems to be a common issue with outlook updates.

How To remove group notifications...i want individual notifications

If you linked your inboxes you're out of luck I think. So you don't want your notifications grouped individually under what account they come from?

It broke my outlook app completely, can't access sent items etc. Also after upgrading to build 10586.71 I can't access action Centre by sliding it down. Lol strange bugs.

Which phone? I updated my L920 today and have no issue pulling down the action center.

What device? No issues here on a 925. Maybe you need a soft or hard reset

Render is much worse on my L1520. Wife is complaining about same thing on her 950. I don't think this is fixed. Is worse over here.

It's better than ever on my 950 XL. It's zoomed in very close initially, but that's easily resolved. Sometimes I need to tap "download entire message" if the email has a lot of content. That has fixed any issues I initially had. I think you can have it download the whole email by default if you want.

I just checked out an html email, HOLY SNAP! Its worse than before? Is Microsoft TRYING to pi$$ away their fanbase? Maybe it's some early April-Fools joke and we're the punchline? "Watch, watch, watch how they bend over again now!" :< disappointing.

Worse than before?? Can't say I'm having that issue. Have you tried tapping the"download entire message" text at the bottom? If that's there, sometimes it pulls in the code the email needs.

https://m.youtube.com/watch?v=z3nXHAQa-gQ

MUCH better rendering, not perfect but a lot better than was!

Emails are super-zoomed now... Plus old emails will not clear off live tile or lock screen... Even after soft reset... #CmonMan

Any time I've had that issue I unpin the tile and pin it again. Fixes it every time.

Since MetroTalk stopped working for me, I tried Outlook mail. But the rendering issue is so bad, I am forced to just use Gmail in Edge. If Microsoft has actually fixed my greatest pet peeve with the OS, I'll be ecstatic.
EDIT: I meant MetroMail, which I decided to redownload and see if it works again, and it does! I'll give Outlook a go, but glad to see MetroMail is an option again.

They did. It's not 100% perfect for me, but it's so much better then it was.

Can anyone help me in removing group notifications..m not able to switch it off

I wish they would fix the issue of not storing sent emails for imap accounts. :-(

Finally, emails are rendering properly. My only issue is the emails are rendering very wide. This messes up some of the emails, but the content is there. It's much better than it was. In the calendar's year view, pressing the Today button doesn't always take me back to the right month or day. I was able to recreate the issue more than once.

Email rendering was my biggest issue with w10m, it is fixed now, w00t

Mail app crashes now. And whatever little it opens, renders even horribly than it did before :p

I wish they would fix syncing the sent mail folder

I get 2 emails each morning that had rendered as a very narrow column. Both look great now. A bit over zoomed at launch, but a tiny pinch and it's perfect. Much better format.
Year view in calendar is now much easier to jump long distance. I know things aren't perfect yet, but very welcome progress. Keep going Microsoft

Wow sad. I just compared my G Flex 2 outlook emails with my 640 outlook emails. No comparison, the 640 renders like garbage. Microsoft put the effort in for Android... I guess they didn't care as much for their own platform. Posted via the Windows Central App for Android

Outlook on Android uses Webkit. Outlook on Windows uses the terrible Outlook engine instead of Edge, because, y'know, someone in the Office team has a job to protect.

That is nice! I love outlook mail! It looks beautiful with white theme and orange color! That swipe - delete system is so handy! :)

Ok. not seeing the update! ._.

I'm on the latest insider build 586.71 and so far there's no outlook mail and calendar update in the store. I'm still on the older version. That's on my unlocked Lumia 950.

I have same problem. Last insider build and no update for calendar and mail

Same for me. latest build, no update

Same for me last build .71 no update for mail calendar L930

Same here, on .71 and no update. And all HERE updates crashing in the very early stage of downloading.

Email still looks the same to me still not rendering on the screen.

Update on Windows 10 phone but not desktop for me. Checked my tablet and desktop. Nothing.

Not had this update yet, desktop 10586

... and TASKS, NOTES, CATEGORIES ?

THIS !!! - I soooo need tasks on mobile

Where is drag and drop for attachment??? Where is possibility to download all attachments at once??? Are we in stone age???

On agenda view in the calendar, it shows the expected weather and temperature on the top right of the agenda window. When did they add that feature? Is it new with this update?

I still can't get my Gmail account to synchronize in outlook... Any idea how to fix that?

Delete it and recreate it? Works for me just fine

Still haven't fix the HUGE bug when creating new appointments in week view. When you select a date it always jumps to 2 days prior og to the first day of the week WTF. This does not occur when creating an appointment from month view.

I can't find the app update

Now we just need overdue Outlook Alias support and Categories. I don't why this hasn't implemented yet. It keeps the users not to use the Mail app because the lack of these features they themselves introduced.

Took them long enough to add the groundbreaking feature of viewing emails as they're supposed to be rendered. Amazing stuff from Redmond.

I am not getting this update. I checked for it several times. It's store page neither shows "Open" nor "Update" button. It just says that the product is installed. :/ I checked the version number also. It's still the older one on my mobile.

Looks like the updates are withdrawn. No update for me. Just like Whatsapp. Big issues after OS update

What big issues? Not seeing the update for two apps?

How about the live tile for the calendar? Still showing deleted meetings? I am using One calendar, a third party app because the one from MS is showing deleted meetings...rubbish

Should have updated the apps before the OS update

Not one update available here, now I really think wm10 is dying if updates are withdrawn because they are bad ;(

Not bad. I think the OS update just wigged put the store on phones a bit maybe.

No update in the uk..at least not yet :(

No update for me. 950 in sweden

My L950 has updated but my L930 has not (Ireland). Both are on the same build. With regard to the rendering it has gone from one extreme to another.

Not working at all on the latest insider build for me, no updates since Saturday and unable to add a new account (tried deleting one and re-adding)... reported so hoping fixed soon :)

Looks like the update has been pulled by MS.

Sadly since the update Outlook Mail app is crashing on my Lumia 950 XL (UK, Unlocked/SIM-Free) as soon as the app is opened, currently not very happy with Windows 10 Mobile and desperately waiting for an major update to fix all the issues. We are due to deploy number Lumia 950 handsets to clients starting this week and at this rate they will probably refuse to keep them because is not fit for purpose as much as I regret saying. Microsoft needs to get their act together because the mobile platform could really do without all these extra headaches, especially in UK where the market share is growing based on Windows Phone 8.1.

I had the same issue. But unpinning and repinning the Outlook Mail App solved it for me. Good luck!

Thank you for the tip however sadly this appears to be new bug, no Outlook Mail notifications, no Outlook Mail tile update, no icon on Glance to show there are new emails and now with the update from last night sadly Outlook Mail app is crashing within few seconds of loading the app. This is why we didn't use our own handsets with Insider install however it seems as if there was no need as Microsoft is brought it to everyone with Lumia 550, 950 and 950 XL!

My glance icon is showing. And notifications working fine

Yes my colleagues handsets glance screen email notifications are working fine, there is no pattern which is where the issue is however we're all having already reported Windows 10 Mobile issues such as Bluetooth related drops and random crashes hence why desperate for an update at this stage. Assuming you're not using an Insider version?

Topical Microsoft.... They are really going to lose me when o can afford an android phone.

Still not getting update in my lumia 535

Not getting update on HTC one m8 either

I still didn't get it yet, on my 950 xl
Is it the case from somebody else.

Wow, I know nothing about software development but is is always amazing how badly a - presumably fairly well tested - piece of software can behave (judging from many comments here) in the real world of actual users.

No problems here lol... Don't knock it took you've tried it yourself

Not yet, forced to using employer issued Android as daily driver, unfortunately. :( [btw, thanks MS for not doing enough, AFAIK, corporate marketing either in the US.] however, in some ways you not having problems - while good - doesn't matter: there shouldn't be as many folks with problems as there appear to be. Posted via the Windows Central App for Android

Appear is the key word there

Are you saying the people with problems with it and commenting in this thread is not representative at all?


I'm not able to get des updates

Yep agreed, we are the testers apparently ☺

Still not seeing an update on my 920, in the Netherlands..

I really want this update! I can't see it yet. Long overdue.

May be only W10M 1st? Coming soon...

Maybe they put it on hold. This is ridiculous for a world leading software company...

Update Not yet available L1320 here

Emails now don't render well...all the emails I have opened since the 'update' require me to zoom out to view the messages. It was perfect before. Terrible update. Running the latest insider build of windows10 mobile with 1020. Fix this!

Still no category for outlook.

Atlast the ability to select all and do action like deleting all at the same time. I've been waiting for this for a long time. Hehe

It looks like some users are not able to get this. I have not received it. I am using a 950 XL.

Still waiting for this update (PC, 10586.71)

No update on PC but update on Phone has caused rendering of my daily dailymail update to be way too big. Worked ok before.
Windows Central Newsletter
Get the best of Windows Central in in your inbox, every day!
Thank you for signing up to Windows Central. You will receive a verification email shortly.
There was a problem. Please refresh the page and try again.