Outlook Mail and Calendar Windows 10 app gets new Calendar live tile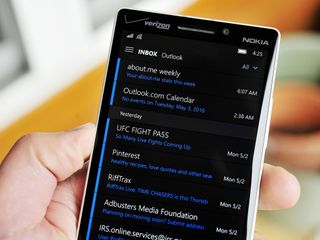 Microsoft has pushed out an update to its Outlook Mail and Calendar Windows 10 app that includes improvements to the calendar Live tile to the Start screen.
The new update changes the version number of the app from 17.6965.40902.0 to 17.7167.40338. The calendar Live tile can now display more than one event with this new version. The update is available for Insiders on the Fast ring but it's unknown at the moment if it is also available for all Windows 10 users. We will update this post when we learn more.
Thanks to Sachinmeet and *Matthew Johnston for the tips!*
Download Mail and Calendar from the Windows Store (opens in new tab)
Windows Central Newsletter
Get the best of Windows Central in your inbox, every day!
yes I've been waiting for this day!

Still date is not changing, not sure what they are fixing. Dont use live tiles word anymore.

I hope one day i will use those words when the app allows me to use exchange ActiveSync for my work email. After buying the 950xl i had to buy a GS6, just so i can receive emails

Lol activesync absolutely works for Exchange email on Windows Mobile!

Talk to your IT department, I had the same issue until ActiveSync was enabled on their end.

Yep, nice livetile indeed!!

With all these updates all we need now is to get the anniversary update and we can partake in all these goodies

Upgrade to the fast ring it's very stable right now and your telemetry helps them make the update less buggy

We asked for this in 2012 LOL...honestly Microsoft

2012? Try 2010. One of the most puzzling missing feature ever. Glad to finally see it.

it's here,enough of how long was asked for,it's here

And yet. My life hasn't changed one bit after this update.

the whining never ends! Get a pacifier (Binki).

And lo the clouds parted! This has been requested forever and apps have been published just to fix this problem.

Looks like everyone who mentions that history exists gets a -1 today. Cool.

Also notification center shows the avatar of the email sender.

Looks even better on desktop!

I am on the insider slow ring and don't see the update. Is it for the fast ring only?

Did you even read the article?

Right in the article. "The update is available for Insiders on the Fast ring but it's unknown at the moment if it is also available for all Windows 10 users."

I do see their point though. Usually the distinction is between AU and production branches. Slow ring is RS1, just a different build. So it's not a totally illegitimate question. It's just that it seems mostly pointless to be on slow ring right now, since fast ring is more about introducing fixes than new features.

Yeah fast ring is much reliable than slow ring and has lesser bugs comparing with slow ring...

Not sure about the way the live tile works........Finally though... Ive been using Simple Calendar and even paid for it. Will keep it until I'm satisfied with this rendition

Me too. Medium Live tile is still unable for me. Will leave feedback.

I love Simple Calendar! Was about to pay for it, but I'll give Outlook another try with this change.

Simple Calendar is still better in that it shows appointments further into the future on the live tile. Outlook still just shows tomorrow.

I like Simple Calendar too, but in my case it fails to update the live tile every day no matter what I tried to, which off course is very embarrasing, on the other hand the outlook tile is not so cute but updates as it should and this is more important for me. Very welcome improvement!

Remember exploding live tiles? Maybe the goal is to bring that in future builds so when you long press a medium or wide live tile, you get views to other upcoming events, etc.

I use Simple Calendar for exactly this reason, and it would seem that I will have to stick with it still. As camaraoz1985 said, The Outlook tile while better than before, still only shows the next day, whereas Simple Calendar can show appointments further in the future.

My fast ring phone got it, but my release preview PC has 17.6965.41051 and shows no further updates at the moment.

Finally I can stop using Cal (it's still very functional)

I have ued Simple Calendar, Cal, and True Calendar, all paid versions. Favor the True Calendar (and previously Cal) so I hope this Outlook Calendar will do even better.


My phone got the update and on latest Windows fast ring build, but no new live tile? :( The enhanced live tile only available for desktop version?!

I had to restart my phone before it came up.

Emails notifications now have sender profile pic (FINALLY)

Really? Mine shows only the dummy circles with the initials of the sender (thats new new, before this was not there), bit it does not show my contacts pics. (but it does also not show them in the mail app itself...

They may not have profile pictures

I found now, it seems to work (pics in the mail app) for the outlook.com mailbox but not for my 2nd smtp mailbox though.
There when I touch a name the contact details open with picture but it does not show it in the mail itself.

Also now supports Aliases !!!!! What took them so long, i don't know but it does :)

What exactly do you mean by aliases? I would love to check this out but I'm not sure what you mean. Are you talking about Outlook email aliases?

Yes, outlook.com aliases. For me outlook.com aliases are finally there to choose from when creating new emails and when replying. :)

Ah, nice! It's a good option to have. I have some rather flippant aliases, so this will definitely come in handy for p***ing some specific people off. ;)

That's a nice touch, good to see this feature.

Yes. If that came in before now i certainly hadn't seen it and it's been pretty well requested in feedback hub since the windows 10 mail app debued last year. I have several email aliases on my outlook account and had only ever been able to send mail from the primary account via the app. Now you get a drop down arrow next to the To: address allowing you to change to one of the other aliases.

Well that's more useful, but still not as useful as Chronos' live tile

Still hoping for Chronos to be updated to UWP. Used to be my go to app since WP8.0

I'm pretty sure "Chronos Calendar +" is UWP. Otherwise I don't understand why there's 2 versions in the store (I do know that the non + version was the WP8 version).

I don't see where there is a desktop version and I'm pretty sure the non-plus is free and you pay for the plus. But I've owned it for so long I can't really remember. In the end though, I'm still using it. The new Outlook tile is only giving you appointments through the next day whereas Chronos + goes out further and looks much nicer as well with many options for appearance (no options still with Outlook). I run the large tile with Chronos + and the small tile with Outlook (so I can quickly access it for editing purposes).


Plus and non plus are not the same code though, non plus is definitely wp8 code. Also, UWP doesn't mean it's available everywhere, apps can be developed on the UWP that aren't necessarily available on all devices.

Off topic but what settings do you have to get that shade of blue on the tiles in the screenshot (original blue and transparency %)?

Seems that outlook.com aliases are finally there to choose from when creating new emails, yeah!

AWESOME. Actually very, very happy with the Calendar live tile now.

Finally! I requested this since WP7.5 times, on "Uservoice", voices which extremely rarely have been heard. I recall the Week View request, for years in top 20, but OMG how long it took. Slowly but steadily that W10M thingie gets to be a really great mobile system. I have it now on a 640, and I like it. Great!

I'm having it on 640xl and its Awesome

Pretty sure this has been a top request for what, FIVE YEARS now? I almost walked into a car reading this.

What about live tiles on Outlook Mail that hasn't been working for months??? It's ridiculous already and very annoying!!! Anyone with the same problem??? With this update it doesn't even show in the lock screen. It just got worse with this update!

As usual, MS giveth, haters take it away... Actually quite a nice update. Like the new live tile. Actually, like what's happening in general! Maybe we should just have the article headline and no story because it blatantly obvious many don't read what someone has bothered to write ;-)

Either that or make them all super long like Jason Ward's articles. You don't get a lot of commenters that "didn't read the article, because it was too intimidating for their kind to even skim the headline. Commenters over there are "usually" a little more informed about what was written compared to some others.

Don't you know, reading is O-U-T out!

LOL, judging from the spelling and grammar capabilities of so many people, I'd say writing is also out. Not aimed at you, but at those who would have written it "don't u no reedin is owt."

Let's be straight. Microsoft is the giver and the takether away. That people are cynical now is uh, to be expected. This feature is something like 5 years overdue but, I'm overjoyed be getting it anyway.

Does copy from Mail and paste to any different application work for anyone? All I can do is to copy and paste within Mail application.

Nope it is not working on my device and when I try to do so the Outlook mail app in the background is crashing.

Please let them know in the feedback hub. These things need to be fixed and ironed out.

posted 5 months ago. 13 Upvotes... It seems no one cares about this basic function...

Works flawlessly for me. Just tried it. 950 and 950xl 14393 build

OMG, we've been asking for this since 2010. I just figured that nobody at Microsoft cared if they missed an upcoming appointment, and this would never happen. Pigs have flown.

Mail Notifications now shows pictures as well. :)

Yes indeed, just noticed.

Works great! Still not working in the lockscreen. I think it should.

Google ditching services for outlook mail app :(

Is this true?? I hadn't heard anything about this. If this is true, time to ditch Gmail completely. Ugh...

News like these will come in NokiaPowerUser app

Also seems to introduce contact photos in notifications. (though on mine I'm not yet seeing the updated tile!!)

Yeah for me too...just got a mail and it is showing account photos...

Finally!!! Time to update "Tiles for Outlook" with new features to keep the distance ;-) Glad to see MS finally got the aliases working as well (hoping the user who told so is right, didn't try yet).

http://i1.kym-cdn.com/photos/images/newsfeed/000/792/270/1b4.gif

AWESOME! 'bout damn time lol Thank you Microsoft.

Excellent! Hopefully this takes care of missing someone's birthday because another event is shown on the Live tile instead.

Cool now lets hope they bring back that archive quick action.

Good! Glad it is being updated. The performance I encountered though was woeful . Why can't they just port over the app they did for Lagdroid?! It's slick, syncs well (unlike the Winpho version I have on my 1520 which takes minutes to search for an item that might be 10 down in the in box!)

only works for primary calendar. Not others that I have subscibed too.

Does the mail live tile update accordingly now? Mine was buggy since I hopped into W10

Nice update. The cut off words and the "..." looks sloppy, but maybe I'm just being too critical. I'm spoiled by Chronos Calendar.

Actually I greatly prefer the cut of words. True WP metro style ;)

And still the poor Outlook Mail tile doesn't seem to work, sadly.

Same here. Very annoying!!!

Oh finally! I've BEEN waiting for this

I don't know about this update, but just yesterday my 950XL updated to v17.6965.41052.0 I have no idea what the changes are.

JUST LOOK TIPS EMAILS, WINDOWS CENTRAL!!

When do we get phone # links in the mail and calendar app?? The ability for a phone number to be recognized and be a clickable link. Soooo important.

This is working on my phone (Lumia 830 Insider Fast Ring) in both mail and calendar. Don't remember if it didn't work at some point in the past. When clicked on a number, if the number is already in the phone with a contact, it launches the contact. If not, it opens a contact like page from which you can either save as a contact or dial the number.

Really? Are you sure? For example any number in an email xxx-xxx-xxxx is highlighted and you can actually click on it? Same with calendar? If a number is in the subject line? This is a clickable link? Did you just start getting this?

This would be simply amazing!! It is so frustrating. Could you double check please

Tile is not updating, it's showing same date on every day..

Well, it's fine they're going to tweak the live tile, as it's long overdue. But will they change the dots colors in-app for the sake of clarity of different events? Right now, despite the certain calendar color (e.g. wunderlist tasks, holidays, reminders etc.) all the events are marked by blue dots, which is rather unintuitive. As I try to stay organized, I'd welcome and appreciate dots in different colors, so with a glance I'd see what's planned for this month. There's plenty of space even for multiple dots around the specific date, which I'd find useful. What do you think?

It also breaks Glance if you have Outlook set as the detail status -_-

"Outlook Mail and Calendar Windows 10 app gets new Calendar live tile FOR INSIDERS"

Where can I see what version I have? I'm on fast ring, but I see no update for Mail and Calendar.

I have a bad issue with the mail and calendar live tiles not updating at all. Neither soft nor hard reset would resolve this issue. That's very irritating! Any help will be much appreciated!

Not getting the update on Release Preview ring

I remember I gave this feedback on Sunday! Hahaha

My mail live tile never updates. Live tiles on Windows 10 are not reliable as they were on Windows 8.1...

I wish we could have an extra large tile for calendar.

Another mail app in w 10, please?

I'm having issues adding a Gmail account. Says the browser is outdated.