Overwatch 2 beta system requirements: Can my PC run it?
Is your rig capable of running Overwatch 2?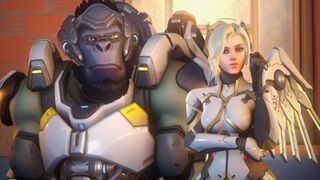 (Image credit: Activision Blizzard)
After several years of relatively little information about the game, players are finally getting their hands on Overwatch 2 in the form of the Overwatch 2 beta. This pre-release version of Overwatch 2 offers players a taste of what's to come: a new era of Overwatch PvP that features the shift to a 5v5 format, the brand new Push game mode, extensive changes and reworks for heroes such as Orisa and Doomfist, the introduction of the new hero Sojourn, and a graphical makeover that improves upon the visuals of the original Overwatch release in 2016. Vertical slices of Overwatch 2's PvE campaign are also expected to be available in future betas, though PvP is the priority for developer Blizzard Entertainment for now.
Before you jump into the Overwatch 2 beta, though, it's important to make sure that your PC has the hardware necessary in order to actually run it. Thankfully, Blizzard has made the beta's system requirements available to the public. Here's everything you need to know, including an overview of the minimum and recommended specs as well as a quick and easy way you can check if your PC meets the beta's requirements.
What are the PC and system requirements for the Overwatch 2 beta?
Compared to many other modern games, the minimum requirements for the Overwatch 2 beta are incredibly accessible. If you've purchased or put together your PC at any point in the last six years or so, it's very unlikely that you won't meet the beta's minimum requirements. Note that the developers have confirmed these requirements target a 30 FPS experience on Low settings.
Here's what Blizzard lists as the minimum required specs for the Overwatch 2 beta:
OS: Windows 7 / Windows 8 / Windows 10 64-bit (latest Service Pack)
CPU: Intel Core i3 or AMD Phenom X3 8650
GPU: NVIDIA GeForce GTX 600 series, AMD Radeon HD 7000 series
Memory: 6 GB RAM
Storage: 50 GB available hard drive space
If you want to have a smoother and better-looking experience with the Overwatch 2 beta, you'll need hardware that can deliver more power than what the bare minimum specs are capable of.
Here's what Blizzard lists as the recommended specs for the Overwatch 2 beta:
OS: Windows 10 64-bit (latest Service Pack)
CPU: Intel Core i7 or AMD Ryzen 5
GPU: NVIDIA GeForce GTX 1060 or AMD R9 380
Memory: 8 GB RAM
Storage: 50 GB available hard drive space
Blizzard is targeting 60 FPS with Medium settings with these requirements, so if you meet or exceed them, your experience with the Overwatch 2 beta will be great. If you want higher framerates or the ability to play at 60 FPS on High or Ultra settings, you'll need even more advanced pieces of hardware such as a 20 or 30 Series-class NVIDIA GPU.
Can my PC run the Overwatch 2 beta?
If you're not sure whether or not your PC meets the minimum or recommended specs given by Blizzard, don't fret — there's an easy way to check. All you need to do is perform an analysis with the DirectX Diagnostic Tool, which allows you to see which hardware specs you have with just a few clicks. Here's how to use it.
Click the Windows button on your taskbar.
Type dxdiag.
Click dxdiag in the search results. Windows will then show your PC specifications.
Navigate to the System tab for details on your processor, memory, and Windows version.
Navigate to Display tab for details on your graphics hardware and video memory (VRAM).
If a part in your PC isn't up to snuff for the Overwatch 2 beta, you'll be able to tell very easily using this program. If you need an upgrade, check out our roundups of the best cheap graphics cards and the best budget CPUs, as the minimum requirements for the Overwatch 2 beta can be matched (and even surpassed) very affordably. If you're looking to achieve top performance, you'll need one of the best graphics cards as well as one of the best processors for your custom PC.
Keep in mind that in addition to having hardware specs that can handle the Overwatch 2 beta, you'll also need to own a copy of the original Overwatch if you want to access it. It's one of the best PC games if you're a fan of first-person shooters, so we highly recommend picking it up if you don't own it already. This requirement will likely be in place for Xbox players as well once Blizzard makes the Overwatch 2 beta available on consoles, so Xbox players should consider picking up Overwatch as well.
Get the game
(opens in new tab)
The cavalry's here!

Overwatch is a 6v6 competitive team-based shooter set in a futuristic world of cybernetics and robotics. All of your progress and cosmetics from Overwatch will carry forward into Overwatch 2, and you'll also need the game to be able to play the Overwatch 2 beta.
Windows Central Newsletter
Get the best of Windows Central in in your inbox, every day!
Brendan Lowry is a Windows Central writer and Oakland University graduate with a burning passion for video games, of which he's been an avid fan since childhood. You'll find him doing reviews, editorials, and general coverage on everything Xbox and PC. Follow him on Twitter.
Should it though? It's a game they made up to rip off people instead of updating the first one...

There are a few ways to look at this, and that is the most pessimistically negative way I've seen yet. When a game significantly furthers its story and updates its internal systems there are three options: 1. Update the game for free. This isn't free to the developers. How do the execs pay them? More microtransactions / micro-DLC / Ads. This also risks overwriting old content, making it permanently inaccessible. This is the only method that avoids splitting an existing player-base. 2. Update the game as an "expansion" or paid DLC. This costs money for the player, but it's a fair trade for a lot of development work. The problem is that it's still potentially an overwrite of old content. 3. Release the updates under a separate title as a sequel. This costs about as much as a full-blown "expansion" to the player, BUT it doesn't overwrite old content. Thus, keeping the old game accessible for casual/pro players who want the old story and/or mechanics for throwback tournaments and the like. This method has the problem that it splits the player base between those who get the new game and those who don't. You can see why Blizzard is going this route. If you don't want the sequel game, just vote with your wallet.

From what I understand though the multiplayer will still be cross generation. So people on Overwatch will be able to play with people that have Overwatch 2. It's effectively the single player that people are playing for. Or I'm completely wrong in which case, my apologies.
Windows Central Newsletter
Thank you for signing up to Windows Central. You will receive a verification email shortly.
There was a problem. Please refresh the page and try again.