Panorama feature to be added to Camera app for Windows 10 Mobile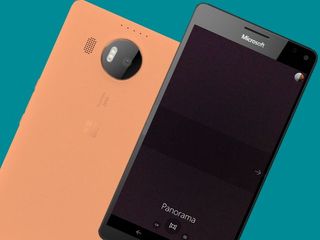 Leaked screenshots show that Microsoft plans to add a panorama photo feature in the Camera app for Windows 10 Mobile.
Long time Windows Phone users might remember that Nokia launched its own Panorama app for the platform that allowed users to merge several images together to create one panoramic photo. Now WindowsBlogItalia reports the feature will be included as a new button in the camera app. It adds that the feature can be used when holding a phone in a vertical position. The user then just moved the phone from left to right to create the panoramic image.
The report adds that this new feature only works, at least for now, on the new Lumia phones like the Lumia 950 and 950 XL, but it's more than possible it will be added for other Windows 10 Mobile phones later. Windows Insiders will likely get first crack at this new feature first, before it is released to more Windows 10 Mobile users.
Thanks to @leoFunes32 for the tip!
Get the Windows Central Newsletter
All the latest news, reviews, and guides for Windows and Xbox diehards.
Boooring we want photosynth back,all this time and they made a normal panorama app

I have both, Lumia panorama and Photosynth. But yeah I'm on 8 :)

Well, 8.1 is the better OS, by a long shot.

Photosynth never worked very well. It was halfway decent on iOS, but even then Apple's panorama solution was better. Hopefully MS is developing and entirely new solution this time around.

Photosynth and panorama are different things, unless apple's panorama does more than just do panoramas?

Photosynth isn't for making panoramas.

It is available to download

Exactly. Photosynth worked great.

Well I hope that's next thing they can do. Photosynth can co-exist on Panorama mode on the Camera app. Think about the Panorama on steroids, full 360 degree plus more. It would make Windows Camera Panorama feature more superior in that way. They can make it consumer-friendly feature if they implement it right and works naturally with current features. I even want Refocus to be integrated on the Camera app, but that's bit more challenging since we need new implementation of Refocus that is faster and and natural to use. Refocus can be also a pathway for future light-field camera on smartphones, which unfortunately lost along the way of Nokia Acquisition. They can integrate it if they want to, it just it seems there is not enough Insiders care to suggest it and Microsoft is still in this retrenchment "holding-back" stage. Sent from Turing Machine

Refocus was pretty great. I used it on a lot of nature scenes where I wasn't sure what I wanted to focus on because there were so many cool subjects.

I want refocus of them all..

What do you mean 'was'? I run it on my 950XL.

Yaah Photosynth was a great app Sent from Lumia 525 running windows 10 insider preview build 10586.318

Is far as photos on WP go,,, It would be nice if they added more advanced editing options, and filters. Maybe if MS gave us some downloadable options, as well.. And, bring back lenses. RoJo Arlington, TX Waiting for 6.2" Surface Phone Pro

Uh, Lenses are still there! Tap the three dots and tap Lenses. Sure, it would be nice if you could get to them directly with one tap, but it's most definitely still there... Posted from Windows Central for Windows 10

Yeah, I know. It's just nit the same.. Almost as if there aren't as many that are available.. But, I guess that's up to the developers. Sad that they lost interest. RoJo Arlington, TX Waiting for 6.2" Surface Phone Pro

There aren't as many available for 10 as for 8.1. In most ways, 10 is an inferior OS to 8.1 when it comes to mobile. Some of the technical underpinnings are superior, but the OS is far more bloated, less cohesive, and delivers a poorer UX than 8x or, if we're being honest, even 7.5x+.

I'm hoping to see an extension model for camera, like we're getting with Edge. My gripe with lenses is that they open as separate apps, making the experience feel less integrated. Sent from my Toaster Oven (Lumia Icon)

True. I agree. RoJo Arlington, TX Waiting for 6.2" Surface Phone Pro

Indeed! Lenses is a good feature, but it didn't evolved and just being abandoned for being mainly just a camera app shortcut. They need to redesign it to be like an extension-like feature. Essentially making the main camera app gain additional functionality when needed, just like the actual camera that we replace lenses, but still using the same body. Microsoft implementation of Lenses is like you actually use separate camera to do other things. Sent from Turing Machine

Yes, this is pretty much what I meant in my original comment. RoJo Arlington, TX Waiting for 6.2" Surface Phone Pro

Hoo-rah! Posted via the Windows Central App for Android

Yes!!! It's time for this feature to return! Hopefully even significantly better than the current dedicated Panorama Camera app. Sent from Turing Machine

Makes you wonder if any of the developers actually used the previous apps that already had these functions. It just seems strange that with so many rebuilt Microsoft apps, so many were released without much of the functionality of their predecessors.

By far the best news Lumia 640 XL

hoorah! :) bring it on Microsoft! :)

It has always been their plan to add it to the camera app. Glad to see it FINALLY comes !

only took what, 5 years? For a basic future every camera has?

Hahahaha ya pic trolling....but u have a point

I merely expressing my frustration with W10mobile. It annoys me that MSFT releases unfinished software, then charges people to basically have them as guinea pigs to test their c r a p on, to make if tolerable in a year... And it only become tolerable, not great, Take maps app for example, they killed off Here and now we stuck with Windows Maps, that don't have folders for favorites, that has no idea how to work in smaller countries like Estonia. Let's talk about Cortana - a great idea, that is unavailable in most of the countries, and some vital function, like quiet hours, can only be arranged via Cortana... And even if you get Cortana, it crashes or misunderstands you in 90% of attempts... I'm not talking about its inability to actually continue conversation... Like if you ask "how much is 20 euro in dollars?" she will say, but if after u ask and how much is it in British pounds she will Bing that sentence... Its 2016, other assistance can do that... As I'm typing this in Edge, there is no spellcheck working for some reason… Why, no one knows, as it does work on other websites...

Agree with some of your points, but stripping away the emotion, how do they charge you exactly?

Made a mistake of buing Lumia 550...

- Charges people...wut?
​- Cortana can be enabled on the new update when your display language is set to a supported language (not tied to your region) so that might help a bit with the quiet hours issue.
- Folders for favorites in maps? You know you shouldn't save the whole maps POI catalog in your favorites right?
- The british pounds thing; works fine when i say it to Cortana
- So it works on other websites but not on this one? And then it's Edge's fault? Wut?

- they sold 950, 950xl, 550 and 650 with Windows 10, that was nowhere near finished, it was a beta, and a bad beta at that. By buying the phone I paid to MSFT and became a test subject. (And I know 550 is an entry level device, but the OS on it behaved so badly, comparing with the same build on my 1520. If 550 designed for W10, then designers are blind, death and have no hands) - which new update? Anniversary that is coming soon? - don't tell me how to use apps. - I'm talking about continuity of the conversation, she does not do that. - I don't care why spellcheck doesn't work on this particular website, and I shouldn't, it's not my job.

MS didn't kill off HERE. it is in fact alive and well, on Android and iOS. HERE chose not to continue support their app for Windows Mobile/Phone.

It wasn't 5 years. Win 10 hasn't been available for 5 years. WP8 had it. What we are dealing with is MS's penchant for throwing out everything and starting over.

Yeah yeah, they'll probably take that feature away too. They'll wait until we fall in love with it and they'll take it away as well.

Don't you just love being hyperbolic and illogical.

Look, I'm in this for the long haul but lets be serious, it happens day in and day out on this platform... Posted from Windows Central for Windows 10
Using My Beastly 1520

it does. it also drives me nuts when basic features that should have been from the start are positioned as major breakthroughs.

That reminds me that one thing that drives me nuts is when everyone has their own definition of what "basic features" are when they complain about something. I'm not saying it applies to this case as I also think panorama function is on the more basic side, but it was just a general comment.

The only features they've taken away are features not allot of people used (like Wifi-sense). And features from winphone8.1 that aren't on win10 are being added back with *nearly* each update with new features. So why would they randomly get rid of it after getting people to like it? Your point is extremely invalid and no logic is behind it :p

Just like skype integration? Rooms? Posted from Windows Central for Windows 10
Using My Beastly 1520

Which has been said to be integrated into the skype UWP once it's finished. That was because a good amount of people didn't like it while the other half did, so they've done it to give users the choice of the two.

I'll believe it when I see it, then I still won't believe it. Posted from Windows Central for Windows 10
Using My Beastly 1520

Suited... Posted from Windows Central for Windows 10
Using My Beastly 1520

...then I still won't believe it? So it has to talk to you and call you dad or what is it then going to take? Be reasonable...

That's why I just gave up replying to him ;) you can't convince someone who's not willing to see the logic and reason of the other sides argument +640 on Windows10Mobile

I need the features to stay put. Is that too much to ask for? I should hope not. If it talks to me and call me dad, it should continue to do so. The feature shouldn't be taken away. It's just that simple. That's all I'm saying. Key features don't stay with us long. You guys act as though you just started with windows phone. If that's the case, I understand. If you've been here from the beginning you would know that each feature added will in the future be placed on the chopping block. Posted from Windows Central for Windows 10
Using My Beastly 1520

I've been on windows phone for years now, it's just a bit far-fetched to say "all features that we like will be taken away" just bcus one of two features some people have used more than the majority aren't happy it's gone. Also the fact Win10m is still having main features added back on (until Redstone1 + 2 I imagine this is going to be the case.) i understand it's frustrating however it doesn't mean MS are out to get their customers. If they were I don't think they'd be as big as they are now :p +640 on Windows10Mobile

you guys ask for akype alone app , do you remeber the time that complain why wp dont have skype like ios and android and want a depended app , and also you can see new skype app in build 2016

I've never asked for that. I was for complete and total integration. I have a ton of skype contacts, and I skype basically everyday. The last thing I want to do is have to jump back and forth between messaging apps. Posted from Windows Central for Windows 10
Using My Beastly 1520

I don't have a lot of skype contacts, but my wife has a 950 XL and I love having the option of sending Skype messages within my texting app. We use the skype option almost exclusively. It's a better experience in my opinion. Better emoji. Animations, short videos. It's just more fun. I'm really disappointed it is going away. Definitely a step backwards in my opinion.

My point exactly, but for some reason they don't get it... Posted from Windows Central for Windows 10
Using My Beastly 1520

Those where the Neanderthals who saw the potential of windows phone but still couldn't let go of the iOS and android way of doing thing.
Seriously there's an argument to be made the integration shouldn't be a way to utilize the app effortlessly that means not the elimination of the app.
1. Having Skype only there in the people hub eliminate competition. Other Video calling app will avoid the platform
2. After allowing another app to replace skype for whatever reason business or personal, now skype needs to have a stand alone application to access it's services.

Is not that people don't use it, MS didn't advertise it. Apple advertises living image or live capture, do you know why? So that people know about it and use it. MS always rely on OEM to teach the public about features on their OS. That's one of their weakness in the smartphone market. Wi-Fi sense is a great features, one needs little effort to share your home internet to guests or visitors if the need arises. Hopefully they bring it back and capitalize on it otherwise that'll be apple or android game

The key difference here is that Apple is the sole OEM of their devices, Microsoft is not however I do agree they can do heck of alot more to show case features. Like the smoked by windows phone campaigns, they were pretty good then they started using telemetry to remove features or make changes and that's when things started to go pear shaped.

You hit the nail on the head. They have beautiful features, they don't advertise them, then they take them away. So why get excited? We've been getting excited about basic features that are coming to this platform. Features that should have been here. Wireless charging is another feature they didn't advertise. Well Samsung took that over. Posted from Windows Central for Windows 10
Using My Beastly 1520

I'd have to agree with you. Microsoft needs a better way to communicate features and functionality with users. If iOS or Android come out with some cool new feature, every tech site and blog seems to cover it. Dozens of how-to videos are published and the features end up in articles about "the top 10 iOS features you didn't know about". Microsoft doesn't have that luxury.

Indeed! Microsoft seriously need to fix their communication issue to their customers and they have to properly market their features so that people will know and the mass media will cover (in a positive way). Microsoft certainly can bring nice things and really capable to innovate, but they wasted many of those things because they don't passionately advertise those. They have to care about consumers and make themselves also cool. We already know they're great in terms of productivity, but what about on everyday lives outside work??? Sent from Turing Machine

Hate to support the premise but I'm sitting here with a 950XL on the latest insider preview with no FM Radio app which it shipped with, and my 950 still has. I guess your assertion is no one used the FM Radio so it's OK for MS to deprecate the app, right. Anyone here use the radio? Anyone here ever been anywhere with no WiFi and limited data? Anyone here ever need to hear local news or weather? Nah.

What? Ok you've just read half of my comment, reading only what you want to read. I then continued to say that allot of other features that were on winphone8.1 (just to clarify "other features" obviously meaning highly used features , and i wasnt exactly vague about that) that aren't on Win10M yet are slowly being added on *nearly" every update. And that sadly not all highly used features will be on Win10M straight away and probably not all will be on till Redstone 2 when it's hopefully technically counted as a completed OS before adding new features.
So please, quote me if I'm wrong, but where did I ever say that FM radio was not highly used; that any feature not currently on Win10M was not highly used and wouldn't be added; and when did I ever mention the use of data? Because I don't remember saying any of that, nor can I see any comment of mine saying so. I did not imply any of that neither did I imply that any feature not on the OS so far "It was OK for MS to deprecate the app". Don't twist my words to make your argument work when you can plainly see that what you said I was saying, I never actually said or implied. Never did I say that Win10M was complete or if all features were yet added. All I said was MS themselves had said that WiFi sense was barely used at all so they removed it. And that Skype integration was removed because not everyone liked it so it's apparently going to be on the skype UWP itself so people have the choice if they want it or not. (both of these things were covered on articles on Windows Central). +640 on Windows10Mobile

True. Better not get our hopes up for this platform. Posted from Windows Central for Windows 10

ARE MY EYES DECEIVING ME?! :D

Finally dang now slowmo and fastmo Posted via the Windows Central App for Android

Slow motion is on the camera

Slow motion needs higher fps, like 240 with full 1080p.

I haven't been on Windows 10 Mobile in awhile I haven't remembered sorry Posted via the Windows Central App for Android

I believe it's only supported on Snapdragon 800 and up devices (so 930/1520/icon and 950/950xl)

Now plz add the action shot and refocus feature too. I really miss those features

Action shot, action shot, action shot, action shot, action shot, action shot, action shot, action shot, action shot,

Refocus lens is available. I've been using it on W10 for past month. I couldn't a search for it though. I found it through my library history. A lot of old apps that were taken out is back in the Store, though not all will work properly, or if at all .. Slowly... they are coming back...

Refocus should be integrated on normal camera experience as an optional feature like Living Images, but they need to make it significantly faster and works universally also on any Windows 10 devices. It may be a gimmick to some but it also a pathway for light-field photography as a foundation. They just need to implement Refocus in a way that normal users can use naturally. Sent from Turing Machine

about time missed this fromm 8.1, how about the burst shot mode also

Burst is under the camera settings for the button action. Posted from Windows Central for Windows 10

Burst mode is already built in. Check in settings for what action to take while holding down camera button... Plus, you can grab stills from video. Posted from Windows Central for Windows 10

Yup, it's already here. I think Microsoft should advertise this feature very well since its way too invisible for many. Sent from Turing Machine

I feel like it's 2009 all over again. And readers are actually getting thrilled by this news? Android & iOS user must be dying laughing right now.

Nobody cares dude... Ugh, I'm at work...so boring lol =p
Windows 10 RULZZ yer FACE!!!

And apple invented living images :D they laugh, we laugh, and everybody is happy.

Market share speaks!! When you have ton of people use your product naturally you are a winner for every crap you do.

market share speeks , really ?? market share of android is way higher than ios ,but most of the profit in mobile goes to apple pocket

Don't bother with logic. Most people around here never knew the term "market share" before they kept reading it on repeat in these comments and they still don't understand it's real usefulness in analysis.

Then apple users laugh when they honestly believe Apple's lie of "it's their idea" when you point out that windows phone has had it for years. :p

What's the point of telling people we've had a feature for years when Microsoft don't advertise it? Then they take it away. Lol Posted from Windows Central for Windows 10
Using My Beastly 1520

Let's take "Rooms" for an example. This feature had so much potential it was crazy!!! This was a feature that made my family, friends, and co-workers jealous. However, it was short lived. It has been replaced by groupme. Which doesn't compare. We get excited about features that should have been here, and the features that are unique gets snatched. This doesn't make sense to me, no matter how you spin it. So getting excited about a camera feature we should have had is crazy.

It's funny because Microsoft keeps re-introducing basic featues that should have been in Windows 10 at launch --- it's pathetic. I'm a big Microsoft fan, but it's sad to see you all get excited over basic crap like this every day. Bring on the down votes!

Users are thrilled to see the return of a feature that they want to use. Who cares what Android and iOS users are doing? Let 'em laugh, but I doubt most of them care enough about what other people are doing. Most just worry about what their stuff does.

I want sound on slow motion videos =[

*OOOOOOOOOOOOOOOOAAAAAAAAAAAAAAAAAAAAAAAAAAAAAAAAAAAAAAHHHHHRR*

Joe Belfore's answer to adding that feature, when he returns to work at MS, and W10m being the best mobile platform.... Ssssooooooooooooooooooooooooooonnnnnnnnuuuhhhh™
Seriously though, it will be interesting to see what happens to the platform when he returns.

Nice, a lot of good news for w10m in recent days , i wish they integer live lock screen beta in wp8 into settings it was amazing and also integer Mimicker Alarm​ from Microsoft garage to alarms app

yep it's been a while to get 8.2 working as good as 8.1 lol

Ok, nice, but if it won't be added to the older Lumia's as well, then it's just a fail, because even worst android phones are able to capture panoramas. Otherwise - glad to hear that.

Not even Microsoft would think restricting such a standard feature to the x50 phones is a good idea but who knows.....

WindowsBlogItalia is certainly proving to be the go to place for 'leaks' at the moment. Anyone know about them in more detail?

They are good at leaks, they are the worst at treating their readers. Take Daniel's ego and add to it a heavy dose of rudeness and you'll obtain the average windowsblog writer attitude. As you may notice by their watermarks on each photo of their leaks LOL like if they had some great scoop, they don't trust other sites to quote their names, and anyway a single watermark in the corner would be ok, but like this it's childish at best.

This is good progress, now if they could add a real burst mode that doesn't stop at 10 pictures. The better camera experience is one reason I switched to an iPhone, but the more I use the iPhone, the more it drives me crazy with all of it's limitations and peculiarities. So I am in favor of having a strong Windows 10 Mobile experience to seriously consider switching back to.

I was thinking of jumping cause of MS two steps back policy. After I read your comment, I think I'm still going to hang in there for a little while.

Upsidedown it must look faster :)

HA HA HA HA....so original and hilarious!!! /s

Only in vertical position?

Vertical holding position gives you a higher resolution final horizontal panorama result. Posted from Windows Central for Windows 10

Just when i thought MS has given up on mobile, these leaks bring us back:)

yah, Wallet, Call Filter, and now Panaroma :)

They also need look at quality of the photos....no natural colour L520 was way better than L930 for camera
Nokia camera app was better

Angels singing gloriously. Ahhhhhhhh!!!!

I mean, just lol. This must be a standard feature. While Microsoft seems to be busy with these kind of stuff, Google is getring ready for world domination, as I should believe I/O

'When will some worthy percentage of Windows 10 Mobile users come to the conclusion that MOST of the predictions, declarations, and outright fictional statements about Microsoft's plans for Windows 10 Mobile is just that? Or put another way, when will some of us start to conclude, based on sound evidence in my opinion, that Microsoft has a bunch of smart and talented folks working there and they DO ACTUALLY KNOW what we consumers desire to do with these products. AND, that they are in fact working towards providing most of it. Impatience can be the source of foolish proclamations. :)

and all those glorious features are COMING SOON :-)

Technically, "coming soon" applies to every manufacturer and every technology sector in the world. It is the very nature of R&D. (Whether the consumer knows what is coming soon or not)

only with Windows on mobile it takes years, then gets deleted cause they decided to relaunch the OS and rewrite everything from scratch...

Can it be used horizontally, you know, like a friggen camera should?

For panographic shots, it's preferable to shot in portrait (vertical) over landscape (horizontal). There is chopping off the top and bottom to get the photo straight. Using landscape results in really thin pictures. I also use my camera in both aspects. I still camera is designed to be used vertical and horizontal. I'd agree 100% if we were talking about video. I have when video is in portrait/vertical.

Can Microsoft add feature that can add name and date and time to pictures?

Hooray. Only like 4 years late.

I think with anniversary update Windows 10 will be fully operational, solid OS

I'm with you on this! Kind of like 8.1 was to 8.

Oh you naive precious child... I admire the hope, but no, it wont...

PDF Reader gone, FM Radio gone etc. They keep removing features faster than adding them back.

It's a miracle, finally is coming

Eh, this looks like the crap that Apple has where it just makes a still out of a video. Where's the stitching option like we used to have? The one that had the full 20MP quality?

This is so bizarre. I'm am baffled at how Microsoft can continue to "improve" Windows 10 mobile by continuously leaving its fan base waffling in the mire. I still can't send an email to a group of Contacts in the new Mail App, and I am only now just getting back the ability to use a function I took for granted a couple of years ago. Someone, Joe Belfiore maybe? Someone needs to point Microsoft in the direction of everyday consumers with the same zeal as they service the enterprise. This is ridiculous. Get your f-ing act together and give us something to cheer about before Spring of 2017 for gods sake.

Finallllllllllly. My girlfriend that has my old Lumia 930 (Upgraded ti W10M, but an much earlyer build) still has the Lumai Panorama app and I, with the 950, am so frustrated whenever I want to take a panorama shot while on vacation.

Can't wait! Overdue, but credit where credits due! Great to see it should be built in (within the camera app) too!

what happened with the windows Blog Italia . Every new article about a new future or even a new phone or app we see it us our sources.Where they are found it that?

Finally! Good job Microsoft!

Finally! And bring back photosynth too!

Photosynth is still there.... I have it downloaded and working on my 950 XL

Very good! I think it should be obvious now to everyone that the intent of Microsoft is to take all of the features from the old stable of apps (prioritized according to feedback and development resources) and bring them to the Camera. ☺

Great. No we only need the refocus feature back and we we have a decent camera

hold your horses,it still needs to fix the shot quality, cause its horrible. my l1520 makes pictures like freaking camera obscura...

It's there. .. Try looking in your store library history. . There's where I found it

.... And then taken away.

I'm using the old, separate Panorama and Refocus - even Blink is there, bur that is already integrated. Of MS Mobile can really integrate every old feature into a new camera app then it will be Top Gun all time top.

Loved Refocus. I'd love to see that make a comeback!!

Cool and please bring 240 fps 1080p slow motion support too.

sure, they bring it... it's coming soon!

Add filters option too please!

It's about time. I loved using HTC Panorama on my One. It performed great and I love the results that came out of it. Moving to the Lumia I miss that app dearly. Hopefully this does a little of what the HTC app could do. I really hope it's not just x-axis shots and I can go y-axis too.

Unless your battery dies first.. or your 950 bursts into flames in your pocket... Ahem...../s Sorry could not resist !

Timelapse and Slow-mo built right in the app would be nice too.

Who are those windowsblogitalia guys?? Every leak is from them.

"At last" I'd say if the main camera on my 1520 worked. Posted via the Windows Central App for Android

My phone still reboots most of the time when I use the Camera app. Damn it MS Posted from Windows Central for Windows 10

I can open the app and use the ffc but main camera stays a black screen. I'm pretty sure it's a driver cause a few weeks ago it had a weird system update I searched for some info about it never found anything, since that day the camera doesn't work. Posted via the Windows Central App for Android

It should have been there since the Windows 10 release, as well timelapse (timelapse app sucks, literally)

People say this about every feature. Can't we just be happy when they DO show up??

I am using old Lumia Panaroma app on my 1520 at latest Windows 10 preview build thanks to My Library section. Btw I must say many apps which had been hidden at store can be downloaded, some of them doesn't work ofc.

I hope they will release it for older phones like my 930 but the old Panorama app works fine for me :D

Off topic, that pink salmon back cover looks nice.

I hope for all phone and soon enough.

Well give me my flash button and i dont care about this :(....

Need Flash on off function

Damn, Blog Italia knows all the ****...

That's what Im waiting for

Can't wait now can I have speech to text n qr scanning returned

Whoohoo... Finally something I've been waiting for so long. Can't wait

About time, i'm a Lumia 950XL user and i really can't figure out how a company with almost unlimited money like Microsoft isn't able to add basical features like that in sooner...also for example they've spent 2 billion dollard to buy Minecraft though they're not able to buy or build a internal team of developers to do Apps like altrenatives to Snapchat or MSQRD, which are so common among avarage people who really don't go with Windows Phone due to the lack of Apps like those

Upvoting because of your DP. Posted from Windows Central for Windows 10

What about the smart cam features? That were in the Lumia Camera app. Like action shot Morin blur etc? All gone? :\

I'm pretty sure the Win 10 Mobile team moto is "treat 'em mean to keep 'em keen"! I look at the camera app on my wife's Galaxy 7 Edge and it makes a complete mockery of the camera app on my 930...

i very happy that this is coming back, been waiting this for while. what i need to know now is when wil they add back the QR code scanner cause i cant seem to find it on my phone or recommend a software for me. thanks

I use QR Code Reader by ShopSavvy, works well..

lol I'm not even excited, it obviously needs new x50 hardware to run because Microsoft

Yaaaay? Should I be happy MS is bringing back a feature that was removed by themselves?

Finally Now if they bring back tap anywhere to click a photo, than it would be handy

Hopefully it works just as good as iPhone's panorama.

Hopefully it's better than Lumia Panorama. This is well past due.

It's beem my most missed camera feature for ages.. Can't wait to get it back again. (950XL user)

Off topic here, but if Microsoft had covers like that orange one at the cover picture to this published article, then I would have been more interested in the new flagship!

My Sony Xperia M4 Aqua comes with Panorama as a native option on the Camera. I'm really not missing anything Windows 10 Mobile has, and also Android has great app like PicsArt Photo Studio, which has been downloaded more than 100 million times, that is more than all the Windows Mobile user population.

So, what are you doing here then? via Windows Central app for Windows 10

It should have been there since day one... Posted via the Windows Central App for Android

Panorama in windows was never been so good, but i guess this will change it.

When are you going to fix "..Applying finisihing touches..." and "Something is wrong with the image/file..." thing??????

ABOUT FREAKING TIME But why only on the Lumia 950 and 950 XL?

Good! I'm loving the camera on my 950XL, and it'll be nice to take some good panoramics when I go hiking.

You know what would make the 950 and 950XL better? Windows Phone 8.1.

Yay. Now they just need to fix HDR (or as I have come to know it, "Something went wrong...")

Now if they can improve the imaging algorithm and the focus performance, I'll be happy

You know they will not do that... At least right now. My 1520 use to produce some very beautiful photographs, now I don't shoot with it anymore because my images are terrible. Plus the phone will reboot when shooting...

Use the recovery tool to go back to Windows Phone 8.1. It's a superior operating system.

My Lumia 1502 lost a lot of pizaz after microsoft took over. They take far too much time to recreate the functionality!

Microsoft took a great platform, Windows Phone 8x, and completely screwed it up with Windows 10 Mobile, which is crash-prone, bug riddled, unintuitive trash.

Exactly. Lumia 1520 running Windows Phone 8.1 was the best smartphone I've ever used.

I hope that the news be true and also fix the HDR problem on camera at wm10

What's the HDR problem? Posted from Windows Central for Windows 10
Using the Alcatel OneTouch Fierce XL for Windows 10 (Redstone)

MS catch up soon OR we join ANDROID

They're hear our voices in the feedback hub that's great. I am looking forward for it.

The report adds that this new feature only works, at least for now, on the new Lumia phones like the Lumia 950 and 950 XL, but it's more than possible it will be added for other Windows 10 Mobile phones later.

The camera should be able to click photos with volume key.

photosynth was cool, but sometimes the images dont stich nicely, i'm hoping for when you can use the video recording to pan around, while standing at a fix point, and the software stiches that videos into a panaroma or even 360 picture!

Oh yay they're bringing back that feature I had on my HTC Titan running WP7 had 4+ years ago. W10m is like a Metroid game. At the very beginning most of its features were lost and it has to spend the rest of its journey trying to get them back.

So awesome. Can't wait :)

I want an improved version of Photosynth, that app was amazing even on my old Lumia 520, I wanna see what it can do on my 830.

wooooow finally......I have waited for a long time please add this feature for low budjet lumia models like 535,540,550 etc.not only for high end phones.

I would restore my Lumia 1520 to Windows Phone 8.1 if the Lumia Camera app were still available.

It's included in the recovery image. I just recovered both an 830 and a 1520 and it's in both. Plus, it's still available in the store for Windows Phone 8.1 devices.

For real!! Finally! They should also add a virtual mode like the S6 has! That's an awesome camera mode to have. When I got my 950 I was hoping it had it too. Please do that!!

It would be nice to get the camera first on the same level, it was with the Nokia Lumia, Windows 8 on both L1520 and L930. The panorama function was very useful and operable in Windows 8 on both L1520 and L930. So no need to reinvent the wheel.

they should fix the focusing first, as it takes forever even in pristine conditions (lots of contrast) for camera to find a focus point. I've noticed this since I've became a fast ring subscriber.


They should fix the problem with post processing too. The colors are just horrible...they tend to be all dark and green... horrible horrible horrible. Or it's just the 640XL camera that is like this... My samsung ativ S is like 10000 years beyond in terms of camera quality...

Can't come soon enough. This is more important to me that HDR stuff...

Like photosynth? I used to love photosyth on my old Lumia 530. Was agreat smae they stopped supporting it.

Developer should make it fast as iPhone panorama feature.