Pick up the 64GB SanDisk Ultra microSD card for just £9.99 at Argos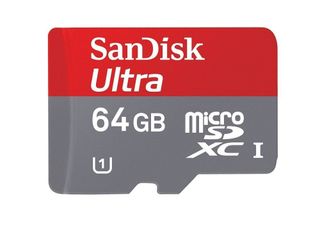 Argos in the UK is currently running a sweet deal on the 64GB SanDisk Ultra microSD, which is available for just £9.99. If you're on the lookout for some storage to add to your smartphone or tablet, you'll definitely want to check this offer out. The original asking price was £24.99, which makes it quite the saving.
Whether you're looking to add more storage options, or bag a gift in time for the festive holidays, be sure to check out the Argos online store or pop to your local outlet and pick up this bargain. As an added bonus, this package includes the microSD adaptor to convert the card to normal SD size.
£9.99 at Argos (opens in new tab)
Via: Hot UK Deals
Rich Edmonds is Senior Editor of PC hardware at Windows Central, covering everything related to PC components and NAS. He's been involved in technology for more than a decade and knows a thing or two about the magic inside a PC chassis. You can follow him over on Twitter at @RichEdmonds.
Well... I'd buy THAT one. UK seems to get good deals alot. Im assuming there's no way to get it to the US that wouldn't **** all over that price. Lol

Check Amazon US. (link is too big to paste).
Look up Lexar 64GB. It's similar price and faster as well

Ordered! Paid £18 last week for one for my 950. It was a fast one though. This will do in the missus new W10 tablet (32GB internal). Collect it tonight, cheers!

Was it faster than this one?

Nice Price. I should pick up a few :)

The last one I got was the 16GB of this from Argos at this price. Worked great for a year but now get error message whenever the phone reboots and have issues with video recording occasionally. Overall though it still works just back photos/media up from it to a pc/cloud regularly and its a great deal. Especially when you consider Apple charge £80/$120 extra upgrade for 64GB iPhone.

Yeah internal storage is a waste of money though I find for phone it should be 16GB minimum these days and 32GB for a tablet, picked up 16GB connect 9" tablet on Black Friday returned a few days ago because it doesn't have a big enough hard drive to run windows update even after putting in 32GB SD card and telling windows update to use that still had problems. Had an old windows phone with 4GB storage always had update problems too.

This reminds me of my HTC 8S with 4GB internal memory. I had to constantly clear the cache!

Picked the very same card up last week on Amazon for the same price, it is now getting comfy in my new 950 XL *Smug Smiley Thingy*

I feel like a mug now, last week got 2 x samsung evo 32GB cards for like £7.99 each, what a waste!

£7.99 for a 32gb is still a good price, I paid double that for one about 3 months ago. What it really means is that with higher capacity micro SD cards coming (200gb +), the prices of 64gb and 128gb will start to tumble.

Wow! That's another Christmas present on the list

Yeah but the catch is, if you gon play games, and for music, and some HD movies you will need a higher rated speed card than 1, maybe like 6 to 10

I'm not sure, but I went to the Argos website from the link in the article and the picture on the product page has a C10 on the card, which is a Class 10. Of course, it could be a mistake on the website, but this is a SanDisk Ultra card. I don't know how accurate Argos is when it comes to things on their website because I live in the US.

Uhs1 and class 10 are the same thing.

This card is the lowest performance wise at only 1

Sometimes, you just need storage and speed isn't the priority.

It actually is Class 10 if you look at the argos website link

I reserved two for pick up tomorrow. Apparently the cards you get are the 80MB per second spec and not the stated 30MB. Will find out I suppose.

They are, I collected mine about 10 minutes ago and I am happy to report that they are the 80MB/s variants.

Does it say 80MB/sec on the packaging? I reserved two that I'm collecting tomorrow so I'll ask to see the item before paying (which you can do there) if it's clearly printed.

I got one too. Class 1 80MB/s

Would like a similar deal but for a 128gb micro SD card... Just picked up my 950xl today ☺ after having the 820 since that came out ☺ . 950xl, UK

How are you finding your XL? Got mine yesterday, loving it, claimed dock yesterday and arrived an hour ago, very fast, very happy!

UK? Where did you buy it? You like it?

Mine will only ship on the 22nd from CPW. something stock something. sigh

Just reserved 4, will collect tomorrow

SanDisk memory cards are junk. I have had every single one that I have owned fail in less than two years. Some less than a year. Two SD and one Micro SD in the last four years. I kept buying them because they were on sale cheap. You get what you pay for!

I've never had an issue, you must be bad at looking after them. The only time I have ever had to replace mine is because I have ran out of room and needed a bigger capacity.

It's very rare that the card fails completely. My current SanDisk I'm using now (16GB) started giving me an error message after a year though. Every time I reboot my Lumia I do get a error scan warning and when shooting longer video than 2 minutes it can be sometimes fail. Wiping the card and starting over would likely fix this but I'd need to do a full backup first over to my laptop. A task I keep delaying lol. Still far cheaper than alternatives.

I'm currently using a SanDisk 32gb card in l640 W10M and it's become very unreliable in the last few days. Apps don't load from it on phone start up, and retrieving photos from it has been difficult. It's only 8 months old and never leaves the device.

What would you suggest then?

This be any good in a GoPro?

Id go for the extreme version, I had an ultra in my phone and it struggled sometimes to record 1080p video

Cheers mate,That's a shame. Just been and bought one anyway so I'll try it and if it struggles,I'll use as a spare.

Thanks for the heads up. Just ordered one

I already have a 64gb sandisk extreme in my phone, but I went and bought one anyway, you'd never know when extra storage would come in handy!

On the way to Argos now...

Can confirm it's class 10 @ 80 MB/s

Argos has some amazing deals lately, when I bought a 128GB MicroSD card made by Sandisk, not only was it class 10, it was the 2nd or third iteration of the card and was faster in transfer speeds and had the waterproof, xray proof and dust proof XL classification, they also had the Lumia 950 XL for only £469.99 and the 950 For even cheaper!!!! And it's not black Friday or Cyber Monday deals, they are just on offer!!!! I just checked it's still on offer plus free delivery for the phone!!!!

Yes, I just bought three of them only ten minutes ago. They are Class 10 at 80 MB/s..

Shame Argos can't manage the phones to put one in.

F*** my life, had I just been more patient. I got 64gb Samsung evo for £14 off amazon in prep for my 950XL(which arrived today from CPW) and now this deal appears. Man, I hope that the evo is worth the extra £4 :)

I wouldn't be able to sleep after getting sharked like that.

I think maybe it is worth the little extra. I bought the Samsung a few weeks back, only because in all the forums I read, there were lots and lots of people saying how their SanDisks had been unreliable but Samsung's had better reliability.

Ordered one. Apparently it is a Class 10 card. And here I still have an unopened Sandisk 32GB microsd somewhere in the drawer, in anticipation for my new 950 XL which its delivery has been pushed back again to the 22nd. Come on Microsoft..

Has anyone tested recording 4K with their new Lumia phones with this card?

I don't think it would cope, I had the 32GB version of this card and it struggled to record 1080p at 30fps on my lumia 830, now I have the extreme 64gb card instead and that manages 1080 fine, not sure about 4k though.

Oh. I just bought a 32GB & 64GB for that.smh. I thought Class 10 card should be decent enough for casual 4K recording on 950XL.

Yet another bargain gained through this WPC I'm going to work out how much I've saved from the tip offs from this site, I understand that these bargains were there to be had, regardless of this site, but it's the being made aware that's vital
Windows Central Newsletter
Thank you for signing up to Windows Central. You will receive a verification email shortly.
There was a problem. Please refresh the page and try again.