Plex app for Xbox One adds photo library views, theme music and more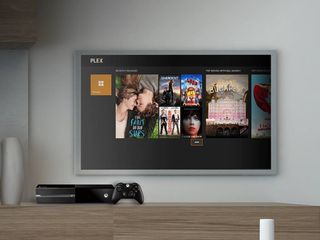 Xbox One owners can download a new version of the popular Plex media sharing app. It adds a number of new features such as photo library video, theme music and more.
Here's what's new and what's been fixed in the Plex Xbox One 1.2.1.0 version:
NEW
Photo library views
HTTPS support
Theme music (and the ability to turn it off)
Skip forward 30s/back 10s during video playback
Previous/next buttons on preplay
Playlist preplay - shuffle and delete playlists
Play queue actions for music - 'add to up next' and 'play next'
Mark season/show as watched/unwatched
Delete items
User setting for blur/dim
Single column view for library list
FIXES
Grey/repeating posters in browse page
Return to incorrect preplay after navigating between episodes
Unwatched/watched status of season/show may be incorrect
UI and icon tweaks
Thanks to Johan for the tip!
Source: Plex (opens in new tab)
Windows Central Newsletter
Get the best of Windows Central in in your inbox, every day!
Did they ever add OneDrive support?

Xbox remote works fine. as does voice control.

Tried the Xbox app yet? Plex has a special interface in de Xbox app for Plex remote control.

If you have their mobile app, you can use that to browse, then play it on another Plex device.

Plex Remote hasn't worked with the XB1 app so far, and it don't think that's been added. But the Xbox/Smartglass remote works ok.

I will settle for my Plex not crashing.

Can anyone verify if there is a SLIDESHOW option? With Windows Media Center dead, there is no way to slideshow our pictures to our TV. OneDrive has a slide show but the random/shuffle algorithm is terrible.

Can Plex stream media stored in Windows Server 2012 Essentials R2?

If you install Plex server, yes.

Can Plex Server be installed on Windows Server 2012 Essentials R2?

I hate how plex is 4.99 per machine on PC and phones, can't I just buy it once?

If you own their pass, yes.

I dont want a pass, I want to buy it once and use it on all my devices. Thats how it should be. 4.99 per device is too much for me.

There is a Plex Pass you buy just once.... at least there used to be.

Yeah but its 149, while I like plex, that's really not worth it...

I agree that its not worth it. Plex merely seems to be taking care of account authetication and connection brokering. While there is something to be said about money to be paid for the idea......4.99 per month or 150 for lifetime is still just TOO much. Considering the plethora of freeware options out there like xbmc etc.....Plex is really for the uber picky to whom the cost is insignificant.

Will be nice if they allow us to buy it on the xb1. No way I'm paying $5 a month to watch movies I already own.

Do you still need Plex pass to use the app on XB1?

I believe so..yes...if you have a ton of local/personal media. Plex is worth the lifetime price...at least to me it was.

The XB1 app is garbage. Pain in the hinder to search and not organized properly. The Android, PC and Amazon fire apps are all better. I appreciate the updates. Hopefully the windows app will be universal and good in the long run.

The one now on W10 is universal so should see it come across once W10 is put on the X1

Thanks for the mention. It's a very nice update. Love the new interface when scrolling through episodes in a season of a series. :)

When it gets vob support I'll be interested

Yeah I'm still waiting for them to allow free access to the videos I already own.

It's great they are fixing issues, despite the fact they can just port the superior windows version when windows 10 becomes the default OS on Xbox One at the end of the year =)

Sucks that you need a Plex pass for the Xbox.

It sucks because you install the app only to find out later it requires the Plex Pass, uninstalled on XB1, keeping it on phone, tablet, and smart tv.

I wish they'd release this without the need to pay the fees (as promised)

What does Single Column View mean?
I still muss simple features like search, filter and sort (genre, year, actor, date added, ... your movie libary.
A list view would also ne great, instead of only cover view.

What does Single column view mean?
I still muss simple features like search, filter and sort (year, date added, genre, actor....) your libary.

Where is Chromecast Chromecast Chromecast??? If others tired party can do it and it's available for iOS then there is no excuse for this lethargy

Chromecast? People use those proprietary things?

I am excited about this...with the retirement of Windows Media Center and having no extender on the XBOX One anyway, this Plex Update finally brings photo SlideShow abilities to the XBOX One. The generic Media Player didn't Shuffle Pictures and OneDrive's shuffle algorithm was horrible. We have so many digital pictures over the years, that a shuffling slideshow is the best way to enjoy it. This is a VERY welcome update.
Windows Central Newsletter
Thank you for signing up to Windows Central. You will receive a verification email shortly.
There was a problem. Please refresh the page and try again.