Poll – What do you think of Cityman and Talkman Windows Phone leaks and renders?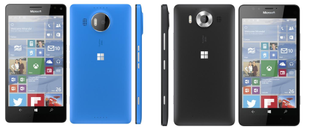 For Windows Phone fans, it has been a very interesting week in terms of spoiling Microsoft's October surprise. A new photo of one of the two new flagships leaked out on Wednesday night and quickly followed by some renders via Evleaks of both Windows 10 phones.
This morning, a third render showing Talkman (aka the 5.2-inch version) in matte white was posted on Nokibar's Weibo account giving a slightly new perspective (along with confirmation of 4 likely HAAC microphones).
Recap of the specs
Talkman (Lumia 950)
Matte White or black polycarbonate body
5.2 inch WQHD (1440x2560) OLED display
Snapdragon 808, 64-bit Hexa core
Iris scanner (infrared) for Windows Hello
3GB of RAM
32GB of internal storage with a microSD card slot
20MP PureView rear camera
5MP Wide-angle front facing camera
3000 mAh removable battery
Qi wireless charging with flip cover
USB Type-C
Cityman (Lumia 950 XL)
Matte White or black polycarbonate body
5.7 inch WQHD (1440x2560) OLED display
Snapdragon 810, 64-bit Octa core
Iris scanner (infrared) for Windows Hello
3GB of RAM
32GB of internal storage with a microSD card slot
20MP PureView rear camera with triple LED flash
1mm silver ring inside the circumference of the black camera pod
Aluminum side buttons
5MP Wide-angle front facing camera
3300 mAh removable battery
Qi wireless charging integrated
USB Type-C
The problem with leaks
Perhaps surprisingly, the reaction of some of the die-hard fans has been less than enthusiastic. Although the specs for both of these phones are on the high end for 2015, the design for some is not as 'sexy' as some would have desired.
The problem here is an old one. Everyone builds up in their head what the phone looks like embellishing it with their deepest desires. Then the "real" thing comes out, and it does not match their expectations.
I should caution that these renders do not show these phones in the best of light. There is a reason companies hate leaks, and that is you often see the phones as low resolution, blocky photos or renders as opposed to slick "sizzler" footage. Then again, there are cases where a phone is legitimately not good looking and is truly hideous.
Microsoft's Cityman and Talkman flagship Lumia phones and what you need to know
Personally, I do not feel that this applies to Cityman or Talkman. While I would not call the design the most stunning ala Samsung's Galaxy S6 Edge they do continue a lot of the Nokia momentum for design. Microsoft is borrowing a lot from the current Lumia 640 and Lumia 640 XL aesthetics. As a reminder, both of those phones were not only reviewed very highly they seem to be selling well too.
I will say I do find the designs very conservative. No bold colors (the blue color is only for prototypes and won't be for retail), no eccentric materials or variances from engineering standards. While the 5.7-inch Cityman is slightly thinner than the Lumia 640 XL it does not scream radical innovation. From that perspective, I do find it rather anti-climatic.
Like many others, I would prefer a larger, updated Lumia 925 design. Samsung, HTC, and Apple have all gone towards metal. Microsoft (carrying over from Nokia) is going all polycarbonate. While the phones should be lighter, have swappable batteries and be much more resilient I fear that it is the wrong choice for going into 2016.
Microsoft is going towards metal with the alleged 'Surface phone' in what will be the first Microsoft-designed device. However, I do not expect that phone until May 2016. Not much is known about that device, including if it is a "flagship" with all super high-end specs. Once again, caution is needed.
Microsoft should make a Lumia 925 successor now before it is too late
However, toning it down may be the best way to reach out to new customers so long as the design flows and feels good. Apple's iPhone design is far from radical or wild. They are, however, very well built with exceptional levels of detail.
Consumers do not tolerate gimmicky designs for phones. The one recent exception is Samsung's curved Edge displays, which are resonating with buyers these days.
The important aspects I see of Cityman and Talkman include:
Relatively thin: 9mm for Talkman; 8.6mm for Cityman; iPhone 6 and Galaxy S6, however, are nearly 3mm thinner albeit with non-removable batteries
Light weight: From our first-hand reports and due to the use of polycarbonate these are likely to be very light, like the Lumia 640 and Lumia 640 XL
High-end specs: Sure, some Android handsets may sport some crazier specs for Windows 10 Mobile these should do very well. Toss in 3000+ mAh batteries and Windows Phone users should still get a lot of usages. Let's also not forget about the iris scanner for Windows Hello.
Poll time
Ironically, in reading non-enthusiast sites, comments from readers have been very positive with the usual oohs and ahhs signaling that Windows Phone fans may be jumping the gun. From my experience in covering leaks, especially Nokia ones, this is not uncommon. We see leaks, people hate them and then change their minds when the see real photos and the phones in real life (or at least in hands-on videos).
Will that be the case here? Time will tell. For now, we will let you take a vote on what you think (so far) of both phones. Are these phones going to be enough for Microsoft and Windows 10? Sound off in comments.
Note: if you are using our app, simply navigate to m.windowscentral.com and take the poll in Internet Explorer.
Windows Central Newsletter
Get the best of Windows Central in in your inbox, every day!
Daniel Rubino is the Editor-in-chief of Windows Central, head reviewer, podcast co-host, and analyst. He has been covering Microsoft since 2007 when this site was called WMExperts (and later Windows Phone Central). His interests include Windows, laptops, next-gen computing, and for some reason, watches. Before all this tech stuff, he worked on a Ph.D. in linguistics, watched people sleep (for medical purposes!), and ran the projectors at movie theaters because it was fun.
I love Lumia Cityman!!! I'll buy it on day 1!!

It doesn't matter for me! I Like too much the design of the phone and I'll get it!

If that silver ring around the 950 camera is fake chrome, I'm going to lose it.

And I promise If I ever find whatever you lost, I shall bring it back to you :P

I like the design as well, a lil metal would be nice but I'm putting a case on it anywho. I will take plastic with removable battery, expanded storage and Qi over metal any day. I'm still on the unlimited AT&T plan so I'm keeping this for at least two years, replacing the battery will really help the longevity of the phone. The only grip I have is I wish the side bezels were smaller, I want to see more screen.

AT&T wont allow QI or a removable battery... any bets on this. I doubt the storage expansion will make it either. They will also probably require MS to make a 16gb model "exclusively" for AT&T as well.

The AT&T 830 got Qi charging and expandable storage/removable battery.

Microsoft just keeps missing the point! I swear they feel so disconnected from the public demands and what is currently looked up to.
A well-designed phone in 2015 should cover those things:
- Less bezels everywhere: the top, bottom and sideways. (Think Sharp's newest design and LG's)
- Curved glass edges (like the 920 and the iPhone 6, not the S6 edge).
- Metal and glass to be included.
- Front speakers.
- Capacitive buttons.
- More color options. (Yellow, Lime Green, Red)
- Slim and lightweight (I know that these devices are of the lighter and slimmer designs from Nokia, but they are still way behind the competition). I still think that the perfect design should have been a combination of the 925, the 830 with a bald move like the metallic camera strip of the 920. That with front speakers! A chance missed for Microsoft. Damn!

I totally agree with you. Much less bezel at least..

I think these all are fake..:P

The only problem with bezelless (sp?) is probably the reason iPhones have huge ones...people end up hitting the screen. Drives me crazy when I ask someone to take a picture for me on the 1520 because of the capacitive buttons.

"A well-designed phone in 2015 should cover those things:
- Less bezels everywhere: the top, bottom and sideways. (Think Sharp's newest design and LG's)
- Curved glass edges (like the 920 and the iPhone 6, not the S6 edge).
- Metal and glass to be included.
- Front speakers.
- Capacitive buttons.
- More color options. (Yellow, Lime Green, Red)
- Slim and lightweight (I know that these devices are of the lighter and slimmer designs from Nokia, but they are still way behind the competition)."

Well said. I'm personally not so concerned about eliminating capacitive buttons though--as long as the space that would have been used by those buttons is used instead for screen real estate to achieve a greater screen to body ratio.

But capcitive buttons + front speakers ≠ thin bezel..

this render shows a phone without capacitive buttons or ff speakers.. and it has huge bezels... so i don't see your point.

I administer about 100 phones for our company. Our policy is that users can carry pretty much whatever they prefer. I admit, because of my bias and influence about one third of our smartphones are windows phones. The biggest thing that I've noticed, is that we retire (through age) the Windows phones, but replace (due to breakage) the Samsungs and Apples. Thin, svelte, sleek and pretty are all well and good. However, those same properties make for a comparatively delicate device. If our users were responsible for purchasing their own devices, you'd see the same things you've all seen...people carrying iPhones with shattered screens, People carrying Samsungs with broken out headphone jacks, etc. Verizon has recently changed their approach to "selling" phones. It's soon going to be people buying phones at full retail, or paying in monthly installments rather than having these payments hidden in monthly billing. Someday there will be a backlash against delicate phones that break not far into a useable life and are cost prohibitive to carry. It's just not worth it. My two cents, my phone is a tool, not bling. I'm okay if it doesn't sparkle. I do need it however to be durable and last. I need the battery to last all day, and occasionally two. I need it to withstand the occasional accidental drop. I need it to be daylight readable, and have an excellent camera. I need wireless charging for speed and ease. I need it to connect seamlessly with my OneDrive, Office 365, and various mail accounts. I want it to be simple and intuitive. I don't need 1 millions apps, the latest game, or yet another way to post photos & play music. I believe these phones, as well as pretty much all Nokias in the past, achieve this. I'll buy one upon release. Hell, I'll likely buy a dozen and upgrade many users. For the people who are claiming they'll soon be going to Apple or Samsung for a prettier phone, well, different priorities I guess. Be sure to go all in with Chromebooks or MacBooks. Image and looks are everything. Lastly, you talk about Microsoft as if it's a person, and you know better than that person. Do you really think they haven't availed themselves of hundreds if not thousands of peoples input? Do you not think that every aspect of this phone was carefully considered? Seriously, they just wrote down billions in debt, don't you think that the thousands of those people, working inside the problem, know what's on the line? Get over yourself and what YOU think is pretty. Rest assured that people far more imaginative, far smarter, and far more committed are working the problem.

I just copied your last paragraph into my "quotable quotes" section in OneNote. I hope you don't mind if I use it? Brilliantly said.

well said my friend. well said. I also loved the fact you said,""i don't need 1 million apps""" specially on a 128gb Max storage on a phn. The other thing you mentioned that i loved was ""image is everything"", that can't more true with iJUNK users. MANY iJUNK users that i know, have iJUNK 6 and 6+, just to say""look at me, i got one too""". That's the #1 reason IMO people buy iJUNK's. ""FAD"" also plays a big role too. Just look at their current iJUNK phns, they are still 4 years behind other brands technology used by many brands including Nokia phns. There are features that still not available on ANY iJUNK phns to this date. The funny thing is that, after CrApple made fun of ""Large Screen phns"" and ""NFC technology""(invented By Nokia, Sony, Philips long time ago), infront of thousands of people in many occasions, well guess who has it now? Huuuummmmm Lumia/Microsoft will always be ahead of CrApple, what MS needs is better GREAT marketing, and make their devices a FAD too, and have Samsung, Oppo, LG, Sharp, Sony, Lenovo, Asus,..... all make their flagship phns make Windows 10 phns too. this will give people plenty of choices.

While I typically have long replies, I will give you a short one: Amen.

Well said Mr. Murphy. People go after looks and miss the point of having a smartphone. Yes, looks are important, but if I have to choose between looks and functionality, I rather go with a smartphone that works at all times. My experience with Nokia, MS Lumias and Microsoft phones now have always been great. Nothing to envy Apple or Samsung. Wish you well!

How come Windows Phones have such a small market share then?

Because most buyers of smartphones know very little about technology and are easily convinced by brands and fancy adverts and other marketing tactics.

You just won this thread. Agree on all your points. Besides, we can at least wait to see an actual model before we lose our collective shit.

iam consumer i buy what i like its upto microsoft to deliver such product consumer satisfaction makes company grow,,,,,,by poll i can say only 10% ppl are okay with this design rest either no/undecided.........chromebook/macbook alternative surface infact best....touch support,great windows os,excellent build quality belongs to latest gen far better than competition....so what on eart these ugly products look like 2 u only saving grace would be price nothing else.

It's almost 31% like it, versus 33.5% that don't (the rest sitting on the fence). The people have spoken and you're wrong. Now go wipe the egg off your face.

You told the OP to "get over [himself/herself] and what [HE/SHE] thinks is pretty". Yet, you spent a good amount of time writing paragraphs of what YOU think is pretty and works. I just wanted to point out the irony in that. Look, what you stated is your opinion. What the OP stated is their opinion. And, too many times we try to pass opinions as facts. The actual fact is this; Windows Phones are not selling. Those phones you spent a good minute ridiculing for their durability are selling boatloads. No, it is not because they are sheep-ishly following the crowd, sometimes it is as simple as the fact that it works for the people that buy them. Your Lumia works for you and you are a fan, I get that. Sadly, all the stuff you say you use it for may not be what the majority of people need their phones for. You cannot begrudge them that. You cannot be mad at people that want a phone that works and ALSO looks classy. And here's another irony; every single thing, besides wireless charging, that you say you want your phone to do, the iPhone does; and in the case of Microsoft services, does even better. I know this. I use both daily.

I dont see how stating facts like how he retires nokia phones from age and replaces iphone and samsungs because of breakage can be seen as an opinon. Posted via the Windows Central App for Android

I think you missed Murphy's point. There are social and neuroscience applications to this topic. (Warning: non tech opinion ahead). And I would wager he may be referring to those human behaviors. But I agree with you that there are no absolutes when it comes to the subject of one's mobile phone choice; much like what kind of car or house or Dairy Queen Blizzard you choose to purchase (sorry, I have a craving right now with this California heat). We all have freedom to our own opinions. And we shouldn't, "pass opinions as facts." Although there are absolutes in life regardless of one's opinion, in the case of preferences, it is a matter of opinion. However, there are certain behaviors that plague all of us. Regardless of opinion or choice we tend to have a mob mentality or as sociology experts call it, social contagion. Many choices we make can be heavily influenced by our human environment and influence. We can easily fall into a default mode of behavior simply because the crowd is behaving a certain way. That is how trends begin. This isn't necessarily wrong. But it is noteworthy to keep in mind as we discuss the subject of technological preferences. On another note: I find it humorous that when Windows Central released their mock of the Cityman, the majority of the WC community really liked the phone. Funny how opinions have changed.

@jbestman Those phones you mention that sells well do so because that's what the carriers push in the US. "Usually" and "almost always", when you visit a carrier store, if you're a novice and you state you're looking for a smartphone the sales person quickly goes into iPhone or Android mode to sell one of those types of phones. If someone is a novice they usually take the word of the sales person. The sales person will talk up the iPhone or Android phone. It's just that simple. They "usually" never recommend a WP device. More importantly that's if a WP device can even be found in the store. You can't sell what you don't have and you can't show what you're not carrying in the store. Some people like to hold and see a device before purchase.
------------------------------
Sometimes it's not about a phone being classy and what just works, people buy what they see and what's recommended to them. And if you don't think that's makes a HUGE difference then you just don't want to see that. But I'm not going to lie, Samsung Edge looks awesome!

@K Thomas Murphy, Well Said.

Well said? Practical but on this basis WP will be 2% market share soon....just saying!

I totally agree with you, problem is the world is not made by people like us, people want "awesome looking" phones, despite the rest. Microsoft has to build almost one phone for those people, or ill remain at 3%, so no devs and no apps, and wp cannot live forever at 3%....

This comment was better than the article itself which totally mischaracterizes and insults the intelligence of the Lumia/Microsoft phone user base. These phones will be nothing short of incredible and I would put them up against any Crapdroid or iFlex phone in a practical design or usage test any day.

I think build materials are usually negated by the fact that many users I deal with immediately put cases on their devices. So right away you lose that svelte, slim design. I'd take functionality any day over looks. As far as apps, yes I was one of those who installed android apps on the latest preview build, but I have to tell you, I sat there for about 10 minutes trying to think of a must have android app on my windows phone. I finally ended installing a phone app my company uses. That's it. My 1520 has been running strong for nearly two years now. And even still, it is as productive a device for me in my line of work than any of my co workers. The big screen, solid battery, great camera, and a handful of well delivered apps trumps thin bezels, glass framed body, etc, all day for me.

Having seen these I may just hang on to my 920 for another year. It's still in good shape with a fresh battery and intact screen.

The 920 is damned near invincible X-D

Well said Mr.Murphy. Phones need to be useful and effective instead of being a showpiece. Majority of the current crop of smartphone users (influenced by tech reviews) think specs are everything. They want a tick mark for all the specs available in market even if they dont use it. Something like NFC is not even used by many, but people diss any phone without it. Also these non-Windows phone users, belittle the intelligence of WP customers by ridiculing their choice. I am sure 80 % of non-WP users have hardly touched a WP! iPhone and Samsung upto S5 have been same look since ages. Even S6 is more a collection of specs than being a great phone. 950/950 XL have great specs and experimental design changes, which I like! Similarly I disagree S6 Edge being a great looking phone. It looks fake and unnecessary. Even 640 XL is a great looking phone compared to S5 or Iphone 5S. I will stay with MS for a while until I see better products from other companies. About Share market arguments from non-WP users, Justin Beiber music videos gets as much views as ABBA/MJ/Queen or may be more. So who's better ;-)

I agree with everything you've said and can validate it from personal experience. The company I work for just retired a fleet of Lumia 920s. 10,000 phones all up. Only 20 of them needed to be repaired or replaced during their lifetime. TWENTY. In 2.5 years. The company decided to switch to Google services (although after a year, we're switching back to MS, but that's another story), so we rolled out Galaxy S5s to replace the Lumias. In 6 months, people have already managed to smash 200 of them. The fleet of S5s is also really horrible to administrate. We're using a tonne of third-party tools to manage updates and security, and it cost a bomb. I'm like you - if I'm going to spend money on a device, I want it to be long-lasting and reliable. I'm not a blind fanboy - I've used Androids and iPhones plenty over the years. But I still choose Windows Phones because they're affordable, durable, and run fast even after years of ownership. No Android or iDevice can offer the same.

I do not think they even care about quality any more at all. And I have some proof for this: Called customer support several times within 2 years, almost everytime the guy from the other line had no idea what I was talking about, he had no idea about anything, and what was more painfull, I called either UK or US and the service representative was either from India or other outsourced country. The result? poor quality. But does MS care? Not at all, they only care about cutting costs down. 2. All good engineers from Nokia. Most of them were sent away...The result? These horrible unfinished models, horrible, simply horrible Windows Camera app in win10 compared to Lumia Camera made by Nokia Team. 3. Windows 10 for desktop. After only 2 weeks no store apps install nor update anymore. Same 80073cf9 error, no matter the fix I apply. Sorry, but I cannot agree on reinstalling my OS every month because of Microsofts faulty updates or unfinished OS work 4. The entire insider program seemed nothing more than a way to avoid paying experienced engineers to test the beta builds. You are gonna say, Apple has this too, in their public releases..well yes they have, but they rely mostly on devs and internal engineers. I have not seen any flaws on my macbook after upgrading to Yosemite last year while on my notebook, windows 10 is already with big issues after only two weeks.

You hit the nail,dead on!

there are no capacitive buttons look at photos above, they are soft buttons on screen which also addresses your concern for bezel sizes. glasses help see images.

I don't see the issue with the buttons. I run HTC m8 for Windows I tap the Dow arrow and they fade away. I rather like that my backyard tool shead has a L710 in it just on WiFi if I need to look something up. I dislike the hard buttons on that device.i think MS made the right moves.with the buttons on screen.

Then you have to tap again to bring Them back. Extra step. I would prefer they be there always.

@Nogitsune Micah ​So you set them to fixed. Personally I like auto hide (lumia 735) Bringing them back is just a little swipe and also in a lot of cases the on screen buttons are allready up. Best is to try (a Lumia 735) on screen buttons so you can see for yourself. My guess is that 90% of all people 'complaining' will change their mind after trying on screen buttons themselves.

Bhawk, would you please go work dir MS, you got it all right.

I hear you, and agree with some of what you said. However, keep inmind that higher capacity battery (UNLIKE CrApple iJUNK with garbage battery), requires more space and adds to the wight. 1. As much as i like Sharp's bezel free phn at 1080p res, i much rather have QHD with much higher pix per inch(557+ PPI)with AMOLED+ screen with 6 or even 6+ inch screen, with Curved screen(like LG flex 2) or curved edges (like Samsung Edge 6+), with a small LCD on the back of the phn below the camera for notifications, battery,............ 2. MicroSD slot, 3. TURBO and Wireless charging, AND removable battery 4. 30 pix pro Camera(unlike 5 years old 8 pix cam used by iJUNK 6/6+ that is horrible), or even dual 30Pix cameras. 4. Strong phn that does NOT bend in your pockets(like iJUNK6/6+ overrated trash #bendgate), 5. Full NFC(that was invented by Nokia, Sony, Philips), 6. Remote Control option (like Oppo phns), 7. Stylus (like Samsung note 5(something windows PocketPC phns had for YEARS before anyone else), 8. Unbreakable glass 9. Waterproof 10. maybe a stand like Surface Pro ,and keyboard In any case, perhaps all these features will be here in near future since MS did a huge reorganization in its mobile sector. So i think we should give them some time and see. Look at CrApple with their devices that are 4 to 5 years behind current technology that many brands including Nokia, used then, and now iJUNK 6/6+ finally has SOME of them. the only thing is going for CrApple is 2 things, """FAD""" and """APPS"""(although i have all the apps i need in my windows store, some cry babies still need more than 600,000+ more apps, and that's just not enough for them on their 128GB phns). If you take those 2 things out about iJUNK, what do you get????? a piece of crap phn that cost $70 to $128(storage size) to make, and sales for $800 to $1200+, but yet people keep buying them like there is no tomorrow(till its cracks, Bends, Runds out of battery/power, takes blury pictures, catchs on fire.........but thats's a different story).

Waterproof yes, most phones are waterprooft in Japan, why note everywhere.

Dies it rain a lot in Japan?

I don't think design is the most important aspect, but you are right. Not sure about front facing speakers, I like the one the Lumia 1020 has (on the bottom side). It's REALLY annoying having it on the back of the 640.

And MS have had since April 2014 when they took over Nokia devices to work on it. Very disappointed. MS has served up a big steaming pile of MEH with these two devices.

These are designs by Nokia, but unfinished work. They never had the chance to finish because MS ditched most of the Nokia Team members...

Hopefully these are fake... comeon.... what are those designs? especially the metal ring seems that the designers were forced to add metal and they forced it around camera. That's total NO-NO

how did you get tuned into the public demands ...... did you conduct a 250 person focus group?

This is one device I won't mind to order it first and ask the price later. :-)

This poll doesn't mean squat.. The majority of the opinions don't mean anything....
......
If you think about it the majority of WP fans are using low end devices... Of course they are going to think these renders are acceptably.. Probably looks ore high end then what they're used to.... So, what standard are we going by here?????

Also, there shouldn't have been "Undecided and waiting" vote, since the poll is about a leak, not the actual thing.

I DON'T SEE NO CAMERA LAUNCH BUTTON. No seriously though, I'm likely gonna buy this day 1 provided that they don't pull another 640 and make AT&T dead last on the list to receive it. Seems to be everything I wanted the 930 to be and then some.

They both have dedicated camera buttons.

So Daniel, with a comment like that, I take it these are the real thing. I like the renders WC had a while back with the more squared edges, but I like how thin these appear. I guess I should sneak this question in, "should I wait On the surface phone"? : )

I agree the more square edges look more classy, and expensive.. Cooler... This round BS is annoying.... But, if you look close the photo of the actually phone on the keyboard has edges just like a 1520.. Nice and square... So, if that's a real device these renders are nothing to go by, and they aren't very accurate... Could be old ass renders.

Isn't the white render the cityman, not the talkman? The buttons are in the wrong place to be the cityman. Posted via the Windows Central App for Android

Will the one with the smaller camera ring come in this same metallic white? With the surface 3 chrome Windows logo, it looks sick?

So, the Cityman (950XL) has a power button in the middle of the volume buttons? I thought that was for the Talkman (950)? EDIT: Looking back over it again, yep, I had it backwards. I'm actually grateful I did as I'm after the 950 and not the XL, so the one-piece volume rocker is a big plus for me.

I like the spec's but when your in last place the devices should have been eye catching they are not they look rather cheapish. After two years I was really thinking they will wow us much like the surface tablet. Heck even the 1520 looks better and is more stylish I know you guys here have to phrase the heck out of it its your job. But hey to me I see it. Lot of grew looking Android devices and this come on Microsoft knowing the two high ends were coming I felt yea they will nail it. Ops. No

Cityman is th XL which has the power/lock button between the volume buttons. Talkman is the smaller of the two and has the buttons in the traditional placement

Speaking of buttons, maybe I missed this in previous articles, but the Cityman buttons don't follow the previous Lumia layot. Looks like the volume buttons are now separated by the power button? Thoughts?

being a larger phone , placing the buttons towards the middle makes them easier to reach. arranging them with the lock between the volume buttons may make ergonomic sense whe in hand thats not obvious just looking at the pics. for instance, screenshots should be easier this way

Possibly... Those are both good points. Forgot to account that the Cityman isn't shown to scale in those pics and is actually quite a bit larger than the Talkman.

You mean the big silver button on the bottom side? That camera launch button?

Yes, in the same place (almost) every Windows Phone has a camera button.

Why do people buy through carriers, they don't really subsidise the handsets, you pay more in the long run. Better to buy the handsets separately, and have the freedom to use a cheaper carrier.

Well with T-Mobile's Jump On Demand plan you can "buy" any phone you want without committing to it unless it's your third upgrade for the year. So if I decide to get this Cityman/Talkman and come to realize I don't like it I can just trade it in for something else any time. That's one reason to go through carrier instead of spending $600-700 for a phone only to get something else less than a year after that.

Because in the US, it is hard not to. There aren't many options if you want an unbranded/unlocked phone, outside of mail order. Then you have to be very careful to get a device that works on the carrier network you intend to use it on. Remember 'compatible with' AT&T or T-Mobile doesn't guarantee LTE speeds. The upcoming Mototola X Pure is advertised to support all the US networks, and it seems to have all the bands. Hopefully these devices will be so equipped. The carriers have mostly gone to a pay over time plan, so it isn't much different than putting it on a credit card, except for the zero percent interest. If you could buy it outright, the carrier will be happy to do that as well, and it will be guaranteed to work on their network.

Not flagship looking..tbh..but who knows...

Please explain what "flagship looking" is supposed to be. Posted via the Windows Central App for Android

Flagship looking to me means "expensive looking" including expensive design and loads of functionality. 640 is great because is mid range both in looks, funcionality and in price. These new devices promise to be flagship in funcionality, in price, but not in looks. Get it?

No. Because you didnt explain anything. You said "expensive looking" what is expensive looking? Gold plated and dipped in diamond dust? Encrusted with rubies and emeralds? Posted via the Windows Central App for Android

As in looking like a lot of thought has gone into the design, as opposed to having their design lifted from a rather bland looking mid-ranger... You know, sort of like Aston Martin releasing their new supercar, with a design like a Subaru...

I think iPhone is the only expensive looking phone out there, everything else from design perspective is relatively junk. That's my personal opinion, and I respect others having other opinions. But I'll still buy Cityman if leaks are precise - the only things matter for me are display size, resolution, thickness, weight and internals, as I need a device which I will use, not show to others (well, maybe a little).

If you think phones like the One M9 don't look expensive and look like junk you are an idiot.

Thank you for this personal attack, but I really don't, metal doesn't make it beautiful for me.

I find that pretty subjecive. I have a 6+ and I don't think it looks all that great. It's a metal slab with rounded corners, bezels too big (though there is a reason, and I like the touch ID) and odd plastic bands across the back (again, for a reason). Kinda plain in my view actually. Great screen, good camera, wonderful ecosystem, and tough to admit, but outstanding customer service. The looks of the device though are just OK IMHO. Not saying these look especially better, but I don't see them as substantially worse looking than the iPhone. To each his own, or what marketing tells him to like, I guess.

To me, expensive looking is like this. My friend/colleague just see the phone which comes out of my pocket and right away knows that it is not a samsung/moto/lg/sony phone in the price range of less than $300. When you see the Apple logo on ANYTHING, you will know that it is worth a lot to buy. Here, IT SEEMS when I put my 640XL and 950XL side by side, the only difference is the front camera placement and a dedicated camera button. We know that the internals are leaps and bounds better than 640XL. But others who never bothered reading news about Windows phone, this will not woo them to ask more about the phone. They might even think that this is 640XL.

If you believe anything with an apple logo on it is worth the price then i really dont know what to say. But if thats what premium means to you then you can always buy an apple sticker and place it on the back of your phone,,, bam,,,,instant expensive,,premium,,flagship looking phone. Posted via the Windows Central App for Android

Dude... Again you misunderstood :-) you have to read things with context and not literal read it. I said "worth a lot to buy" and not worthy of buying. Another analogy is looking at a BMW. Whether it serves your purpose or not, whether it is worthy or not for that price doesn't matter. You will right away know that the owner has spent a lot of money buying it. It is what expensive looking is. Whether it is because of a logo, whether it is because of a company name, whether it is because of the looks, etc, it doesn't matter. It can be anything that shouts out "Dude I am expensive" by itself rather than we saying it explicitly. My native tongue is not English. So I guess it is not easy for me to get my point across easily :-) I am working on it to get better.

My understanding of what you said is that,as long as something "looks expensive" its ok for it to be espensive. But BMWs arent expensive because of how they look, its all the engineering that BMW puts into it. Posted via the Windows Central App for Android

No. I meant it like If something is expensive then it better look expensive and communicate to others that it is expensive by itself. The device/whatever should brag itself rather than us bragging that's expensive.

Well, there you go.
Expensive looking kinda explains itself, it looks like "it was expensive to produce and I'm sure its expensive to buy". Think about iPhone 5 and iPhone 5s, whats the may striking difference? Always been ok with polycarb ways of Nokia, especially on the low/mid-range I think it fits good. BUT for flagship it must BE good, and look good.

How can you tell what most phones look like since almost all phones I see in the wild are in big ugly cases. My wife puts an otter box case on her iPhone when she gets it, all you ever see is the screen.

My Lumia phones are Lumia 900, 920 and 640XL. My 900 and 640XL are cyan color whereas my 920 is a red colour. And guess what? I never had a single case put on any of them. All of them has taken lots of dives(900 even rolled on road twice). Yet I never have to replace the screen nor put on a case. In fact, I accidentally thrown my 920 on my cousin's Nexus 4. He replaced the screen for some ₹6000.

Red 920 is an absolutely gorgeous phone that is rock solid. I had one before I got my current 930 and it was hard to let it go.

So true the amount of phones that go in cases almost makes the look of the phone pointless :) I'm waiting for the official MS release before i pass judgement on the design. That being said I'm still likely to get one maybe not on day 1 but shortly after.

Through the daaaarkk clouds there was a ray of Sunshine :) ;)

Yeah what the hell is "expensive looking". Probably some tool toting a gold colored iPhone.

You mean "expensive looking" like how iPhone 5S and Samsung S5 looked last year? Cos they seemed to sell well ;-)

Just my opinion http://1drv.ms/1En8ngi but that's more what I imagined. It's 925 ish and round like Nokia but also square.

Reminds me of the ZuneHD. #Gorgeous

Haha I'm using my ZuneHD right now! Have to agree reminds me of it

Yes, that is a good looking render. I'm seeing styling cues from the N9 and L925 - two of the best looking Nokia handsets in MY opinion.

Amazing... @Microsoft please look this beutiful desing and stop the ugly ugly terrible concept leak render whatever I see in this Lumia 950, 950XL

I gotta be honest...not a fan, sorry. =[

Damn it. I've started to hate official renders after looking at this :/

Gorgeous looking. Really difficult to make a device that thin and NOT be expensive. But THATs the point, I'd pay anything, as long as it is that thin. And gave some hits of cool ideas, like the living tiles for music and videos. Cool. Not happening either, I think.

Looks nice, except for those god-awful square corners. My 920 has them and they really tend to dig into my hand after more than a few seconds of use. Round those corners up and this concept would be golden.

It helps a lot that the OS in that concept doesn't look like wannabe garbage too. MS is hopeless.

This is the concept from phonedesigner that stole my heart
http://1drv.ms/1UeHIty
Reminds me of my old Nokia 5800x music but much cooler...

looks like the design of the blackberry venice slider; no wonder it got positive reception

Flagship looking like the one Lumia With a metal body..tons of features..rings a bell my man? Yes..that was flagship looking..this..doesnt much...

I'm such a fanboy that it could look like a turd on a stick and I'd still buy it.

LOL now that's being a true fanboy - lmfao

The XL looks almost identical to my Lenovo k3 note which I find good looking, but the camera ring on the lumia ruined it for me

Isn't it obvious what a flagship should look like? http://bit.ly/1EtStkF

This is what a windows phone flagship should look like. https://www.behance.net/gallery/24129169/Surface-Phone-Windows-10-Concept

What does flagship look like?

Take a look at the best selling mobile phones currently and that may give you a hint!

So you believe the iphone 6 is the best selling phone of 2015 because of how it looks and not the fact that it was the biggest iphone at that time and that apple has rabbid fan base that are so loyal that they will buy ANY new phone no matter how it may look. Posted via the Windows Central App for Android

Samsung Galaxy/Note range sells more than the iPhone I believe, but these are the best selling flagships and you asked what a flagship looks like......there is the answer to your question!

Nope,, i looked it up and the number 1 selling phone in 2015 is the iphone 6 followed by the galaxy s6 at number 2 and neither of them look any better than these. Posted via the Windows Central App for Android

Wow. I don't think many ppl would say that these phones look better that the iPhone 6 or S6. Maybe your bias is showing?

Maybe im saying the iphone 6 is just a bendable metal slab with a glass screen and huge bezela on top and bottom. Posted via the Windows Central App for Android

And this is just a polycarbonate slab with a glass screen and huge bezels on top and bottom.

Exactly my point. So why is one considered premium looking and the other not? Posted via the Windows Central App for Android

They're far better in design terms than these. The S6 in particular is so nice to hold.

Ive held the iphone 6 and 6plus and there so flat and slippery there hard to hold onto. Posted via the Windows Central App for Android

You lost all credibility when you said these look better than the iPhone 6 and the S6. I simply can't take anything else you say seriously.

Thats my opinion, credibility has nothing to do with it. I prefer a polycarbonate shell as opposed to aluminum. Posted via the Windows Central App for Android

I know it is your opinion. And, that opinion is so laughable that any other opinion you might have on the subject cannot be taken seriously by me. In my opinion.

If you don't think the iPhone 6 and S6 look better than these you are a blind fanboy and kind of pathetic.

If you think the iphone and s6 look better than these your an isheep and samsung fanboy and are really pathetic. Posted via the Windows Central App for Android

You mean metal? Not actually that expensive, bendy, easily dented metal?

Doesn't have to be metal. As you said, there are a lot of downsides to metal. Nokia have shown repeatedly that polycarbonate is the ultimate material to sculpt a gorgeous and functional device; it simply looks like MS sacked the entire design staff after the take-over, and designed some first year design students to take their place.

These were designed by Nokia. Posted via the Windows Central App for Android

Really? Two years after the takeover, and Noka are still designing Microsofts phones? Hardly...

Yes really. Posted via the Windows Central App for Android

Did you ever consider that MS kept Nokia's top designers and moved them to Seattle?

They look like cheap plastic. A helmet wrapped around the phones and too much bezel. Look at lg phones they usually have very little bezel. It's not hard to do.

Im looking at an LG phone,, i have the LG g4 and with the onscreen buttons the bezel looks just as big as the 950xl and the g4 is also polycarbonate. Posted via the Windows Central App for Android

The top and bottom bezels look good to me. The side bezels look large in those renders. I guess we'll see when they're announced.

I'm with dakken, if you look at another leaked image of the phone with a blue background around the on-screen buttons it doesn't look nearly as bulky. http://www.windowscentral.com/newer-photo-microsoft-lumia-950?utm_source...

Lumia 920 converted me into a WP user. BUT, since them I yet to see a phone that can truely replace it. To be specific, 930 was not bad but it was not available in US except on the crappy Verizon. These two replacements with their on-screen bottons (I don't like that) and their unimaginative designs are quite a failure and will not save WP. Thanks MSFT for killing WP!

this is what happened now. http://i.imgur.com/vABroHn.jpg

Microsoft has given up on mobile. These are obviously a faint-hearted send-off to Windows Phone lovers. There's no love, no passion in these phones. They are white & black slabs, and that is all.

That's why they built this entire separate UI called Continuum? And are making 3 separate accessories. 1 of which only works on the new phones?

Agree. MS has focus on making apps for android and ios. Much as I hate saying it I think MS has given up mobile.

But they do have prominent 'inside beauty' if you care to look inside.

I like your attitude. I'm really looking forward to seeing it. I hope it does really well with consumers, and I hope it's displayed in every carrier store in between the Note 5 and the iphone 6s+. However, the materials used don't look premium from the renders I saw, so I'm a bit afraid that it will disappoint me. That said, unless the surface phone is announced and coming (very) soon, I'll probably buy the talkman.

I like the tall and thin photos, but the renders and the last photo looks short and wide.., uh. Also, I don't care about metal or anything like that. What I do care for would be waterproof and Qi wireless charging as a M$ standard across all mobile devices.

The white L950 does have some premium feel. But L950XL is the one you got to have. It has everything you want or wish to have. Surface pen is the ice on the cake. It doesn't win beauty contest, but you have no better choices. May be MS should throw in more vibrant color choices to sooth the pains some suffered with the uninspiring design. :-)

Mine is reserved already at MS store in my town. Those guys at the MS store are awesome, and since i buy many things from them, they are going to takecare of me, since my lumia 1520 is messed up. I'm just patiently waiting. They say, best things comes to those who wait. that's me;-) waiting, and waiting,and..................waiting.

and 925 was not the only beautiful Nokia. The 920, 1020, 1520 were all great and they were all polycarbonate. The Lumia 830 had a very striking design as well. I liked the 930's design too, but to a lesser extent.

The 830 in my hand is dead sexy

Except for the LCD screen that warps the colors every time you press on it.

830,925 has the best design hands down

Saw 830 just recently it was way too sexy.

Lumia 925 was the best Lumia considered from design perspective, even among tech geeks.

I disagree, while I love it to death the placement of ports was absolutely horrible...USB and audio jack should NEVER be placed side by side, it creates the worst interference playing to car audio while charging. No removable panel for expandable storage and on some models ( I had to exchange multiple times) the wireless charging plates wouldn't work! I have listed sound reasons for my critical nature while also showing that I do indeed use and enjoy this handset on a daily basis, I am quite jelly about the 640s (iWant) and am actually looking forward to these new handsets arriving soon. This is how you do it people... =\

The L925 design might re-surface on Surface phone.

No it won't. Check this out
http://www.businessinsider.com.au/microsoft-surface-phone-rumour-roundup...
and it's much much better than anything out there.

1020 heavy,beefy...i dont have idea about 920/1520 but 925 is slim with slight round corner so when i hold it doesnt poke my hand 830 also good but still i prefer 925.

925 design near perfect design wise. These new phones. Cityman looks fine but not flagship in design terms. Talkman looks horrendous.

Me too, generally the design is underwhelming if not that total ugly.
It certainly lacks wow factor and as Daniel said, the design is very conservative. In my case I find it rather alienated from Fabula design and reminds me of some generic Android phones which shares similar design to this. Its not about all polycarbonate body or even lack of metal frame. Its really the general theme of the device is "okay" and some areas like the speaker grill looks like a cheap toy speaker and camera ring on 950 to be tacky. 950 XL camera ring is actually fine and seems look better, though I wished its symmetrical like 830. This rough mockup may look better with some tweaks. Like different placement of speakers and its design. Same camera design from 950 XL. Thinner bezels especially at the bottom. Lastly centered Microsoft logo at the back. https://a.disquscdn.com/uploads/mediaembed/images/2447/2778/original.jpg

Prefer something that is stylish, elegant and unique....more like this. http://1drv.ms/1En8ngi I just think this is better!

That is sexy! Posted via the Windows Central App for Android

What gorgeous?! Not those renders

Wow. That is just gorgeous! I like my 640 and really don't want my flagship to look like a bigger version of it.

If 950 look something like this! I would the device on day 1!!

I think I'd rob somebody for this phone! Soooo sexy!!!!!

You do realise those look exactly like a blown up version of ipod nano 7? Lmao! Posted via the Windows Central App for Android

Honestly, that speaker placement isn't much better with regards to capability (I'm assuming it's the bar on the bottom back). If you set your phone down it'll be muffled compared to the placement next to the camera hump that allows the sound to resonate more beneath the device. Personally I'd like to see dual front facing speakers hidden where the glass meets the plastic edge.

Well my mockup over there is just one another possibility of speaker placement and I just want to show the speaker design similar to 640 XL looks much better than the dotted speaker grill that looks like a toy. But yeah, I agree the best they can do is front firing stereo speakers like the HTC One. Man, I always waiting that to happen in Lumia which Nokia of old always doing that during N-Series days. My Nokia N73 have stereo speakers and that's 2006!!! If they can't make it stereo at least try to make it on front or another good placement is on the bottom side of the device, just like what 920, 1020 and 820 does. I wished that if Surface Phone is true, they make it front firing speakers just like the Surface tablet. Btw I updated those mockup images. This one speakers beside the camera: http://i.imgur.com/He2tlud.png
This one speakers at the front: http://i.imgur.com/hE0KLTG.png
About the speakers at the bottom side of the device, just imagine from the second image but without speakers at the front.

It's a little disappointing that I can fill out the poll in the Windows Central app for ANDROID but not the Windows Phone one on my Lumia 920.
Posted via the Windows Central App for Android

I'm on my 1520 wondering "Where is the poll?"

it is at the bottom of the article with a link.

I don't know, I think the back looks sexy. The sides look sexy. We all know what we don't like about it: those bezels. That top bezel especially. The bottom bezel is not so bad, it was just a poor choice to have renders showing black on-screen buttons as it makes it look like a part of the bottom bezel.

Another $500 plastic phone.

Its not the materials that the phones are made of that make it expensive, its the technology inside of it. Posted via the Windows Central App for Android

Really ugly. So we have to wait until May 2016 for a good looking phone. Windows Phones fans always have to wait.

I dont like the curved corners in these phones. I like Nokia style (pointed rectangular) like 730 etc... They look classy...

Right? The boxy design fit the metro style we've enjoyed since the Zune. That's likely one of the things they're trying to step away from though I suppose...

And they will step into a bottomless hole.

I've owned 925, 730 830, 640 (and a few more i cant remember). I'd say the 925 so far had the best look and feel in the hand. A 925 that was thinner with a removable shell and in different sizes would have been the best. I like the 730 too just wished the top and bottom of the phone was curvered too. 830 and 640 dont feel very good in the hand with the sharp edges.

I have owned lumia 800, 900, 920 and now own a 1020 and a 1520. For me the best design would be a thinner 930 with smaller bezels. I never liked the design of the 925.

Yes, I own 520, 930, 1020 and 1520.... 930 is best design among all of them...

It's just twice as thick a flaghsip should be

I agree. That and onscreen buttons are the deal breakers for me. And the volume and power buttons on the CityMan are weird.

But you'll still get one, same with the majority of the haters. I'll call it now, more than half of those bagging the phones will end up with one of them, and like it.

I hate that they will remove bold colour options like bright green or orange, cyan, yellow, red etc.

730-style is the best. Satisfies people whether they want a "classy" look, or a "fun" look. Polycarbonate is durable without a case, and light. Would just need a higher screen to bezel ratio, like all these phones, except 830.

Totally agree! I love my 730 to death due to its striking design!

They look cool (Talkman camera ring looks like Android mid-range lol)

Talkman camera ring look like that of mid range Android smartphones, particularly Motorola and Nexus type, but not certainly cool.

Yeah the Moto x type of rings

I like them both. Though a mixture of 930 and Surface Pro 3's build quality would be great.

They are easily the ugliest phones I've ever seen.

Agree. They look like Lumia 240 and 340.

What makes them the ugliest phones youve ever seen? Posted via the Windows Central App for Android

First, the chrome makes them look cheesy and tacky. I would expect that on a low end device, not a flagship. Second, holy bezels batman! Those are some IPhone-level bezels right there. Now that the phone has on screen buttons, there is no reason for them. Finally, they just look awful. As others have pointed, it looks like a low end phone that was dolled up. You can put lipstick on a pig, but it's still a pig.

Ill agree about the ring around the camera not looking great but the bezels dont look any bigger than any other phone out there, i think the blackness of the onscreen buttons make them appear to seem larger than they actually are. Posted via the Windows Central App for Android

Yes! Hell, if there was a Lumia 140 this is what they'd look like. Thank you,
KB

I take it you're actual blind, then?

Absolutely ugly. They don't look like flagships. More like budget devices like the Lumia 530. This will kill the sales. These are devices which will compete against the iPhone, Galaxy flagships and the HTC Ones which are super sleek. Who will buy this phone when it looks like a budget device?

From the front, it looks similar to a 640, not that the 640 is an ugly phone, but for a flagship phone? Come on, whatever happened to the Nokia style design? I know polycarbonate is a very good material to make a phone and I'm fine with that but the design just looks.... lackluster. This phone wont be catching anyone's eyes, especially in just black and white. What happened to blue, orange, neon green, red, and yellow? I may just end up keeping my 1520 then. I hope the rumored surface phone looks better than this.

I disagree, OnePlus phones are the ugliest. I like these though. But i never liked the 930 boxy design in the first place.

These phones are indeed extremely ugly. If MS is continuing this design I'm gonna use some Xiaomi with a Win10M rom. The 800/920/1520 design was great. Also the colors did it for me. I have absolutely no clue why they would stop with colors looking at iPhone 5C sales.

Kill the rounded corners, give them a boxy look, take out the camera ring from Talkman and you have two beautiful phones IMO.

These fan boys are blinded. These flagships look like a joke next to iPhone or Samsung Galaxy S6 / Edge, aesthetically.

Spoken like a true fashion victim! If all you care about is looks, why haven't you got an iPhone already!?

Who wants an ugly flagship phone tbh? Because it's not running Windows Mobile? I'll wait for Surface Phone. It should be sexy like Surface.

One word... Poor! Lets look to OEMs to see if they can give us something cool. Hope they will adopt windows 10.

They both look like that only have one speaker. Concerning

I have not seen many phones with more than one speaker...typically, if you think they do, it's actually just one tiny hole for sound and the rest is for show. =[

Just one word. Bring back Design team of Nokia instead of laying off then

Who says they were laid off? We know nothing of the demographics of who was removed and who stayed. Why assume? Also, these phones were from the Nokia portfolio. These are not Microsoft designs.

Yea, I think a lot of people don't realize that it takes 2 - 3 years after an aquisition for new designs and "radical" changes to enter the pipeline. The first year or two is spent finishing up the old owners product pipeline.

Changing the outwards design is not that radical. Imo ms had enough time to change it if they wanted to. Posted via the Windows Central App for Android

If Microsoft had same design team that Nokia had , then we would have expected some exciting designs like 930 & 830

" then we would have expected some exciting designs like 930 & 830"

Both some of the worst received Lumias to date. Not a great example. I think you may be out of touch with the public.

Any info around that clarifies the low sales of the 930 was due to specs or design?

I actually like the current renders of the 950/950XL. I'm glad they're sticking with the polycarbonate back with removable battery. My only complaint is the lack of colors such as cyan :)

830 design received a lot of positive reviews though. Posted via the Windows Central App for Android

when/where was the 930 available? In the US? Did it support 4g? Maybe that might have something to do with not being well recieved? Out of touch much?

Worst received? Only in terms of sales and both were what....exclusive. So of course their chances were limited just like every other Windows Phone outside of HTC ones. But design wise both were still of the premium look albeit quite boxy and minimal but not cheap looking. Posted via the Windows Central App for Android

Thank you Daniel because everyone i know who weren't WP users or straight up Nokia fan boys called the phones too heavy, bulky, not good looking. People even say the 930 and icon are too big and bulky; like you said bad examples. I think the only real competitive device design wise to the general public will be the surface phone if it ever happens. I also think Microsoft should make up its mind if it really wants to compete in the mobile market or not! I've seen several die hard Windows phone users leave simply because MS hasn't put out a strikingly designed phone in two years; now they're galaxy s6 users....... That sucks... Microsoft is showing no since of urgency, so while everyone wants to say Satya is so great, we're still seeing the same poor behavior when it comes to cellular. No marketing at all. It's been proven that cellular salespeople aren't going to make ask effort and if Microsoft itself isn't going to do anything to increase interest so consumers go into the store asking for a WP device, them how will people know about WP?????

What exaxtly is Microsoft supposed to market? Should they be marketing these rendered photos? Spending tons of money on advertising to show what there next phone might look like? Posted via the Windows Central App for Android

I remember all the yelling, screaming and crying because the ugly desing of the Lumia 930 and almost one year later for the 830. Exacly like the crying for these leaks.

Yeah and those phones didn't sell well at all. What's your point?

@Daniel Still your comment does'nt make those designs better.. Well its better than 640..but not a highend design.. But i dont think these are the real renders ... The information that you got from MS and the renders you guys made doesnt even come close with these.. And you were claiming that the source from MS was saying that it's almost the same.. Now i doubt that.. But for a reasonable price, i'm okay with the design.. But a highend price will kill it

You have to be kidding me. Our renders I'd say were 97% dead on. One of the people who used it really liked it and was impressed. Not much else to say, just passing on information.

Hmm..Well.. Seems like we have to wait untill we can play with in hands.. So that we can have a good feel of these designs.. Till then, it's better to avoid such leaks now onwards..

I thought at one point you said we'd get a cyan version. That's no more? What a bummer. Color is the only reason I can think of for doing plastic, besides Qi and resilience and feel and shapes and low cost of oil. ...I still want blue.

One of the great things about Lumias is the color. The colors on the phones are so eye catching. People immediately look at my 1520 when I pull it out because its a giant slab of beautiful red plastic, not some boring and hackneyed black or white.

Why are the reactions to the two so different then I wonder?

@Daniel, if that's so, sales are dead. I'll stick to my 1520 and leave MS phones for what they are: A pile of rubbish. Give me a brand which sells beautiful phones, and use a Win10M rom. Way to go Microsoft, you are killing it.

where does the mix between the 928 and 830 come in? this phone doesnt look like both of them

Your renders show less rounded corners and hard keys against these round corners and software keys. That seems to make a difference here in the comments. Like you say, you are passing on info but the above difference makes a big difference!

Daniel please take a poll asking why so many people think these phones are ugly and hideous. People keep saying there ugly,,,hideous and not high end looking without explaing why. Posted via the Windows Central App for Android

Well.. Everyone over here are pretty clear about whats wrong with these phones.. Thats the DESIGN.. But the 5.7" phone looks pretty cool for me.. But the small one.. It's not

What EXACTLY about the design is what i want to know. I keep reading that its ugly with out any explanation why. What i see is a glass screen on the front,,,some buttons on the side and a camer on the back surrounded by a thin polycarbonate shell. I dont exactly see what make it the ugliest phone some people have ever seen in there life. Posted via the Windows Central App for Android

There's nothing wrong with the new designs. This site just needs an enema to flush out the pricks and the haters. :-)

I just think its not eye catching. Its not exactly bad but it could be better. Take a red 1520 for example, it pops right out because a) its huge and b) its freaking red with boxy edges. They need to keep the color in these phones, black and white are boring. And that thick ring on the back looks tacky.

Those are horrible reasons... =\

Well it's difficult to articulate a definition of "beautiful".. besides this is a very subjective matter. In open forum u will find all kinds of people with polar opposite views. I get that u find these designs "all great". And I respect that. May be I will also find them great when lookin in person. But my first impression is not "great".. may be "good" but not "great". I am keeping my final judgement resereved. But that is the whole point of this discussion by these people...flagships should scream "premium"... even at first casual sight. It's like "first love". Don't ask like a parent to a teen kid "why do u find her beautiful" n "why do u think u r in love". There are many people who want to be in love with their phone from the word GO. And I understand they culd not associate their feelings with same design they have seen in lower budget lumia say 640/XL. When 830/930 look better than 640 it's understandable. But when u come out with 930/1520 successor after THIS long time, then may be... just MAY BE.. following 830/930 design would be understandable. My opinion only.. Proud owner of 830 PS; Will i buy these.. yes,,,because of their flagship specs NOT because of their design. However I would be happier if they were lovely looking also. Hoping that I will eventually like them far better in REAL... Again only my opinion. And YES i did not elaborate "beautiful".."premium".."love"..."great".. I simply can not. I hope u understand.. May be not..We all can live peacefully in this world disagrreing to each other views. Sorry for long post and ...long PS

It's quite simple. You see someone with a phone and continue on with your business. And then you see someone with a phone and you stop them and say "Wow. That's a really nice phone you have there. What kind is it?" These latest leaks(not the Windows Central team renders) fall into the first scenario. Few will care about who has them. At least with the yellow color of my old Lumia 920 people would ask is that the phone with the camera?(referring to the Lumia 1020) Microsoft needs a head turner. Posted via the Windows Central App for Android

I'm pretty sure some will care when I'm beating them in the face with them...oh, sorry. Too much? =p

Its more like pull out a phone and ask,,thats a really cool case covering a phone that i cant see and looks like every other phone on the marker from the front,,, what kind is it? Posted via the Windows Central App for Android

For one, I never put a case on a high end phone. I am a firm believer of going naked with flagships. I believe in being responsible and taking care of your phone and have insurance on it. I despise the awful otterbox cases and most of the other ones that hide the design the engineers worked so hard on.I currently am using the Sony Xperia Z3 and as annoyingly slippery the phone is, I do not use a case because of how premium looking it is.I do however have to be very cautious with it but that's how a flagship device is supposed to make you feel. Like you have to take care of it and protect it. Not, it's just my phone. In fact a lot of people still don't use cases on their phones so your argument is fifty fifty and still does not change the real issue that these designs will not inspire anyone to be interested in them.
Posted via the Windows Central App for Android

I, along with many others, don't use cases.

I would say because it looks like a lumia 640! a MIDRANGE phone! why would you use a midrange design for your Highly anticipated flagships? Feels like a slap in the face for people who waited for this. also what did they do in this two years design wise????

they fired Nokia design team...and this is the result

And where exactly did you hear they fired the Nokia design team? Because thats not even a rumor. And for your information these phonea were designed by nokia. Posted via the Windows Central App for Android

They do explain it you just have the reading comprehension to understand the explanation.

I know they laid off thousands of Nokia employees but nowhere do they ever mention the team behind Nokias designs. If you read that somewhere I'd love a link or some proof of it. Or maybe your reading comprehension isnt what you think it is and your just making assumptions . Posted via the Windows Central App for Android

Again here, I still think this is MS giving space to others OEMs (Like Nexus High Specs) so they can bring Premium devices (Like S6 Edge)

Well leak those instead of this...id rather keep my 1520 than purchase these.

Same here, if this is what it'll be, ill keep my 1520 and wait for this rumored surface phone.

Well.. If there are several High end devices from other OEMs.. Then thats enough.. I dont care if its a lumia or not ..provided updates are consistant in all those phones as well just like Lumia devices... A Samsung Ativ S6 for W10M ...

S6 Edge are truly ugly...

You must be one of those Ray Charles-Stevie Wonder types if you believe that.lol Just open your eyes.

He's blind because he doesn't like a phone that other people like? I dont like it either and i have perfectly good vision. I also like the 950 950xl does it mean that the people here that dont like are blind? Posted via the Windows Central App for Android

Relax man. I was just joking with him as I've never heard anyone say that before. And why are you defending Windows Phone so hard when you're using an Android phone yourself? Are you looking to return to Windows Phone this year like myself? For the record, I believe the actual phones will look much better than these leaks and I will in fact be getting one as long as I can get it through T-Mobile. Posted via the Windows Central App for Android

Actually i am,, i had a L925 and used tmobile jump to get the Nexus 6 because i wanted a bigger screen and the 1520 wasnt on tmo,,but i was seriously let down by the camera so jumped to the LG g4. Great phone, good camera but its still just an android phone. Posted via the Windows Central App for Android

Ok that explains a lot. I was also an HTC Radar, Titan, Samsung Focus, Lumia 920(still have that one for testing the technical preview) and Lumia 1020 owner(I regret selling it now). I would have got the L925 day one if it had 32gb of storage. I got tired of buying unlocked devices that I wanted which I had to wait months later to get when the prices dropped down when T-Mobile came out with the Jump plan and now Jump On Demand plan. These plans especially the latest one gives consumers more power to get the phones they want, when they want. So I used my first Jump upgrade to get the Xperia Z3 last year with the cancellation of the McLaren. So yes we are long overdue for something amazing from Microsoft and I believe despite these leaks that they will. Posted via the Windows Central App for Android

@RaRa85 So if I have a different opinion than you, I have to be blind?
Yes, i truly mean that the S6 edge is ugly as hell. Just look at the camera lense, it reminds me of a refrigerator from the 50's

Listen guys, I'm just joking. Yes it's your opinion but I've never heard anyone say the S6 Edge is ugly. Maybe not their cup of tea, maybe just ok but not ugly. If you feel it's ugly that's how you feel. Posted via the Windows Central App for Android

Nadella Mastermind right? One little problem - there is no sign of other OEMs bringing out high end devices. Posted via the Windows Central App for Android

And how others OEM will bring out High End if MS put a gorgeous brilliant beautiful on market with almost 99% of current WP market being Nokia/MS phones? They need space! Today if you ask someone about Windows phone the first word that come to their minds is "Nokia" (or now Microsoft). If you ask about Android phone the Nexus phone definitely wouldn't be that word, maybe Samsung's phone or Sony's or even Asus now, but Google's phone isn't the top Android phone ou there.

I'm of the belief that if the OEMs don't bring quality phones(they've got the cheap ones covered) to Windows Phone then Microsoft should just go the Apple route and make all the phones themselves. Tired of waiting for someone other than HTC (their One M8 was a nice addition) to make a high end phone for us. Posted via the Windows Central App for Android

But the decision to exclude any color whatsoever was all Microsoft. The generic designs are boring enough as it is, why limit them to black or white?

Agreed completely, looks like Surface team was not involved in these designs at all. I really like Lumia devices, but I prefer squared angles like the 735 and 1020, the above renders with round corners, make them look much cheaper than they are. Just my 2 cents.

I don't think Nokia had high end mind though if these are from there portfolio. Seems like a little bit of recycling and throw in some high end specs. But the "final" design may actually be different from what we see here. Posted via the Windows Central App for Android

Umm , while people usually underestimate the time it takes to design a phone, in this case MS has had enough time to change the design if they wanted to. This is a MS design imo. Posted via the Windows Central App for Android

Those phones look like a revenge from the Nokia design team.

Yes but Nokia didn't release flagships that looked like low end devices. The 830 was a mid range but looked like a pure flagship.

I'm not fan of what we are seeing in the renders .though I love the specs. In all actuality we will have to wait to actually see these live to be able to pass a real judgment on them. One thing is for sure both devices have stirred alot of commotion both for and against.just wait for WPC to get one and Daniel to tell us they are great. I guess when all we have had to chat about and or to get excited about in the past 26 months is budget phones this in it's self is rather exciting.

Magnetic Camera Lens on that metal ring with LED lights far enough from the Camera, Yes !

Yes, and with all the 3D printing capabilities just release the schematics for the removable cover. Maybe people will print their own covers and customize at will! Now if I only had the 3D printer...

But than again they aren't the real thing

What part of "unofficial leak" don't you understand?

He means they're "renders", which is always a very poor substitue to actually looking directly at the device & handling etc. Plus, it's not even known if they're final renders, or if there's more recent renders with some further changes to them.

The renders from the previous post weren't great. I'm hoping that they don't actually reflect the finished product. That being said, visuals are a minor aspect of my buying decision, so while I may not like the look of the phone, I'll get it anyway if it had the features I want.

Not really into curved edges...otherwise solid devices to Kick asses of crapdroid cheapos :P /s

I actually like the white one, but wish it has the smaller ring around the camera lens

Same here. It looks a lot better than the black one.

I will agree with you on that point . The white dose look better than the black..

Good for Windows Enthusiasts (like me), but bad for iPhone and Galaxy S users... They won't switch to a plastic device with a common design. High end common users look at materials and design: honestly I don't think they will like it.

LG begs to differ. G4 is selling well enough from what I remember. Though I have to kinda agree with you on the design.

Need the 950, as I'm still using a 1020...almost 2 years old!

Specs - Good. Design? Naahhhh....

Dude. The specs are as high end as it gets. Please tell me which Android device has higher specs and USB Type C.

Since this phone isn't released yet, I'm going to assume that unreleased Android phones are fair game here. A couple of phones in the works from Motorola and LG are rumored to have Snapdragon 820s, USB C, and other impressive internals. Sadly the fact remains that this phone will be released towards the end of the current generation of Qualcomm chips. Still. Windows Phone runs quite nicely on most hardware, so this shouldn't be an issue.

These phones will release this year. The Snapdragon 820 is not coming out until next year so no its not fair.
By your logic why are you not comparing them to the Lumia 960, which will surely have the SnapDragon 820 as well.

Probably because if there is a L960 eventually that has the SD820 in it, it will be well after other phones have had the same chip. Thus, well behind.

All in all I'm really liking these renders. I'm not sure about the volume keys placement on the Cityman and I really dislike the huge silver thing around the Talkmans camera. It's a bit disappointing to see that the speakers are still on the back. Most of all I thing I'm just excited to get my hands on some new gear. Hope we'll soon see if or when a Surface phone "surfaces", then I might wait for a Surface phablet

These are solid points, thank you...I agree with you on the speakers, like how does no one really get it? lol =p

I hope Cityman will be available in the MS Store although it might be a non-US carrier branded model. Even if its not, ill definitely order one from Europe

Looks like the heated poll discussion made it to the front page - haha. Well, I think they look alright. Yes, it could use some whiz-bang chrome and curves. I'm more concerned about the camera and durability. This looks a bit like a restyled L640. Not ugly, but not distinctive.

Dislike, They looks too ugly, also Buttons on display! Sony makes phones that have buttons on display but they put LED Light under the display, and 3gb ram only not 4gb! They won't compete against note 5 or The upcoming Z5 ...

Windows Phone doesn't need 4Gb. Android needs it to run properly.

Actually Android doesn't need to run properly. See the first gen Moto X. It had 1GB of ram and ran very smoothly. HTC phones run smoothly on 1GB of ram. Stock Android runs smoothly on 1GB lg ram. Touchwiz is what needs a lot of ram. Because Touchwiz sucks. Not Android. Next time try to have some facts on your side.

they're not the ugliest phones i've seen, but they're not a beauty neither i guess people is disappointed if compared to other iconic Lumia designs, i think the 830 is still the best looking one

I will take a swappable battery and thicker phone over a thin one with a soldered battery any day. I love the polycarbonate. I couldn't break my 1020. But I am waiting until I see the final device to render judgement.

Batteries are never soldered, replacing the battery in any Lumia requires no more than 3 minutes and a single tool or nothing at all

I'm surprised! My brother managed to break/exchange his 1020 at least 3 times before he couldn't afford repairs, then again maybe he's just horrible! lol =p

I think they look great. really. But what I dream about is a Surface branded phone. Imagine an angular magnesium body, industrial look. Whoa that would be really great.

And really expensive. Posted via the Windows Central App for Android

And so it should be. Since it is a fully fleged computer in your pocket.

Americans dont care. We pay monthly for our pghones. it can be $1000 and I'll be there day 1

I salivate at a possible Surface phone. You know it'll look nice.

The high point for me with that would be to see Panos drop it from head height and it continue to work like a champ with minimal damage lol =]~)

Boring boring boring boring boring

May I add another "boring"!? Can't say it often enough.

The first time I saw them I thought: "ugh..ugly"

I wish those renders are fake.. Cityman is okay.. Talkman looks like a Asus Zenfone... Which is not a compliment.. I dont need a 5.7" phone.. But the smaller version looks soooo bad.. If MS is gonna give them a reasonable price.. Then i'll think of it.. But for that design.. I'm not paying Highend kinda money... I'll hold on to my 830 till surface phone

I'm confused...I thought renders aren't real.

@Yasar - then don't buy the Talkman if it is not for you. I have a 1520 right now and would buy the cityman due to the screen real estate. Options are good things for everyone

.. I need the same spec and design as cityman on the talkman.. Becasue some of the users like me prefer smaller device..

On the 950 the Qi should be built-in as a standard.

I agree. That's the one thing I'm really disappointed about and don't see the reason for. I don't want a flip cover to get Qi going. I had it in my 920, my 830, why is it only integrated in an XL all of the sudden?

Not the best designs. Pretty boring.

I like how they look. I agree, would have liked something along the same design lines as the 925 or 1520. But I'm ok with this design as well.

I just hope it includes radios to work on Verizon.

If these don't work on Verizon, I hope another OEM will make one that does with similar specs.

I'm not a fan of the thick metallic ring around the camera lens on Talkman, but otherwise I think the design is mostly good. The thin ring or no ring at all looks better IMO. The thicker ring just looks like obnoxious bling to me.

It's like a utility device doesn't look fun to use type!!!

Personally, I'm waiting for the Saimaa and Saana leaks.

You could land a plane on that bottom bezel.

its smaller than the bezel on my Icon

The bezel on your icon has capacitive buttons.

It is smaller then on Z4 and S6 and HTC M9 and iphone 6 Only G4 has smaller low bezel and that is not really practical

Is the phone in the second picture a third phone? Or is it one of the other two just with a case on? Have there been any leaks of the new 840/850?

Its the 1520 successor.. 950xl prototype.. U cant see those round edges because it has a case which has pointy edges.. All protos are in a case to disguise their looks

Wishful thinking on my part. I may not be too inspired by the designs but I am sure I will grab one of them as soon as they are available.

The white version of the Talkman looks nice! I will gladly pick up a white 950.

Honestly, compare these renders to the mock ones created here on WPCentral. Looking at them side by side they're pretty close. And I was one of those people that found the mock up pics to look beautiful. The main difference was the amount of space on top and bottom of the screen. I do feel there's a little too much on the new leaks. I realize that once the on-screen keyboard disappears it will look a little more "sexy" but that's about all the difference was. The colors were off just ever so slightly too. But it's funny, most people loved the mock up pics and hate the leaked ones when the differences are so little. A beautiful screen can change everything too. I have no idea how it will look in person but same goes for the Galaxy S6 Edge. I dislike the phone personally but when looking at its display in person I had to admit the screen was stunning. Hoping I can same the same for these.

Please let Nokia people design the phones

Really? Whats wrong with the 930?

It was thick and blocky !

He doesn't like it. Me? I got the black and gold 930, and if it were 2 mm thinner (like the 830) it would give any smartphone a run for the money in terms of premium/luxury design (I bought it mostly because of the specs though).

I will be keeping my bright orange 930 rather than these boring designs. Though I preferred the 920 and 925 designs best.

We really just need to agree that the 830/930 "pretty deceiver" styling sucks ass and move on. They discarded all the lumia hallmarks except bright coloring and are for people who want to "hide in plain sight" in a sea of iphones and metal mickeys.

930 design is gorgeous compared to these renders and I thought the 930 was okay.

Like most of the phones with the best design ever.

I think the problem is they look 640 like in quality.

Yeah, what's wrong with it ?

These were designed by Nokia so wish granted. Posted via the Windows Central App for Android

Let's face it. Everybody was expecting to see a BMW M3: balance of power and looks. Microsoft showed up in a mustang: good internals, same old look from years ago. And this is the problem. Author calls this "Nokia Momentum". I call it Nokia's dated designs. The nokia that was bold is long gone and this is just a carcas of a design pulled from adapting the work they did years ago, and just riding it one more time. And for the record, please fix your comments window under edge. Hitting return moves the cursor to the top. silly.

More like they showed up in a nice looking Ford Focus.lol People still love the looks of a Mustang. Not everyone but I'm sure they sell well.

And someone got paid for these designs? I really don't get MS at all. At some points u think they are becoming ambitious, only to swerve off the path

Its not my.cup of tea, but it isn't butt ugly like people are making it out to be. For me, the most important thing is how this thing works. If it takes great pictures, has a great screen, and the speed of the phone flies....I am all in. My biggest issue is, I want the best specs possible. I know every year something better is going to come along. With that said, this Surface phone thing makes me wonder if they have a better spec phone coming out in 3 months later. If this is the case, I wouldn't be happy. They need to let us know in advance, otherwise there will be those of us holding out for the Surface phone in some belief that it might be higher end then this. Then the surface phone comes out and it isn't a higher tech phone. Then once we have waited that long, we dont get anything.

If the surface phone had the exact same specs I'd be happy. Let's be real... QuadHD screen and 21MP camera is excellent last year, this year, and next year.
I just want the surface phone to LOOK better than this. Oh and having some standout extravagant feature (like front facing flash, or 4K mAh battery, or hyper-thin) wouldn't hurt for the sales/promotion

I agree the designs are similar to what's been done before. However, I don't have a problem with that as I'm more focused on the software. That being said, I do like the polycarbonate with the ability to replace batteries. My biggest complaint is the lack of colors. I'd love to have a Talkman in cyan!

Looking awesome but I keep saying this now for five years: I want wacom support!

SP3 and the Surface 3 both use N-Trig so I'd expect their support on a Surface-ish model. There are some rumors that the 950 XL will come with N-Trig support. We'll see how that pans out.

People are way too harsh on the looks of these phones. Apparently, people would rather buy an overpriced flashy phone than an equally competent, less flashy phone at a lower price. Posted via the Windows Central App for Android

I didn't realize the prices of these devices had been revealed.

Using more expensive materials increases the price of a phone. If these Lumia phones used more impressive materials, the price of the phones would go up, likely with no real benefit aside from it looking "better" Posted via the Windows Central App for Android

If you are right about the less flashy for cheaper price theory and these for around $400-450 with the specs, then and only then would I buy into the design.

The design is nice by I wonder why the 950 doesn't have wireless charging included but the xl does?

Probably coming down to how much room they have to work with.

The 920 & 930 have it and they are slightly smaller. The 830 has it and its thinner as well.

Still not the same hardware. You dont know what is added and what is larger.

My guess would be they leave it out to keep the price down or to entice people to get the XL. I imagine that a lot of people who don't know/care about the highest end specs also don't use wireless charging at high enough rates.

If it's Nokia design it's pretty understandable. They never built a phone that have it all. After first 920/820 there was always something missing in every phone they released.

i like my 930 design more

B E A UTIFUL! Especially the blue one.

I like the square design at edges.

Boy from the negative comments and posts about these phones I sure expected a bigger spread than that when I voted. 73 don't like them 63 excited and 63 waiting ... Funny

Maybe because poll doesn't work for me on my phone and I'm not going to go for a laptop to vote.

Out of 199 votes 63 are liking.......not that impressive really!

Possible Surface phone in May? I might wait until the 640 drops in price, pick that up and then wait until the Spring to see what is coming. Posted via the Windows Central App for Android

The home/back/search buttons should not be part of the screen in flagships. It's ugly and feels like a mid-range phone.

Tell that to LG and their awesome G line of phones. Posted via.........deez nutz!!!!!!

Or Sony. Or HTC. Or pretty much all the big Android OEMs that AREN'T Samsung.

That's why they are crappy and samsung is kicking ass

1520 is way better.....ill be waiting longer for any windows phone replacement to the 1520

With a replaceable battery, these phones should last a long time. WinTel is about utility--low life cycle cost. What breaks on an iPhone? the battery in 2 to 3 years. These phones avoid this problem

Well nothing will change the crappiness of onscreen navigation keys which reduce the available screen real estate in 99% of normal usage. That and the complete absence of anything of what made WP unique in W10M is enough for me to pass on these. Long live the Unicorn Lumia 1520.3 w WP 8.1!!!!!

Software buttons are a massive turnoff for a premium level device. Guess I'll just sell it off when the Surface phone arrives

Not a problem for me. I currently use an iPhone 6+ and it has software buttons too. It does get a little irritating having to scroll up to get the top menu and bottom buttons to appear but I don't think that makes is less of a premium device. Yes the iPhone does have a hardware home button but it does nothing within an app. It just takes you to the app screen or opens Siri.

The Guys at WC said both 950 and 950XL are going to be sexy as hell what I'm seeing two phones "Ugly as Hell" why they didn't make something like 925.

They also said its a mix between the 928 and 830 but this looks like a 640

I think the renders don't look so good, the renders by windows central looked better. Having said that I am expecting the phones to look better in person and I am pretty sure I will be getting one of them. I am not really sure at this point if the xl will be too large. So we won't be able to purchase the xl in cyan? That is a little disappointing.

The phones are ugly nothing to make me or anyone want to buy them and in today's market buying Windows phone just does not since unless you are just dedicated to a dead platform

Speak for yourself,, not everyone thinks there ugly and i plan on picking up 950xl on release date. Posted via the Windows Central App for Android

I think 950XL looks decent but 950 looks awful. I'll be picking up the former on release.

Well there are only so many things one can do with a rectangle. So the design looks pretty good to me. The specs are such that running Windows these phones should provide an amazing experience. They aren't as awesome as say a Note 5 but they probably dont need to be. I prob won't buy one because 640 meets my needs. But still i hope they sell a billion of them.

Ugly as fuck.. Ill go for a 830 successor or 1520

Both are weird from back. Its not Lumia design like 830 nor 920 back. Both looking cheap and china made 3rd party product. HARDWARE BUTTONS must be implemented on premium lumias and CAMERA button also very necessary.

these have camera buttons

Looks cheap. Lacks the premium material looks of prior Lumias.

The desing is "ok" but the on screen button is just a real abomination of phone industry hahaha just joking but is not much attractive that design well I am not exited with the phone but a will get one the specs are just awesome. And the Samsung galaxy s6 is a real ugly phone

Based on what I've seen, I think they look fine. When you see them, you instantly know it is a Lumia. I also feel that people should wait and see what they look like in person before rushing to closed minded "I hate them, they look terrible!" conclusions, but I understand that sadly people need to complain just to keep the act up. I think Paul Thurrott summed it up best on What the Tech regarding people who whined about not having "flagships" for two years, and have yet to see or hold these in person and are already making tissue makers stock price skyrocket by all the crying, when he said they need to "Shut the F up".

I am pure Microsoft and have been mobile since the HD7, there have been some lovely and unique designs along the way, but this design is ugly. No tears here, I will be keeping my 930 which stills runs great on 8.1 and will add W10 on RTM release. However, these designs remain ugly.

I think they should be made of metal similar to the htcm8

Is Microsoft going to sell these directly and unlocked? They should!

I think Microsoft must gave this design section back to Nokia. Nokia done thier besto best design and they are very very sext and feels very awesome.

These are nokia designed phones.. :/

Yes......the iris scanner is awesome ....better than finger print lock for oneplus two

I'm not remotely interested in biometric security, sure its not supposed to work when you're dead, but how well educated is your average street thug? There have already been cases of people having their fingers cut off, I'm keeping my fingers and eye balls where they belong and using them for what they were intended for only.

I am scared for where you live are you alright?

Reading everyone cry about these phones is making me like them even more.

want that heavey duty metal found in the lumias and i wanted to see hard buttons. Love dedicated buttons

That's sad that cyan is only for the proto type.

Make a ROM for Samsung devices with Exynos processors. The S6 looks much better than both of these.
Spoiler alert: Not even slightly an Android or Samsung fanboy.

I love the S6 design. Hate Android though.

For years people crapped on samsung for their cheap looking phone but now they have better looking flagships than Nokia/MS!!!!! Seriously????

They look terrible. Luckily they are just renders. Hopefully some respectable windows phone website *wink wink* gets some hands on time and posts a video

The looks aren't anything special at all, especially for flagship devices.
But if they are priced mid-ish range then suddenly they "they look good especially for the price and specs" will kick in.

Why do ppl keep thinking these will be priced that way lol? They have never said that, and now because they look cheap ppl think they are going to drop in price smh.

They have never said what? We don't know what the prices for these are.
If priced more or same as GS6 or iPhone 6, then these don't "look" that good in comparison. And that's what we're talking about.
I've seen "rumors" of crazy high price, I.e. More than Samsung or iphone.

Yep always wondered why Nokia kept their prices high when they were no longer 'The Top Dog'.
I understand overheads, profit etc but surely if you're struggling or trying to gain market share undercutting the competition is a good idea?

I think Microsoft have said these devices won't be cheap. They've given up on the whole market share game. I expect them to be more expensive initially.

They will drop in price if people don't buy them!

I think they are ugly to say the least.

Needs moar screen for all dat bezel, lawl. I'm more concerned on what's under the hood. I don't like the 1320/1020 rear camera ring protruding like that though for this new phone line. No camera button sucks but hey gotta make sacrifices. I gave up glance screen for my Icon and I got over it because it's...the Icon.

the bottom bezel is smaller than on an Icon/930, the sidebezels are the same if not smaller and the top bezel is a small as it can be and still contain the Hello cameras. these both show dedicated camera buttons so i dont know what you're on about there.

Also, what is with the screen sitting far above the rest of the phone? 1/5th of the thickness of the phone is the screen.

I'll take either one. I need to upgrade from my 925 some day. I guess I could wait until the Surface phone. Hmmmmmmm

Good specs. But polycarbonate body makes the phone look cheap. Device should come with LUMIA 925 like body.

I like the phones in general but: 1. I don't like rear speakers, even though most are rear speaker. I think they should be either front facing, or bottom edge, so the sound gets directed toward you will holding it. 2. Is there an IP rating? My current phone is waterproof, and I am loving that about it. I think all phones should be water resistant to at least a degree. Also, you mention the build materials and Samsung. God no, don't tell them to do what Samsung did with the S6 and Note lines! Keep SD Card and removable battery for crying out loud! If you can go metal and keep those things, fine. But ditching important features just to get "higher end build" on something most people will throw a case on is just a bad idea.

Only a large amount of people won't put a case on it. No one needs a removable battery. Removable batteries are not a feature. Removable batteries just suck. And you can go all metal and have a SD card. See the HTC One M8 and One M9 metal with SD card. However SD cards bring a slew of issues. They slow things down and are prone to failure. Posted via the Windows Central App for Android

But I have to upgrade so I guess I'll adapt to it.

I really don't understand why people have their panties in a bunch over the looks of these phones. They're "fine". That's all you need. The specs are very good. They run Windows 10 Mobile. What more do you need?

Luk at fckin android flagships and iphones, they look so premium.. Who would switch to WP to buy such plastic flaghips which looks like a midranger.. These are bad compared to 930/1520

Funny, every iPhone I see looks like a hunk of polycarbonate and rubber with an apple on the back because they are in huge cases. Metal looks pretty, sucks at falls.

"It's not just good, it's good enough" Ringing endorsement there. I'm sure people will line up around the block for "fine". You can have function AND form, you know. That combination sells, just ask Apple. Good design is important to me. I like good looking devices. A lot of people do. And before you say that aesthetics are subjective, I haven't seen anyone call these phones sexy or beautiful. The best anyone can come up with is "fine" or "conservative". Design is especially important when it comes to phones. If I'm going to use one day in and day out all day long for 2 years it damn well better be something I can appreciate lookswise. I still look at my cyan 920 with an appreciation for it's beauty. Understand now?

I really don't think Fiat Multipla with Ferrari engine is my dream car (it's this one https://upload.wikimedia.org/wikipedia/commons/e/e0/Fiat_Multipla_silver... )

:-O>>>
(blowing chunks at the sight if that (gulp) car

Just renders. I'll save my opinion for a real look at the devices.

I see a lot of people hating on the curved corners, and I just don't get it. Having been rolling with the 1520 for almost 2 years I can't wait to have rounded corners again! The sharp angles are the only bad part about the 1520. Makes it harder to get in and out of pockets, and digs into the leg if I'm not careful. I probably won't buy these phones day 1, but as soon as my deal is up with at&t I'll be buying one...with an eye on the Surface Phone of course.

I used a 630 for a while, and the curved corners weren't all that great. Because it was plastic, it scratched my ear whenever I tried to make a phone call. I have a Lumia 830 now, which is more boxy, BUT the glass also goes into the metal frame, so it's a smooth transition from glass to frame, rather than the scratchy curved plastic.

5.7 inch is too damn big But anyways m gona buy a windows phone only if windows 10 is successful.

That's why there's a choice...

I will say one thing, they have the boring look down pat, Hope HTC releases the M9 for Windows, they could at least added some front facing speakers, if they think that these are going to bring in new users they are going to be really, really disapointed, There is no wow factor.

Personally I think the m8/9 language is ugly

They'll look like the 640 and 640XL but with better specs and better screens. Which is great. I don't understand why the people who made these renders think that they wont say Microsoft on the back... Think they just want them to look like an iPhone. I don't. A 640 with slightly better specs will be the best handset. It's all about the OS...

I am not impressed at all and I'm very disappointed. Almost every previous high end phone released, Icon, 1520, 920, 925 etc, were all nicer looking based off of what we see here. I will be getting one but I think this may be the real end of WP and once again shows how MS is absolutely clueless as far as what people want and how to turn this around. As far as other tech sites, you must have blinders on, every single site I have been to has been overwhelmingly negative regarding the appearance of these phones. I will buy 1, and then hope the Surface phone is high end and get that. I am and have been "all in" but due to the design of these phones, they will lose even more users now. Based off of the overall public reaction to these, they better serious atleast tease the Surface Phone at the announcement to try and keep some excitement. Afraid this is going to be real ugly and then when they don't sell well, they won't understand why.

What's on the inside is great, but the outside really lets me down. Particularly the bottom, such a big bezel and then onscreen keys. I'd rather have a slightly bigger bezel on the bottom with physical keys. Now the phone is unnecessarily high.

Here's why: Lumia phones center the screen based on screen + buttons. For this very reason, I like on-screen buttons, especially if they hide, as it means the screen is centered in landscape.

They are not slim nor sexy neither have metal made. Design is also very very ugly. Design should be like 900,920,830, 1520. They r Real lumias .

I think they look fine - not as special as they probably should after all this anticipation but decent if you've liked Lumia phones so far and certainly not ugly by any means (except for that rather ugly weird silver ring on the 950's camera). Plus, the specs are great. I voted undecided and waiting because I don't think they look great, they're just not very special but they're certainly not bad enough that I wouldn't want to spend the money if I was planning to get them.

I am so excited for these phones, especially the 950XL, I just hope that T-MOBILE will jump on board and other the phone. I'm tired of ATT getting all the big phones...

No one cares about WP, without a real app store the platform is good as dead, and WP had been dead for years. Posted via the Windows Central App for Android

If the phones are ugly and Windows 10 Mobile is ugly (and harder to use, despite copying Android), what exactly does Windows Phone have? Cameras maybe, but I don't see people buying expensive phones for a phone camera instead of a OnePlus Two + real camera.

I'm just waiting for the nearest successor to my Lumia 1020. If Cityman can give me bridges likes to this. it's okay for me.

At first I was definitely getting the cityman, but now I'm holding out for some more surface phone rumors.

Trying to decide if it's smart (prob not) to buy both the 950 & surface phone. Prob a big waste of money and I havent had the most success selling things on ebay

The weak point in the plastic looking front area around the screen otherwise I think the sides and back look "cool", as opposed to "special" (iPhone), or "slick" (Samsung) ------------ though the "official" renders look way better than those horrible leaked pics, if they are like the latter in person, utter fail

They look nothing like a flagship device. It doesn't mean they are ugly, just that they feel cheap

If thickness number includes the camera hump, it's not bad at all IMO.

I actually like the design. I love the Windows Logo instead of having Microsoft written on the back. I will play with them when released to see how they feel in hand. I really appreciate phones I don't need to or want to put a case on. The flagships (iPhone and Galaxy phones) while they look great MUST be put into a case hiding the great looks of the device. What good is looks if you are going to hide them in an otterbox? I would like to see front-facing speakers though. I hate not having that feature which is why I have the HTC One M8 for Windows.

Hardware design: Too bland, too generic and very much uninspired.

Really, this design looks ugly, and moreover looks like Xiaomi and cheap design not Microsoft. I saw one video about 940, that design is awesome and can beat any flagship mobile. I don't think this is the final desing of 940 and 940 XL which is shown here. Excepting 930 like design. And we Nokia/Lumia fans won't accept Microsoft logo, better use only Windows symbol like Apple. If this is the final design of both defintily I'll go for Apple or use my current Lumia 730.

Rubbish. I like better my Icon

I would better be able to say if I knew the price for them.

My Lumia 1520 still rocks a lot of those phones features.... 2 years after it was launched.... How difficult it has been for Microsoft to create real "Flagships"....

Absolutely agree!!! Love my 1520!!!!

I like both phones but also agree that the rounded edges aren't as nice as the squared off look on my 1520. Personally, I'll wait for the Surface model that's being rumored to launch early next year - if they actually do deliver it and it looks like the renders, it could be a game changer for Windows Mobile! :^)

Surface phone renders?.. Where did you see those?.. Link please.. And i strictly doubt that such a render was ever leaked about surface phone..

They're fanmade but indicative on how they SHOULD look imho

I like the (dedicated/maybe programmable?) camera buttons but I "hate" the onscreen back,home,cortana buttons

They're ok. I much prefer the Lumia 830,style design. Easy the best looking phone IMHO. Im not sure how I feel about the plastic body. I was hoping it would be a metal frame style, especially now that everyone seems to be making metal phones.

It'll all come down to how they feel in the hand. I personally think the 930 is the best looking Lumia. I was dexpecting these to be a metal or high end plastic. The 950 XL does look better than the 950 though.

I'd vote for a refreshed 925, in my opinion the best Lumia design to date. Was hoping to pick up the 950XL but may wait to see how the rumored Surface phone turns out.

The design is disappointing to me. Lumia 930 was a better design. And no hardware buttons at the bottom. This sucks. I like the design of Lumia 520. A masterpiece from NOKIA. Lumia 535, 640 and 640 XL have an average look. They dont appeal to the eyes of the customers. But the leaked images of Surface Phones are a killer. It looks stunning and even my Android user friends want one. And also why they are going for a hexa-core processor for Lumia 9xx series. They should make 7xx and 8xx series hexa-core as 5xx and 6xx are quadcore.

I simply told my galaxy-fanboy friends about the POSSIBILITY of a surface phone, and they got excited lol
Microsoft better listen up here....

All things r perfect with CITY & TALK MAN. But a huge factor will be the price !!???? MS still needs to figure out the pricing of mobile devices that makes it position very difficult in market

The design is very bad, very far from my expectations

The renders look worse than the real ones in photos!

I assume Microsoft is going to wait until the surface Phone carries an intel chip. Thus, they need to wait for Boxtron. Will the surface Phone include the new memory technology from Micro/Intel? the Iphone is rouhgly $700. what if these phones come in at $500? MetroPCS sells the 640 for $129 less $80 rebate. The elephant in the room is the absence of Windows 10 phones. Hard to understad the pricing structure until these phones hit the market.

I actually like the design. I love the Windows Logo instead of having Microsoft written on the back. I will play with them when released to see how they feel in hand. I really appreciate phones I don't need to or want to put a case on. The flagships (iPhone and Galaxy phones) while they look great MUST be put into a case hiding the great looks of the device. What good is looks if you are going to hide them in an otterbox?

Hopefully my incounter with these renders will be like the first time I saw the 2015 Ford Mustang in pictures. The front of the car didn't look too great and I didn't really like the car, but when I saw the car a few months later in person, I said; Man, this a sexy looking car, the pictures didn't do it justice. Well...... Hopefully.....

I think the poll results are really interesting so far. Split pretty evenly at 33%.

I agree 640 is popular, but the reason is a mix of design and price point. Now we're talking flagship, far from 640's price point and performance. If we're talking flagship, we're talking expensive looking. Apart from nifty new functionality (Windows Hello is great) the design is far from flagship.

I don't want Lumia mobile with Microsoft logo, need Nokia logo that gives elite design or give only Windows symbol.

Quote: "Cityman (Lumia 950 XL) Matte White or black polycarbonate body" So is the color completely off on my computer or is the phone in that pic clearly cyan? I have but one thing to say: TAKE MY MONEY NOW! Verizon had better offer this or I'm outta there!

Your computer may not be showing all the text I wrote. Because I specifically address that issue ;)

I stand corrected (I blame the parentheses). I must say however that this news sucks. I like the blue

I was wondering if perhaps they are moving the colour options to aftermarket replacement backs? Seeing as how these are reasonably unique in the market for having removable backs on a flagship level device, perhaps they are intending to make more of a 'feature' of that? It would make perfect sense to me if out-of-the-box they only supplied black/white but had a full range of colour/material option accessories available. Removable backs let you do that.

Read the article fully please. Daniel clearly states the cyan won't be a consumer model. Also you can bet your ass off that Verizon won't carry these phones - sorry

What's the point of the big silver ring on the back of the Talkman?

Extra flash from the sun!!!!!

Keep people from stealing said phone. In all seriousness I'll guess it's either for magnetic lenses or the awful decision of an accessory cover for Qi wireless charging.

Nokia/Lumia fans please support to use only Nokia logo or only Windows symbol not Microsoft logo, that looks ugly.

That's what you're worried about?

Want a Nokia logo? Buy a Nokia phone. Problem solved.

Cityman 950XL, Someone finally got the specs right. High memory, MicroSD, Removable Battery, High Screen Resolution, High camera resolutions both front and back. A yellow case option would have been nice but not a killer. However, the timing doesn't seem to be advantageous. It would sell like crazy if the leaks about the Surface Mobile (phone) specs had not appeared at the same time. I believe that many will now wait to see what the Surface mobile is before deciding which to buy. Marketing wise, I think they shot themselves in the foot.

I dont think they intended the leaks about the surface phone to happen. However I bet internal excitement about the surface phone project is why anything got out in the first plan. Have to admit - it's an exciting prospect!
Yes I'm prob gonna stick with my 640xl and wait almost a year for the surface phone. The 640XL is serving me fine.

I agree with you on the specs, but highly doubt the sales will be hampered by the leak of a Surface phone. Aside from the 200 nerds on this site, the real world doesn't know or care about a surface phone. Even when it comes out I wouldn't be surprised if the general public isn't impressed because it is just a small tablet that can make calls. So... I win.

Nokia/Lumia fans please support to use only Nokia logo or only Windows symbol not Microsoft logo, that looks ugly.

I don't like the Snapdragon 810

Why the start logo and logo in back are different? Also wondering are these supposed to be flagship material?

Start logo is windows logo.. Logo on the back is Microsoft Logo.. Got it?

Lumia 930's design is more beautiful

I don't actually mind these! While my favorite design so far is the Nokia Lumia 929 (& 930), I think these have a very Microsoft feel. I do wish two things could be changed: I'm not a personal fan of on-screen buttons, I prefer them on the bottom as part of the bezel. I also wish the blue one was going to be a retail release, because that is a beautiful look on this phone. However, at the same time, the reported stats that these will have are amazing. I think the XL version of this will be the more popular, in my opinion. I will have to wait and see if there is a Surface phone officially coming, and do a comparison before deciding which I will enjoy more.

I want the 940/950, but I like the looks of the XL camera and flash better. I do like the round 940/950 speaker grill more than the oval XL, though. I want to wait to see what the rumored 840/850 looks like, but I don't know if I can.

I would like to take the poll on my 1520, but i am unable to tick a box ...................

Not working with Edge.. Go with some other browsers

Not working with ie on my phone either.....

My << NOKIA >> Lumia 1520 looks better than these two devices. Good luck, Microsoft!

Funny thing about Nokia is they are no longer relevant. I dont think Microsoft needs you best wishes.

Mine looks better than yours.

Nokia/Lumia fans please support to use only Nokia logo or only Windows symbol not Microsoft logo, that looks ugly.

Which is never happening.. Dont waste your time bro

Because the letters that spell "Microsoft" are ugly? "Nokia" shares 2 letters ('i' and 'o') with "Microsoft," so can you tell me which of the letters it is that makes the word "Microsoft" so ugly?

Capitals vs non-caps, font type, half the letters.

Someone like you should not preach such hatred...please reconsider your actions.

So much wait for this? Is an ok phone

I wouldn't buy one, those phone can't compete with the iPhone 6 much less Samsung galaxy edge. They need to do better than this. I'm also a Windows fan using a Lumia 625. My only phone till a good flag ship is out.

And that is a good lumia i liked my 625 upgraded to lumia 1320 coz it had the same design as the 625

Nokia designs are always in top notch.

Basically everything Microsoft has released was Nokia-designed, at least to an extent. That likely includes these devices.

I wish they would use the ceramic buttons they used on the 920. I'm glad they are not doing metal as it does not look good over time. The 920 looks like a champ still. My 1020 is all scratched up on the buttons and camera hump. My 1520 also looks great. I will hold judgement on these untilofficial photos are released

I will take one of them regardless, and then swap it out as soon as that Surface phone appears. Or possibly even the 840/850.

Hate the design looks horrible the round corners just threw off...looks like a normal lumia 640 wow what a disaster

If Cityman is on AT&T, I'm in.

Microsoft Mobile should re-invent designs for Lumias. They are using the same design from 2014 and the fully removable back shell without Metallic Aluminium or even hard polycarbonate Frame is worst. In my views from design perspectives, Lumia 830 was the best Lumia design launched in 2014-15 time frame, only flaws in design were rectangular edgy frame rather than smooth rounded frame like Lumia 925, and the back shell was not unibody like attached to the back part of the phone and the gap between camera module and the back shell was too much. The gaps between glass and front plastic part is clearly noticeable in every Lumia devices launched in 2014/2015, except Lumia 830 and 930 having square aluminium frames, so I am not for this type of design, especially considering the upcoming Lumia 940/XL would be probably only High End Windows 10 Mobiles.

THe 925 was ugly. The 830 would have looked good without the light metal band, but that made it really ugly to me, same for the 930.

Only complaint on leaked specs is 32gb internal memory my Lumia icon has this much space and its not enough. 64 should be the min for flagship phones.

32gb + micro SD. Not sure why you need 64GB, which does nothing but bump the price for everyone. 64GB phones are 'ok' if you do not have micro SD.

even Lumia 920 almost 3 year old phone had 32 gb internal memory.

Large amounts of pictures and music take up a lot of space. The "Music" folder on my PC takes up 48.3 GB, and I was up around 29 GB used on my 920 before I reset it--and that was with curation of music I wanted to carry. 64 GB is definitely more than I'll NEED, but it's the next step up from 32, which is basically the bare-minimum, and that was with the 8-MP images, not the 20-MP ones these devices will spit out.


You must be really tired of all those idiotic comments by armchair CEOs. I am.

the specs and renders don't really answer my question about the phone and whether i'm going to purchase. I'd like to see how continuum works, and I'd like to see how surface pen works with these phones. I am concerned about the placement of the power button on the Cityman. that's just akward.

The typical question is how much ?

How is everyone a connoisseur on phone design? I don't understand how people say one phone (or car or whatever) looks great while another looks ugly when they all look so similar.

I don't like the onscreen buttons,I love the physical buttons of my 920, however I'm going to by one just because I need a new Windows phone flagship device! :D

I REALLY like the look of Talkman(Lumia 950) but the Cityman(XL) doesn't have the same appeal to me. I want the 5.2 inch screen anyway. So thank you Microsoft for making a very attractive phone that has such great specs.

I'm not sure if that last part is sarcasm, but it should be. They're using a near-replacement, inferior SoC in the 950. They didn't even use the high-end Snapdragon, and THAT tested poorly against the Exynos stuff powering the Samsung devices from this year. The hardware in the 950 XL is kind of a bare-minimum "flagship" set of specs, and the 950 is a notch below that.

Can't say this enough--the bottom bezel looks exaggerated in these pictures because of the black bordering of the on-screen buttons.

On one we all agree, these new phones scream Microsoft. Wich is fine, really.. They are not Nokia's devices and our opinion dosen't matter here. Some will hate it, some will love it.. Same with 926, 1520 and recent 640(xl). One thing i would like to have and it's most inportant to me in premium phone is :durability. I do not need some ,,premium" desing and then after one fall or hit i play ,,premium" price. Older Nokia's phones are good in that, just hope this newer one excedes this.

How do these scream "Microsoft?" I believe Dan said a few weeks back that these ARE leftover designs from Nokia, and that an Intel-based phone is probably the first thing that will be fully Microsoft.

Give me a thinner 930 or slightly less pointed edge 925 and I'm good. But honestly, the Surface Phone renders I've seen are really beautiful and if it'll be metal and thin then I'm all in regardless of price.

Design is disappointing, unrefined. Ok for a 200 $ phone. But for a 500 - 600 $ phone the design is below par. A missed opportunity, especially considering this is the year of truth for windows mobile hw and software.

I am a ploycarbonite fan, so for me, that's a good thing. I like the indestructable nature of the material. My 920 has never had a case on it and it looks great. The rounded corner make me thing of a smaller iPhone - not a fan. I am disappointed that there are only black and white. I loved the color choices of past Nokias, but I also understand that they need to get more market share before they can bring us more options. I am happy to see the on-screen buttons as I have had real issues with the capacitive buttons on my 920. I just hope they solve my problem of the phone activating in my pocket. I was also hoping both phones would have the 810 chip. I want the smaller phone but I want the 810 chip, not the 808, although I am not sure how much performance difference it will make. Maybe none. This is the first I've heard of the Surface phone but I can't wait that long. My 920 is just running too slow now. I will be buying one of these, no matter what.

Polycarb is great for drops. Dropped my 920 so many times on everything including the bathroom tile. Sure it got some dents but no breakages!

I think people are disappointed due to extremely high expectations. These are definitely not terrible looking or ugly phones (contrary to many people's rash opinions). When the 640 and 640 XL were released, they were amazing devices in all aspects. The specs were not the best, but for a budget phone no one expected them to be. After seeing these phones that were very sleek and attractive for such a low price point, people probably thought "Wow! If this is what their budget phones look like, the flagships are gonna be the best designed phones ever!" If anyone says the 640 looks cheap, they probably haven't seen or used it in person. It feels and looks great, and while the lack of metal, or even a glass back, may put some people off, polycarbonate is more durable. It is rediculous that phones which are used all day every day need "screen" protectors on the back of their phones. If the phones are made of metal, you need a case on it because it gets scuffed up which defeats the purpose of having a beautiful phone. If the back of this phone were to be heavily damaged (which I imagine would be pretty difficult to do), you could just buy a new back and it will look like new (and you can even change the color). ​It doesn't look like the phone is the most unique phone ever and the design doesn't bend the laws of physics, but it is the most functional design while still being thin and attractive. Once people realize that they had lofty expectations, they will realize that these phones are far from ugly.

My expectations for these things have been low for a LONG time. Microsoft's been a horrendous OEM thus far, and I'd been expecting us to get the bare minimum flagship in the U.S. Instead, we get the mid-range thing, potentially, since rumors have the 950 XL not making it to AT&T. That leaves the only carrier-based option as the 950, which has a mid-range SoC and dumps the stylus support. Its awesome camera and big battery make it just a bit north of a mid-range phone, but its guts are quite disappointing, considering they're the lesser sibling of the 810 that was surpassed by Exynos chips in 2015.

Before we can deduce anything from this poll we should keep in mind that the participants are mostly windows phone fans, I dont thing such cheap design will be enough to convince even a few apple/android guys to shift to windows flagship... That said i seriously hope windows phone succeeds .

I'm missing the "dog ass ugly" option.

Nice design and they look better than the older models and have some key things that make them better than the IPhone

Hardware look and feel: Too bland. Very much uninspired. Forgetful design. TBH.

How can you comment on the feel of something you haven't felt?

It looks too much like the 640xl, im dissapointed by the renders but lets see what happens. Going from my m8 for windows, to anything will seem like a downgrade I assume.

The one I saw a couple of days ago looks like shit

There should be another option in the poll along the lines of: "I don't really care what they look like, just take my money!" It's just time for MS to release these things.

Yeah, bring on the unfinished disaster that is Windows 10 Mobile!!!

I think they look ugly. It's time to move away from bulky phones and huge bezels and the renders aren't showing much in that direction.

Flagship needs the look of the 920, the shooter of the 1020 combined with the low light capabilities of the 920, and the real estate of the 1520. imo
Edit: The 920 squared off corners, small bezel though.

Cost must be low for these if they're using polycarbonate so that means off contract; surface phone will be like $1000 and must be subsidized and prob only carried by AT&T. I have a 925 and can't hold the thing like I want because of the camera hump and I also have the all black version which is boring. Had a white 720 and liked that design more so those in the same crowd as me will like the white talkman and cityman versions...

They look good, but then so does the 640 XL. Which I guess is my problem. Good? Yes. $600 good? (Just guessing.) Man, it better have some neat tricks for that price. I guess that's my problem. There's a lot of other good stuff out there, and mostly it's just getting cheaper and more capable. Continuum sounds really cool, but: Option 1: $700 for an ass-kicking 650XL. Cool, I just got a phone and a computer! Except I better hope where I'm gogin has montor and keyboard, otherwise it's just a phone. Option 2: Good $200 phone (640XL or Moto G, which is waterproof btw) and a Surface 3. Same $700 bucks, but now I have a phone that does 90% of what a 650 XL does, and a decent but slim little computer along the way. Option 3: $200 phone and a $200 Acer Cloudbook. Throw in a portable battery pack for $40 that i would have spent for the all-but-inevitable bluetooth keyboard under Option 1, and which would I rather have? Tough choice.

Depends on computing needs. I don't need a laptop with me, as basically all I do is go from my self-built desktop at home to desktops at work and school. When I'm not in front of those, I only need to do basica things (browsing, reading news, communication), so a phone is all I need. As such, I could get by with just a lower-end phone like a 640 XL, but given how pathetic the WP8 support ended up being, the last thing I want is to be stuck with a phone for 3 years that STARTS as mid-range. If you need the portable computing a lot, then going with a mid-range phone and a portable computer would make more sense. If you type a lot, I'd avoid the Surface 3. I really am not a fan of the laptop experience with those things, they're too flimsy and small.

Again here, I still think this is MS giving space to others OEMs (Like Nexus High Specs) so they can bring Premium devices (Like S6 Edge)

ugly junk. old specs, uninspired design, still no apps. why even buy these?

I could care less about how they look since it's going to get a cover on it as soon as I get it.

They got the specs right but these are quite ugly phones , the silver ring doesn't only make it more pronounced but also cheap . the had a winning formula with the 925, 1520 , even the fat thick 930 look better than this .

Disappointing enough. Microsoft has all the potential to brake through but seems is battling with her own ghosts. I see nothing interesting in these designs taking into consideration other companies products. A total let down for me, a Microsoft enthusiast. In terms of design my next phone will be probably an Acer liquid jade s or ZTE blade 6.

Depending in the price, but looking epic

Disappointed... I still hope that's a fake Posted via the Windows Central App for Android

My opinion: They look good enough but lack of colors is disappointing. I want a yellow one. Removable backs for the win.

It's not even that they look ~bad~. They look like the 640 which I own and love and looks pretty good for a low end device. The problem is that they don't look like high end devices. The best looking Lumia to date is the 830 (and to a slightly lesser extent the 930/Icon). The metal band and polycarbonate back created a design that was not only aesthetically pleasing but unique and made a statement. Now more than ever they need a flapship that doesn't just look good but SCREAMS that it looks good because otherwise no one will give it a second glance compared to an iPhone or GS6. The worst part about the leaks is the rounded corners. The squared corners on previous lumias worked because it felt like it was designed to match the software. I'm sure they had reason for rounding them off but it severely takes away from the signature image. Even without the metal trim, if the corners were more square you'd have larger 928s and those I don't think anyone would have any problem with that.

Round = survives impact. Square = more likely to break. Of course with polycarb they normally just dent even if square.

I agree with your Lumia 830 be best designed but I can't agree with you complaining rounded corners. It's the way to go with 5+ inch display sizes, else it will kill ergonomic aspects of the big phones. My current L1020 is stunning phone but it's not very convenient to HOLD FOR LONG.

Going to have a hard time adjusting from my bright yellow Lumia 1020 to a boring black or white phone.

The White version on the Weibo site doesn't look all that bad, but IMHO that 640-640xl feel they share, doesnt work for a "flagship" device.
I love my 640 and all, but its an very affordable phone and it's design suits it well.
But having been waiting, win10 mobile still a work in progress and no real great news on the mobile site of things (for windows) its whats killing this leaks and shattered many of the general expectations, as you put it well in the article, its all about it expectations and personal taste. I agree they don't look terrible but very anti climatic indeed.

I like them both I hope T-Mobile gets the XL. I want the huge battery.

I totally agree with those who are saying that theses phones are ugly. Honestly, I don't know what Microsoft was thinking. Is this really what they want their flagship phones to look like? They look no different than the budget phones. This is a deal-breaker for me.

I am really really looking forward to a windows phone with white front panel.. To me it looks more rich. That is one of the reason people buy iphones wth white fromt.. Hope MS realizes it and release.

Too plasticky should have had a aluminium edges

Microsoft should put word "Windows" with the logo.

I disagree, the logo is enough. I'd just rather it be a front view for it, not the side view logo that looks strange. I prefer symmetry.

The poll says it all...they should try again and a little harder this time. I expect some goodness from MS this time around. They need to take a samsung mentality and throw everything but the kitchen sink into these flagships.

Lolol polycarbonate rocks

And bounces off them with little damage.

I like the blue one(I think that's cityman) ..... The other one looks cheap....

I have been dissapointed by all the bitching the most. I think the phones look great. I am just happy to have gotten a chance to peak at these puppies in advance.

The 950 looks OK, but the 950 XL is really ugly. There also needs to be much more than just black, white, and maybe a disappointing blue (the WC renders made it seem darker). Sadly, the 950 is just a disappointment on the hardware side of things, so I can't get too psyched for either device.

I think they're actually trying to kill WP at this point, by releaseing such uninspired designs. Then phase 2, introduce a WP-skinned Android phone. I've been using Android with Cortana beta and WP Launcher, and it makes me wonder why MS doesn't just go balls out for Android.

What is WP Launcher, what does it do?

I voted the "Wait and See" on the poll, but from the Renders I'm not impressed. I have an unlocked 930 on AT&T, and don't see a reason to upgrade. Continuum, isn't enough for me to upgrade and looks like that is all I will be missing out from (functionality wise). I must admit, AT&T sucks on non-LTE Devices, but it is usable. I'm hoping for a Surface Phone... but it is only hope for now.

I'm keeping my lovely orange 930 (and adding W10 through the Insider app on RTM release) until MS comes to it's senses on design!

The only thing that's really really bothering me is the speaker placement. Why oh why does everyone still do back facing.

Look at all that screen! I'll take one. Just hope they're available this year in the USA.

interesting - the white device render above is different :) @evleaks renders show a black device... EDIT : :) Never mind :0 I didnt read the section in the middle and saw it right now... was skimming past to see the poll :) i do like the white more than black... but i feel i want to know why the different camera housing between the two?

Hope they don't f*** up 7xx series like this...!!

No capacitive touch buttons... Hmm wonder if it will work with gloves. Does it have glance mode? And what happened to stylus support? Just don't see these being a 1520 replacement, more like a 930... Not a 1020 replacement either. Common Microsoft, kick ass already.

I will reserve my comment at the moment until I see it in person because last time I called my Lumia 925 ugly by picture. Yes, I'm going to get one of this baby.

I won't to wait to see the new product not renders before I judge

As per usual the the ones crying are the minority. As for me, the 950XL will be mine day one.

its a publicity stunt by MSFT rather than a leak why so many leaks happens only with msft products cheap strategy

Maybe coz u r on WCentral..!!

Renders and leaks look like the 640. If I'm going to buy an $800 phone it needs to have a high quality look. This phone looks cheap. If I wanted a cheap looking phone I would buy the 640. Also aside from the iris scanner and continuum the 950/950 xl aren't really an upgrade from the 930/icon which I have now. There is no point in me upgrading to a more expensive version of my current phone.

Not that impressed, but I have hope the actual thing may look better. Because that was my impression of the 930 as well - wasn't impressed with the renders/photos, but did a 180 when I saw the real thing.

I don't know if it's just my 1020 but internet explorer won't let me select and option and vote. Mobile windows central has always been a problem for me when using my mobile browser

Did not work edge mobile too

I want the Cityman with its Pen,can hardly wait.

I will pick one up as soon as they're available. Looking forward to them coming out!

They sent sell it cheaper n not flagship rates. Or else no competition to existing flagships.

"Microsoft is borrowing a lot from the current Lumia 640 and 640 XL aesthetics." Yes they are viewed very highly and selling well mainly due to the value for price and I doubt it for the looks. If the Cityman and Talkman look less desirable than say the Lumia 930 and 1520 what the heck were they doing in the first place? They have had ample and I mean ample time to create something as beautiful as the 925 and they give us this?(assuming they really will resemble the 640/640XL) We cannot continue to make every excuse for disappointments from Microsoft just because it is our favorite OS. I'll hold my final opinion until the real thing is released but if this is the best Microsoft has to offer us after a year and a half layoff then I'll gladly purchase a Lumia 1520/930 or simply switch to the iPhone 6S.

They look beautiful. The only downside is the on screen buttons. Other than that, they rock and especially the Cityman. Coming from iPhones,I have a 830 and I'll take polycarbonate over metal anytime.

But even the 830 looks really nice and nicer than the 640/640 XL. Not too much tool get excited for if the real deal looks like the latest leaks.

"Samsung, HTC, and Apple have all gone towards metal. Microsoft (carrying over from Nokia) is going all polycarbonate."

C'mon now, let's not forget two of Nokia's final Lumia designs (Lumia 930 and 830) included metal frames. So no, Microsoft is not carrying that over from Nokia. We all WISH they were carrying that over from Nokia. Regardless, it's not even about polycarbonate vs metal. It boils down to design. The Nokia Lumia 800, 900, 920, and 1520 were all beautiful with well-received aesthetics and they were all-polycarbonate. While metal would have helped the drab designs of the 950 and 950 XL, if Microsoft was really carrying over Nokia's design language they could have stayed polycarbonate and still did a much better job with the design.

This must be a joke. What is MS thinking?

My realy worry is that these phones won't sell well at all. Clearly, they will not be beating iPhones or Galaxy numbers. However, I am talking original surface write down bad, because I think these phones are headed there.

Looks great. Flagship=expensive though

In the renders is it me, or are the volume buttons not separated like they are in the bottom leaked photo?

I will get either, just hope the price is cool

Crappy oled (like amoled wasn't shit enough) + lack of wireless charge (for talkman) are giving me a hard time deciding if it really is a high end phone and worth the money. Oh I forgot about the cheap lagdroid style on-screen buttons

I don't get the OLED either. The 640/640xl even use IPS.

Since when is windows central just ripping off 2 day old wmpoweruser posts???

Hold on a minute... They will only come in black and white?!
One of the things I love about Lumias is the variety of color. A Lumia without color is like a pizza without cheese...

Meh... Not too impressive and nor is Windows 10 Mobile (yet). Gonna hold out for a future flagship & a matured Windows 10 Mobile. For the foreseeable future, my 1020 & WP8.1 will satisfy. Pity, because I *am* a gadget guy, but these offerings just don't dazzle...

P.S., so far pretty disappointed with Windows 10 on my Surface Pro 3... Great "desktop" experience, but IMO a downgraded "tablet" experience...

These can't be designed by Nokia..It screams Microsoft...

reality it will be ugliest device of 2016 we are not in 2012.......only saving grace will be pricing.

Looks like I am going to stick to my Lumia 920 one more year awating Surface Phone from Microsoft...

I like the Cityman specs. I think someone has finally got it right. High memory, MicroSD, Removable Battery, High screen resolution, High camera resolutions front and back, Iris scanner.....etc. Hoping that GSM and CDMA both exist so that the phone can moved between all 4 Carriers. More case color options would have been nice. Your display of the anticipated phone is very good. Lumia has never been into the esthetics of stylish cases like some other manufacturers, which I am sure affects some sales. Surface Mobil specification leaks at the same time will kill a lot of sales for the Cityman. I guess Microsoft will eventually win either way but the initial sales figures will be affected. If Surface Mobil scrimps on any of the Cityman's specs then the metal case may not matter. Yeah the processor chips may perform better but humans are not fast enough to notice the difference with the current processors unless more split screen multi-tasking comes more to the front. My only hope is that carriers learn to stand on their own improved offerings and not lean on phone manufacturers to gain sales. I am hoping that era is now passing.

Wow...didn't know Daniel can be objective lol. Anyway, a very honest article. Thank you.

Daniel, what is the probability of a Surface phone? I really love the idea of that, but I also love the idea of the Cityman. And if the Surface phone is a good probability, what do you think some major differences would be? Thanks for your time!

Daniel, even on Gizmodo people say they don't look bad just not premium. Price will be a huge factor.

"Relatively thin: 9mm for Talkman; 8.6mm" This is how thick smartphones were 2-3 years ago (including some Lumia!). How can a smartphone going into 2016 present those dimensions? Have MS/Nokia made NO advancements in design in 2+ years?

My guess is that whoever designed this phone is probably the same person ( or team perhaps ) that designed the 930. It was also a relatively thick phone for no apparent reason . It seems that the design team Microsoft inherited from Nokia hasn't had a grip over the whole "miniaturization thing "

And why is it so important that a phone is thinner than 9 mm? Because Apple makes them thinner? I prefer battery.

Ive seen detailed interviews before, of something along the lines of being a concious deisgn choice; once you get too thin you lose some ergonomics etc. Plus, it's alway tricky to remain thin when you maintain mSD, removable battery, multiple charging formats, 20MP+ cam. module (should be a beast) etc.

Wow...there is it...!! They purposefully made camera looks like Cortana!!!! ;)

I know they have all features and then some when consumers are asked. But we do now move towards slimmer metallic sexy design. If I see a surface phone I am sure my jaw will drop. But for now the phones follow the same design language which is durable and practical but no really the thing anymore. Was recently looking at oppo r5s but I remembered how much I hate android because of the lag and other problems. Windows phone has everything but is not sexy. Sex sells people!

I loved the very first renders you guys had made! These new ones are crap compared to those in my opinion

Need phones with Lumia 925 design but with firm unibody type removable back shells.

Looks a bit 640 like. Which isn't so bad. It's a comfortable design to handle. For some reason I hate the edge designs. I don't like the way they feel or look.

If the prices r around 400 USD. they wl have good sales. More then that NO. I m sure they wl not have good build quality, camera. Othr drawback windows 10 has got nothing to attract user.

This why T-Mobile's Jump On Demand plan is perfectly suited for my dilemma of which phone to get next. Knowing I can upgrade anytime, three times a year without having to pay off half the device means I'll get to play with the iPhone 6S until the Lumia 940/940XL launch. If I don't like them I'll just continue using the 6S until the "Surface phone" or Lumia 1030(here's hoping) comes out.

The renders just look OK to me. The biggest issue I have is the bezel which appears very large on the top and bottom given the software buttons. The last picture, however, looks like it has a much smaller bottom bezel than the renders. I'm taking a wait-and-see approach. I really want a Cityman in black, but I may also wait until more information about the rumored Surface phone comes to light. Panos Panay could really knock it out of the park with a VaporMG enclosure, a design that is more like the Surface tablets, and a 3:2 screen aspect ratio.

I agree with the issue with the bezel. The top bezel of my Lumia icon is much smaller than the renders show. This phone is supposed to be an upgrade and be better.

For me it is a wait and see. See better pics or real life versions will help me make my decision. But, honestly yes, the leaked pics/renders are a bit disappointing. But, again wait and see.

Why the thick, ugly ring around the camera of Lumia 940, why not make it thin just like that of Lumia 940 XL?

Design is meh ..looks cheap ...let them makes something like 930 only thinner...thats all I need a thinner 930

International version of these has dual sim? The last photo shows dual sim on that phone.

I am completely fine with the design... But I just don't like the prominent camera bump. If they would have done it like 925 - small bump and if you added the wireless charger plat completely hidden - that was my expectation. I mean camera bump on a 1020 is fine - that was the main purpose. But on a "mainstream" flagship... No thank you. Hopefully Daniel is right about the devices in real live. I will see.

Moved to note 5 Posted via the Windows Central App for Android

Ugh....exercising my insurance option on my launch L920 to get a L830 for $62. #WaitingForSurfacePhone

7-8 mm is thin, but more than 8 mm is just thick particularly with such large bezels.

I don't look for bling. I am most interested in quality of build and solid looks. Both of thes qualify and i'll get the XL assuming one is available for Verizon bands. Here's hopeing.

But this leaked pic of 950 doesn't have rounded corners but the new one does. which is true? square corners look cheep on WP IMO. I don't know why but non of MS lumia had sharp corners unlike most nokia lumias. why is it so? any pattern issue?

Look closely and you will see that phone is in a case. The case has square corners but the phone itself is rounded.

People please vote with your wallets.... MS is not serious in the phone business. If they continue to release average hardware packaged in ugly plastic, just dont buy them. Look at the string of shit they released. Ask them how the low end business has grown? Ask Apple what happened to the 5C(heap). I am waiting for Apple to release their new premium phone Sept. 9th and guess what(the new Samdung Edge is also being considered)? Those are what you call premium handsets. I am leaving this platform till MS gets their shit in order. There is nothing in these two new phones that will make me want to get them. HTC 8X, Lumia 1025, 925, now 830 have all treated me well but now its time. I cannot continue to be in the, "well... its good enough." If MS's phone business survives for another year or so when its time for me to refresh, I will reconsider. Right now, I have made my mind. Sept 9th announcement of the new phone from Apple will be it. Marketing spin for MS will be, people love the phone but once leaded info on the next phone came out people decided to wait when it should be, with an ugly design that is two years late, failed Snap Dragon chip that is known to overheat and is throttled back, pricing it as a premium phone, who the hell do we think we are fooling?

Please don't waste your time in commenting what you are going to do read the article its about Vote!

You are right, if they release these design phones even for flagships how do Microsoft wanna stratch their heads why the sale of Lumias is poor?

The wife and I really want the blue cases and looking forward to these or similar offerings.

They have mentioned that only black and white will be released. But, the back covers may be replaceable for other colours?

@daniel The baidu picture just above the poll shows 2 SIMs. Do you know why is that?

Wish it had L730 looks.
Round corners doesn't make me feel happy!

I love everything about the specifications of both the devices but personally I prefer the bigger 950 XL Cityman because of the large screen. What I especially like is that the display is made with OLED technology rather than IPS LCD. However, I'm pretty skeptical about the design of both smartphones. Not because of materials they're made of (the addition of the metal frame would be nice though) but because I'd like to see bigger screen-to-body ratio in flagship devices of the Microsoft company. And overall, the designs of the front panels don't appeal to me, the backs look more interesting.

You actually want OLED? That's budget tech.

Fixing my 1520 and holding off to 2016 for the mythical "surface phone".

The microsoft branding on the front looks UGLY

My two pennies worth.... These phones are awesome spec wise... I'm not super excited about the esthetics of the two designs,but also not completely put off by them either. I think the corners are throwing me off, like a lot of others. The bezel could be smaller as well. I wish they would have borrowed more from the 925 and 830 which I believe are the two best looking Windows phones out there. With all this said, I'm still curious about the color availability and how that will change the"pop" factor for these two devices. That all being said, I'm sure I will end up purchasing one like alot of others who are less than happy with the design. At the end of the day it's about function and durability

Since when 9mm is thin? The lumia 920 thickness is 10.7mm and that's way too thick.

Oh it is sad to know these are the retail looks. But I think we fans are to blame we asked for a powerful device and forgot asking for a powerful and beautiful device. To me these two look like an Alcatel idol or any Huawei phone. I ditched my iphone 6 for a Really Bright and Green Lumia 435 so i started to make a transition and to make the wait for flagships bearable, now i do not know what to do.

Man, most of you people would bitch if you got hung with a new rope

I'm irritated that Qi is still in a shell in the 950. This is the flagship. It should be integrated! And the funny button configuration on the 950xl feels like a disaster to me. I loved that all the lumias had the same configuration. Makes zero sense at this point to change. And if the lock is between the volume up/down, I wont touch that thing. Also not happy that there is no Lumia 1020 replacement. Would have liked to see these have higher MP rear shooters to allow for more lossless zoom than a 20 mp shooter gives. And the retina scanning login is unbelievable to me. I hope it works. Otherwise, I want NFC and BT enabled windows Hello.

Can we just get a Lumia925 with more or expandable memory please. My Lumia930 sucks and the future doesnt look so pretty either.... Microsoft -why u screw up so bad !

could MS possibly change the desing at this point if it gets too much of -ve feedbacks about it?

I'm a WP fan but have to say the renders look underwheming to me as flagships. They look more like mid range devices to me, although the specs are good. I'll certainly get one

Dose anyone think that there will be a successor for the Lumia 1020 down the road anytime soon? Mine still runs well and is still in great condition but it's starting to get old but I can't say bye to the 41 MP lol... Would one of these be ok?

While there not mind blowing I don't think they're ugly, with the exception of the hideous chrome around the camera on the talkman. What is annoying about these phones is the on screen buttons, the lack of colour and the matt look. Why on earth did Microsoft decide to release these in only black and white? The bold colour is something I love about the Lumia line. I like that my glossy red 920 stands out. Not only that it's also strong as hell. It's never been in a case and has survived several drops on the pavement with only a tiny dent on one of the corners.

Design combo of Lumia 925 frames with unibody type removable colourful back shells and 830 camera module but with no gaps between camera and backshell corners.

Looking forward to them. My Icon needs replacing.

The designs for the Lumia 920, 1020, and 1520 were great. Nokai and Microsoft came out with a phone that has the look and functionality in a polycarbonate body. Then the 925, 930, Icon came out with a metallic sides and polycarbonate back, and I think that was one of the best phone designs. However, Right now, I am leaning more towards to the side of bad design because when you talk about "flagship", you would think that the product will also look stunning. At the moment, these renders doesn't even have that "wow" factor. ...maybe it will grown on me.

I plan to get one on day 1. -The talkman for me.

So what if apple and Samsung are metal or glass, no one can tell behind the cases they are always in. I haven't had to put my 920 or 1020 in a case.

Ugly design for an flagship phone.... Disappointed..... Wish this came out to be a rumor only ...

Lumia 925 design with removable back cover and Lumia 830 type camera module but no gaps between back shell and camera woulf be awesome.

Specs not aesthetics make a flagship phone. Anyone trying to say that they don't look 'flagship' needs to pull their head out of the ass.

Guess the sales of these will decide if you know what you are talking about or not.

Comparing to android phones and software...microsoft is way behind...

I like the cityman but not the talkman because of the bump with the camera on the back