Need to post to Instagram from your Windows Phone? Here are two methods that do work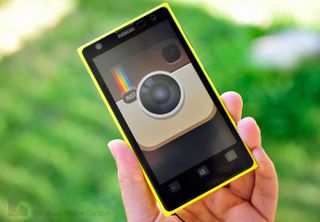 With the recent "security changes" from Instagram, causing all third party apps from being blocked from posting, we figured we'd recap at least two ways that we know of that still work. Think of these as your permanent fail-safes in case this is a prolonged outage or as a temporary solution until Daniel Gary (Instance) and others figure out a way around the problem.
To recap, using apps like Instance allows users to post to their Instagram account, but after about fifteen seconds, the image is deleted. That means somehow Instagram has flagged images uploaded by unauthorized apps in a clever way that has befuddled developers so far. But you can still post via other apps—one official, the other a hack.
Hipstamatic Oggl and Oggl Pro
Released this past Friday, and probably the catalyst for this change in policy, Hipstamatic Oggl is a free, 100% guaranteed working method for posting to Instagram. In a sanctioned deal between the two companies, users can cross-post to their Instagram account and get some snazzy filters to boot. The good thing here is this method should work for the conceivable future as it is authorized.
The downside is that Oggl is a bit clunky to use, causing some consternation amongst users. In addition, only those with a Windows Phone 8 device and 1 GB of RAM can use it.
Note: if you get an upload/share error, try logging out from the app (Settings > Sign out from Oggl) and then re-sign in again. This should resolve any "token" errors.
Pros: Free, guaranteed to work, great filters, fast and direct posting
Cons: Windows Phone 8 only, Oggl is still a bit sluggish to use, cross-posting to Twitter omits written text, only provides Oggl link not to Instagram, cannot view Instagram followers/following—only for posting, doesn't work on 512 MB devices
Pick up Oggl (all Windows Phone 8 devices) here and Oggl Pro (Nokia Lumia 1020) here from the Store to get started.
Oggl
Oggl Pro
Instagraph
Instagraph was the very first method by which Windows Phone users could post to Instagram. We covered this app extensively in the past as it uses a clever work around: it relays the image via pseudo Android/iPhone devices to Instagram. Translation: proxy servers. As a result, it looks like it came from an official iPhone or Android app, keeping those over-zealous Instagram developers in the dark.
As of today, this method is still working, which gives users a viable alternative. Instagraph has not had any legal challenges and it has been quite reliable, but still, there are tradeoffs.
For one, you are posting through another server, which can cause complications or delays. On average, it takes about two minutes from when you submit the image to their relay service until it gets posted to your account. That's opposed to the instant posting from Instance or Oggl. Likewise, the service is only as good as those servers, meaning if they ever go down, so does your ability to use the app.
Still, other benefits include the ability to use original Instagram filters (no preview though), account creation, management of your profile, ability to save the original image to your device and more.
Users of Pictures Lab or Fhotoroom, two popular image editing apps on Windows Phone, and Tagsdagram for tag management, also have direct sharing abilities with Instagraph for a more integrated experience.
Pros: All Windows Phones (7.x and 8), Tried and tested workaround for Instgram posting, original Instagram filters
Cons: Works via proxy servers, not free, not the prettiest app, delay in posting, no cross-posting to Twitter, no Live Tile
You can grab Instagraph for all Windows Phone devices here in the Store. It goes for $1.49 though you have a free trial (one upload per day, max 30 days) to give the service a spin.
Wrapping it up
While Windows Phone is still struggling in the Instagram world, users at least have two viable options for continuing to participate in the hipster photo sharing service. Neither are complete solutions, as they only allow you to post to your account and are not "all in one clients", like Instance.
Still, if you want to give the finger to the man, you can use Instagraph for posting right now or Oggl if you want to be legit (and have Windows Phone 8 device with 1 GB of RAM). They may not be perfect, but they do work.
Did we miss a solution to the Instagram problem? Let us know in comments and we'll update accordingly.
Daniel Rubino is the Executive Editor of Windows Central, head reviewer, podcast co-host, and analyst. He has been covering Microsoft here since 2007, back when this site was called WMExperts (and later Windows Phone Central). His interests include Windows, Microsoft Surface, laptops, next-gen computing, and arguing with people on the internet.
I think it's rather unfortunate that Instagram is blocking Instance. It's the prettiest app I've seen for Instagram on the Windows Phone store. I wish they would get greed out of their way and let us post from whatever app we want.

Maybe if Instance pays the same amount the other company did, I'm sure they would be welcomed with open arms.

Has Daniel every asked Instagram if he could use the API that Oggl are using? Is it just a matter of money that stops them from saying yes or something else?

And are there third party clients for Android? Just wondering if this is a WP only issue.

2instawithmassivelove still works....its ugly though -_-

I disagree. I tried the app last month and I have to say the filters are ugly. Even the name doesn't sound nice either.

Why use service from such a rude company that disrespects and segregate their users like that? They seriously think WP Users are all effin stupid.
try Photoplay.

Look at the reviews posted on the Instagram clone apps in the Store. Yes, there are a ton of WP users that do not follow sites like this. They don't know that Instagram is the cause of this. They don't even know that the Instagram clones are not official apps. Instance hid their entry in the Store. I'm sure they were getting destroyed in their reviews. People like us that follow these news sites are a minority. All they know is "Instagram is broke now. It SUX! 1 stars!!!11!!!1"

Wow... didn´t know about Photoplay. Tried it and seems even better than Instagram... and it supports IOS and Android also so the top three ecosystems are covered it seems!
http://www.windowsphone.com/en-us/store/app/photoplay/98c93734-5464-47c0-af97-27b3da3ebd70

If it took hold it'd be nice. Just enough people don't use it. Really clean app though.


Well, tell your friends to join. I´m launching my own campaing. :)
http://photoplay.net/

My thoughts exactly.. We should definitely post reviews when you see this and make the regular user aware.. But I'm not sure what kind of campaign needs to happen, but I'm thinking some kind of grass roots thing needs to happen

At this point I couldn't care less about Instagram.

Agreed. I bought Instance (Itsdagram) and created an account just to show an android-carrying coworker that it works. I haven't used it since.

+1. + I have no friends :(

I agree! Screw Facebook, Instagram, Kiloo and anyone else that wants to shut out a market segment like Windws Phone.

Thanks Daniel ! Thankyou so much ! I was getting so angry becouse i wasn't able to upload anymore to Instagram :(

Best regards!

1GB RAM for an application? wut? .. My Xperia Arc can run even more heavy applications and they just restrict this sh*t to 1GB devices.

I'm not saying anything about WP vs Android, I just bought my lumia and is the reason I'm blaming Oggl

It will be brought down to 512. These apps just need to be optimized.

Sounded like you were. A lot of developers quickly put together apps before optimising them and force a 1GB limit which they usually are able to lift after some updates shortly after. Pretty sure that will be the case here shortly, nothing about Oggl should require more than 512mb of RAM, on the whole WP is way more efficient than Android.

No just sound like you are a Windows Phone fan and nobody can't say anything negative about the SO 'cause you will jump to defend it.
And no Isn't "that" efficient, at least I can kill process or delete cache from apps. on WP I have 4GB from 8GB on a ghost folder .
BTW I like WP8 and my lumia but I'm not a fan so I can give a neutral judgment

I can be a fan and neutral. On the whole I like WP and support it, but I do see it's flaws as well. I used to be an Android fan until I realised there were just too many flaws. Plenty of apps I used to run when I had Android that weren't restricted, but ran so badly they should have. MS have gone the other way, perhaps overboard sometimes to ensure that you get a better and more consistent experience. If it runs, it runs well - sometimes you'd rather have it run slow than not at all.
I mean "efficient" as in it doesn't need that much RAM to run properly. If you want to kill a process just spam the back button. But really WP manages memory well so unlike Android there's less reason to need to kill process - although I admit it'd be a nice feature to have.
Not sure what you mean about a ghost folder, like the "other storage" bug? Well hopefully that'll be fixed with GDR2 and there's apps to clear the cache, temp files out there.
Hopefully after you use it a bit more you'll become a fan :-)

I dropped all the options for Instance because it also posts to Facebook at the same time. Does Oggl? I rarely post but I'd like an option for when I do.

When you run Oggl you can choose which accounts to link to and thus what networks to post to. So if you want Instagram only that's fine.

Oggl lets you post to their own service, instagram, facebook and twitter. You just choose the service or services you want when you're uploading.

why would people love the one who kicks them?

Love? No. Need? Yes. Because he controls the door to all their frinds.

It's an app, not a person.

So who wants to put pictures on instagram any way. I want to keep the ownership of my own images not freely give them away for someone else to make money. Maybe people don't understand their policies. I highly recommend you read it. The reason they can go in and delete your pictures is because they own them once uploaded to their site. I personally don't need a business or site like this.

You are incorrect. Go read the TOS. They address this issue and state in the TOS that we are still the owners of our images and they are not used for money or sold. They can not use your photo for profit without your permission. Sorry, get your facts straight.

Ok so they updated them since the last scuttle. I don't make it a point to keep reading policies for places not needed anymore. It's good they did that but still a useless site. And before you want to argue about it this is just my opinion. You seem to be a lover of the site and that's your choice.

You make it sound like its a big deal. I don't use the service but even if I did I wouldn't care.

I've never quite got what the appeal of Instagram is, and with these policy changes, I very much doubt that I'll be finding myself within the vicinity of that clue any time soon.

Just because you don't get the appeal of the site, its obvious that other people do. I could never understand why some people think because they don't use an app that other people don't have a clue. Please don't think for me thanks.

But with oogl you can't upload existing pics from your library to instagram can you?

No, I couldn't find that option

No ... I want my money back!
I bought Instagraph and you can post with that. I've only done it because I can.

Daniel,
I think it's worth mentioning that Instagram was not targeting 3rd party apps intentionally, they made security changes that affected 3rd party apps. I've just learned that from posts by Rudy Huyn, Daniel Gary, Tom Warren

Given the results, that excuse doesn't make sense.
It would if the change prevented 3rd party apps from uploading. But they do upload, and then the instagram Gestapo retroactively remove the upload at a later time.

I think neither one of us is an expert to say whether that makes sense or not, i'm going by what two guys that actually designed the 3rd party apps said. If they think they weren't being specifically targeted but the issue was rather a result of security changes, I'd take their word.


That's the usual BS companies state. Kinda strange that they make changes right when Oggl is released.

yes companies.... this was a comment made by both Rudy Huyn and Daniel Gary

Ppl is supposed to enjoy their phones no suffer with them , apps apps apps apps apps fucking apps is what we need I'm tired of this drama .

Instagraph is one hell of an ugly app, look at the fonts.

It works perfectly for upload and doesn't look that bad...surely you look worse XD (joking)

I like the look of Metrogram the most. Too bad it doesn't upload

Download both and pin metrogram to your start screen. Then open metrogram, tap on the 3 dots and there's a post option. It redirects you to instagraph.

Now that is a neat trick. Thanks for the tip

You forgot to mention #2instawithmassivelove daniel, It still works and it is free for both windows phone 7 and 8.

Will update in a few, thanks. Actually, when I try it, I get a lot of login errors...not sure it's ideal for people. Can't post, at least on my end.

I have no windows phone 8 device yet, but to all wp7 i've installed it only gave me a login error when uploading once, I just reinstalled the app and it worked again.

Many complain about it, apparently it fixes itself after trying a bunch of times. Annoying as it may be for some, it can be solvable. Keep trying.

It's buggy as hell ..... Keeps closing the app .. :(

Best regards!

It's kinda weird that Microsoft invested financially in Facebook and they partner with Facebook and a number of ventures. Facebook owns instagram,yet they aren't willing to work with Microsoft. Screw instagram, most of these social craps have a short life span anyways. Instagram today, something bigger tomorrow

Instagram: Y U No make APP for Windows Phone?????????? :O :/

Instagraph tales a lot less than 2 min for posting a picture, and has been working without problems since they fixed the original few problems

mine is actually exceeding 10 minutes when it says 2 minutes and wont let me abort since it says its close to publishing.

The verge says
An Instagram spokesperson has confirmed that the company has implemented a recent change to its API. "We recently made an update to the systems that we use to fight spam to help prevent future attacks and increase security," says a spokesperson. The change will affect any apps accessing Instagram outside of the official API, and it appears to be a broad change that doesn't target any particular application. 6tagram, another third-party Windows Phone Instagram client currently in beta, is also experiencing issues.

Rudy just twitted that he already figured out a fix that works through his browser, now just need to implement in the app

True, but he also says it won't be easy as it uses some things not found on Windows Phone.

Can you pick photos from your camera roll in oggl pro? I can find the option. I don't like having to take the pic and share on the spot.

Let me preface by saying that I don't use Instagram and have no plans to start, so take my comments with that in mind. That said, this is a very helpful article, given Instagram's desire to pork anyone not using an officially released application.
As to the underlying problem, why Instagram wants to do that is beyond me. Well, maybe it isn't beyond me; there must be some monetization plan in the works and all third party approaches need to be stamped out to squeeze every dollar out of it.
In any event, if you must use Instagram because its, like, so totally cool to ruin your Lumia's awesome pictures with some junk filters, now you can. I would suggest, however, that people let Facebook and Instagram both have it. As the Windows Phone user base slowly grows and gains share, it will also gain clout. Start making noise. The worst that can happen is nothing. But don't swear when you write Facebook and Instagram. They will just tune that out.
Finally, let me just say that Facebook is a steaming pile, and anything it touches is absorbed into the steaming pile collective.

Assuming that the security change explanation is true, I will withhold judgment until I learn more. Though I find it odd that Instagram can make a security change in its API that manages to prevent spam but just so happens to break all third-party apps. Seems like you might have to go out of your way to make that happen, but I'm no coder and this is just an innocent side effect.

I always supported Instagraph, because my phone is 7.8 still, but by some odd reason only the last picture is showing on my profile (instagram/marcusasdrubal) , and I can't understand why. When I log into my profile I see all my pictures, but others users not. And to say so, I am using only Instagraph. I reported instagram (strange that the report works in FB, although Instagram works independently from zuckhenberg's company even after the acquision). Sad to see such stupid policy, along them. All my pictures is blocked, more than 500 hundred since my android, ios and now WP times.

I like this app too, best choice for wp7.8 users.

Marcus, have you used your account with other apps too... ?
That could be the reason, I have no support ticket about this issue, at all. Anyway write to me, this could cause false alarming.That s enough for today :D

WP users, we can still post thru Instagraph to Instagram, though what you would miss is the instant upload to Facebook. Even if you try doing that w/in Instance using share, it does it by sharing it as a link but not directly upload to "Instagram Uploads" album.
Using Oggl has problems too, because you cannot upload images and photos from your Picture Hub that was not shot using the Hipstamatic app itself.

fb and tw sharing are coming shortly :)

Thanks.! I hope it could post to Fb ala via Instagram and upload the Instagram photo/image directly to Instagram facebook album.

This is why I carry an android and windows phone on me at all times XD I know the short comings In apps and have my android just in case. I just downloaded instance for my 8x not to long ago and I'm glad now that I didn't pay for it. I don't know why Microsoft can't reign in Instagram but they really need to make something happen since this is obviously not a viable solution.

Good, so your prepared for emergencies like this. *rollseyes*
Microsoft can't "reign in" Instagram any more they could stop you from carrying an Android.

Microsoft is very chummy with facebook who owns instagram...so that connection is a lot stronger then me, Microsoft, and my android phone. Besides you roll your eyes yet I don't need to worry about uploading to instagram ;)

You are not doing anything special, people with even 7.8 phones are uploading to instagram using the app: instagraph :)

Well, I'm not a 12 year old girl... so I don't need to upload to instagram.
Microsoft is so "chummy" with Facebook that they can't even make the Facebook app reliable.

I like the new facebook app personally..they actually show the most recent posts unlike android.

Do you get notifications regularly on your tile/lock screen/toasts? How about Facebook messages, do they work consistently?
Mine don't.

Sounds like using services like Instagraph only exacerbates the problem. Inflating iPhone and Android usage numbers instead of representing WP users.
Then again oggl may be behind all of this.

Both are not good for Nokia Lumia 520 user means poor users

Make #BoycottInstagram hashtag hot on twitter. this is the best solution to send your message to instagram

Oggl consistently crashing on my HTC 8X. Actually reboots the device each time. Will try instagraph instead.

Couldn't have put it in a better way

Oggl is terrible. Add to that the fact that you can't use photos taken from your Hub nor use external editors, and you have a trully awful and trully hipster app (doing justice to the name). Not to mention that you have to keep downloading the damn lenses and filters 'cause it keeps erasing them

Give em time, they are working on bug fixes, optimisation and features.

This was announced so long ago that the fact they released such a buggy app doesn't leave a good impression. They may make it better in the future...I just don't have high hopes based on the current product and their history.

Well we don't really know the history or how long they've been working on it. They may have started work the week of the announcement and have rushed it to have it ready for the release of the 1020 most likely. I liked their recent update and how they worded it to say they are workign on it and give em time, so I'll give them the benefit of the doubt. I reckon as the only official way to get Instagram working on WP they are highly incentavised to fix things and provide a good app. If they can sort out their issues soon they should get a lot of users - esp right now with other clients unable to post to Instagram.

Yea #2instawithmassivelove still works

Leave Instagram and start using SOCL.

To tell the truth even in my Iphone 4s, oggl review on iOS right now is one of the worst apps on app store. Its sluggish, bad dev and etc. They don't have excuse to say that is first app on WP. The truth is only one, their team did a poor job even in iOS. Hipstmatic (the old one ) was nice, but Now, oggl is a sad and poor app.

Screw instagram, deleted my account this morning.

I seriously wish more iOS and Android users used Photoplay. To me, it's a more elegant version of what Instagram is. And video posts are just unnecessary.

I'm surprised Instagram didn't do a deal with Nokia's 1020. Then after it'd be a Nokia exclusive. We all lost!

I don't need instagram, never been a fan. But It's important for the WP8. Not having an official insta app will scare many costumers away.

Great news to all die hard fans of insta:
Rudy Huyn creator of upcoming unOFficial Instagram app named 6tagram claimed just 6 mins ago on his twitter that he can still upload pics.



Great news to all die hard fans of insta:
Rudy Huyn creator of upcoming unOFficial Instagram app named 6tagram claimed just 6 mins ago on his twitter that he can still upload pics.

He'll get it from his phone soon enough...much ado about nothing :) I hope.

I do not use instragam.....but what is the real beef with instragam and windows......it can not be that they do not have money to build the app......i don't get it.....what really is the big deal of developing an app.....is it like 50million dollars???

they might not have enough money. I think the company has yet to be profitable since FB purchased them.

Mehdoh sign in on lumia 620 still seems to work - as does instagram web page via wiztiles

Who cares about instagram. The same friends I have on Facebook and twitter are the same ones on instagram.

Some people do good for u

Tried instagraph and my uplaod has been sitting in the queue for like 10 minutes and it says estimated time is 2 minutes. hmmm

Sorry, our servers were overloaded for some minutes, now average publishing time is under 2 minutes.

This is RIDICULOUS omg where's the official app frikin Microsoft said it was coming year ago. windows phone users always have to find a way around same shit with Pandora. Now this.

I was going to make the complete switch to Oogl but you can't select photos from your library. Pretty beat. I was gonna use metrogram for viewing and Oogl for sharing. Oh wells

This sounds like a really great opportunity for Instance and all of the other Instagram upload apps to come up with a new, slightly similar photo-sharing service. I'm sure it'd be eons worth of work, but for those who like sharing pictures, it's probably not a bad idea.
Or maybe it is. Who knows?

2instawithmassivelove is having the same issue as Instance.
Instagram is making some recently uploaded photos private.
This is what I see when I'm logged in to Instagram online:
http://i41.tinypic.com/sztr80.jpg
This is what I see when I'm logged out:
http://i39.tinypic.com/2wd93sy.jpg
Notice that some photos are missing...

Just use twitter. I'm dumping instagram. So sick of them acting like Google.

Y'know, for an app that encourages young, hip people to express themselves creatively, it seems curiously ominous that they're blocking all other methods of accomplishing this rather than their own sanctioned method. That seems like it would be off-message if it's trying to seem like a socially aware and easy to use service. Calls more into mind a walled garden, really.

Someone said "Microsoft should buy Instagram to settle this." Lol that's just a poor business move. Then somebody said "Well Facebook owns Instagram which Microsoft has a 1.6% share in Facebook they should make an app." Well you don't really have much say if you own 1.6% and the person doesn't understand business. Then somebody said "We need Instagram to survive." Now people are getting desperate, people can't survive talking to their friends on social media now in 2013? Oh the horror! Like their is not many other options. Let's just all get on out knees and bend over for these companies because we need them to survive. Yayy!!! /s

I don't know who said it, but would imagine they meant that WP needs instagram to survive.
I tend to agree, there is no possible way for me to convince my circle to get a Windows Phone because nearly all if them use instagram.

Good news people, Instance is working again atleast for me it is, just uploaded a pic and has been up for 3 mins now
@Daniel Rubino can you confirm!?

Looks like mine is working as well :) Maybe Instagram decided all the negative press was worth stepping back a bit.

Maybe, anyhow just glad it's working again so that Daniel Gary can move onto v2.0

Now Oggl really needs to come to 512MB devices

What if oggl had a deal with instagram to remove all other unofficial clients frm the store.... Maybe oggl inked a deal and paid money to use instagram API officially and shut other instagram clents

My account through Instance is working 100%. Currently I have two Instagram accounts--one for a teen entertainment site and one for personal use. My personal Instagram account is experiencing what everyone has been talking about--missing or deleted photos, etc. The Instagram I'm using for business (via Instance) is working perfectly. I tried to figure it out...and the only thing I can come up with is that my personal Instagram was REGISTERED WITH INSTAGRAM and my business Instragram was REGISTERED ON MY BROTHERS ANDROID (totally legit). Once again, curious if anyone else is experiencing this. If true...account registered from a native Instagram app on iOS or Android should be okay. Once again, this is just a theory and my experience. Thx

(mistake)....my personal account was Registered with Instance.

I am sorry but I will never understand people whining or complaining when a company protects their product and their rights as owners of said product. People bitch and moan about their rights to free speeach, to own a gun, their constitunitonal rights, etc.. But when a company protects themselves they are evil! So sad what this country has become. I have no problem with Instagram proctecting their product. I never purchased Instance for this reason. If Instagram makes an app or opens their API then I would salute them for that as well. But for now I salute and support their right to do what they have to do for their product. They are still a company that has employess on a payroll. They have to pay them somehow and they can not do that if 3rd party apps are doing whatever they do to allow users to post to their site for free.

Dont get why they are so evil...

Fvck instagram... I use Mobli.. 10x better and cross platform

It worked again I just had tried it and the image went through. Have anyone tried it again and got same result.?

yes mine has been up for about 10 mins! :) correction 31 mins

It doesn't really work. It now makes the pictures private. If I try to view my recent post without logging in it says "page not found." :(

Oh i see, so now they enable us to post on Instagram, but it's only us that can see them.. LOLz. That's just great.! Haha... :D

It seems it changed again, now we can post to Instagram, but tried linking it to Fb and Twitter, and 'Page not found'.

You people so obsessed with Instagram, not worth it..

Can everyone who keeps posting on articles about Instagram just to say how theyre so cool for not using it please go away. Nobody cares if you don't use it.

One question when using hipstamatic is it just me or do u have to download filters each to u open the app besides the free ones..... I've downloaded all of them to try during the free trial but once I close the app they are gone and must redownload.... I like being able to just take a pic and see how the filters look on the particular pic

Daniel we need a Mobli review... this service is better than Instragram and done video a long time ago
http://www.mylastinstagram.com/

http://www.mobli.com/


Is 2IWML also having these issues?

I browse photos more than I post and have settled on Instacam. It works well in WP7.8. I'll give Instagraph a try for posting to Instagram since its WP7 compatible.

Yes it appears to be working once more

Oggl doesn't work on the Lumia 520. Should be changed so the app doesn't need a front facing camera and at least 1gb of ram

Hi need help to get flash player can anyone help :D
Windows Central Newsletter
Get the best of Windows Central in in your inbox, every day!
Thank you for signing up to Windows Central. You will receive a verification email shortly.
There was a problem. Please refresh the page and try again.