PowerDirector 16 for Windows 10 is the best video editor in Microsoft's Store
Whether you make videos daily or just snip together vacation footage, PowerDirector 16 is worth a look.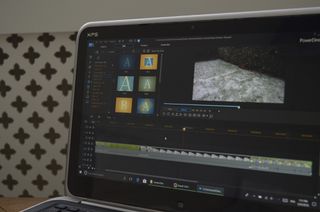 I'm on a quest to only use apps that are available from the Microsoft Store. I've had success in almost every category of apps except for one, video editing. There are apps available to edit video, but they're too basic for heavy-duty content creation. PowerDirector 16 is the first video editor I've used from the Microsoft Store that enters the professional realm, and depending on your usage, could replace your current video editor.
The app is available for $99.99 on Windows 10. That price comes in higher than what many are used to seeing an app cost, but this is another powerful program that's arrived on the Microsoft Store. As more professional apps make their way to the store, I think people will get used to seeing higher prices.
For this review, I was given a digital copy by Cyberlink. While the version I tested wasn't downloaded from the Microsoft Store because of how activation keys were sent, it is the same version that you can download from the Microsoft Store regarding features and design.
See in Microsoft Store (opens in new tab)
Profesional editing
PowerDirector 16 has both timeline and storyboard editing layouts, but if you're doing heavy-duty work, you'll stick to timeline. This creates a familiar multi-layer timline that you can drag video and audio onto. You can easily move videos around, add transitions, and clip together the general skeleton of your work. This is pretty standard for video editors that are industry standard but isn't common in video editors from the Microsoft Store. Having a timline layout makes it easy to create multi-layered and multi-cut videos.
PowerDirector 16's power is shown off in this mode where you can add effects, transitions, color match, add titles and text, and more. The app supports plugins which expand its feature set and usability for specific editng scenerios. In my testing, PowerDirector 16 handled editing well, even on my older laptop, and rendered videos well. I stuck to editing 1080p videos since my laptop is older but the app supports up to 4K video editing.
A unique feature to PowerDirector 16 is its support for 360 degree video editing. For example, you can take footage from a 360 action camera, stabalize it, and edit it all within the app. You can use that same stabliztaion on 2D action cam footage as well.
You can also use PowerDirector 16 to record voiceovers directly within the app, a great touch for people who narrate a lot of videos.
Overall, this is an extremely impressive app for making videos. Its interace is familiar, though not enough so that you won't have to invest some time learning it. Adobe Premiere Pro has earned its spot as the industry standard and there are some users who will never switch away from it, one reason being that some jobs require using it, but PowerDirector 16 is powerful, feature-filled, and relatively inexpensive.
Beginner friendly
While PowerDirector 16 has many professional features, it is friendly to people new to video editing. You can switch back and forth between timeline and storyboard mode and edit videos just by dragging and dropping content into boxes. The storyboard layout is going to be more suited for people who just want to throw together a bunch of footage from a vacation or an outing but its not limited to just placing videos in order. You can add transitions and do other edits in this mode. The main benefit is that it's less intimidating to beginners than a multi-layer timeline.
Overall thoughts
PowerDirector 16 is an impressive video editing app that can be used for professional content creation or making amateur videos. It has a nice set of tools and effects and multiple video editing modes that make it easy to put together clips.
Its price is high compared to other apps in the Microsoft Store but very reasonable for a video editing app with as many features as it has. That price is also a one time purchase, rather than a subscription cost.
Pros
Powerful video editor
Options to use timeline or storyboard modes
One time purchase
Ability to edit 360 videos
Built-in voiceover feature
Cons
Relatively high price
Learning curve
There aren't many negatives to the app. The biggest gripe would be that you have to take some time to learn it but that's true for any piece of software. It has stiff competition from programs like Adobe Premiere Pro but depending on your usage, PowerDirector 16 could be your only video editing app.
See in Microsft Store (opens in new tab)
News Writer and apps editor
Sean Endicott brings nearly a decade of experience covering Microsoft and Windows news to Windows Central. He joined our team in 2017 as an app reviewer and now heads up our day-to-day news coverage. If you have a news tip or an app to review, hit him up at sean.endicott@futurenet.com (opens in new tab).
Look into Magix. Also a good option.

What's the benefit of using only apps that are on the Windows Store?

@Shrave, if you happen to be on Windows 10 S, that would be your only choice, so makes sense for some reviewers to focus that way. From my perspective, I always use the Store versions if there's an option for the security benefits and automatic updating (I LOVE the automatic updating). A lot of applications I use don't offer a Store version, but I keep checking and hoping. The most surprising such app is Microsoft's own Teams -- a great app and looks and feels like a Store app, but only available to download through the Office 365 site as a regular Desktop application. Others are PuTTY, Calibre, AWS S3 Cloudberry Explorer, Audacity. On the other hand Slack, To Do, Skype, Citrix Receiver, Facebook, iHeartRedio, TuneIn, all the weather and news apps, etc. are all great Store apps. Lync and GoToMeeting are also good, but functionally limited compared with their Desktop versions. There's a nice Remote Desktop app too from MS. In many ways I like it much better than the one built into Windows, but it is limited it that the clipboard doesn't support images.

@Shrave - a few months ago one of my sons had a hard drive failure and the process of getting everything restored was SO MUCH EASIER because most of the programs he uses were Store apps and were easily identified and reinstalled via his Microsoft account - the exception being Photoshop. I was explaining to him how in the past it was a nightmare to recover from problems like this when you had to try and find licenses / cd's / online activation codes, etc., etc. Definitely a strong reason to go for Store apps that isn't mentioned much.

You don't end up having to go throug your registry, all drives, scheduled tasks and msconfig to repeatedly trying to get rid of that annoying program of yours that turned out to be a malware in the end after all the updates throughout the years, and will just not stop starting up with Windows startup, giving you a stroke.

It is the number 1 rated video editing software by a lot of review sites.

Developers have to pay 30 % fee to Microsoft. That's why this is more expensive than a retail one.

The trouble with Cyberlink (Creator of Power Director) is that once you end up buying several of their products (Photo Director, Audio Director, Action Director, Media Suite, Power2Go, Power Director etc. in total about +/- 14 tools or suites), you end up in an almost annual "eternal" "once-in a lifetime opportunity" upgrade options cycle. Some upgrades only 29$, others 49$ and some suites 99$) and before you know you are spending annually almost as much as a full Adobe CC subscription. But with Adobe CC - for about 50$ / month you have 24 professional tools incl. mobile tools at hand.) So after a few years Cyberlink I have migrated to Adobe CC full suite

Don't upgrade if not needed. I'm on PaintShop Pro and VideoStudio X9, Vegas Movie Studio 14 Platinum, etc. I ignore the upgrades, even though they're as low as $30 (Pro -> Ultimate, ridiculously cheap). I upgraded Sound Forge Audio Studio and moved on. My Vegas and VS does 4K and supports the Codecs I need. PaintShop Pro doesn't need upgrading, as it supports the Plugins and formats I need. I think this is a non issue because you can simply choose not to update apps you don't need to update. If I went to Adobe, if have already spent over $800 more than I currently have, for no benefit than placating an unreasonable urge to keep every app on latest version for no objective good reason.

It is strange how a $99 app price almost looks like a misprint. But a $99 piece of software in a box at Best Buy is fine. This is part of Microsoft's uphill battle - changing the mindset from what Apple and Google have so far defined an "app" store to be. Time will tell, but I do agree that if there is feature equality, I'll go for the Store version of a program any day.

Meh, just get it on TPB for free...

I've used various editing software. I've been editing for over twenty years. I can tell you that this is NOT professional level software.
Crashes randomly on a high end, up to date machine with all patches installed.
The tools are simply lacking in general. Poorly laid out interface that slows down workflow greatly.
There is ABSOLUTELY no customer support what so ever!
There are numerous, better options out there.
For the price...is simply not worth it.

Apps like this will make windows reign in the OS world again, consumer wise. There will be less pirating, will make devs make more free apps for the Microsoft Store and more people will adapt the S version because it will be safer for them. Love it. Hopefully they are not late for the party.

Kdenlive is good too. If only it was UWP

Here's something to verify, if possible: does it utilize the discrete GPU in a multi-GPU configuration (e.g., the Surface Book 2)? That seems to be an issue with earlier PowerDirector versions...

It might be the best video editor in the Microsoft store, but calling it professional is quite a stretch. I've been editing video professionally for 25 years and I would only recommend software like this for home videos. It lacks far too many features to be used by a professional.

Prefer Vegas Movie Studio (Not Magic Movie Maker), which works well with Sound Forge Audio Studio, or Corel VideoStudio Pro. Both are cheaper and better, IMO. Vegas gets my vote. There is less advertisements in the O terrace and less aggressive upwelling when they release a new version. Both Cyberpunk and Corel are relentless to the point that the apps become more like malware when an upgrade is available.

Can Powerdirector work in tandom with the native video editor in windows photo app 3D effects?
Windows Central Newsletter
Thank you for signing up to Windows Central. You will receive a verification email shortly.
There was a problem. Please refresh the page and try again.