Pre-Orders for 'Assassin's Creed Unity' Bundle with Kinect begin November 20 in India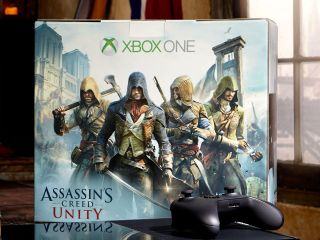 Microsoft India in partnership with Ubisoft, today announced the new exclusive Xbox One Assassin's Creed bundle with Kinect featuring Assassin's Creed Unity.
Assassin's Creed Bundle with Kinect is priced at ₹45,990, and will be available in India exclusively on Amazon India. The pre-orders for the same will begin this Thursday, November 20th, 2014 with release day deliveries starting November 30, 2014. The exclusive bundle will also include a copy of Assassin's Creed IV: Black Flag.
"Assassin's Creed is one of the biggest franchisees on our platform and Assassin's Creed Unity will only push the experience amongst the gaming community to another level altogether. This unique partnership defines our commitment to gamers in India and enhances the overall gaming ecosystem in the country. We're excited to deliver exceptional value and choice for our fans in an effort to help make Xbox One the best place to play."
Anshu Mor, Director – Interactive Entertainment Business, Microsoft India
Are you looking forward to pick up the bundle, despite the steep price tag? Let us know in the comments!
Windows Central Newsletter
Get the best of Windows Central in in your inbox, every day!
Man this import taxes are making this awesome device very hard to own, we just cant imagine if there were no import taxes these devices would be so much cheaper and many people could realistically think of buying one, now these are just devices which rich guys can have in countries like INDIA.

The reason for import taxes is your government wants to protect the national industries, so people will buy local products just because they're cheaper, but for this Xbox one case, it is odd because there's no local competitor for console, CMIIW

Hell Yeah I M..... :D
So what if its a bit overpriced. :P

Does it come with preordered bugs and graphical errors?

Unity has problems on all systems. PC, xb1, and ps4

Works better on Xbox One, but still had many problems

Its basically a No brainer to own a console in India without going hungry for months...First the base price is so damn high...Then the games are not affordable either...And with the kind of internet in India forget about installing the patches...Please Mr.Modi reduce these damn taxes on the consoles..

Instead buy a high end PC you'll get more power for same price

I would definitely have bought it but only if it was 6 months later.Damn this is what I wanted but sad cant get it.

i want one.saving money now. byt confused whether go for fifa or creed?

fifa.. can play it over and over again

What's the confusion? They are totally different games. Buy what you like most. Or if u just want a game to play for time pass. Buy fifa.

Whoa! The price! 45k! Sad. I am not getting it.

40k for non Kinect version.. Amazon keeps on have deals routinely

45k is pricey... Wonder if the prices will get reduced for Christmas and new year..

that is more than one months salary....

still donno whether OneGuide works in India....or not.
Windows Central Newsletter
Thank you for signing up to Windows Central. You will receive a verification email shortly.
There was a problem. Please refresh the page and try again.