Plants vs. Zombies: Garden Warfare, Thief, Castlevania, and Pac-Man arrive on Xbox consoles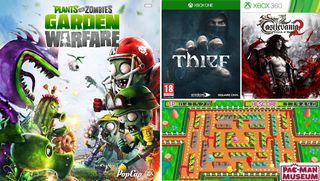 Last week, game-hungry Xbox One fans received two fine releases to tide them over: Rayman Legends and Strider. This week we get two more releases to drool over: Plants vs. Zombies: Garden Warfare from Electronic Arts/PopCap and Thief from Square-Enix/Eidos. Both games are now available on both Xbox One and Xbox 360, with Thief also appearing on non-Xbox platforms.
The Xbox 360 gets another couple of games to keep previous generation gamers busy: Castlevania: Lords of Shadow 2 from Konami (now available) and the downloadable Pac-Man Museum from Namco Bandai games (which comes out tomorrow). Head past the break for a quick rundown on all of this week's Xbox console releases!
Plants vs. Zombies: Garden Warfare
Spinning a game off into a new franchise is difficult, but sometimes it works out in the end – see Mario Kart or Sonic & SEGA All-Stars Racing Transformed. Now PopCap has transferred the beloved characters from tower defense game Plants vs. Zombies into a third-person shooter, and with surprising success.
Garden Warfare is a multiplayer-only shooter in which two teams (the plants and the zombies) battle it out in either Team Vanquish (death match) or objective-based Gardens and Graveyards modes. Or 1-4 players can take on the cooperative Garden Ops mode and battles waves of zombie enemies. Garden Ops supports 2-player split-screen on Xbox One, whereas the 360 version doesn't offer split-screen. The SmartGlass "Boss mode" is exclusive to Xbox One as well.
I played Garden Warfare last November and loved it. If you enjoy multiplayer shooters but want something more lighthearted or easier to get into, consider this one a safe bet.
Thief
This reboot of the classic Thief series (technically the fourth Thief game so far) transplants master thief Garrett into a new steampunk setting. There he will wander an unusually mazelike city, taking on story missions and avoiding the town guards.
Early word is that the new Thief suffers from an uninvolving story and excessive loading screens. The design structure is a bit rigid compared to past games as well. But it's still good to see Thief return after an absence of several years.
Castlevania: Lords of Shadow 2
This sequel to Mercury Steam's excellent Castlevania reboot sees players take on the role of vampire lord Dracula after he awakens in modern times. Drac will navigate between a realistic (but empty) city and his sprawling castle as he attempts to thwart the plans of both Satan and the Other Guy.
The word on the street is that Lords of Shadow 2 doesn't live up to its predecessor. A muddled plot, the uninteresting city environment, and awful stealth segments all drag down what should be a stellar action game. If you're interested in Castlevania or gothic action, I recommend grabbing the very sweet Castlevania: Lords of Shadow Collection and seeing whether you're still craving the sequel after that. I'm holding out for an Xbox One version, myself.
Pac-Man Museum
If you love Pac-Man, don't miss this multi-game collection on XBLA (which we first previewed from E3 last year). It contains:
Pac-Man
Super Pac-Man: My childhood favorite, this one allows Pac-Man to turn into the giant Super Pac-Man.
Pac-Land: Speaking of spin-offs… A side-scrolling platformer based on the original Pac-Man cartoon series.
Pac & Pal: A semi-sequel to Super Pac-Man, this one also introduces a helper ghost named Miru.
Pac-Mania: An isometric spin on the original Pac-Man that includes multiple mazes and the ability to jump.
Pac-Attack: A falling block puzzle game from the 16-bit era. Subsequent releases have differed significantly, and it's unclear which version will find its way into Pac-Man Museum.
Pac-Man Remix: Sort of like Pac-Mania, but with actual 3D graphics and plays more like the original Pac-Man.
Pac-Man Battle Royale: An awesome multiplayer arcade game that has never been released on home consoles until now.
Plus, if you buy before the end of March you'll get Ms. Pac-Man (which will later be sold as DLC for $5) for free. The only thing I could wish for in this collection is Jr. Pac-Man, an American game that Namco Bandai does not consider an official part of the series.
Pac-Man Museum – Xbox 360 – 230 MB - $19.99 – Xbox.com Link (Available February 26)
Note: All four games are also coming to PC, and some are coming to other platforms as well.
Get the Windows Central Newsletter
All the latest news, reviews, and guides for Windows and Xbox diehards.
Paul Acevedo is the Games Editor at Windows Central. A lifelong gamer, he has written about videogames for over 15 years and reviewed over 350 games for our site. Follow him on Twitter @PaulRAcevedo. Don't hate. Appreciate!