Consoles: Rayman Legends and Strider debut on Xbox One, Earth Defense Force: 2025 on 360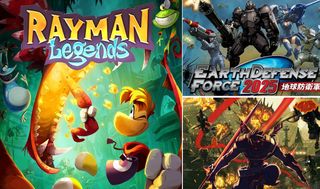 As Windows Phone gamers either enjoy or wait patiently for Rayman Fiesta Run (which briefly launched worldwide yesterday only to be quickly pulled), they're bound to crave even more Rayman. Well, if you have an Xbox One you're in luck! The improved for next-gen Rayman Legends has just launched on Xbox One at the affordable price of $39.99. It has been available on Xbox 360 since September last year.
Hungry for more console releases? Capcom and Double Helix's reboot of Strider debuts today as a downloadable title for Xbox One and 360. And Xbox 360 gamers can pick up Earth Defense Force: 2025 from D3 Publisher and Sandlot today in the US and Friday in Europe. Head past the break for a quick rundown of why you should be excited for these games!
Rayman Legends
Rayman Origins was a sleeper hit when it appeared on consoles back in 2011. It brought classic limbless platforming hero Rayman back into the light with a mixture of breathtakingly beautiful 2D worlds, challenging level design, and delightful 4-player local co-op.
Now Xbox One gamers can enjoy the sequel: Rayman Legends. Everything we loved about Rayman Origins (and the popular mobile version Rayman Jungle Run) returns in Legends. Rayman's world is more beautiful than ever on Xbox One, running at native 1080P. Rayman and his friends can run, jump, and punch together through more than 60 all-new levels. New epic boss fights cap off each world. The Xbox One version also features two new playable characters and faster load times.
If you're aching for a local multiplayer game on Xbox One (and something to play with that extra Titanfall controller that comes out next month), look no further than Rayman Legends.
Earth Defense Force: 2025
Would you believe me if I told you this is my most anticipated game of the year? I'm writing from San Francisco, and I can't wait to get home in a few days and play my preordered copy.
Earth Defense Force is a niche series of third-person shooters that started life on Playstation 2. The game most of us are probably familiar with is EDF: Insect Armageddon, which is a shame. That entry came from a different developer and lacked the series' magic. EDF: 2025 brings it back, in a big way.
Put simply, EDF: 2025 is a game in which players run around cities and other environments, blasting away at huge hordes of equally huge alien insects, robots, and UFOs. Almost every building can be destroyed and there's no penalty for leveling the city, so you might as well do it while killing literally hundreds or thousands of enemies per mission.
EDF: 2025 also has a highly addictive mission structure and grinding system. All 85 missions of campaign can be replayed on five different difficulties, and you'll find different weapons on each difficulty. With over 700 weapons to find (plus lots of health upgrades) spread across four highly distinct character classes, this game will keep you busy pretty much forever. It also supports 2-player split-screen and 4-player online co-op.
Strider
Strider started life as a 16-bit arcade game. He eventually appeared in a much-changed NES game and an official sequel for the original Playstation. Capcom fans will also recognize him from the Marvel vs. Capcom games, in which he appears as a playable character.
Now Strider is back after all these years in a retelling of the original arcade game that mixes in elements from the NES version for good measure. Take on the role of Strider Hiryu as he hacks, slashes, runs, and jumps across a futuristic Russian city on his way to defeat the evil Grandmaster.
This new Strider mixes the sword-slashing action of the original game with the exploration you'd find in modern games like Shadow Complex and the Castlevania series. Strider still has his distinctive Cypher sword, but now his sword can take on new forms for different situations. Fans of the original games needn't worry about this entry's lack of cred – it features remixed musical themes from both the arcade and NES games.
Strider – Xbox One – 3.09 GB – $14.99 – Xbox.com Link

(opens in new tab)

Strider – Xbox 360 – 1.48 GB – $14.99 – Xbox.com Link

(opens in new tab)
Windows Central Newsletter
Get the best of Windows Central in in your inbox, every day!
Paul Acevedo is the Games Editor at Windows Central. A lifelong gamer, he has written about videogames for over 15 years and reviewed over 350 games for our site. Follow him on Twitter @PaulRAcevedo. Don't hate. Appreciate!
He must be too busy. Paul take a nap.

I picked it up on Xbox One and it's awesome!

I sooo want Rayman, but $39 is a bit steep. Especially since I have a few games left yet to play. But damn, looks so good!

Yeah, me too. I wonder how long it'll take to see a sale. In the meantime, I'll keep plugging away on Dead Rising 3, Killer Instinct, and Tomb Raider. Once Titanfall hits, that'll keep my occupied till more arcade-like games such as Rayman, Max: Curse of Brotherhood, and Peggle 2 drop in price. Looking forward to playing them all.

The days of Strider on Super NES....

I went ahead and got Rayman. My wife loves Rayman so the local co-op should be fun.

That Strider game sure looks cool, I'll look for more info about it, it would be nice if a bit off-topic for WPCentral if Paul made a review for it.

I do review the occasional console game, but it's hard to find the time. Would love to review Strider though, so we'll see!

I paid the $40 for Rayman. Couch co-op!

Tell me more about how the local co-op works, por favor. I've been craving some old-school local co-op for awhile now, but it seems that most games these days don't have it (other than Killer Instinct, which is awesome, but my wife is seemingly not interested in letting me ultra combo her over and over).

Can't wait for EDF. I actually liked IA, the new additions like armor classes were pretty awesome and made up for some faults like lack of levels.

IA wouldn't be so bad if 2017 and 2025 didn't exist. Also, the devs just stretched too little content way too far with the poor grinding/leveling system in that one. Let me know how you like 2025. :)

Been so looking forward to EDF. Supposed to be the proper sequel to 2017. Insect Armageddon was ok but it wasn't no where near as good as 2017.. Mine got posted today from shopto.. So i should be on it tomorrow.

I already got Rayman Legends for my Xbox One. It's awesome. :D

I'll get it when it goes on one of the weekly sales that's been happening recently. But glad that it is starting at $40:)


I think you meant "Look no further than Rayman Legends."

Anyone notice the size of those downloads? Those 500gb HD are going to get full soon like the last gen 250/320gb HD Hopefully with latest gen we are allowed to plug a real HD for off loading games. This will be a problem soon if they start to give away games on the Xbox One soon Add to this the more media focused XboxOne and people will be downloading movies and with 4K movies happening soon, 500gb is just not been enough I hope the rumors of the 1Tb HD on a later version of the Xbox One are true

The download size is pretty reasonable on both games - Xbox One games can run up to 50 GB, after all! I agree that space will be an issue soon though. We can only hope they enable the promised USB hard drive support soon. I'm pumped for the 1 TB console as well.

I is a real shame they didn't go higher on the capacity. I am 25% full and don't have many games at all. Rayman always seems to look great. The strider video I saw did little for me though. Not played it since the Amiga.

Raymen legends should be launched on windows phone

Rayman Fiesta Run is the mobile companion game/equivalent. The whole console game *would* work on mobile, but Ubisoft has chosen to release companion games instead and they've been very well received.

Ohh and any news about their assassins creed pirates??

Strider and Rayman: nice additions to the Xbox One library! Strider would've been really awesome if it had local and online co-op.

Thanks for the writeup Paul. Now if only I could buy more time, I would totally play Strider :)
Windows Central Newsletter
Thank you for signing up to Windows Central. You will receive a verification email shortly.
There was a problem. Please refresh the page and try again.