QuakeCon 2015 opening day thoughts, impressions and what we saw!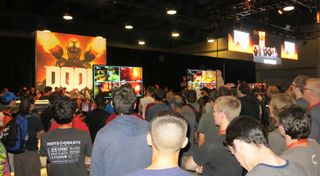 Bethesda is one of the largest game publishers in the world, with huge brands like The Elder Scrolls, Doom, and Quake to its name. This year the publisher stepped up its E3 performance in a big way, hosting an E3 press conference and announcing several big titles such as Fallout 4 and Dishonored 2.
The E3 presentation might be new, but Bethesda is no stranger to sharing game news and reveals to its fans. Every year the publisher hosts a fan convention called QuakeCon in Dallas, TX. This year marks the 20th anniversary of QuakeCon, and Bethesda has several exciting events going on throughout the convention (which runs through Saturday the 25th at the Hilton Anatole and is FREE to attend).
I'm at QuakeCon right now, where the opening ceremony kicked off earlier today. Read on for full details and what we've seen and will be seeing at the latest and greatest QuakeCon!
Welcome to QuakeCon 2015
As always, QuakeCon opened with an energetic presentation that highlighted the events and goings on of the show, and even included a few big announcements.
Highlights for attendees:
Numerous tournaments will go on throughout the convention with prizes provided by Intel. All tournament computers and servers come from Alienware and Dell. Network infrastructure provided by AT&T.
Donate blood to the American Red Cross and receive a free Doom blood water bottle bag (which looks very cool).
Donate money to the Dallas Pets Alive charity to get a free Fallout 4 frisbee.
Friday movie night: Watch the original Jurassic Park presented by Master Pancake (who provide comedic commentary) or Paddington Bear for the kiddies.
QuakeCon 2015 swag: shirts, hoodie, and power bank
QuakeCon 2015 Panels and sales
Friday has two exciting panels in store: an exclusive Fallout 4 presentation starring the game's director Todd Howard and an Elder Scrolls Online: Tamriel Unlimited panel. Attendees of the latter will receive 500 free crowns (premium currency). We'll be there to report on both panels!
Saturday has two more panels in store. First up, Geoff Keighley moderates a panel focusing on the evolution of gaming over the last 20 years. Most excitingly, attendees can catch the Doom panel for an in-depth look at next year's Doom game.
Gamers who can't attend the convention can still celebrate Bethesda by picking up many of the publisher's games on sale over the weekend.
Today through Saturday on Steam, a different selection of Bethesda titles will go on sale for cheap. PC gamers can even pick up the publisher's full catalog of Steam titles for $99.99, including the Fallout, Elder Scrolls, Doom, and Quake series, as well as The Evil Within, Dishonored, and more. Check this link for the full Steam sale lineup.
Xbox One has Elder Scrolls Online discounted, and several Xbox 360 games and DLC have sales as well.
Paul Acevedo revs up for Doom
Getting our Doom on
The QuakeCon 2015 opening ceremony ended with a brief look at the new Doom. First we watched a fast-paced trailer featuring lots of gory monster kills.
Next Marty Stratton of Bethesda dropped some details about the Doom alpha and beta that will precede the full game's spring 2016 release. Players who preordered or purchased the first printing of Wolfenstein: the New Order can sign up for beta access to Doom. Some of those gamers will randomly be chosen to join the multiplayer alpha that starts within the next month or two. See our story for more details.
An audience member exclaimed that he wanted to play Doom today, and Marty replied that might just happen. It turns out that Doom multiplayer is playable right now at QuakeCon! All attendees can line up at the back of the exhibit hall for a chance to play a networked multiplayer game in team deathmatch mode.
Nobody but the British likes lines, though! Thankfully, Bethesda hid a number of red, blue, and yellow tickets themed after Doom keycards beneath some of the audience's chairs. Everyone madly scrambled for these tickets – I scored a couple of red ones myself. With a ticket in hand, attendees can jump ahead of the line and get their first taste at player-versus-player fragging in the new Doom.
Attendees playing Dead or Alive 2 on a Sega Dreamcast console as they wait in line
Plenty of QuakeCon news to come
Besides the Doom alpha and beta news, Bethesda also announced Fallout Anthology for PCs. The Anthology contains all five PC games released to date and comes in a striking "Mini nuke" bombshell case. The case even makes a sound effect! It will be available in limited quantities starting on September 29. Read our story for more deets.
Bethesda has also just launched its new Bethesda.net website. The publisher considers this to be a cross-platform way to connect to Bethesda games. In real world terms, it's a site dedicated to publishing professional blogs and announcements on Bethesda titles. The site has launched with a strong selection of articles so far, and I hope Bethesda keeps it going.
Although Bethesda already made its major announcements during the opening ceremony, we still have more QuakeCon news to come. Check back this weekend for our impressions of the Fallout 4, Doom, and Elder Scrolls Online panels from QuakeCon 2015!
Follow me on Twitter @PaulRAcevedo for QuakeCon and more gaming related tweets. If you're attending the convention in Dallas (remember, it's free), be sure to tweet and let me know!
Windows Central Newsletter
Get the best of Windows Central in in your inbox, every day!
Paul Acevedo is the Games Editor at Windows Central. A lifelong gamer, he has written about videogames for over 15 years and reviewed over 350 games for our site. Follow him on Twitter @PaulRAcevedo. Don't hate. Appreciate!
Looks like you're already having fun. I'ma keep my eye on those sale this weekend.

Doom, you were one of my first and I will love you forever!

So shall we all. Are you pumped for the new Doom?

of course! i've always loved their balance of weapons and their sense of what makes a good fps which is precision, smoothness, and GORE! can't wait to see the multiplayer, i'm hoping it's more akin to the quake/doom of old rather than new style of leveling up and such

I like leveling systems myself (provided they don't lock away weapons and important crap), but no idea if Doom will have one or not. I did play multiplayer today and can report that it feels just like Quake 3. Very awesome and fun. Stay tuned for a more detailed write-up. :)

Tempted to drive from Houston up to Dallas. Sounds excellent. Have fun. Look forward to the updates.

That's where we drove from! :D

I would have been there this year if I knew about Paddington Bear being shown. Still want to see that movie.

I read the article as one film shown (Jurassic Park) master pancake giving commentary for adults and Paddington bear giving commentary for the kids. Had to re read it to realise I am in fact a mongo. Lol.

It was very disappointing.

I'm in Dallas, should be there after work to tomorrow.

Sweet man! Message me on Twitter if you wanna try to meet up during the show.

An article about QuakeCon and you barely mentioned the Quake tournament? There is coverage on the QuakeCon twitch channel, you could have linked it. TDM was played today, CTF tomorrow, Duel on Saturday. And Id Software was not mentioned either. Cmon man!!!!!!!

Heh, I'm not much into tournaments but the convention certainly has no shortage of them. Id lives on in our hearts, even if the studio name doesn't get used much nowadays.

id Software are working under Bethesda but its id that are working on Doom, not Bethesda. id Software are the ones responsible for QuakeCon not Bethesda. If their name isnt mentioned its because people who writes these articles didnt do their work. No offense.

I know who is developing Doom. This article is not a preview of Doom and that information wasn't important to the story. And as someone who attends QuakeCon every year, I can assure you that they tout it as being put on by Bethesda, not id.

More DOOM news please! :) :) So pumped for it, I'm working my way through Doom 3 again, the BFG edition this time. Picked it up for $8 the other day, MAN this game looks amazing with their remake/reskin... and it was out in 04!!! Even my g/f who wandered past when playing said it looked great and the only other game she's ever said that to was last year's Forza Horizon 2.

Man whatever happened to Quake? Quake 3 Arena still one of my favorite games...

Oh the hours I used to spend... I'm with ya!

Quake Live is the game community is playing today

http://www.twitch.tv/quakecon/profile Tune in in about 5-6 hours and you will see the Pro's hammer away some incredible Quake Live CTF, tomorrow there will be Duels.
Quake Live still has a small community going and there have been many weekend tournaments the last months warming up for QuakeCon with many of the old pros attending, head on over to ESReality to see whats going on.

I'm seriously considering to buy a Xbox or a ps4 or a good PC just because of Doom, the first game that used to give me nightmares when I was a child

Wait... A Sega Dreamcast?

That's what I'd go there for :)

It's a shame they aren't using a realistic chainsaw design for the new game, that was the cool thing about the original chainsaw (in my opinion). Pretty minor gripe though given how awesome everything else looks.

Now there are "con"s everywhere

That's a pro if you ask me. ;)

Wish I could just pack a bag get on a plane....leave the uk, arrive in TX and see this for myself!

Paul i like the picture with the chainsaw. All you need is a hockey mask =P and Adam to continue from here lol

Looks like a great time to me! Nice doom pic.
Windows Central Newsletter
Thank you for signing up to Windows Central. You will receive a verification email shortly.
There was a problem. Please refresh the page and try again.