Razer Phone gets a limited gold edition in honor of Spring Festival
I mean, at least the box looks cool.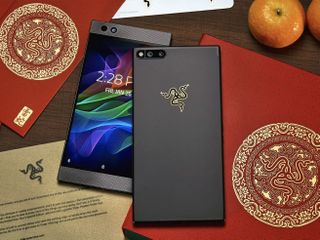 The Razer Phone is not a perfect smartphone, but for Razer's first attempt at entering this market, it could have been a lot worse. The 120Hz display and ridiculously good front-facing speakers are the Razer Phone's two highlights, but when you turn the device over, you end up with a pretty bland design. However, in honor of the Spring Festival / Chinese New Year, Razer is launching a limited gold edition of the phone.
As exciting as they may sound at first, this new version of the Razer Phone is mostly unchanged from the original. The Razer logo on the back now features a gold paint job as opposed to gray, but aside from that, everything else about the phone is the same.
Razer is also including a red and gold box that's awfully eye-catching, and it's unfortunate a similar paint job didn't make its way to the Razer Phone itself. Along with this, Razer's also throwing in a few gold stickers with the company's logo if you're into that sort of thing.
On the plus side, the limited gold edition costs the same $699 as the regular version. That's still a pretty penny to spend, but I'm at least thankful Razer didn't increase the price just for the tweaked paint job.
The limited gold edition of the Razer Phone will be sold at retail stores for wireless carrier 3 in Hong Kong, in addition to the Razer Store for both Hong Kong and the United States.
Curious about the Razer Phone? Make sure to read full review for rmore information.
Windows Central Newsletter
Get the best of Windows Central in your inbox, every day!
The stated 'blandness' is the exact reason I consider to buy this device.