Remedy's 'Control' coming to Xbox Game Pass, says Xbox head (update)
Control is about to get many more players.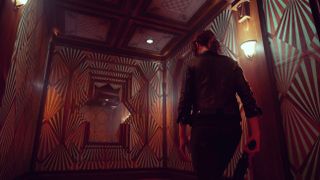 (Image credit: Remedy)
What you need to know
Control is a supernatural third-person shooter from Remedy Entertainment.
The game failed to sell as well as expected.
Xbox head Phil Spencer says it's coming to Xbox Game Pass.
You can purchase Xbox Game Pass on Amazon

(opens in new tab)

.
Updated December 5, 2019: The official Control Twitter account says that it's not coming to Xbox Game Pass. A Microsoft spokesperson also added, "We're aware that Control was mentioned as coming to the Xbox Game Pass library and can confirm this was in error. While we are always updating the library and looking for new ways to provide our members with value and choice in their games, we do not have plans to bring Control to the library at this time."
The information about Control coming to Xbox Game Pass as reported on a recent Mixer stream is incorrect. We have no news or announcements regarding Xbox Game Pass at this time.The information about Control coming to Xbox Game Pass as reported on a recent Mixer stream is incorrect. We have no news or announcements regarding Xbox Game Pass at this time.— Control 🔻 (@ControlRemedy) December 5, 2019December 5, 2019
Xbox head Phil Spencer keeps on dropping important news. Yesterday, he said that he was already playing Project Scarlett at home. Today, he let slip that Remedy Entertainment's Control was coming to Xbox Game Pass.
It's no secret that Control failed to set the sales charts on fire, but given the fact that its budget is lower than most AAA games nowadays, it still was a great endeavor for Remedy. However, in an effort to reach even more people, the title should join Xbox Game Pass soon. During an Extra Life livestream, Spencer said, "I though Control was really good, but it didn't reach enough people... I'm glad to see it's coming to Xbox Game Pass so, hopefully, more people play it." Twitter user "Klobrille" posted exactly where you can hear him discuss Control.
Control is a supernatural third-person action-adventure that takes place in a universe similar to the one in Quantum Break. After a secretive agency in New York is invaded by an otherworldly threat, you become the new Director struggling to regain control. Instead of taking place in a science fiction setting, Control explores mysticism in a modern light.
In Windows Central's review, Brendan Lowry wrote, "Ultimately, Control is a solid game that offers a really fun combat system to experience, a fascinating world full of interesting information to discover, and gorgeous visuals to glue your eyes to — even if many other aspects of its design are large disappointments. While I finished Control feeling let down... it's still a title that many players will enjoy."
Best of the best
(opens in new tab)
Xbox Game Pass and Xbox Live Gold in one

Xbox Game Pass gives you access to over a hundred games for one monthly fee. Xbox Game Pass Ultimate also adds Xbox Live Gold to the package so you can play online with your friends.
Supernatural terror
(opens in new tab)
The beginning of a new franchise

Control is a supernatural third-person action-adventure that takes place in a universe similar to the one in Quantum Break. After a secretive agency in New York is invaded by an otherworldly threat, you become the new Director.
Xbox
(opens in new tab)
Main
Asher Madan handles gaming news for Windows Central. Before joining Windows Central in 2017, Asher worked for a number of different gaming outlets. He has a background in medical science and is passionate about all forms of entertainment, cooking, and antiquing.
This is a big get for Game Pass, as Control is nominated for several Game of the Year awards. I assume they were planning on announcing it at the Game Awards but Phil accidentally jumped the gun.

it's definitely coming! Even after Remedy statement.
Keyword here is "At this time".

I'm not sure how companies negotiate with Microsoft for Game Pass, but that's likely what's happening here.

Oooopppps. Reveled ongoing talks too early, or just a case of not know WTF is going on with that department?

This is bad and I can understand if people at Remedy are absolutely pissed about this. No matter what they say now, I think most people will think it's coming soon to game pass.
Spencer is there to sell his service. He is there to make Game pass look good. I don't know if he did it on purpose or if was a blunder. This is even worse when you consider that this is the Christmas season. They will probably get a small percentage of revenue compared to what they would for a proper sale.
This is really bad because this isn't helping the game and the devs, it's killing it even more, all that while hyping his own renting service. And this is a proper game, not a service... I hope 3rd party devs sees this and think twice before putting their games on this renting service.

While I agree that this is worse for Remedy than MS( they probably should get some kind of compensation for this blunder if they really never were in talks of getting the game into GP) , I don't think it's a valid reason to hurt the service itself especially with future devs coming to the service. In the end, this will also hurt gamers on the service if this were the case. Honestly I really wanted this game to come on the service and probably won't end up playing it until it does just because of the sheer number of things to play for the next couple of years. It's unfortunate as I do really enjoy their games. Call it hurting gaming if you will, but for my gaming, it's not hurting me at all.

Yes, there should be compensation but I doubt MS will do it. They are in a position of strength. I understand your point of view as a customer. Why ever buy a game is you just wait to rent it for between 1-10 bucks? I'm looking the big picture here. Nowadays I see so many people saying I'll just wait for it to come on game pass. If the mentality of gamers is this then surely initial sales will drop. Less revenu from sales means they'll need to get on services like game pass to increase revenue. They would need to have anti-gaming time deals to increase revenue. What is the lesson for Remedy and other studios? Maybe make services and not games. "Games" that are sold so they can make more money from customers. Something that I've been talking about for years and from the start of services like Game pass and PS Now. Talk of the future of gaming and decline in quality. They've said a while back that thanks to game pass sales of games increased. But that was when it was mostly old games. I would love to know how game pass influences sales figures early on. How much it affects games like Control. This is for me similar to buying lootbox and microtransactions. Doing this is supporting the business model. Some of my friends just pirate games and sometimes buy 1 or 2 games here and there. They ask me why do I buy games. I have a gaming PC. For me it's really easy to just pirate loads of games. I buy it because I want to own the game but also I want to support the industry and companies investing in making games. Some time back I played DDLC which is a small indie free2play. I enjoyed the game so at the end I bought their "DLC" which was nothing buy wallpapers and soundtrack. I didn't care for those but wanted to supported the dev. Last Sunday I watched a great movie, 2 days back I bought the bluray partly because I wanted to support them and possibly get a sequel. I'm not saying that game pass is like pirating, but it's really worrying. What's worrying for me is the distribution and where the money is going. When there was the whole debate about lending and selling games, MS wanted a cut out of that. I always supported the used market because for me most of the time the money is reinvested into gaming.
With game pass, I fear MS will get a major %, devs will get a lot less money then before game pass (from sales and everything) so they would be encouraged to change their games and make them services where the focus is to try to make more money after launch.
And finally I'm not sure the gamers will tend to gain that much. The $1 deal might eventually end. Just like many services I wonder if many will just pay for services that they may not end up using fully. Also I'm not sure if gamepass doesn't end up more expensive on average, 1) paying the subscription + 2) paying for new games that won't come to the service + 3) microtransactions and stuff...
And where gamers may lose the most is quality of games. But that's why I'm worried.

I do understand your points, and as I have stated before I think that the push for micro transactions will (and already did) happen with or without GP or other rental services. It's hard to say hos the services affect sales though. I do have an example on the 'wait and see' before buying/playing a game. Its kind of no different than what I already did with a game like Control. I kind of want to play it, but there isn't a 'need' to play it right away, so I wait and eventually get it for really cheap used on eBay, or if I'm lucky a digital sale. Only the latter will help the Dev, maybe this is is the same as them getting GP revenue with a low sale price? GP also offers a discount when you do want to buy something, so maybe this does boost sales even of non old games. I really wish MS was more transparent with this information.

This article is a bit embarrassing.

Control is dead already. GamePass may give it life...may?.

Your not missing much. Play Quantum Break if your after storytelling. It's far superior in that regard. Or better yet play Alan Wake if you haven't. It's better than both of the aforementioned games.
Windows Central Newsletter
Get the best of Windows Central in in your inbox, every day!
Thank you for signing up to Windows Central. You will receive a verification email shortly.
There was a problem. Please refresh the page and try again.