Remote Desktop Preview now supports Continuum on Windows 10 Mobile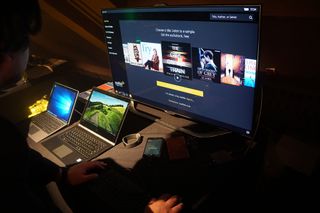 Microsoft has rolled out an update for Remote Desktop Preview on Windows 10, which adds support for both Windows 10 Mobile and Continuum. Those with supported mobile devices, like the Lumia 950 or Lumia 950 XL, will now be able to enjoy the same Remote Desktop experience they're used to on the PC on their smartphone.
Since this is a Universal app, Microsoft has made it so the user experience on mobile matches that of Windows 10, enabling you to dive in without having to learn anything new. Both portrait and landscape views are supported on the Windows 10 Mobile version, and as an added bonus, Continuum will allow you to up-scale what's being viewed on your phone on a larger monitor.
Simply connect to a Microsoft Display Dock, add a keyboard and mouse and you're now using Remote Desktop on Windows 10, powered by your smartphone. It's a really neat update and one we're sure those who enjoy using Continuum will appreciate. Other new features and additions were included in this latest update for previewers, with the ability to send keyboard commands and more.
For more details, be sure to check out the official blog post, linked below.
Source: Microsoft (opens in new tab)
Rich Edmonds is Senior Editor of PC hardware at Windows Central, covering everything related to PC components and NAS. He's been involved in technology for more than a decade and knows a thing or two about the magic inside a PC chassis. You can follow him over on Twitter at @RichEdmonds.
I still think Continuum is awesome. Can't wait to see what developers do with it.

Cool. Got my xl this monday, still waiting for the free dock but I will try this to work computer soon anyway! So please make this app wp only too!!

Love this! Cant wait for Netflix in Continuum. I have this setup at work where I do a LOT of remote desktop connections and it shows off the platform very nicely. take that iphone drones.

The Netflix website works great in edge via Continuum.

Some how it's stated in the store that the app is not compatible with my 950 XL. Can't download. Funny.

Had the same issue when I tried earlier today. And thanks to your comment I wont be hastily running to the store. Update..... Its working now.

This changes everything. Already received the dock. Cant wait to test it with remote desktop.

This is great. RD is one of those apps I feel can be truly excellent as a Universal experience. NOW I have a fantastic reason for a Continuum phone.

My question may seem to be on wrong window, but please answer this. Is 10586.63 available for Lumia 1520, Slow Insider?

@HyperKid and @Deepak_HK.....Thanks for that infromation.

Microsoft should enable universal apps to natively support continuum if the apps are able to run across all display sizes seamlessly.

It's not quite that simple. Developers also have to make sure their apps will have a usable ui, regardless of the device size, since what works on a desktop doesn't always work on mobile. Microsoft can't do the work for everyone although, from all accounts, they've already made it relatively easy to create apps that work on all devices.

I meant if the developer builds a truly universal app including for PCs and tablets with their respective UIs then such app should automatically support continuum. Because if the app also works on PC then after activating continuum, the app should work just as it would on a PC.

If I'm not mistaken, I think they already do that.

Really? Then it's fine. Knowing that very very few apps support continuum, I thought something extra is to be done for the apps to support continuum. Now I guess that's because very very few apps are universal as of now. Thanks for enlightening me :)

From what I know, true UWP apps support continuum natively. eg- msn weather app

Well there are few exceptions like Netflix because of the lack of drm like Miracast lacks support unlike widi which has the necessary DRM'ed layer some will never support it

And btw, according to this article, "the app now supports continuum" means the app should also support all other devices including PCs? Wasn't it a universal app before? The article also says that the app was previously available only on PC and now on mobile. If that is the case then it should have supported continuum way before. And if mobile apps, not PC apps, support continuum then all other universal mobile apps should also support it. But they don't. Which again triggers my doubt - Universal apps need to be made to support continuum and they don't support it by default.

I think (not 100% sure on this), that before this new Universal App (which supports Continuum), it was a desktop application, hence no Continuum. But if I have this wrong, please someone correct me. I agree with the comments that this is huge, at least for the IS crowd who lives by TS and Remote Desktop acccess to their Windows servers.

It was a universal app but it didn't support phones at the time. To support continuum, it both has to support desktop size *and* phones (otherwise you can't download it to your phone to start with).

If the developer has the very latest build of Visual Studio 2015 (in the last 30 days or so), it now has built in support for Continuum. Or to be clearer, now the developer has to make very little effort to add Continuum support to a fully developed Universal app that already targets both phone and desktop UI. (The developer decides what the targets are) Continuum apps are getting easier and easier to develope! By the way, support for Cortana is getting easier too. In my opinion, we haven't really seen the fruits of Windows 10 app development yet. Only the most dedicated developers are getting stuff out right now. Visual Studio 2015 is undergoing its own development as the developers work. So everything is a moving target right now. I know this because my own developer sits just a few feet away building our in-house corporate Universal apps. I am constantly researching the new features for his Visual Studio and forcing him to add features. Drives him nuts. He just wants to write the code. lol

That may be the case. Thanks :)

Anyone with the 950 chime in how this works with say remote desktop and steam? Curious if i could move my hulking desktop elsewhere and sort of turn it into a game server.

I think you'd need to set up a gateway or something...to connect from a separate network

Well this version of remote desktop requires an azure host for remotefx to function

No, you can connect to any RDP server (including a desktop / laptop running Windows 7, 8.x, 10 Pro or Enterprise) or RemoteApp, as long as it's reachable. It also supports RemoteFX on a non-Azure host (although Windows 7 doesn't support all RemoteFX, so you'd be best off with 8.1 or 10 on your host). RemoteFX also works just fine through a VPN connection. However, it does support Azure RDP hosts and Azure RemoteApp deployments, but I'm not sure I would set up an Azure host to be my remote gaming rig. Now whether or not all this works with Steam—that's a different question, and since I'm not a Steam user, I'll leave *that* question to someone else to answer.

You could probably do it, but the high latency would make gaming terrible.
For this purpose, I would recommend Splahtop Remote. The difference between MS Remote Desktop and Splashtop is that while the former sends data about the desktop as a series of instructions, shapes and images, the latter sends it as a video stream, like Skype. In my experience, latency is still a problem with Splashtop, but games, especially slower-paced RPGs and strategy games, run decently.

Anyone know if Teamviewer supports continuum? Because that's what I use instead of remote desktop. If so, it would definitely sway my decision to go for a Lumia 950 to replace my 735.

Yes it does but it's awkward. When you connect using your phone, it becomes a trackpad to move the remote mouse pointer which is really good but when you connect using continuum, it uses the same logic so you have to click and drag the local mouse pointer to move the remote mouse pointer. I did not find an option to change that behavior.

There is a bug with the mouse on teamviewer. This is your best option for now. I did contact teamviewer support and told them about the bug. we will see if it gets fixed.

Good news, have been using citrix via continuum on my 950 for a couple of weeks and its awesome, just waiting for that full citrix app rather than html5 via edge but that works well enough.

Can you tell me how you do it? I'm using Citrix here but since the Citrix receiver is not universal, I cannot use it.

He said using html5 via edge (browser) ;p

Yeah, would like to know how as well. Every time I try to access my citrix client through edge it wants to open the .ica file and just can't. Plus, the receiver app doesn't support continuum.

For those of you still having problems seeing the new version on the store that works on mobile, make sure you shut down any instances of the store you may have in the background (long press on the back button and shut down the store app). Once I did this the new version surfaced in the store for me.

I have been waiting for this. Now I can do network admin tasks easier from my phone.

That is what I have been waiting for. IF I keep a dock in my car I can dso quick problem solving anywhere instead of having to find a pc. I was just waiting for the remote desktop to support continuum.

Yea, as soon as Continuum supports touch screen, imagine how easy it will be to do Remote Desktop support from IN THE VEHICLE! There are already a few really nice Double Din dashboard mounted touchscreens out there. So first you have Continuum as your head unit for your car stereo and nav system. Then when you need to give network support you just pull over to a Sonic and get yourself a big drink and Remote Desktop in with your dashboard as a Windows 10 desktop. It's crazy cool.

I keep getting an error trying to download it... Any ideas?

Um, how do I do a SHIFT + click on this version while only on the phone? While using pointer mode? Old version had a row of lock buttons I could choose just above the keyboard... this one, nothing.

I just ran a few Remote Desktop sessions using this new build. You gotta get your head around how amazing what you are doing actually is. It's hard to feel impressed simply by running a Remote Desktop if that is something you do day-in and day-out. (It is for me) What you have to remind yourself of is you now have this capability with something you are carrying around in your pocket. This is when you are in a pinch! Caught without your full gearbag or brief case. No hotel room will ever come up short again. Even without a dock and keyboard\mouse, a Miracast Dongle gets you a full desktop experience while you have your shoes kicked off. (All while you are still texting your client that is requesting support) I can live with the few roough edges of this Version 1.0 of Continuum. In fact, it works! But I am very bullish on where this is going. My travel bag is getting smaller and smaller everyday.

Ok, everyone...you know that Continuum is more than just the phone feature, it's a function of the OS to adapt the apps to the device, so going from desktop to tablet to mobile modes is the real deal...just having the apps on the phone able to adapt to the docked mode is an extra icing on the Windows 10 cake ;p

Just tried it on my 950xl..amazing!! Thx ms!!

It won't rotate to portrait mode for me. Is continuum required for portrait? That wouldn't make sense...

Oh I thought it was like TeamViewer which lets you use the remote control while your phone's in portrait mode. Portrait is only supported by the menu/main page

Its sad but still lacks alot of features that the real version of remote desktop has

Anyone know how well say sling tv would work(lan only) on a w7 host to wp client

Seems
to work fine for me, but my desk top is ruining windows 10 though

Well I tried all the instructions I could find and I can't connect my 1520 with the RD Preview app to my W10 pc. I gave the app the PC name, then tried and I.P. address. and no dice. Team View works easy peasy, but I wanted to see this work.
Windows Central Newsletter
Thank you for signing up to Windows Central. You will receive a verification email shortly.
There was a problem. Please refresh the page and try again.