Aukey SK-M7 Stereo Bluetooth Speaker: Carabiner-equipped for travel
By Brent Zaniewski last updated
The SK-M7 Bluetooth speaker fits the bill for simple design with audio quality that suits its affordable price tag.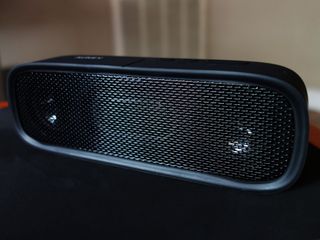 Popular battery and charger manufacturer, Aukey, has jumped on board the mid-range Bluetooth speaker train with the SK-M7 — a portable speaker that's crafted to be carried using its carabiner hook-up on the side. The sound quality is pretty standard for its size, but won't be winning any awards for best performance. It's lightweight enough to carry with you or clip to your bag, weighing in at only 0.82 ounces.
Pros
Compact size
Good battery life
Carabiner attachment
Good bass and mids
Cons
Fingerprint magnet
Non-functional line out
Distorted highs when cranked
Aukey's included just about everything you need to start using the SK-M7, including 25-inch Micro-USB and auxiliary cables. They also throw in a carabiner clip for easily clipping the speaker to your own gear (or gear to it). At just over 8 inches in length, it's compact enough for most settings, featuring a modern rounded design. Behind the grill you'll find two 3-watt drivers and a subwoofer in-between. The pictured black speaker is the basic model, but you can also spring for the yellow-grilled alternative (opens in new tab) at no additional cost.
Functionality is pretty straight-forward, with only three buttons to work with. Up top you've got a volume rocker, play/pause button, and a call button next to the built-in microphone and LED. The entire speaker is wrapped in a removable rubber skin that's horrendous for collecting fingerprints and smudges. Even though this protective layer can be removed, the plastic, bare-bones design is rather unsightly. On the bottom are 4 rounded feet that have been molded into the rubber skin to keep the speaker stationary while in use.
On the back is the power switch which not only turns the speaker on, but puts it into pairing mode. Fully charged from the Micro-USB input, I was able to keep the speaker jamming for around 12 hours, adjusting volume levels as I saw fit. The 2600mAh battery inside the SK-M7 didn't take long to recharge, though — approximately 4 hours via the USB port on my PC.
For direct connections that don't require Bluetooth (and some battery saving in the process), there's a 3.5mm line-in port you can connect with the included cable. The line-out port, on the other hand, seemed to serve no purpose whatsoever since it refused to push audio to an additional speaker or headphones. Not a huge deal-breaker for me considering I'd never actually utilize a line-out with this style speaker, but disappointing nonetheless.
The sound quality of the Aukey SK-M7 was certainly good enough for my liking, adding plenty of punch where it belonged along with crisp mids — regardless of what genre of music I played through it. Its one weakness on the audio front is its highs, which tended to get a little distorted once I pushed the volume past the 80% mark on my connected Lumia 640 XL. Still, for its $30 price tag it's hard to argue for what this carabiner-equipped Bluetooth speaker does offer.
I've actually seen a video of the line out working and I have the speakers they're really amazing value but they're not fingerprint magnet. They're more lint magnet than anything. Also cool feature it's that they can tilt (not it's core functionality) so that it faces towards u as it's in the table and it's stable! It tests on it's hind legs and the round back curve to do so. Try it out. And highs don't sound distorted to me when maxed.

If $30 is mid-range, what are entry-level and top-end? $30 seems like a pretty decent budget price, but as someone who likes his highs more than lows, something with strong lows and weak highs is a tad disappointing for me.

I've had nothing but problems with blue tooth speakers since I installed win10
Windows Central Newsletter
Get the best of Windows Central in in your inbox, every day!
Thank you for signing up to Windows Central. You will receive a verification email shortly.
There was a problem. Please refresh the page and try again.