Eikon Mini is an affordable fingerprint reader for any PC and Windows Hello
I try out the $25 Eikon Mini fingerprint reader. Is it ideal for Windows 10 and should you get it for your laptop?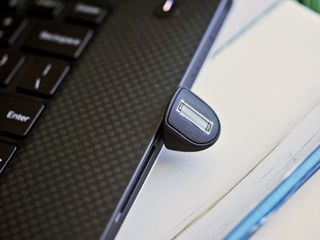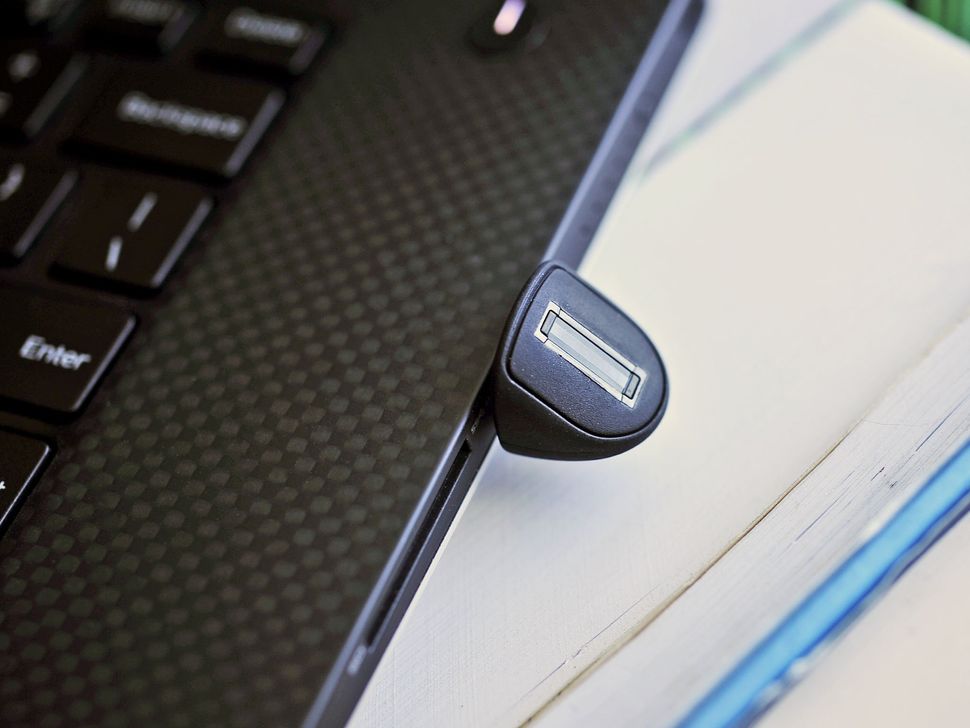 Microsoft's Windows Hello is a biometric authentication system for Windows 10. All that means is that if your PC supports facial recognition, iris scanning, or a fingerprint reader you can log in to Windows without typing your password. Even apps are hooking into Windows Hello now like Enpass, OneDrive and 8 Zip.
But what if your PC or laptop does not have any biometric support? Eikon has a solution with their $25 Mini Fingerprint Reader, and I gave it a spin. Here is what's good and what's bad about it.
Design
The Eikon Mini gets its name because it is one of the smallest fingerprint readers around. It's roughly the size of the tip of your finger (28 x 20 x 15mm), and it is very portable with no gangly wires.
The Eikon is made from a hard plastic, and it uses a USB 2.0 for a connection. Build quality is solid with no visible defects or flaws in design.
The curved nature of the reader allows it to work with laptops or full blown desktop PCs. However, due to the USB connector being a part of the reader itself, you will need to have easy access to a USB port on your PC.
If you are on a laptop, the reader works well enough as it can just plug into the side. The laptop lid can close easily without dislodging the reader, but I am not sure you would want to leave it plugged in for travel. While you could easily keep it plugged in at all times it does protrude from the side of a laptop and makes it more likely to bang or dislodge.
For desktop PC users the Eikon only makes sense if you are using a USB hub or have USB ports on your keyboard (which would be ideal). Sure, you could put the fingerprint reader on your PC directly, but it negates the ease of use if you have to reach for it each time. However, if your PC has ports on the top and you keep it by your feet at the desk it could work well. One easy solution to this is just to grab a USB cable extender, and you can put the reader anywhere.
Usage and accuracy
The Eikon Mini Fingerprint Reader should work with any PC running Windows 10 that has a spare USB port. When you first plug in the reader, you will see a dialog that Windows is configuring the reader, but there are no third-party drivers to download and install. The Windows 10 OS will take care of everything, and there is zero configuration to get it to work.
Setting up the Eikon is also standard. Users just need to go to Settings > Accounts > Sign-in options and they should see a new Windows Hello option available. Like all Windows Hello setups, the user just enters in their PIN or password to begin the process of registering their fingerprint.
Windows Hello does not upload your biometric data to any server. Instead, the data is encrypted and stored locally on the PC. That means you will need to setup Windows Hello on each PC with this reader for the first time as the data does not roam with your user account profile.
The Eikon reader is a swipe reader meaning you need to drag your finger across it. This method differs from the more modern touch sensors like on the new Surface Type Cover that do not require movement. Windows Hello requires about four swipes for a successful registration. Users can register other fingers including other family members into the setup as well.
Once enabled, a PC that is locked can be unlocked from the lockscreen just by swiping their finger on the Eikon. The process is effortless, and I never had to re-scan by finger as it worked every time on the first attempt.
How to use multiple accounts with Windows Hello in Windows 10
What's neat about the Eikon is you can register it on different PCs and take it with you. For instance, you can register it on your work PC but then use it also on your laptop. Any Windows 10 PC that has a biometric peripheral removed naturally falls back to PIN or password. Plugging the Eikon in instantly enables the feature again, and you can do this to any PC that is on its lockscreen too (no need to reboot). The OS falls back to the registered fingerprint on that machine and works as expected.
Buy or skip?
I have no complaints about the Eikon assuming you are okay with the form factor. The Eikon is easily one of the smallest fingerprint readers I have come across, and it worked as expected. I used the reader on Windows 10 production (10586.494) and the Anniversary Preview (build 14385) with no issue on multiple PCs.
At the time of writing the Eikon is available for $25 on Amazon making it very affordable especially since many other readers go for $65 or more. There is no installation besides registering your fingerprint with Windows Hello, and you can safely remove the reader and plug it back in without any concern.
There is an even smaller USB fingerprint reader by MouseComputer that was show recently at Computex, but it is not yet available to my knowledge.
See on Amazon (opens in new tab)
Overall, I have no complaints about the Eikon. It's small, priced right, and very easy to use. While it is not 100 percent ideal for laptops due to it protruding it is very likely the best solution you can get right now without buying a new PC with a built-in reader.
For $25 that makes the Eikon Mini a great deal.
Windows Central Newsletter
Get the best of Windows Central in in your inbox, every day!
Daniel Rubino is the Editor-in-chief of Windows Central, head reviewer, podcast co-host, and analyst. He has been covering Microsoft since 2007 when this site was called WMExperts (and later Windows Phone Central). His interests include Windows, laptops, next-gen computing, and for some reason, watches. Before all this tech stuff, he worked on a Ph.D. in linguistics, watched people sleep (for medical purposes!), and ran the projectors at movie theaters because it was fun.
Out of curiosity, have you tried it on w10m with an otg adapter?

Lol was wondering the same thing. Simply from a curious nerd standpoint.

lol, I have now (14385). Unfortunately, nothing happens. My guess is those drivers still need to be finished, which is why some of the Elite x3 guides refer to an OTA update needed to enable. I'll keep checking.

Curious nerds rewarded! shame it doesn't work yet, I knew it was coming for the x3, but I wondered if it had snuck into one of the just builds!

Does w10m support OTG? I am concerned about using pendrives only.

Yes. W10m supports OTG. Works well with pen drives, external drives, mouse, keyboard, dock etc.

Thanks. One more thing, will OTG work on older devices like lumia 720 having insider preview installed or their hardwares aren't compatible?

I tried it with a USB-C hub on a 950xl. You get a notification saying it is not supported and to try using it with a PC. Maybe it will work with the anniversary update. I am not running any insider builds.

How come? I used my USB thumb drive with USB-C adaptor and it worked. I don't think there is diffrence in USB-C hub, because the MS Display Dock is just like a hub.

It is now $19.95 on a lightning deal for the next 8 hours.

So weird, I just checked like 30 minutes it ago and it was $24.95. Nice.

It was just started. Pretty cool timing. Bet the seller saw the article and put it on sale to encourage more purchases.

Ah dammit. I've already spent too much today and this doesn't help. Sigh...

Ooh must be nice to have that problem ;)

Unfortunately, it's $25 (even with the discount) in Canada.

Got a Canadian link? The one in the article doesn't ship to Canada, and a quick search on Amazon Canada only turns up one for $150.

US price on Amazon, $24.95. UK price on Amazon, £139.99. Now that really is one heck of an exchange rate... I think I'll pass. Shame really, sounded good.

My previous laptop had a fingerprint reader that I was using to login to windows. Too bad there was no Windows 10 (and Windows Hello) at that time.

On Amazon UK for £140!!! Wow, the £ has really sunk to new lows...

I would prefer if the fingerprint readers to be inbuilt in mouse or keyboards in future than selling separate accessories.

In-built finger print reader on keyboard is good idea, however, the keyboard being an accessories to the PC or laptop is a consumable item meaning, you change it regularly or you change it when you want a new one or you see a better design, or you change it when you lose one piece of its keys. So when you change your keyboard you are also throwing away the finger print reader evenif it is still working. The separate accessories is the best way to go even for your PC. However on laptop, ultrabootk, or tablets, the in-built finger print reader makes more sense.

i wondered about it for my surface pro 3, but the problem is, that it is still to big for it and putting it on my usb hub that i use at my company table would meen that when i take my Surface with me (home / other office), i would have to switch the loging type ... I home that some day microsoft would eventualy start to ship its fingepring keyboard for surface pro 4 (backwards compatible with 3) in other contries then US and that it would not cost fortune. or that someone will make something better, e.g. bluetooth fingeprint reader (if it is possible),

Got it at 19.95 with only 15 minutes of window...

I will definitely buy this

I purchased a similar device which I attached to my daskeyboard on my desktop PC. Even though it hangs on the back of the keyboard and i swipe my finger essentially upside down, it works great. I no longer have to type my password. I reach over the and swipe my finger down and boom!, it works great.

I wonder how long until we see a mouse with a fingerprint reader. Maybe at IFA this year... Posted from my Nexus 5X

Be careful, this device is a discontinued model from 2011, with no support or driver updates. see http://web.archive.org/web/20130306122224/http://support.authentec.com/ Someone bought out the remnant inventory and is dumping it on Amazon. Keep looking on Amazon and there are devices like the $39 SideSwipe and EcoID that Microsoft has actually blessed as Windows 10 Certified. Read the reviews on Amazon!

Great to see the prices come back down. When crapple bought Authentec, these went from $10 (as pointed out in this ancient review about it) to $150+ on Amazon (as you can see here). That said, I'm no longer interested in it after seeing this significantly more compact and touch-based one from Computex 2016, patiently waiting for that.

Just got mine for $19.95 at Amazon's Prime Day Deal

Definitely a buy, specially for customised PCs.

I'm in. Amazon huh? Hmmmm.

So I bought this thinking it'd be perfect for my desktop since the Razer Blackwidow Chroma I've been using has a usb port on the side right near the mouse hand. I got it today and was pumped to install it... only to find out that the port on the side of the keyboard is reverse in its orientation (WTH?), meaning the swipe surface would be facing down... FML


Just got it today and set it up. Quick and easy to do so, and definitely faster than entering even a PIN.
Windows Central Newsletter
Thank you for signing up to Windows Central. You will receive a verification email shortly.
There was a problem. Please refresh the page and try again.