Make your Xbox One S disappear with the sleek HIDEit wall mount
By Daniel Rubino last updated
Ever wanted to put your Xbox One S on the wall to show it off or hide it behind your TV? HIDEit's mount for the One S is an excellent and affordable option to make that happen.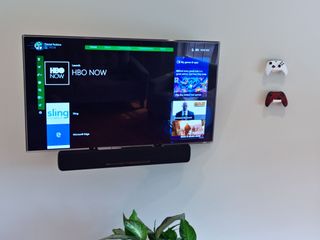 One of the cooler things of becoming an adult is trying out pleasant things. With a new house creating the perfect audio-visual center is always a challenge, especially if you want a minimal, clean look. HIDEit makes a series of mount for PCs and game consoles that let you get your device off the ground and on to your wall.
Recently, I picked up the HIDEit Xbox One S Wall Mount to try at home on my first of two TV setups. Here is what I think.
About this review
I purchased the HIDEit Xbox One S mount in white with two controller brackets from Amazon in early August for $39.99 based on personal research for my home.
See at Amazon (opens in new tab)
What HIDEit Xbox One S mount is (and options)
A small feature that is present with the Xbox One S that is not found in the Xbox One is the ability to stand vertically. The space-saving feature lets you place the One S on a stand, which not only looks neat but can offer some unique setups too. (Microsoft says you can set the original Xbox One vertically "at your own risk" for what it's worth. It's not a heating issue but the slot-loading disc drive that could be problematic).
HIDEit Mounts makes an assortment of mounts for PCs, Apple TVs, cable boxes, and more including the relatively new Xbox One S. Just screw into your wall – maybe behind the TV – and slide in the Xbox One S and you are ready to go.
Besides keeping it off the ground, the mounts allow for proper ventilation, better cable management, a minimal look, as well as damage prevention from spills or accidents since it is out of sight. From the HIDEit description:
Openings allow full access to the power port, digital out port, and all vents.
VESA Compatible: 100mm (M4) & 200mm (M6).
Position for disk access on right or left side.
Made in the USA from Recycled & Imported Steel.
Powder coat finish protects from rust & won't chip.
Quick and easy to install. No measuring, no templates.
Includes M4 and M6 VESA screws, drywall screws and anchors.
Stud mounting is optional.
Made in the U.S., the HIDEit mount consists of powder-coated 16-gauge steel manufactured in "ISO Certified shops."
There are a few mounting options for Xbox One S owners:
The additional Xbox controller wall mounts ($20 for two) are universal brackets that cradle your Xbox controllers or even headphones. Considering most people just toss the controllers wherever, I think the brackets a fun way to keep the place tidy.
Installation is a breeze
When it comes to drilling holes into a wall, there is always a bit of risk especially if it's your first time – or you're renting. Luckily, HIDEit's mounts are very easy to install. The entire process took about 15 minutes, and that includes unpackaging everything, doing some dry runs, and finding the right placement.
For my setup, I just had my 1080p Samsung 55-inch TV swivel mounted to the wall in a new house. The AC cables were run behind the wall to give a cleaner arrangement, but now the Xbox needed to be connected.
Due to the size of the TV, the HIDEit mount can easily fit behind it and still be invisible from view. Smaller TVs including 32" ones may be a tighter squeeze but should still work.
The Xbox One S mount is a single piece that felt solid, with no creaks or weak points. Four holes near the center are for the screws. If drilling into dry wall and not the studs (unlikely due to spacing) you will want to use the included screw anchors with a 3/16 drill bit. I just held the mount to the wall, drew in the holes while using a level to ensure evenness (even though it was going to be hidden from view). I then drilled the holes, dropped in some anchors, and hand-screwed the mount.
Once secured, the Xbox One S just slides into the HIDEit mount. There is no set-screw, which I would have liked to secure the One S in place. The setup also means that with the plugs removed you can easily slide the One S out from the mount for servicing or even replacement.
For the optional HIDEit controller mounts I just did the same: dry run, level, mark holes, drill, add sinks, and screws.
The included instructions were basic but adequate. All the tools were included, and there is a pamphlet with further advice for assistance if needed.
HIDEit mounts are a winner
I was very pleased with the HIDEit kit for the Xbox One S. All the parts were included, the mount is made in the U.S. with excellent quality, and installation is super easy. The additional controller mounts are not for everyone, but I like the look a lot, and it keeps the area organized.
Despite the TV now hiding the Xbox One S, I had no issue using the Xbox controllers with it. Of course, if you use the Xbox Media Remote you will have problems as it relies on line-of-sight to work properly (and even then, it's frustrating).
Because my TV mount is a swivel hinge (you can see it here on Amazon (opens in new tab)) I have no problems accessing the console for manipulating plugs in the back, syncing a controller, or accessing the USB ports. For non-movable mounts, you will need to think about how you will install and setup the Xbox One S beforehand.
Some HIDEit owners purposely install their One S to the side of the TV and run the cables behind the wall, or do other unique setups.
I also like the sheer variety of mounts HIDEit make including some for brand-name components, but also universal brackets for any other device or project you may have in mind (opens in new tab).
On Amazon, HIDEit maintains a 99 percent rating from nearly 1,400 reviews in total, which is reassuring.
Overall, I think the HIDEit Xbox One S mount is an excellent purchase. At just $30 for the mount, the asking price is very reasonable, and you can save some money if you for the $40 package with controller mounts. Indeed, I plan on buying another kit for my 65" 4K TV for the secondary living room area in the coming weeks. For people who are tight on space, or just want that perfect clean setup the HIDEit Xbox One S mount is your solution.
See at Amazon (opens in new tab)
Pros:
A fun way to show off your Xbox One S or completely hide it.
Excellent build quality.
Reasonable asking price.
Easy installation.
Cons:
Set-screw would have been nice.
Daniel Rubino is the Executive Editor of Windows Central, head reviewer, podcast co-host, and analyst. He has been covering Microsoft here since 2007, back when this site was called WMExperts (and later Windows Phone Central). His interests include Windows, Microsoft Surface, laptops, next-gen computing, and arguing with people on the internet.
I've been using HIDEit Mounts for a while. I've got a bunch of their mounts at this point and been impressed by every one I've bought. I've mounted a Wii U, an Alienware Alpha, my Comcast box, and a variety of controllers.

We thank you for your purchases! You must have a sweet setup :)

Too bad they don't make the same clean style mount for the regular XB1.

Not this exact mount, but you could (a) use one of their generic ones or (b) wait to see if HIDEit announces a XB1X version (which I'll likely cover).

HIDEit Mounts will have a Xbox One X console specific mount about two weeks after the X releases!

If you build it, they will come. I went searching for this article because now that I have a new OLED LG 55 inch and an xbox one x on preorder, I'd like amore elegant solution to minimize the cords and electronic clutter. I'll be checking for your xbox one x wall mount weekly basis, starting November 1st!

This looks perfect. I've got a One S awkwardly located on a buffet under a wall mounted TV in our dining/living area, and a mount like this would be a good way to get it off there. Showed it to the Aesthetics Committee, and she's given a preliminary thumbs up.

"Showed it to the Aesthetics Committee, and she's given a preliminary thumbs up."

lol I have one of those too

This is a pretty cool idea. Going in the Amazon wishlist just in case I ever need it in the future (I don't have TVs mounted on walls so currently this would be of no use).

Forget it. I want my Xbox out where everyone can see it.

If you read closely, you would know that you can mount it on the wall in the open. You literally do not have to put it behind something for all of this to work.

No no.. I'm pretty sure the xbox will blow up if you don't precisely mount it behind a TV...

Looks like a fantastic product, thanks for the tip

I wouldn't get this. I'd be too afraid of it falling one day :O
Windows Central Newsletter
Get the best of Windows Central in in your inbox, every day!
Thank you for signing up to Windows Central. You will receive a verification email shortly.
There was a problem. Please refresh the page and try again.