Review: Lenovo Miix 10 Windows 8 Tablet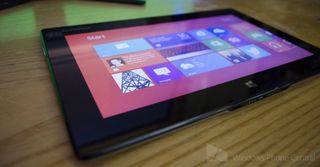 If you picked the Lenovo Miix 10 tablet out of the box while blindfolded, you might guess it is a Samsung product – and not in a good way.
The Miix 10 is an Intel Atom Window 8 tablet that comes in at $479, but our hands on time with the unit was less than stellar. From build quality to pricing point it was hard to get excited about the Lenovo Miix 10. Read on to learn more about Lenovo's latest Windows 8 consumer tablet.
Swipe to scroll horizontally

Lenovo once again provides a tablet that feels sturdy in the hands and is comfortable to use. The unit is not bloated with trial software and Lenovo has kept it relatively clean (except for McAfee). Optional Keyboard dock should provide great flexibility.

Poor building materials, including a cheap feeling and metallic colored plastic backing. Volume rocker switch also feels cheap. Price tag is a bit too high for what Lenovo is offering. The entire unit is a bit bland and doesn't bring any unique experiences to the table.

The Miix 10 isn't necessarily a poor tablet, but it doesn't stand out from a crowd. An average display, decent battery life, and poor building materials create a tablet that might be good - at a lower price point. We recommend taking your money and looking into other options including the ThinkPad Tablet 2 and VivoTab.
Form
As the Miix 10 is a consumer tablet, it arrives at your doorstep in a nicely designed black box with a picture of the tablet on the top. Lenovo's simple, yet minimalistic, box design is the markings of a premium tablet; unfortunately, once you open the lid, "premium" seems to slip away
I have handled and worked with a lot of various Windows 8 devices, but the Lenovo Miix 10 seems to scream "cheap material" like no other I have handled before. I'm a big fan of Lenovo hardware, it is what I carry around every day, but they really missed the mark on the build materials with this unit.
The tablet is constructed entirely of plastic, cheap plastic. It is almost as if Lenovo took a look inside the Samsung design book and decided to follow what they found. The back of the tablet is constructed from a lightweight plastic that has been colored metallic grey, in an attempt to give a premium look; instead, I'm just reminded every time I pick up the unit that "Oh yeah, that is not metal, it's plastic."
Even the buttons around the edge of the tablet feel cheap. None of the buttons gave a decent or satisfying feeling click and the giant inch long volume rocker feels like something off of a $99 Polaroid Android Tablet. The front of the unit houses a large black border, which once again, makes the device appear cheap on sight.
If you can get past the materials used to design the tablet, the actual "design language" is not too bad. The grey plastic back creeps up the edge of the tablet, creating a nice balanced look of color. The bottom of the unit houses a nicely sculpted area that houses a dock connector. Overall, the design ideas that went into the tablet aren't terrible, but we wish Lenovo would have stepped up the materials used or at least textured the plastic. In some cases it would be best to follow Jonathan I've's advice of making a device "unapologetically plastic"; instead, Lenovo just seems to be trying to hide the materials used by painting them metallic and silver.
The port selection on the tablet is decent, but we would have liked to see a full sized USB port. The bottom of the unit, as stated before, houses a dock connector along with a Micro USB connector. The left side of the unit is left bare, while the right side accompanies the inch long volume rocker, Micro-HDMI port, Micro SD card reader, and power adapter. The top of the unit houses the volume button on the left hand side and a 2-in-one audio jack for headphones and microphones on the right hand side.
Device branding is minimal with only two permanent Lenovo logos, one on the upper left of the front black bezel and one on the back center. Lenovo did load stickers onto the back including an FCC regulation sticker, Lenovo informational sticker, Intel Inside sticker, and a Windows 8 sticker. All stickers can be removed, but make sure to write down your serial number and exact model number from the Lenovo information sticker. To stay safe, keep the Lenovo information sticker, in case the unit has to be sent in for repair and they demand it be present.
Turning on the tablet can be accomplished by pushing the power button or placing your finger on capacitive Windows Logo button that sits on the bottom bezel. We aren't necessarily a fan of this feature, as we felt it was too easy to hit the logo accidently and wake the tablet.
Function
Once we did wake the device, we weren't very impressed with the units 10. Inch display. The 1366 x 768 IPS display lacks the amount of contrast and "color pop" that we would expect to see from a consumer tablet such as this. The screen isn't necessarily bad, but it isn't great. If Lenovo was going to copy Samsung's cheap plastic design materials, they could have least done what Samsung always seems to get right – the LCD display panel.
The 1.28 lbs. tablet, doesn't seem capture us with its construction, but maybe it will be better on the inside, or maybe it's just an Intel Atom - which it is. The Lenovo Miix 10 houses an Intel Atom processor clocked at 1.80 GHz, 2 GB of 800 MHz RAM, Intel HD graphics, and a 64 GB SSD. There isn't necessarily anything bad with an Intel Atom tablet, but you won't find yourself quickly flying between applications and multitasking.
Intel's Atom architecture limits a unit's RAM to a maximum of 2 GB and keeps Windows 8 running as a 32 bit operating system. Benefits of tablets with an Intel Atom chipset can include a thinner profile (no need for fans) and much longer battery life than a Core series processor (although that is beginning to change with Haswell). The Atom architecture also limits the speed of transfer between the SSD and the ability to integrate USB 3.0 into the device, which doesn't seem to be an issue since Lenovo picked to forego any full-size USB ports.
The Lenovo Miix 10's battery life is lower than we would have liked to see for an Intel Atom tablet. With some Atom tablets clocking in easily at over 10+ hours, the Miix 10 only achieved around 7 hours of use. The unit was able to manage long periods of standby in my bag, but once use kicked in – I found my time cut short. That being said, 7 hours might be more than enough for you – but in this tablet world, it is a bit low.
Everyday use of the unit was comparable to any other Windows 8 Atom tablet in existence; it chugged along just as the ThinkPad Tablet 2 had. With only a few Windows 8 applications open, the unit moved along like butter. Once multitasking kicked in, the unit was still a joy to use, but a slight slowdown was noticeable.
Despite the ability to run a plethora of legacy Windows software on this tablet, I wouldn't run anything beyond simple essentials. Microsoft Office worked well, as did some of the other basic software I carry (such as Spotify), but running anything semi intense brought back nightmares of using a netbook in the early 2000s.
What became the real star of the show for Lenovo's Miix 10 tablet is the included software. Usually, we hate any software that OEMs load onto their machines, but Lenovo has been on the better side of things by providing pieces of exciting, yet practical, software.
Preinstalled onto the tablet is Lenovo's Veriface face recognition software; this nifty app makes signing into your tablet fast and easy. Face recognition software is one of our favorite pieces of software to find on Windows 8 tablets. While face recognition was a gimmick years ago, the technology has been greatly improved and serves as an efficient method of signing in. Lenovo's software works well, although not as fast as Sony's equivalent.
Registration with the software is fast and easy, simply enable the software and sign into your user account. As you are signing in, the software will associate your face with the account and you are all set. Lenovo pops up the old fashion virtual keyboard to have you input your password for the first time, which is weird and annoying, but the payoff is great.
We remind our readers that face recognition isn't the most secure solution for keeping your documents away from prying eyes, but it does allow fast and convenient access. The software does have the ability to choose between various security modes, but room lighting may affect accuracy and the ability to login. During our testing, we left the software setting on "medium" for a balance between accuracy and efficiency.
Lenovo has also includes their Motion Control software which allows users to control basic navigation and functions with hand gestures. Adjusting volume, skipping songs, and resuming/stopping your movies are only a gesture away. If you are holding the tablet while lying in bed, the feature is not very useful, but if you have the tablet propped up on a table in front of you – it is fun to play around with.
Also installed on the unit are other collections of software, but Lenovo has kept it to a minimum. On this unit, we found Lenovo's Cloud Storage software powered by Sugar Sync, Intel's AppUp Center, and McAfee Anti-Virus (don't get me started). A few other Windows 8 apps are pinned to the Start Screen, but can easily be removed.
One of the unit's top selling points is an optional detachable keyboard case. Lenovo says the attached keyboard carries their "AccuType" keyboard, so we are excited to try it out and see exactly how well it feels. The cover costs $99 and we will be getting a test one in for a review shortly.
Computer manufacturers are racing to deliver a fun, yet productive, tablet with Microsoft's Windows 8 operating system and many are turning to keyboard attachments to do so. Lenovo's keyboard attachment may be different from the methodology Microsoft used to design the Surface keyboard, but the aim is intentional – Windows tablets are designed for productive individuals whether they be consumers or business users.
Other accessories beyond the keyboard case include a folio case that is said to provide a "delicate touch feeling and elegant appearance". The case is only $29 and we suggest you pick one up to help cover the plastic on this unit (anything to cover up faux plastic is a big help).
Conclusion
Overall, the tablet is fun to use and will provide a great experience to most who pick the device up, but if you are searching for the top multimedia tablet - this isn't it. We feel Lenovo was really aiming at a budget device with its Miix 10 tablet, but we also feel that they missed their mark. Pricing the unit at $479 doesn't create a very competitive price point and we feel other tablets are available out there for a much cheaper price. If Lenovo sold the Miix 10 at $399 or even better, $349 – we could see this unit being a huge seller.­
ASUS's Vivotab feels much better in hand, while providing longer battery life, and a better looking screen. If you want to stick with Lenovo, Lenovo's IdeaTab Lynx is a better bet; the Lynx still feels like a budget tablet, but nowhere as cheap as the Miix 10. In addition, the IdeaTab Lynx is $180 cheaper and can be found starting at $349 on Amazon. Lastly, if you are just looking for a cheap "large size" Windows 8 tablet, the Microsoft Surface RT is superbly built and an insane deal at $300 (although it does not run legacy apps).
If you want to pump out a bit more money and get a better product, you can take a look at Lenovo's ThinkPad Tablet 2 for $100 more, which has an outstanding screen, build quality, and digitizer pen. Check out our review on the ThinkPad Tablet 2 by clicking here.
I really wanted to like Lenovo's latest consumer tablet, but when their business tablet provides a better multimedia experience – there is something to be said. We are more excited for Lenovo's 8 inch variation of the Miix, and look forward to it in the coming future. For now, we suggest picking up a different Windows 8 tablet or waiting till a sale hits for this unit. In our eyes, hopefully the cover keyboard will provide some redemption, unfortunately at $99 – it better or this is going to look like an even worse deal than it already is.
Has anyone picked up Lenovo's Miix 10 tablet yet or thinking of picking one up – what do you think and is $479 a good pricing point or simply shooting too high for too little? Sound off in the comments below!
You can pick up the Lenovo Miix 10 directly through Lenovo or through third party retailers such as Amazon.com.
Bonus Question: Do you currently own a Windows 8 tablet, and if you do, how do you like it? Do you find it makes you more productive?
Get the Windows Central Newsletter
All the latest news, reviews, and guides for Windows and Xbox diehards.