Osomount Vent Luxe car mount review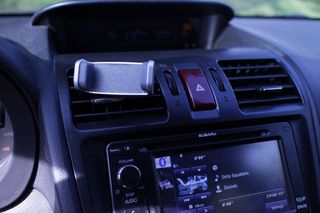 When looking for phone accessories, such as car mounts, simple is sometimes enough. Yes, it's handy to have a fully-articulating suction mount with built-in wireless charging if you spend a lot of time driving, but for an occasional commuter, it doesn't often justify the hefty price tag.
Osomount's Vent Luxe is a no-frills car mount that travels well and gets the job done.
The Vent Luxe has a rubberized grip that slips over the blade of your car vent, allowing it to install in just about any automobile.
The smartphone bracket is spring-loaded on one side, which adjusts to hold onto phones of various sizes.
The bracket is hinged on a 360-degree ball joint that gives you the freedom to position your device any way you choose.
Setup
Installing the Osomount Vent Luxe is as easy as sliding it onto your vent blade though it does take some elbow grease to get it started.
If you have an adjustable vent, you will want to hold it in place with one hand and slide the mount on with the other. The rubber clip on the mount will provide a little bit of resistance as you insert it in the vent, but should then pop into place and hold firmly.
And that is it. You can then pop your phone in and use the swiveling mechanism to position it to your liking.
The Good
Osomount's Vent Luxe is well-constructed. The main part of the bracket is solid. And even though the spring-loaded arm of the bracket slides effortlessly when putting your phone in, it still holds the device firmly in place.
The silicon grips on the bracket are smartly angled. This ability assures that they securely hug your smartphone, while avoiding pressing any buttons on the side.
As for the ball joint, it may not have adjustable tension, but it is set just right. When mounted in the vent, you can swivel it without much effort, so it won't be a distraction while driving. And yet it offers plenty of resistance to keep your phone in whatever position you put it in. It even kept my large Lumia 1520 from moving around while navigating some bumpy back roads.
Aesthetically, the Vent Luxe's grey frame and patterned leather offer up a handsome alternative to the cheap-looking black plastic that make up most mounts of its kind. The mount still also maintains a neutral enough look to fit most car interiors.
It is also convenient to take with you. Because it is small, lightweight, and nearly universal, the Osomount Vent Luxe is just as perfect for when you are riding shotgun with someone else as it is in your own car.
The Not-so-good
The one piece of the Vent Luxe's design that I could envision failing is the spring-loaded arm on the bracket. When extended out to accommodate a larger phone, it seems a tad flimsy. In fairness, I did try flexing it and applying a decent amount of pressure to it but did not get the sense that it was going to break. As long as you aren't a brute to it, you probably won't have any issues with the arm.
One could argue that the price tag is a little on the high side for a vent clip mount, and it's true that you can find cheaper ones. However, there is also the counter-argument that you get what you pay for. And if you are looking for a vent clip mount, then this is a quality one.
Aside from that, the only criticisms that can be directed at the Osomount Vent Luxe are the ones that apply to all vent mounts.
Firstly, different cars have different vent setups, so some users may find that the vent design cannot support the weight of a phone, and thusly, it may sag.
Secondly, these mounts, by design, sit directly in the path of your air conditioning and heat, so they may block air flow from where you want it. Not to mention that having your heat blow directly on what is essentially a small computer may lead to issues in its own right.
Conclusion
My limited experience with Osomount's products has been very positive, and the Vent Luxe is no exception. From a design standpoint, it is both intelligent and aesthetically pleasing.
It is sturdy enough to support even a large smartphone and convenient enough to bring with you in other vehicles.
Sure, you can argue the merits and drawbacks of vent clip mounts, in general, and whether or not there are better options. But, the point is that if you are looking for one, the Osomount Vent Luxe is damn good.
You can get it up Amazon below for $24.95. For the next month or so, you can get 15% off the Osomount Vent Luxe if you use the code "HVUPBHON."
Buy the Osomount Vent Luxe car mount on Amazon.com (opens in new tab)
Related Reading
Does a 1520 fit inside of it? That is something I expectedin the review .A lot of these don't support the 1520 as its too wide.

Did you even read the review?

He says that it fits his 1520 in the review lol

It is a copy of Kenu product.

I bought a similar one at DX for $4. Works like a charm.

$25 is still expensive for the occasional user. You can get the same type of thing online for less than $10.

Most car air vents are flimsy and I'm afraid this will end up causing the vent to snap.

It is not. The item was sent to us for review.

I consistently see these reviewed attached to horizontal vent blades, which seems as the norm, but how do they perform on vertical vent blades? Obviously it could support being mounted this way with the ball joint, but is the vent clip strong enough? I would consider something like this if I could be sure the clip wouldn't slide over time with vibration / potentially fall off. Plus this would be less stressful on the vent as the weight would be in the direction of strength of the vent blade.

Unfortunately, I don't have a vertical vent to try it on. Given that it takes some pressure to get the clip on the vent blade, my hunch is that it would stay put, at least for a while.

Thanks Seth; I may give it a go. If I take the plunge (depends on available resources), I'll report back on the results.

I recently bought a small magnetic mount for 10 $. Best mount ever. Easy, no fumbling, perfect.

Do you have a link for it?

http://www.amazon.de/gp/aw/d/B00VTQEVZO/ref=mp_s_a_1_1?qid=1443549496&sr...
It's the German amazon page, but I think you'll find something familiar in other countries.

I have The Kenu Airframe. I travel on a weekly basis. I have been using mine for almost two years without issue. This is small, lightweight and is more versatile in my opinion. No ball joint that will loosen up over time. The clip part has two slots with varying thickness for best fit. It works on vertical vents as well, no sliding. If you have a bigger phone the airframe + is available. The device is very sturdy when expanded out to its maximum width. The downside is the vent is covered. Happy customer here. Buy the kenu instead

Exactly the same is my case, Kenu Airframe is fantastic and also for less money. I paid 13 euros for it and quality/Performance vs. Price is amazing.

This is one I have heavily considered - it is high on my list and I would like to get one, but I'm hesitant on price. On US Amazon the Airframe is the same price the clip featured here, the Airframe+ is $5 more. I'm not eager to drop $30 on a mounting clip. But comparatively speaking, with the high praise I have seen for the Airframe, being the same price as the clip here does make it a bit easier to consider as it would be a better clip for the same price. Decisions, decisions.

I was hesitant at the price too, you might find it cheaper on eBay. It is worth the price of you need a very portable device. Otherwise I use a suction cup dash mount device in my personal vehicles.

Does the groove app only show the album art if it doesn't have artist images on file to display? Honestly the lack of album art is probably my biggest gripe with groove.

CD Player Slot Stands > All Posted via the Windows Central App for Android

After trying several cheap ones like this, I was always disappointed with the fibration. The i saw a taxi in Hungary have a more professional mount for his mobile. It is from Brodit, and exactly matching every car and every mobile phone. It was $75 for my Lumia 830 in a BMW 1series, but worth every cent. No vibrating, no unusable vent ... the best solution (for some money, i have to admit).
Maybe you guys put this ones to an test to some time, i would 100% recommend it and will buy it again for my next car and phone.
Windows Central Newsletter
Thank you for signing up to Windows Central. You will receive a verification email shortly.
There was a problem. Please refresh the page and try again.