PQI My Lockey is a reliable fingerprint reader for Windows Hello that cost only $35
If you have $35 to spare, you can log into your Windows PC anytime using your finger.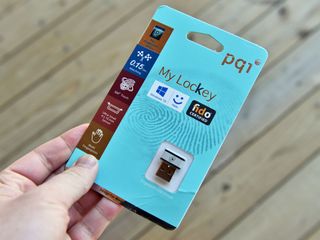 Microsoft's Windows Hello is one of the most fun aspects of a modern Windows 10 computer, but most PCs still do not have any bio-authentication hardware to leverage the available tech. Luckily, third party companies are stepping up with some affordable solutions. One of those is the new PQI My Lockey, a $35 fingerprint reader that will turn any laptop into a secure machine.
Here's our review of the gadget.
PQI My Lockey design
Regarding the overall look and feel of the PQI My Lockey, it follows the same generic look as every other "pill" USB fingerprint reader on the market.
It's quite amazing how small these sensors have become over the years. At least 75 percent of the device is the end of the USB Type-A adapter. That leaves the sensor to make up the rest. With a white center and black ends, the sensor is a bit more visible compared to a typical all-black design.
The PQI label is underneath, and on top a little fingerprint graphic gives an excellent visual indicator of the device's function.
Image 1 of 2
There is also is a small green LED. Unlike the Mouse Fingerprint reader I recently reviewed, the PQI does not have two-stage LED lighting. Instead, when the Windows 10 lock screen is enabled, it turns a solid green and briefly blinks when identification is made. And there is a red LED that flashes if the device does not successfully read a fingerprint.
There's not much to be said about the PQI My Lockey for its looks, but overall I like the design. It is also one of the smallest of all the USB fingerprint readers available today.
Setup is a breeze
There is no real setup with the PQI My Lockey, because it is simply "plug and play."
You just turn on the PC, insert the PQI My Lockey into a spare USB port, and Windows 10 will install a driver in the background for you. The entire process takes maybe two minutes, depending on your internet connection speed.
Image 1 of 2
From there, setup in Windows 10 is very easy. You just register your finger using the Microsoft walkthrough under Settings > Sign in options > Windows Hello.
You can add multiple fingerprints and, of course, additional users can perform their own Windows Hello setups.
Synaptics FTW
Many companies make fingerprint sensors that are then licensed out to manufacturers. I was surprised to find that the PQI My Lockey uses a Synaptics WBDI sensor instead of AuthenTrend or FPC. Of all the fingerprint readers on the market, Synaptics is one of the best from my experience, and their drivers tend to be quite reliable. PQI may not be a "brand name" but Synaptics is, and I'm glad to see that technology being used here.
On the PQI packaging, the company boasts 0.15-second matching and 360-degree touch. While I did not measure the speed, it is very fast and reliable. Once my fingerprints were set up in the Windows settings, I never had the PQI fail to log me into Windows.
The 360-degree touch refers to the ability to place your finger onto the sensor at most angles and still have it read. This method contrasts with the older swipe sensors that were a lot more finicky.
Check for TPM 2.0 (just in case)
The one important caveat here is that you need a somewhat modern computer before you can use Windows Hello on it. Specifically, the PC should ideally support Trusted Platform Module (TPM) 2.0, which is a subsection in the computer's motherboard that allows encrypted information to be stored. However, if your computer does not have a TPM chip it should still be able to work. According to Microsoft (opens in new tab), "[i]f the device does not have a TPM chip, the private key is encrypted and protected by software."
When Windows Hello runs, and you register a fingerprint or facial scan, the encrypted hash is stored there. Without it, you cannot use Windows Hello.
Here's how to check for TPM 2.0 support:
Right-click on Start menu.
Choose Device Manager.
Look for an open Security devices.
Verify that it says Trusted Platform Module 2.0.
It's also worth noting that sometimes TPM is disabled in the PC BIOS, so you may need to check there, too.
Conclusion: PQI My Lockey is $35 well spent
Windows Hello will significantly speed up the process of logging into Windows 10, and it's a wonderful way to spruce up your laptop.
For $35 on Amazon, the PQI My Lockey is hard to beat. It comes in at nearly $15 cheaper than the Mouse Fingerprint Reader for Windows Hello ($49), and I cannot say that it is any worse. In fact, the cheaper PQI uses what is arguably a better sensor – Synaptics versus AuthenTrend – and it is slightly smaller than the Mouse. The only difference is the Mouse has a dual-stage LED, but that is not necessarily a reason to prefer it over the PQI.
If you have a Windows laptop, I highly recommend picking up the PQI My Lockey. If you have a desktop PC that has a USB hub or your keyboard has a USB port, adding this fingerprint reader is also a convenient option.
See at Amazon (opens in new tab)
Windows Central Newsletter
Get the best of Windows Central in your inbox, every day!
Daniel Rubino is the Editor-in-chief of Windows Central, head reviewer, podcast co-host, and analyst. He has been covering Microsoft since 2007 when this site was called WMExperts (and later Windows Phone Central). His interests include Windows, laptops, next-gen computing, and for some reason, watches. Before all this tech stuff, he worked on a Ph.D. in linguistics, watched people sleep (for medical purposes!), and ran the projectors at movie theaters because it was fun.
It should be built into the new laptops

Sure, but that has nothing to do with older laptops that people own today.

I have no Windows Hello capable PC hardware... but I do have a machine that the whole family use attached to the wall in the kitchen... My question... Do you have to select the appropriate user first or can you just use the finger print scanner and it logs in the right person?

Just touch it and it logs the person in, as long as you are on the lock screen. It works that way for me at least on my Surface Pro 3.

But are you a single user? What if there are additional users? My PC has 6 seperate profiles for 6 individuals...

If there are sep user accounts each account can have its own Windows Hello login. When the PC is locked, they just walk up and touch the sensor and it logs in the right person.

<-- THIS - wow, i had this question and this alone for people who login into a common family laptop, this alone could be worth the cost.... so you dont have to even select the user? GREAT! As usual, thanks for info Daniel.

I've used a USB3 memory stick (Although stick isn't the word as it's smaller than this finger print reader) from PQI and it's been excellent over the years - Still going strong. I know its not much to go on but my only experience with PQI has been great, and the fact it uses a Synaptics reader means they haven't pinched the pennies on this

Dan, i got a surface pro 2 and the security module inside is the 1.2. Will it works if its not the newer 2.0? And i dont think it is something you can update either.

Thanks for your fast anwser sir!

The article states that this device should work on version 1.2 via software encryption. Also,I did find, by searching "Trusted Platform Module 1.2 upgrade 2.0" in Bing, a Dell driver that will upgrade the version to 2.0. Maybe Microsoft has a similar driver update for your SP2.

Do anyone know if you can use this to login other web accounts as well?

I have an ASUS Z170l Pro Gaming MB and apparently I need to buy the TPM module separately, do I really need it or will Windows Hello work just fine without it. Am I correct in thinking that the difference is that the encryption data is stored within Windows as software level rather than on the module as a hardware level security?

It should work. I'll try to find some cheaper hardware to verify.

So I got my wife to get me this as she owed me a birthday present. I did have a Windows hello laptop and missed it when I got my newer laptop.

Can this (or any of the similiar ones) be used for multiple devices in the USB port of a KVM switch?

Weird question: Can we use this on windows mobile as a replacement for the finicky iris recognition? Usecase: Phone is docked, need to unlock quickly while working.

I've always wondered if such devices could be used with Windows 10 Mobile via OTG like on the lumia 950/xl using a usb c to usb a cable. Since u guys at Windows Central already got both devices, or if not this reader, another one, can u guys confirm whether it could be used as a fingerprint reader on WM devices? I know it's a long shot, but can't hurt to try.

this device also work properly on PCs joined to a domain?

doh, it's allmost impossible to find one of theese devices on italian market :(

This is a fantastic thing... I have it (different brand) one my old PC and my kids can access pcs without giving passwords. I am going to try it on xbox one and see if it works?!?!?!

My wife and I use the same account on the computer. Will this work to log both of us in?

Its a Windows Hello limitation. Only one per account. At least that was what I read about it. It will probably work if you have the same computer but with different accounts.

If you want to live a little on the edge, here is a Chinese knockoff for about $20 and free (slow boat) shipping. :) http://www.ebay.com/itm/Mini-USB-Fingerprint-Reader-for-Windows-10-Login... Of course you never know what kind of interesting data might be siphoned off (or loaded!) while you have it plugged in...

My Surface Pro 2 has a TPM 1.2 module, would this work?

Having recently upgraded to a nice gaming laptop, I was surprised to see it didn't have a fingerprint reader. I was more surprised to realize how much I miss having one. This little device might be in my near future. I wonder how the "breath detection" works. Pulse ox??