Cheaply bring Windows Hello to any PC with Mouse's new camera and fingerprint reader
Look no further than these two Windows Hello accessories by Mouse for a low-cost solution to your older PC.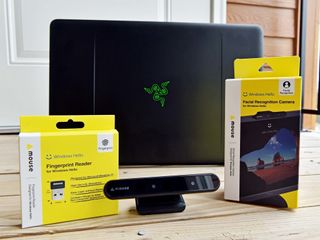 Being able to log into your PC by just looking at it or scanning your finger is easily one of the best modern innovations in security and convenience. Unfortunately, of the 400+ million users on Windows 10, most don't have the hardware to leverage Microsoft's Windows Hello bio-authentication system.
Mouse, based out of Japan, is the first company to bring third party Windows Hello accessories to the masses on a budget in the form of the Mouse Facial Recognition Camera and Mouse Fingerprint Reader for Windows 10.
All you need to know about Windows Hello
Mouse Facial Recognition Camera - $69
Of all the Windows Hello methods, facial recognition is the easiest (versus iris for phones). With the tech, you can just look at your display – even a few feet back - and the PC will log you in and unlock.
The Mouse Facial Recognition Camera is just $69.99 on Amazon (opens in new tab) and it is quite splendid to use. The camera just mounts to the top of your display and plugs in over standard USB-A like any webcam.
Windows 10 automatically downloads the driver for it, which is listed as generic "RGB-IR Camera." Although the PC won't notify you, after the quick installation, you should reboot the PC for the OS to fully recognize it.
How to set up Windows Hello facial recognition in Windows 10
The Mouse Facial Recognition Camera can act as a standard web camera, shooting at 720p at 30fps, available in the Windows Camera app, Skype, and other applications that utilize a camera. It does quite well for brightness, but it will pale compared to the 4K Logitech Brio. Considering the Brio costs $200, however, and that is to be expected.
The one downside is the Mouse Facial Recognition Camera does not have its own microphone, so you will need to provide your own.
For Windows Hello, the Mouse's dual IR lights performed exceptionally well, especially with the Windows 10 Creators Update (which sped up the entire process). Recognition works in low or even no light situations, and it took less than a second to register.
It should be noted that you cannot fool Windows Hello and facial recognition with a photo, either. Even identical twins don't have much luck tricking the technology. Instead, it uses advanced mathematical models to build a 3D image. That information is then converted into an encrypted hash and stored on the local PC where it cannot be decrypted, hacked, or removed (and it's never uploaded to Microsoft or the cloud).
So is it worth it? You bet! If you have a desktop PC or monitor and docking station, the Mouse Facial Recognition Camera is fantastic. For comparison, I use a Surface Studio, Surface Book, Logitech Brio, and more. There is no discernable difference with Windows Hello between them and the Mouse Facial Recognition Camera. They all just work.
The cost difference e.g. Brio versus Mouse is just the RGB camera optics for a web camera plus the microphones. If you plan on being a full-time streamer, you will be better going with the Brio. For regular Skype calls, however, or if you just want it for everyday Windows Hello the Mouse Facial Recognition Camera is a bargain.
The quality of the device is good being light (115g) and thin. I have nothing negative to say about it. If you have an older PC, this will 100 percent improve your Windows 10 experience without breaking the bank.
See at Amazon (opens in new tab)
Mouse Fingerprint Reader for Windows Hello - $49
Whereas the Mouse Facial Recognition Camera is ideal for desktop PCs, I'd recommend the Mouse Fingerprint Reader for laptop users.
Coming in at $49.99, the little adapter fits snugly into your laptop's side USB port. A small blue LED blinks rapidly when active and turns green when a print is recognized. Like the Mouse facial camera, the Mouse fingerprint reader automatically downloads generic drivers from Microsoft on its initial insertion.
Setting up in Windows 10 is very easy as you just register your finger using the Microsoft walkthrough under Settings > Sign in options > Windows Hello. You can add multiple fingerprints and, of course, each login user can have their own Windows Hello set up.
The sensor is registered as AuthenTrend (versus Synaptic or FPC), is pill-shaped, and a "360-degree field of recognition", which means you can just mash your finger anywhere on it for it to work. Being a current non-swipe sensor, it works by merely pressing your finger on it for a moment to work.
The Mouse Fingerprint Reader for Windows Hello worked very well each time. I had no false reads, and it was even more reliable than the one built into the HP EliteBook x360 G2, which says something.
Although priced close to the Mouse facial recognition camera ($69 versus $49) the Mouse fingerprint reader worked as advertised. There is no software to install, Windows Hello worked with it instantly, and the blue and green LEDs are a nice touch to let you know it is working.
For laptop owners, I think this is the best – and cheapest – option for adding Windows Hello security. It's not 100 percent ideal; the sensor still sticks out slightly despite its teeny size. There's not much can be done about that as dongles are going to dongle.
While I don't foresee any breakage, you will have to take some extra caution when moving your laptop that you don't bang it into anything. I am not too worried about it falling out as it does require some force to yank it out, which is good.
Currently, I'm using the Mouse Fingerprint Reader on my 2017 Razer Blade, which does not have any form of Windows Hello built in. For an extra $49, I think this is a great option if you are frequently logging in and out of your laptop.
Finally, if you have a desktop PC that has a USB hub or your keyboard has a USB port, adding this fingerprint reader is also a convenient option.
See at Amazon (opens in new tab)
Check for TPM 2.0 before you buy!
The one important caveat is you do need a somewhat modern computer before you can use Windows Hello on it. Specifically, the PC needs to support Trusted Platform Module 2.0 (TPM 2.0), which is a subsection in the computer's motherboard that allows encrypted information to be stored.
When Windows Hello runs, and you register a fingerprint or facial scan the encrypted hash is stored there. Without it, you cannot use Windows Hello.
To check for TPM 2.0 support simply do this:
Right-click on Start menu
Choose Device Manager
Look for an open Security devices
Verify it says Trusted Platform Module 2.0
If you do not see the above on your PC, there is a good chance you cannot run Windows Hello. Most recent PCs support TPM 2.0, but not all, especially on the low-end. S make sure before you buy! It's also worth noting that sometimes TPM is disabled in the PC BIOS, so you may need to check there too.
Bringing Windows Hello to the masses
Logging into your PC by using facial recognition or a fingerprint is fantastic. You don't appreciate it how fast it is until you begin using it every day – once you start using it, you can't go back.
You can even use Windows Hello to secure some apps like Enpass (password management) and OneDrive.
These two bio-authentication solutions made by Mouse work well and costs little. I found no difference in performance or their reliability compared to sensors on high-end PCs. They just worked and worked well.
For those curious, you can utilize both Mouse components on a single system together. Granted, you won't be able to log in simultaneously with both, but you can have both plugged in and use either at your leisure.
Overall, I'm excited to see these peripherals hit the mainstream and I can completely recommend them as a budget-friendly solution to Windows Hello.
Windows Central Newsletter
Get the best of Windows Central in your inbox, every day!
Daniel Rubino is the Editor-in-chief of Windows Central, head reviewer, podcast co-host, and analyst. He has been covering Microsoft since 2007 when this site was called WMExperts (and later Windows Phone Central). His interests include Windows, laptops, next-gen computing, and for some reason, watches. Before all this tech stuff, he worked on a Ph.D. in linguistics, watched people sleep (for medical purposes!), and ran the projectors at movie theaters because it was fun.
Finally, finally! I've been waiting so long for this!

Me too and I would of bought one but no microphone is a disappointment.

Same here. A microphone is a must have. To me, it's even more important than a regular camera.

I was just wondering about this!

You really should call out that these older computers need to be enabled/capable of TPM 2.0, or that users should check that their computer says it is capable of enabling Windows Hello in the Sign-On options before they go out and buy one of these.

My desktop doesn't have a TPM and I have a Razer Stargazer providing Windows Hello facial login just fine.

I'd like to know how you got that to work. I got my hands on one of the Mouse Computing cameras last November. I added a TPM 1.2 module to the motherboard of my old Sandy Bridge PC, but it wasn't enough for Windows 10 to recognize the PC as being Hello capable.

There are so many in our office that have requested this after seeing mean it in action and at $69, it won't be a hard sell.

YES! A cheap way to add facial recognition to my work machine. I've been using the Eikon fingerprint reader, but I'd rather sit down and be logged in right away.

Im more worried about what you are growing in that tank, why you have a gun next to a flag on the wall...something your not telling us :P

Have you been able to get the Mouse camera's facial recognition (or any other external Windows Hello camera for that matter) to work on a Surface Pro 4 when the Type Cover is closed? I often keep my Type Cover closed when my Surface is docked at my desk, but I still want to use Windows Hello to sign in. I set up a Kinect a while back to try using it as my desktop webcam. Facial recognition worked fine as long as the Type Cover was open, but when the cover was closed, Windows Hello facial recognition wouldn't work at all. So I'm wondering whether it's a unique problem or just by design.

@gregsedwards Did you find a solution for this? Trying to set this up with an HP Envy (that usually sits on my desk, closed). The facial recognition wouldn't setup while the laptop was closed. After opening up the laptop the Windows Hello facial recognition would setup, and it appears to work to log me in while it's closed. Not sure what's going on, but it appears to be functioning now. Log in is quick! EDIT: After a restart it is back to the original behavior. Lights come on the scanner, but no recognition occurs until I open the laptop. Obviously NOT faster or more convenient than a PIN. Still looking for a solution.

The SP4 already has built in facial recognition, why would you want to attach another device to it?

Wonder if that cam works on Mac for Facetime/Skype and Siri. I dual boot so it would be nifty to have to log into my W10 boot at times, and then use it for macOS for wifi calling and Facetime.

When might they hit UK shores?

The fingerprint scanner solution has been available for quite while now, this isn't really anything new. Head over to Amazon UK and search for Benss Windows Hello USB fingerprint reader. Costs you £33.99.

It's the camera I'm waiting for 🙂

That I haven't searched for. But I'm sure it will eventually show up. The likes of Trust are surely working on offerings of their own ;)

I would love to have these, but not available in canada yet!

I would like a desktop mouse with fingerprint scanner, easy and simple

I want a computer mouse with built-in microphone so I can emulate Scotty in Star Trek IV.

I believe TPM is how Intel calls that security platform thing. With my RYZEN rig, what I see on Device Manager is "AMD PSP 3.0 Device". I wonder if it will be similar and if I could use a Windows Hello compatible webcam or fingerprint reader.

Stupid name as searching for it only brings up a computer mouse.
Also doesn't seem to be availalble anywhere in the UK...
I really wish Windows Central gave a bit more consideration to other markets, especially as you have a UK editor featuring on your podcast and yet even he only ever talks about $'s... But then, I guess MS doesn't give a crap about outside of the US so why should WC?

We try out best, but it's not always possible. You can change the Amazon link to co.uk. There is also the rest of Europe and rest of the world, so we cannot possibly serve all markets with buy links regardless of some of our editor's origins.

I agree but when you have an editor on the podcast who frequently talks about the UK market (the Surface Book availability etc) but then fails to mention UK pricing, like a couple of weeks ago when you first discussed the Brio... it makes it all seem rather blind-sighted and vapid.
As for the items mentioned, not a single one of them is on Amazon UK...


There are other companies doing these things. Search Amazon UK for Benss USB fingerprint reader

I know it's all relative, but 70 dollars isnt exactly cheap for a peripheral device. It is, however, cheaper than buying a new PC.

Context is this is the cheapest way to add Windows Hello currently to a PC, not necessarily cheapest peripheral.

Thanks for the TPM 2.0 info. I don't think my computer supports it, so I guess I will wait until I upgrade to get a Hello compatible camera.

Ever since my wife got her HP Envy, I'm been hot on getting something like it on my desktop without having to get a part time job to afford one. This Mouse might be the ticket. I got a Benss in my desktop right now. (http://forums.windowscentral.com/windows-hello/453497-benss-fingerprint-...) Works great but I want that camera.

Needs mic and I'm in. Using Kinect 2 right now. Works great, just a lil big.

I've been thinking of getting the adapter to use my Xbox One Kinect on my setup. I haven't had it connected to my Xbox for a while now, and don't miss it. The Kinect adapter is pretty cheap. Would you recommend that? Oh, and how do you mount your Kinect? I wish they'd update articles like this by mentioning the Kinect when they compare other options.

This looks really great, but I've got some questions first. I've already got an older Logitech webcam which has both audio and video. If I got this Mouse Facial Recognition Camera, what happens if I plug it in at the same time I've got my old webcam plugged in? I would think that Windows would have some sort of problem. Or if it didn't, then how does one use the Mouse to login using Windows Hello, if the Logitech webcam was used before logging off?

You can often switch cameras for Skype and use the Mouse for just Hello.

Most (if not all) applications allow you to choose what to use for a webcam if you have more than one.

And I've got another question. I just got into Device Manager to see if I could find out whether or not my PC supports TPM 2.0. There is no folder in Device Manager named "Security devices". Does that mean I don't have TPM 2.0? Or do I have to enable that somewhere else?

Does your Kinect work for Windows Hello even though the folder isn't there?

Likely you don't have the hardware. Check on manufacturers site... or reply model of your device!

Yeah, I've come to the same conclusion. Oh well. At least I won't spend money on something that won't work. I'll just leave everything well enough alone.

Sometimes TPM may be disabled in the BIOS settings, so worth a check if you don't see it in device manager.

Yeah, was going to mention that but seemed to open a whole new avenue since so many BIOSs are different. Worth noting though.

Thank you for introducing this solution as I see you use it on your Razer blade. I wish Razer added this feature to their pricey beautiful beast :)

I have tpm 1.2, does that work?
I tried ordering on Amazon but they don't ship to the Netherlands. Anyone know of a distributor in Europe?

"Dongles gonna dongle". Lol.

I wish that tiny fingerprint reader wasn't $50.

I got the IR reader, used it with my Kangaroo PC (Yes that $99 Kangaroo phone size PC) which has TPM2.0. It was a PnP with Win10 CU and very very fast. I wish the camera have Microphone. Nonetheless, our kids made me get one more for the 2nd Kanagaroo PC which is a pro (the one with 4GB RAM, 64GB storage). Summary - Our household love this thing for windows hello, all 5 of us configured on each pc. It is true PnP and it works.

Just received mine yesterday. I had an Intel F200 that has been continually disconnecting recently so I thought I'd give this a try. We'll see whether it disconnects too and it's actually a system issue but, as far as starting up and recognising my face, it's much faster than the Intel has ever been. Happy so far.