Review – WaterField Designs Laptop SleeveCase for Dell XPS 13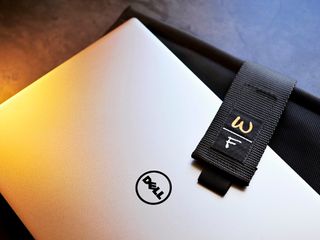 The Dell XPS 13 has been a huge hit since it knocked us off our feet at CES earlier this year. And we have been almost equally impressed with Waterfield Designs' cases for the Surface Pro 3.
So when WaterField Designs announced their new line of custom laptop sleeves for the Dell XPS 13, Lenovo, and ASUS laptops, we were pretty excited. I was fortunate enough to get one to check out firsthand.
Fit
Before jumping into the design, although WaterField Designs is touting the XPS 13 as the perfect fit for this sleeve, it can fit a variety of other similar sized devices. According to their site, this sleeve is ideal for:
ASUS Transformer Book T300 Chi
Dell XPS 13 (2015)
Lenovo Yoga 3 Pro
Lenovo Yoga Pro 2
Lenovo Yoga Tablet 2 13"
Lenovo X1 Carbon
Lenovo ThinkPad X240
Lenovo ThinkPad X250
Lenovo ThinkPad T440s
Lenovo ThinkPad T450s
Lenovo LaVie Z
Microsoft Surface Pro 3
Indeed, we have tried this sleeve with a few different devices and agree with their list.
Design
With the exception of the main black ballistic nylon body, WaterField Designs' SleeveCases are almost entirely customizable. You can choose vertical or horizontal orientation, trim type, flap/flapless, D-rings, shoulder strap, or piggyback pouch. What I am looking at today is the most basic configuration.
As previously stated, the body of the SleeveCase is comprised of black ballistic nylon, which provides a tough outer shell to protect your laptop from the elements. The bottom is reinforced with Lead Indium nylon, a reflective silver checkered nylon. This fabric choice can be substituted with WaterField Designs' signature black or brown leather for an additional cost.
Inside the sleeve, you will find thick, padded neoprene. The soft lining simultaneously pads your device and prevents it from jostling around. The pocket is kept closed with a thick nylon strap, adorned with the WaterField Designs logo. It has a loop at the end for either a stylus or carabiner.
Completing the design, is an outside document pocket that runs the entire span of the sleeve, which can easily accommodate a pad of paper.
Thoughts
The craftsmanship of the SleeveCase is everything I have come to expect from WaterField Designs. The materials are top quality, the stitching is strong, and there is no doubt that it is tough. If you do not require much in the way of accessories, the SleeveCase could you very well as your laptop's primary mode of transportation. In that case, you may want to consider adding a flap, a shoulder strap, and perhaps even a piggyback pouch.
But the SleeveCase is also a fantastic companion for a larger bag. It is compact enough to fit in a messenger bag, and the low-friction nylon allows it glides smoothly in and out of an interior pocket. And the pull tab on the bottom gives you something to hold onto when pulling it out.
One of the great things about Waterfield Designs' products, the SleeveCase included, is that you can customize them for however you want to use them. But if you go with the base model, you are still going to get something great. Even though this is a no-frills sleeve, it is one of the best ones you can buy.
Not to mention that in addition to its brawn, it is also handsome. The ballistic nylon, along with the Lead Indium trim, is sleek and modern-looking. And if you are looking for something to give it a little less of a sporty feel, you can always go with the leather instead.
This SleeveCase for the Dell XPS 13 is the fourth product I have reviewed by WaterField Designs, yet I continue to be impressed. You can design and order your custom-made SleeveCase at WaterField Designs' website, starting at $49.00 for model in this review.
Related Reading
So I am now using this sleeve...not sure how I feel about sleeves in general, but this one is hella nice.

Daniel, with or without the flap? I was trying to decide between the two. I like the quick access flapless, but I worry dirt gets in too easily. Also did you get the d-rings, straps, piggy back?

I'm using the one featured here, the basic, but may go all out with the d-ring, strap and flap. Without the flap, it still mostly closes/seals in the laptop. I'd be fine carrying it around or tossing it in a bag. This basic model is ideal if you want to slip it into a backpack, luggage, or just carry around. However, if I was going for the d-ring/strap version, yeah, I'd opt for the flap. Presumably, you'll be outside more with such a tablet. Then again, I think the single strap is easier to fiddle with for quick access.

I have the loaded version of this for my XPS 13. Expensive for sure but I feel worth it for the use I will get out of it. I would not go without the flap for what I do, and if it will get transported in something else, then you can get something cheaper IMO.
This sleeve asks to be left out and admitted. Love the piggy back pouch! Biggest/only complaint (besides price) is the use of Velcro instead of button for latch.
This makes it secure for sure, but it does two things 1: It can scratch the device upon removal or insertion. The cover shot of this article would be scratching the device. They should have switched Velcro sides. 2: It's loud! Traveling on plane or worrying about sleeping kids, it really needed to be a button or magnetic latch.
Great sleeves, but not truly customizable (I need a button!)
Is be willing to answer any questions on loaded version.

Did you just say hella, brah? Gnarly.

I think I like this one myself. I'm still hoping to get a fitted, snap on case similar to what you could find for MacBooks.

A little too App$e hipster for me. But looks well made.

These all seem very well made but very $$ for what they are. I just bought the evecase 11.6 from amazon for $14 and figure it will live in my messenger bag full time. Ended up with that one as it seems to have more substantial padding and the price is pretty good. Dont get it until Tuesday though so we'll have to wait and see.

Can you measure the outer dimensions of the basic one you reviewed? It would be helpful to understand what sized bag it will fit into. Thanks in advance!
Windows Central Newsletter
Get the best of Windows Central in in your inbox, every day!
Thank you for signing up to Windows Central. You will receive a verification email shortly.
There was a problem. Please refresh the page and try again.