Rockstar Games reveals GTA+ subscription service for Xbox Series X|S, PS5
Rockstar Games is continuing to push the online mode for GTA Online with a current-generation exclusive subscription.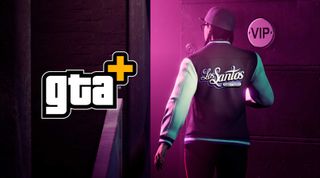 (Image credit: Take-Two Interactive)
What you need to know
Rockstar Games has announced GTA+, a subscription service for Grand Theft Auto Online.
The service brings monthly benefits, such as extra cash and new items.
GTA+ is exclusive to players on Xbox Series X|S and PS5.
GTA+ costs $6 a month.
Rockstar Games announced GTA+ on Friday, a new subscription service that brings new benefits like monthly cash and more for players on current-generation hardware.
According to the announcement, GTA+ is exclusive to Grand Theft Auto Online players on Xbox Series X, Xbox Series S and PS5. For $6 a month, players get bonuses such as $500,000 GTA cash, a special auto shop, unique paints and emblems, and more. Note that if you subscribe, you'll need to claim monthly benefits before they disappear.
While Rockstar Games is continuing to work on the next Grand Theft Auto game, which will almost certainly be called GTA 6, there's plenty of life left in GTA 5 and its companion online mode, as Rockstar Games recently ported the title to current-generation consoles, with improved framerates and faster load times. Anyone currently playing GTA 5 on Xbox One or PS4 can port their saves over to one of the newer versions of the game.
Next-gen robbery
(opens in new tab)
Pull off the biggest heists to bring in the hard cash

Relive the crazy adventures of Franklin, Michael, and Trevor in the remastered, next-gen edition of Grand Theft Auto 5. Explore an expansive open world where you commit all sorts of crimes ranging from bank robberies, drug dealing, grand theft auto, and more to pay off your debts.
Samuel Tolbert is a freelance writer covering gaming news, previews, reviews, interviews and different aspects of the gaming industry, specifically focusing on Xbox and PC gaming on Windows Central. You can find him on Twitter @SamuelTolbert.
Wow, didn't think it could get worse.

Oh, it will get worse. As they will most likely add tiers to the subscription and have one of those tiers where monthly items don't disappear. Then another for an additional garage or safe house. Rockstar really should be working improving RDR2 Online.

Yeah, they pretty much decided long ago to screw that community over and just get all they can from them since it will never be as big as GTAO.

God this game got too big. Kids are clueless. And greed, my god, Rockstar is crossing a lot of lines.

And the Kids being clueless is what they are hoping for because in my OP if you target the young they will eventually think that subs are the norm and in a few years time when us stubborn old time gamers have gone the kids wont remember a time when you only just paid out once for a game.

Wow. I hope this fails spectacularly. But for some reason, I don't think it will. Next, they'll be adding season passes.

Unfortunately, many will jump on this madness. ... This sub is a 2 dollar sub at most not $6.

Why is Rockstar still promoting a 360 PS3 game? Why do people still care?

Are you serious? It is one of the top selling games every year. It has also released on 3 generations. Not that any of this matters, people should really just let it die, but they won't. They still have people playing online endlessly.