Sega accidentally leaks 'Sega Genesis Classics' collection for Xbox One [updated]
You should be able to play various Sega Genesis games on your Xbox One soon.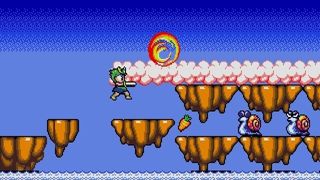 It looks like Sega may have accidentally leaked a Sega Genesis Classics collection for Xbox One and PlayStation 4. A few hours ago, a YouTube trailer was posted for "Sega Genesis Classics" featuring the platforms, but was quickly pulled by the publisher. Luckily, numerous quick-fingered gamers saved the video and posted it on platforms like Facebook and Twitter.
Updated March 14, 2018: Sega confirmed the game after the March 13 leak.
According to the trailer, Sega Genesis Classics is expected to launch on May 29, 2018. It's unclear what the price will be because there's a Steam listing for "Sega Genesis Classics Collection" for $29.96. The post on Steam states that games like Alex Kidd in the Enhanced Castle and Alien Soldier are all part of the package. The complete list of titles available in the Steam version is available below.
Alex Kidd in the Enchanted Castle
Alien Soldier
Alien Storm
Altered Beast
Bio-Hazard Battle
Bonanza Bros
Columns
Columns III
Comix Zone
Crack Down
Decap Attack
Ecco the Dolphin
Ecco Jr.
Ecco: The Tides of Time,
ESWAT: City Under Siege
Eternal Champions
Fatal Labyrinth
Flicky
Gain Ground
Galaxy Force II
Golden Axe
Golden Axe II
Gunstar Heroes
Kid Chameleon
Landstalker: The Treasures of King Nole
Light Crusader
Ristar
Shadow Dancer
Shining Force
Shining Force II
Shining in the Darkness,
Shinobi III: Return of the Ninja Master
Space Harrier II
Streets of Rage
Streets of Rage 2
Super Thunder Blade
Sword of Vermilion
VectorMan
Virtua Fighter 2
Wonder Boy III: Monster Lair
It's unclear if all of these games will be available on Xbox One and PlayStation 4. They should be given the fact that the Steam logo appears in the trailer, but Sega might modify the contents of the collection and introduce a new price. The trailer contains images of games like Sonic The Hedgehog and ToeJam & Earl but the Steam listing doesn't. We've reached out to the publisher for comment and shall update you as soon as we hear back.
Gamers have been asking for many of these classics for years now and it looks like they're finally coming to modern consoles. Titles like Galaxy Force II, Golden Axe, Streets of Rage, Super Thunder Blade, Virtua Fighter 2, and Wonder Boy III: Monster Lair are regarded as cult classics which introduced many new gameplay mechanics. Numerous brawlers and platformers, especially indie games, are inspired by many of these experiences even to this day.
Hopefully Sega will officially announce the collection in the coming days given the fact that they accidentally leaked the trailer online.
Sega posted box art for the game on their press portal. Titles like Phantasy Star II, Phantasy Star III: Generations of Doom, Phantasy Star IV: The End of the Millennium, Sonic CD, Sonic The Hedgehog, Sonic The Hedgehog 2, ToeJam & Earl, and Wonder Boy in Monster World also appear to be part of the package, among others. The collection contains over fifty titles.
Keep an eye on WindowsCentral.com/Gaming for all the latest in Xbox and Windows 10 gaming, accessories, news, and reviews!
Asher Madan handles gaming news for Windows Central. Before joining Windows Central in 2017, Asher worked for a number of different gaming outlets. He has a background in medical science and is passionate about all forms of entertainment, cooking, and antiquing.
Classics...I don't see the word Sonic once.

The trailer has Sonic but the Steam listing doesn't. I think it's a combination of the Sega Mega Drive Collection and the Sega Genesis Classics Collection.

I have a problem with them releasing inferior Genesis adaptations of arcade games like Golden Axe and others. They should focus on originals, and release the arcade games in a separate collection.

Don't forget, Genesis does what Nintendon't! (well, except existing as a console today lol)

Ahh the Genesis, or as everyone outside the USA knows it as, the Mega Drive. It's a little weird that they chose to use the Genesis brand name for this release. I can only assume they have more potential customers in the USA who're xbox gamers than the rest of the world, or simply the retro curve allows for everyone to know the 16bit console by both names. Sega lost to Nintendo on the console front in the USA, even tho sega sold more world wide. However Sega won Europe selling more than Nintendo by a considerable amount. Makes you wonder where they think their retro fans are going to be. Still, unless you're already a hardcore retro buff, I'd suggest you stay away from this kind of guff unless you want to destroy your nostalgic retro feel goods from your childhood memories. A brilliant collection if you're into that. I'm hoping that the PS4 has support for PSVR, would be pretty epic addition.

Sega was also the first to mass market with 128-bit, via the dreamcast back in 1999 - hence it was pricey at £149.99. I only played less than an hour of Shenmue one and everyone in the room could tell it was going to be a classic. Unfortunately, the person who got the game didn't and he sold it to blockbuster - when they were around lol. I still remember Shenmue vividly to this day. The other games they had was Bouncer, a brawler and it was pretty weird as the game devs added 10 of the same character to the roster just wearing different costume colours 😶. The other was WWF wrestling game but still couldn't hold a candle to THQ's gameplay mechanics for wrestling games.

I was wondering why SEGA didn't just ok Microsoft to make the Sonic Mega Collection on 360 backwards compatible, I guess this is the answer. They wanted everyone to re-buy the games over again.

I personally think they should make the Xbox 360 version compatible with Xbox One. I already have the disc for it, so it would be so much easier if I could just slide it in to my Xbox to play.
Windows Central Newsletter
Get the best of Windows Central in in your inbox, every day!
Thank you for signing up to Windows Central. You will receive a verification email shortly.
There was a problem. Please refresh the page and try again.