7 reasons to pay for antivirus software and skip the free versions
Seven reasons why skipping the free tier could be best for you.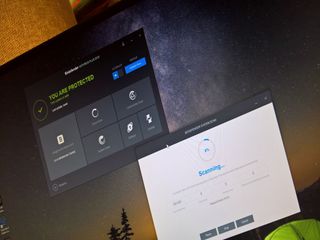 (Image credit: Windows Central)
With bad actors getting ever more sneaky and ingenious, protecting your computer from viruses and malware has never been more important.
But with the best free antivirus software gaining increasingly impressive feature lists and ever more comprehensive protection being built into operating systems like Windows 10 and MacOS, there's a growing school of thought that paying for an antivirus service is no longer a necessity.
Nevertheless, whether or not you choose to pay for the best antivirus software will likely come down to how you interact with the online world, and how much you have to lose should your computer become compromised.
Here below we list out seven key advantages of using paid-for antivirus.
1. A broader range of features
The strongest argument there is for paying for your protection. Threats from online fraudsters and hackers these days go far beyond the realm of just viruses and malware. Unlike most freeware antivirus software, paid-for solutions tend to offer a full suite of tools and features in one bundle, giving a far broader range of protection at your disposal. These add-ons often include the following:
Anti-phishing: While modern web browsers now feature some degree of anti-phishing, paid packages often offer their own, usually superior protection against such attacks, alerting you to dangerous websites and messages intended to steal your data.
VPN: Especially handy for those working away from home, virtual private network (VPN) features reroute your web traffic, offering a layer of protection when using public wi-fi and can simulate the country you are in, allowing you to access services that are otherwise blocked in your host nation.
Anti-ransomware: A growing area of online fraud and extortion, premium solutions offer baked in features that stop ransomware viruses locking up your data. This often works by the user selecting folders on their hard drive that cannot be accessed by unauthorized programs.
Added online banking security: Many premium AV services automatically activate and increase your browser security when you visit online banking websites.
Password managers: Offering greater security for your online accounts, the feature allows you to automatically log in to sites and services with your details stored in a securely encrypted password locker.
2. Ease of use
While there are numerous separate, dedicated programs that do all of the jobs listed above, and in some cases more effectively, having them all bundled together in one program can nevertheless make managing your security a far more convenient way of keeping on top of threats.
3. On-call support
Free antivirus software rarely includes technical or telephone support, which is generally standard with paid-for options. If you run into a problem while using a free solution, you're often at the mercy of FAQ pages or user forums to solve any issue you're having. In a situation where you're the victim of a ransomware attack, a delay in getting a resolution could be disastrous. Bitdefender, Norton, and Kaspersky all offer comprehensive support options including phone lines and live chat.
4. Better cover for businesses
It's one thing making sure the personal laptop you use for Netflix and chill is secure, but if you're using your machine for business, you'll likely have different threats and security needs. If you're running a small organization with a number of computers being used and client details being stored, you'll then have to account for varying levels of technical aptitude and safe browsing and downloading habits among staff, making a more comprehensive protection system even more vital.
5. Protection for all the family
The internet, unfortunately, isn't somewhere that kids can safely explore on their own. To that end, antivirus programs usually have some sort of parental control functionality baked into the software. Paid for antivirus will usually supply you with a license to run the software on several machines – unlike free alternatives – meaning you can protect your entire household's computers with just one payment.
6. Email protection
Email still remains one of the most likely avenues for fraudsters to compromise your data via viruses and trojans.
One accidental click on a seemingly innocuous-looking image or links in a message could result in your computer becoming infected. Premium antiviruses will automatically scan incoming messages and attachments, warning you about suspicious files and potential threats.
7. More efficient
Antivirus software used to have a well-earned reputation for being resource-hungry software. Often causing your machine to grind to a halt when scanning your system, it sometimes felt like the software was as big a hindrance as having an actual virus on your computer. Premium solutions these days thankfully now have a much smaller impact on your system, running in the background with minimal draw on your computer's performance and are usually much more efficient than their free alternatives.
Five of the best premium Antivirus solutions
There are several great free options out there, but as we've stated above you probably want to look into purchasing one. Here are some of the best paid antivirus options that exist right now.
Bitdefender Antivirus Plus 2020
Works on: Windows and Mac
Price: $29.99 (first year for ten devices)
This feature-packed offering regularly turns up tops in antivirus user rankings and has a number of unique protection measures. These include a vulnerability scanner that can alert you to missing security updates and patches, Safepay banking protection, and an anti-webcam hijacking feature.
Bitdefender Antivirus Plus 2020
The best protection at the best price

This antivirus monitors your computer in real-time to stop malicious files before they have a chance to start downloading.
Kaspersky Total Security
Works on: Windows, Mac, Mobile
Price: $49.99 (first year for five devices)
Kaspersky's flagship product offers an intelligent firewall, password manager, parental controls, and automated local backups. Unlike some rivals, it also it covers Mac computers and mobile devices as well as Windows PCs.
Protection without slowdown

Kaspersky features excellent malware protection without using a lot of system resources or causing slowdown on your computer.
Norton 360 with LifeLock Select
Works on: Windows, Mac, Mobile
Price: $99.99 (first year for five devices)
One of the more pricier options, Norton's premium option's main selling point is its LifeLock identity Alert system, which warns users in the US if their Social Security Number, name, address, or date of birth have been used in applications for credit or services.
Unlimited protection for all your devices

Norton does a decent job stopping internet threats, plus a single user license is enough to protect all your devices.
Trend Micro Antivirus+ Security
Works on: Windows, Mac, Mobile
Price: $30 for first year, one device
Now boasting protection for Macs and mobile devices, Trend's premium solution delivers fast full scans and regularly commended malware protection, however it doesn't offer VPN protection.
Trend Micro Antivirus+ Security
Perfect score for malware protection

Trend Micro is one of the few program tests that earned a perfect protection score. It includes tools that protect financial and personal information.
Avast Premium
Works on: Windows, Mac, Mobile
Price: $69.99 (first year for ten devices)
Avast are the makers of one the most popular free antivirus solutions, but their top tier paid for offering goes several steps further. The Avast Ultimate bundle includes a VPN, effective Ransomware Shield, thorough anti-phishing protection, a secure browser, password manager, file shredder, as well as a Wi-Fi Inspector that checks for vulnerabilities on your network.
Get the Windows Central Newsletter
All the latest news, reviews, and guides for Windows and Xbox diehards.