ShareX Windows screen-capture app could replace your Snipping Tool for good
The Windows Store has gained some notable apps over the last few months, and another well-known app made its way to this Store this weekend, called ShareX.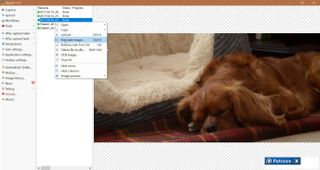 The software is a free, open source, feature-filled screenshot and screen-capturing app for PC.
ShareX blows the Windows Snipping Tool out of the water, and its GIF and video capture tools put in good competition against paid screen capturing software.
Notable features from ShareX include:
Being able to identify borders on screens to allow easy captures.
Customizable keyboard shortcuts.
Scrolling capture.
Web page capture.
Image annotation.
Adding watermarks to images.
It's a powerful and essential app for anyone who needs to capture content on their screens, with many more features than are listed above.
See ShareX on the Windows Store (opens in new tab)
What ShareX gets right
When it comes to screenshots, you have options for region capturing including rectangles, ellipses, and freehand shapes. After taking screenshots you can annotate or watermark them among other options to help you illustrate your point with images. You can also enter a URL to capture an entire web page or do scrolling capture, which can be used to grab an entire page or anything else that scrolls without showing any stitching lines. You can even trim the edges off the scrolled capture to remove elements that would normally repeat on scrolling, such as app menus.
Video capture is simple, as well, because ShareX makes it easy to record the content you want from your device. You have options for recording video using a variety of codices including MP4, gif, webm, and avi. One of the most useful features for recording video is that ShareX can identify borders on your screen when there is something you're more likely to record. For example, if you have multiple apps open on your screen it can tell the borders of those windows and adjusts the recording area before you start. But if you want to record a specific area you can still select it freehand. After taking a screenshot or recording your screen, ShareX has a variety of upload destinations. You can set it up to upload content to multiple popular services such as Imgur, Flickr, Photobucket, Twitter, and more.
You can also customize where the files are stored on your device. And you can select any folder to be your storage destination, including OneDrive folders.
You can customize your workflow with a variety of keyboard shortcut combinations. For example, if you're watching an event live and need to grab lots of screenshots you can set up ShareX to take screenshots when you hit Ctrl + PrtScn, but if you need to grab a video you can with Ctrl + Shift + PrtScn.
What ShareX gets wrong
The tradeoff for ShareX is its outdated UI.
Opening ShareX will send you back to the past, far back before the Universal Windows Platforms (UWP) was part of Windows. It is a legacy-style program with smaller items to click in the interface and a very basic design. That doesn't take away from the app's functionality or impressive features, but if you're used to new and modern apps utilizing Fluent Design and the Windows 10 design language, you'll get whiplash going back to the design language used in ShareX.
With that classic design comes a bit of a learning curve. ShareX is tremendously customizable with options for keyboard shortcuts, upload destinations, application settings, and even things like video recording frame rate. These options can take a bit of time to find but the app is worth taking an honest hard look at to learn its features.
It's also worth noting that while screenshots will work on devices running Windows 10 S, screen recording features will not work on these devices.
Overall, ShareX is a powerful screen capture tool that will streamline your workflow and make it easier to grab content from anywhere on your device.
See ShareX on the Windows Store (opens in new tab)
Windows Central Newsletter
Get the best of Windows Central in your inbox, every day!
News Writer and apps editor
Sean Endicott brings nearly a decade of experience covering Microsoft and Windows news to Windows Central. He joined our team in 2017 as an app reviewer and now heads up our day-to-day news coverage. If you have a news tip or an app to review, hit him up at sean.endicott@futurenet.com (opens in new tab).
Still using the Garage app Snip, hopefully that will also make it's way to the store.

Snip is ok, but it still has that annoying bug that kills your audio when you take a screenshot.

But sadly it does not replace the non store version like Spotify did when it hit the store.

I like what this app can do. But once I first clicked screen recording, the app asked me to download an EXE file that was missing. This can mean that the clean install-uninstall thing is compromised. Such practice should not be acceptable for Windows Store app. So, uninstall for now until the issue is solved.

the download is there because it makes the app smaller, since not everyone is going to use screen recording, and you can install a different version of ffmpeg if you want

I knew about space. The thing is, that's not what you want from the store app.
If all store app start downloading EXE, it will be security nightmare.

Man, that Windows default snipping tool reminds me of computer lab back in HS 1995...... Just saying.
Needs a serious makeover, and modernization.

But it works, one of the more useful software that MS supplied in Windows. the version in Windows 10 looks awful mind you compared to windows 8 version. I have an old screen capture called printkey, it works really well even on Windows 10, but it is about 17 years old, but I may have a look at the win 32 version of this sharex and see what it is like.

Great tool to capture Respondus.

Sometimes you don't want the whole window. Just sayin'

I thought that was what Microsoft Paint was for. ;-)

The new Screen Capture in Windows 10 CU (Windows-Shift-S) lets you select any region. You have to do it manually, so not as nice as ShareX, but a big improvement over Prt-Scrn or Alt-PrtScrn -> Paint.

I use Jing, which seems to do everything ShareX does, plus it provides for uploading the videos you record to ScreenCast.com for free, so you can just send a link to the people you want to see it.

Im using Snipaste since long ago, and it's really great! perfect for cropping, adding notes, etc... Worth a try!

Been using Snagit for years... It's so much more than a screen capture utility.

Codices is pleural for codecs...? I'm old-school...prnt scrn and paste into Paint...where is Paint in my W8.1 dagnabbit ?

A codex (/ˈkoʊdɛks/) (from the Latin caudex for "trunk of a tree" or block of wood, book), pluralcodices (/ˈkɒdɪsiːs/), is a book constructed of a number of sheets of paper, vellum, papyrus, or similar materials, with hand-written contentsA CODEX is not a CODEC.

Just gave it a spin. It is not working proper, if you use OneDrive -_- For some reason there is a conflict, even though I do not have "Auto save screenshots to OneDrive" enabled.

That UI probably rules it out for me.

My first impression is that it does scale well on hi res screens leaving the fonts in a tiny size. Common issue in Win32 apps.

I've been using Greenshot for a few years now and nothing really compares to it at the price point of Free. ShareX isn't bad as I have had that one installed for a few years too but It just doesn't get to what Greeshot does IMHO.