The Sims FreePlay gets Adulthood update, we guide you through it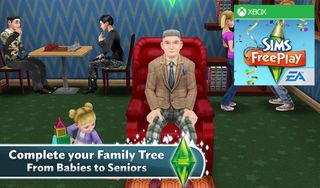 With all the neglect we've seen the Xbox Windows Phone versions of multiplatform games receive, Electronic Arts' treatment of The Sims FreePlay is nothing short of amazing. Since debuting in September of last year, FreePlay has been updated four times already. These updates contain more than simple bug fixes. They tweak the gameplay and add new content and quests to the game. Each time FreePlay receives a major update on iOS and Android, a Windows Phone update follows closely behind.
The latest Sims FreePlay to arrive adds two huge new quests: "Adulthood" and "Seniors." By completing these quests, players can advance their teenage Sims to adulthood and even grow regular Sims into wrinkly old elderly Sims. More details and quest walkthroughs after the break!
Adulthood
Up until now, FreePlay's Sim children could advance in age but they couldn't become adults. Thanks to the "Adulthood" quest, it's now possible for the little 'uns to grow up. You must be level 19 or higher to participate in this quest. It consists of the following goals:
Send a Sim to the Park
Rearrange Chess Board... (8 hours)
Hide in the Park Toilet (4 hours, but counts as completed instantly)
Bring a second Sim to the Park
Continue Playing Chess (4 hours)
Ridicule another Sim (3 hours 12 minutes)
Stare vacantly into the Park Fountain (1 day)
Dance to Electronica (music) in the Park (5 hours)
Have 3 Sims in the Park
Complain to a Sim (1 minutes)
Mock another Sim (1 day)
Grill Em All on the BBQ (8 hours)
Call a Sim to the Swim Centre
Use the Slide (7 seconds)
Drink an Energy Drink at the Swim Centre (30 minutes)
Ridicule the Trophy Case (1 day)
Send a Sim Home
Watch the News (star level dependent 3-5 minutes)
Confess to a Sim (30 minutes)
Clean up Trash (16 hours)
Have 5 Sims dance to a Park Stereo (5 hours but counts as completed immediately)
Complete "Adulthood" in one week after starting it to unlock the Fashion Pack for your adult Sims. These new outfits are available in the Salon or when creating a Sim.
Seniors
Complete the "Seniors" quest and your adult Sims can finally turn into senior citizens like Windows Phone Central's own George Ponder (I kid). Just what you always wanted, right? You must be level 21 or higher to complete this quest.
Send a Sim to the Swimming Centre
Feed the Pigeons (2 seconds)
Investigate Pigeons (7 minutes)
Wait for a Senior on a Park Bench (3 minutes 20 seconds)
Investigate THE DOOR in the Park (10 sec)
Welcome senior Sim (Welcome future-self! 5 seconds)
Talk to a senior (1 minute)
Stand on the X (4 seconds)
Complain to a Senior (1 minute)
Warn Simanity on a Soap Box (1 day)
Complain to a senior (1 minute)
Be nice to future-self (1 minute)
Search garbage for cupcake (2 hours) (Kick over the trash can first.)
Search garbage for cupcakes of doom II (16 hours) (This can be the same trash can you just kicked over.)
Dispose of cupcake (25 seconds) (Use the same trash can as before.)
Send present-self to the park
Be nice to future-self (1 minute)
Dance with future-self (10 seconds)
Be nice to future-self (1 minute)
Visit the Snow Park
Go ice skating (devoted dance, 1 day)
Snowball fight at Snow Park (2 hours)
Talk to the senior (1 minute)(Located in the park)
Build the Bingo Hall on the island (36 hours) (Must be level 21)
Partake in a 24hour Fishathon (24 hours)
Complain to future-self (1 minute)
Get 5 Sims together in a house
Woohoo with a Sim (5 minutes)
Be nice to future-self (1 minute)
Finish "Seniors" within three days of starting it to unlock the Limited Edition Exercise Bike for Seniors.
More changes
As usual, the update brings a few more changes to the game:
"Needle and Thread" – Starting on February 3rd, players of level 23 or higher can enjoy the new hobby of sewing.
"Bird Feeding" – Starting on February 19th, players of level 25 or higher can unlock a pet bird and participate in this new hobby.
The Bingo Hall unlocks within the Mysterious Island after completing the Seniors quest. Glad they're making the island more useful!
New houses: Renovator's Dream, Two tory Unfurnished House, and Three Story Unfurnished House
Fashion designing no longer requires players to complete a minigame when designing clothes. Thank goodness!
The Fashion and Dress Shop is now called the Costume and Swim Shop. The Hair Salon is now just the Salon.
The SimTracker menu has been revamped to include the age group of each Sim.
The Quest Tracker at the bottom of the screen displays only the number of active tasks now, not the actual goal descriptions. Select the Tracker to see your current goals.
When a Sim fishes and gets eaten by a giant fish, it takes longer to escape from the fish. Not an improvement.
When selecting an object to interact with, the object's star value is now displayed above its name. Fancy!
Get your Sim on
Electronic Arts' commitment to The Sims FreePlay on Windows Phone makes other mobile Xbox publishers (including Microsoft) look terrible by comparison. EA has grown FreePlay into not just a legitimate Sims game, but also one of the best free to play games out there.
If your phone has the memory to run it, try FreePlay today. And don't miss our review, Achievement Guide, In-App Purchase Guide, and Teen Takeover update guide!
The Sims FreePlay – Windows Phone 8 (1 GB of RAM) – 553 MB – Free – Store Link
Thanks to Eric DiDomenico for tipping us on the update!
Windows Central Newsletter
Get the best of Windows Central in in your inbox, every day!
Paul Acevedo is the Games Editor at Windows Central. A lifelong gamer, he has written about videogames for over 15 years and reviewed over 350 games for our site. Follow him on Twitter @PaulRAcevedo. Don't hate. Appreciate!
I just like the Sims to watch my character have affairs with other Sims and my wife turn lesbian.

My main wish is that they implement a gun feature so then you can kill all the douchebags :D

Screw it I'll be the towns serial killer and murder and rape all the Sims till they all dead.( god I need to go to therapy)

Wtf man, just go live in USA if you want to do such things, they keep their traditions

*shakes head at everyone*

Foreigner idiot mentality. "in my country we blah blah and we blah blah"

So America is moral ? Hhahaha lol nice one !

Do you live in America or just use American products?

Why would i live there?
I don't want to get show

Think you meant shot. And yes YOU probably would.

What American product? Everything's made in China.

Lol Well yeah. You know what I meant.

Wat se jy Eugene hahahaha

We also keep the death penalty for said murderers and rapists. At least it is actually illegal in the US, as long as its a man doing it there are plenty where it isn't.

Just put a fireplace near the bed and enjoy :)

Sorely missing cloud saves, had to abandon a lot of progress when I switched phones and will be too much work getting back to that level again.

+1. Uninstalled this game with so much things accomplished. Now regretting it. Cloud save or save to skydrive feature please!

This has happened to me in so many games...

I stopped playing so many games because of this. And also buying them.

I got stuck on the "play on PC"....don't have Sims for my computer

What's that got to do with playing the Windows Phone game?

Probably nothing but he just wanted to share. He just forgot how ruthless we can be sometimes but he won't try that again lol

No, really....i could have sworn it wouldn't let me get past the preteen stage or have kids or something like that. It said to practice on a PC.

Right, an in-game PC... Jesus christ.

Lol you believe in Jesus?

Hey I'm stuck on the part where it says, make a sim play on the PC and I don't have one. But I was wondering if you ever got passed that level or did they skip it for you?

I stopped playing Sims Freeplay because there is no cloud saving. It so hassle to start the game again after doing a hard reset.

Can someone tell me what I am missing out on? Don't really understand Sims. I've tried it, and don't become "addicted" to it. What is the great or fun about it?

It's probably not your cup of tea. You start living another on your game

You aren't missing anything really, certainly not if you're expecting something to match the freedom of the PC experience.

On PC I enjoyed building the houses... I would then hand it over to the gf to control the Sims and do all that social drama crap they like :P

Not available for my phone :( ATIV S, Norway :(

Change region to UK, and then download. Same thing if you cannit update. Then when done, change region back to Norway.

If at least EA have published this game here in Brazil...

I played it for a couple days but uninstalled it because it's such a battery drain. If you close the game rather than let it run in the background, to save your battery, then you don't progress...

I empathize, but it's best to have 1GB as I doubt 512MB could handle the workload. :-/

Anytime Paul. It's still a fun game. Just wish all bugs could be fixed but I know that can never happen.

Hide in the park toilet for 4 hours? Is this the Sims: George Michael edition?

I got the sims freeplay mod and finished all those in minutes :D. Hopefully they include a new city or island soon because its getting crowded haha Posted via the WPC App for Android!

Oh look, can't play on a shitty Lumia 521.

The worst thing is really the missing option to save your game! I was around level 30 and now everything's gone because of switching the phone...

You can save the game for 7 days than load it on another phone

thanks paul you helped me a lot. but after i updated i m facing problem... while selecting a sims personality during its creation it does not show any personality.... it just says watch the space. why so?? it says wait for it better late than never.... is this new update or is it being a new problem in my game only?? please help!!!!

Why will my Sims not get married, i have bought loads of rings and they still wont get married? Please help!!

Please bring This Game For 512 Mb Ram too :)

i am stucked after building the hall cus it want to send old sim there i dont have and i cant make one cus first i ahve to complete the quest wghat to do ? :(

A few fixes would be nice EA... like time not moving as of this past sunday and my simolean sprout needing like17000 days....
Windows Central Newsletter
Thank you for signing up to Windows Central. You will receive a verification email shortly.
There was a problem. Please refresh the page and try again.